In May of 2019 two Giant Ambassadors Jack Thompson and Julian Spiller went on the adventure of a lifetime. They along with their Revolt Advanced bikes took on an all surfaces ride spanning from Bangkok to Phuket in Thailand. This is what unfolded..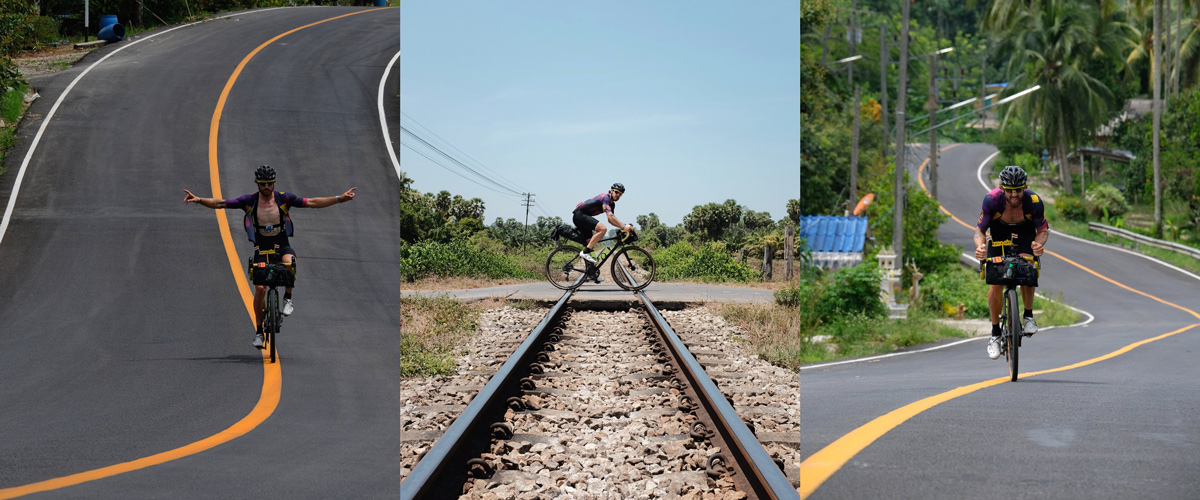 With a reputation for expansive desolate beaches, white sand scattered with coconut palms, warm summer sun and the smell of fresh fruit, Thailand is a country synonymous with restful, quiet times away and is often used as an escape from the hustle and bustle that is 'normal life.'
A tropical paradise of South East Asia, Thailand is bordered by Myanmar, Cambodia, Laos and Malaysia. With a population of 66 million, you'd be forgiven for assuming that the entire country is packed full of people. Sure, while Bangkok, Thailand's capital, is one of the most densely populated cities on earth, just a stone's throw from this chaos, lies a slice of Thailand that most don't know exists…Roads that are yet to be ridden on bikes, beaches so remote and so beautiful that photos don't do them justice and food so rich in flavor that the culinary senses are thrown into overdrive. Thailand is without a doubt, one of Asia's best kept cycling secrets.
Earlier this year the Tourism Authority of Thailand (TAT) and Thai Airways, invited good mate Julz and I to explore the Gulf of Thailand, (on bikes of course) and to document what we discovered. The goal was to uncover landscapes and provinces that had not yet been discovered by cyclists and then promote these regions to the greater cycling world.
Sitting at home, feet on the couch, computer on my lap, I planned a route that would see us commence our adventure in Bangkok and then heading south to follow the Gulf of Thailand to Surat Thani, on the Western Gulf where we would spend a rest day...  From here and the Koh Sok National Park, we'd traverse West through the jungle to Krabi before arriving at our destination Phuket.  Unable to really see what the road conditions were like and eager to explore off the beaten track, Julz and I agreed that GIANT's new 'Revolt' Adventure Weapon, would be our whip of choice.
Julz and I hadn't met prior to our departure. We'd been friends on social media, and it was evident that we both shared a common love of freedom, life on the road, GIANT bikes and adventure.
We set off from Perth en route for Bangkok. What we didn't realize at the time, is that the following two weeks would be some of the most memorable we'd ever spent on two wheels.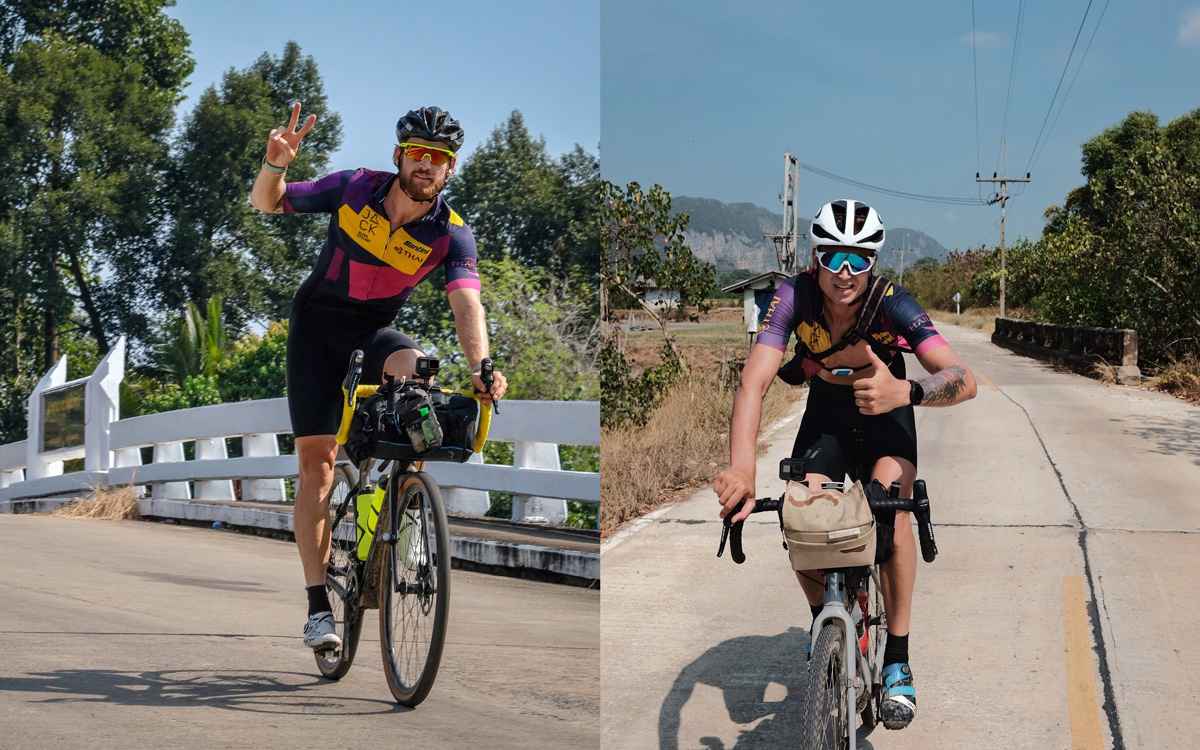 The Whips
The Revolt is the ultimate adventure rig. Period. I've been lucky enough to ride all kinds of bikes, over the last few years, and sponsorship commitments aside, the Revolt ticks every box and more, as far as adventure bikes go. There's the ability to rock 45mm tires, run three bottle holders, mount racks, fenders and panniers and tackle varying terrain, all whilst remaining light. Sure, steel and titanium are on trend in the adventure bike sector, but in my opinion, carbon trumps all. There's a reason bike manufacturers have progressed from 'precious metals' to the 'black magic', that is carbon, and GIANT are certainly the industry leaders in this regard.
Keen to keep the setups minimal, Julz and I opted for a series of frame bags which forced us to keep our equipment choices light. One of the most rewarding things about life on the road, is the ability to live off nothing more than you can carry. It's so easy to get carried away thinking you need 'two of this and three of that,' but when you're forced to live with nothing but what you can carry, you soon realize that more is less and less is more.
Interestingly, Julz and I are the same height at 6'2. I run a M/L frame and Julz rocks an XL. I thought I had long limbs…Julz takes long limbs to a whole new level!!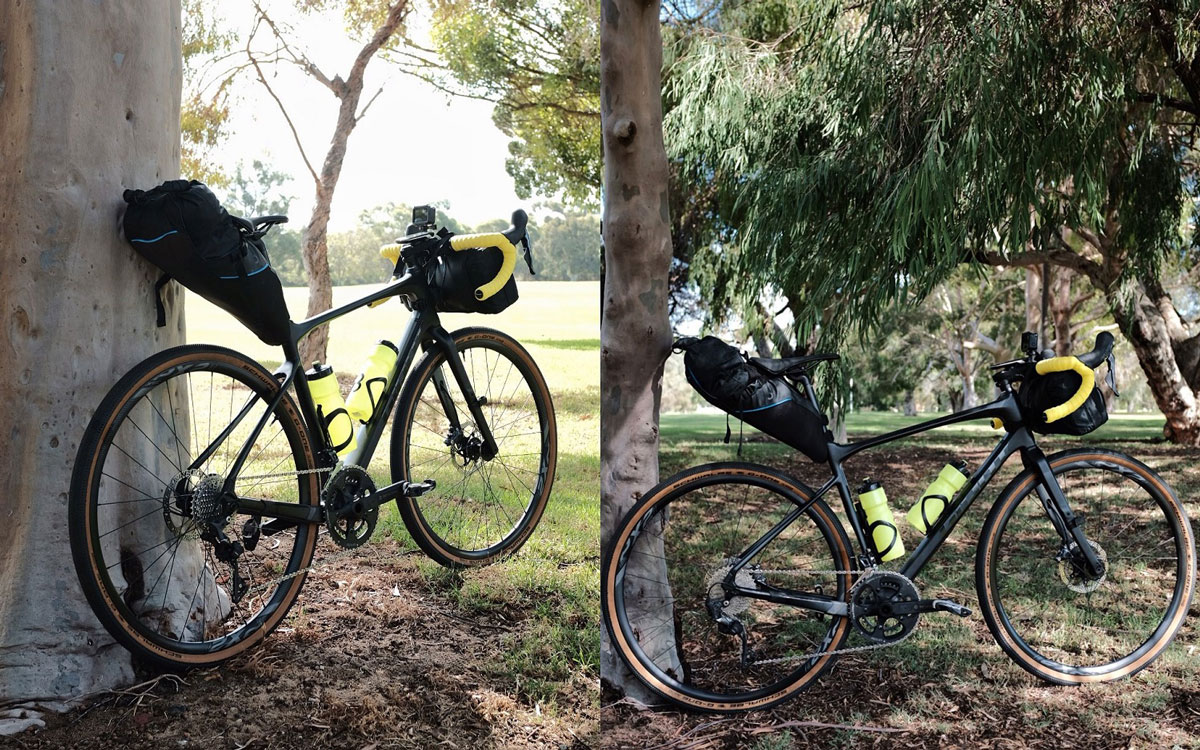 The Bangkok Hustle & Bustle
On or off the bike, no matter how you want to look at it, Bangkok is crazy…Or so we thought. The road network is insane and topped only by the chaotic traffic. Fortunately, we set off for our first day on the bike during the Songkaran Festival (Thailand's New Year Celebrations, which is probably the biggest public holiday of the year.) We found the traffic was far less chaotic than we'd originally envisioned and made good time as we headed South.
At 110km in length and entirely on tarmac, Day 1 was by no means a massive day on the bike. My experience had shown me that any departure from the center of a major city, takes far longer than you'd image. Expecting to be crawling, Julz and I were expected to round a bend and find the traffic backed up and snaking up the road ahead, but the traffic jams never came, and our wheels kept rolling south…Things were off to a great start!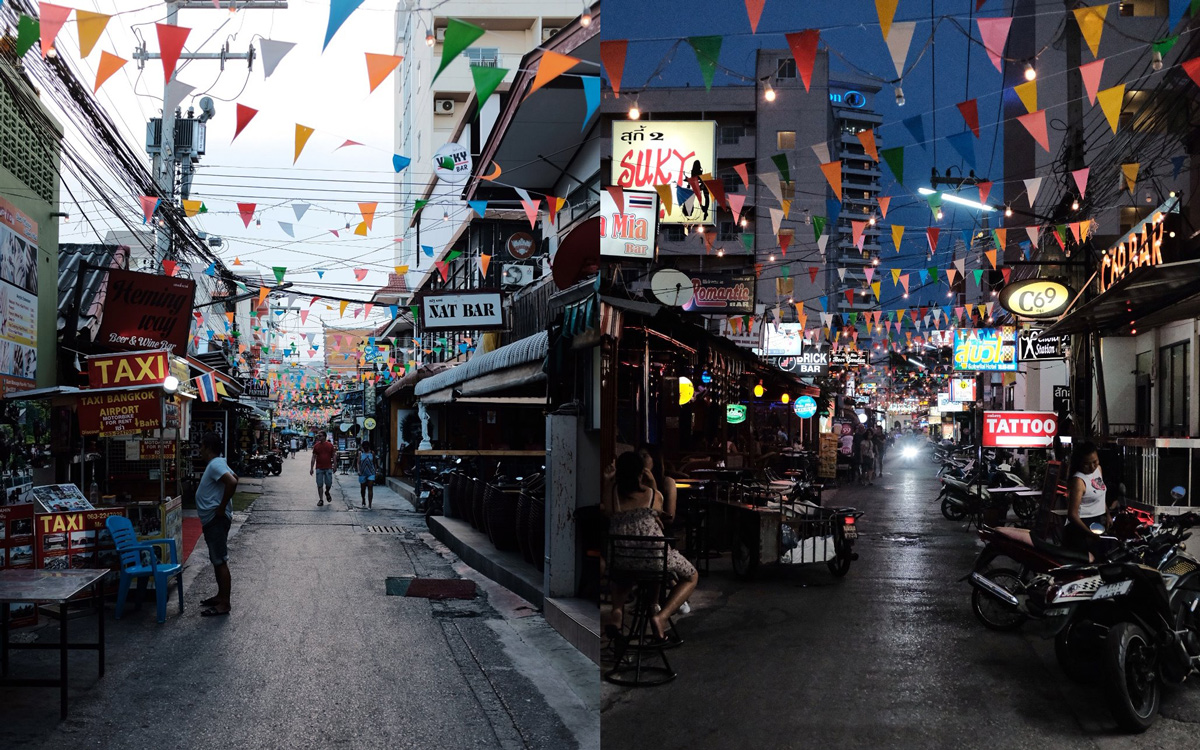 Coastal Hotspots
We caught our first real glimpse of the coast on Day two. Following a sharp left turn off the main road, we stumbled across the picture-perfect coastline that is home to Chumphon, a small holiday destination just a stone's throw from the water's edge.  Chumphon is frequented by locals as opposed to tourists. Julz and I found ourselves curbside, enjoying the first of many fresh fruit smoothies. It was midday and by this time, each day, the temperatures were soaring. The smoothies hit the spot and reduced our core temperatures allowing us to push on, refreshed, for Hua-Hin.
Weaving through coconut palms and along small narrow back roads, both Julz and I joked about the stark contrast of this new landscape compared to that of urban Bangkok. Not a car in sight, we rolled through small villages of friendly locals who waved and hooted as we rode past their door. We'd been warned of angry dogs and taken every precaution in visiting the travel doc for our rabies injections prior to departure, yet even the dogs remained calm and composed despite the buzz of our hubs.
Scattered all down the Western Gulf, are small fishing villages and towns that appear only to have been visited by a handful of foreigners over the years. The amenities are basic, but the scenery and pure tranquility, insane. Julz and I, although normally spinning yarns and sharing bad jokes, found ourselves rolling along for big chunks of time, not speaking, but rather taking in our surrounds and absorbing everything that was happening around us.
Our most vivid coastal memory took place as we rounded a bend and made our way down towards the coastline on day three. As we emerged from the jungle along a small gravel track, the coastline opened in front of us and we found that we were riding through a monastery for young Buddhist Monks. A small jetty down at the water's edge took us some 50m out to sea. We balanced the bikes against the jetty railing as the monks bathed at the water's edge and both agreed that this was one of the sickest places we'd ever visited. Had it not been for our chosen form of transport, and the wide gravel tires equipped to our Revolts, we'd have ridden right on by and down the main road. Tempted to crack open a local beer and create our own 'Corona advert' vibes, we decided to push on in search of the next little slice of paradise.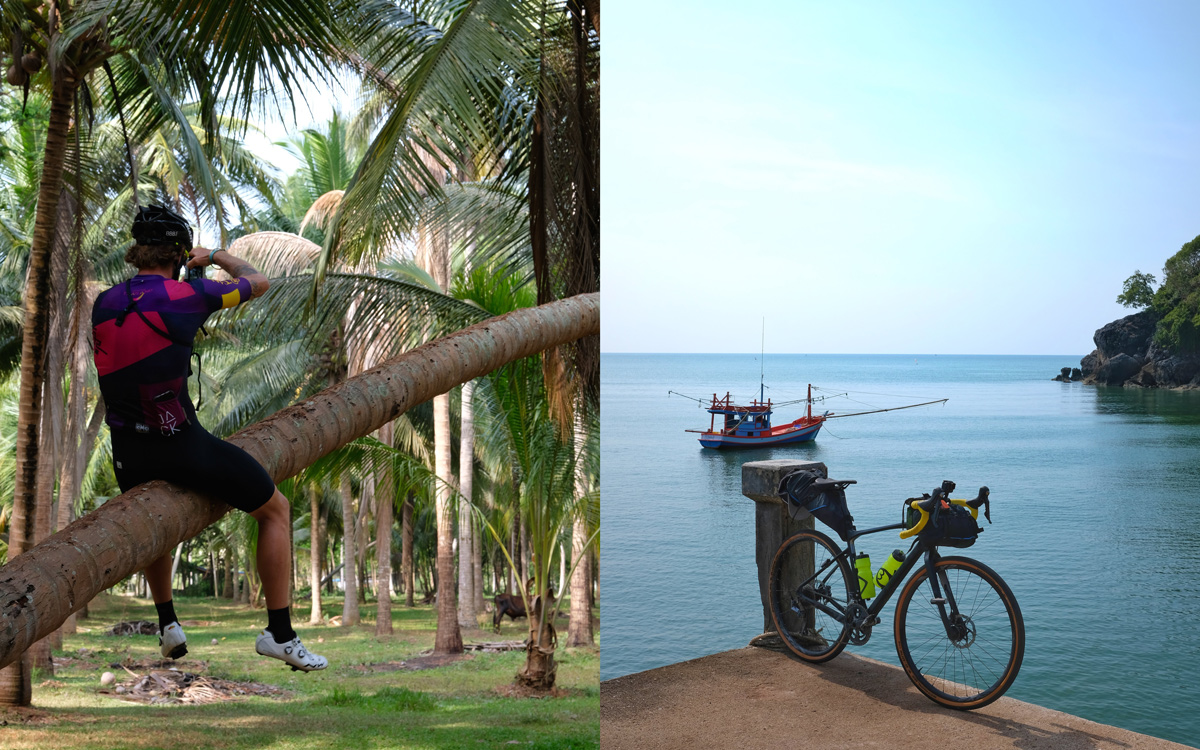 Food on the Road
The food on the road is really cheap. Ravenous from the days riding, Julz and I found we were eating like pigs. Breakfast usually consisted of three to four bowls of rice, a couple of steamed buns, a toasted sandwich or two and enough caffeine to fuel a small army. We would start each day at 7-Eleven for breakfast as we found the food was consistent, tasty and well-priced. Paired with the fact that we could sit inside under the cool breeze of the aircon, we enjoyed breakfast at 7-Eleven on 12 of our 14 days on the road. The Thai street food is also delicious but often the breakfast serving sizes weren't big enough for our appetites.
Because we had no time pressures, every hour or so, we'd stop at one of the small roadside stalls and enjoy sugary drinks and tasty Thai treats. Our 'go to' was the taro flavored ice cream (or taro anything for that matter - Cue the drool…) paired with fresh juice and a litre or two of water. Our rule was to tip the local vendor whatever loose change we had at the time. The smiles we received as a show of our generosity had Julz and I smiling from ear to ear.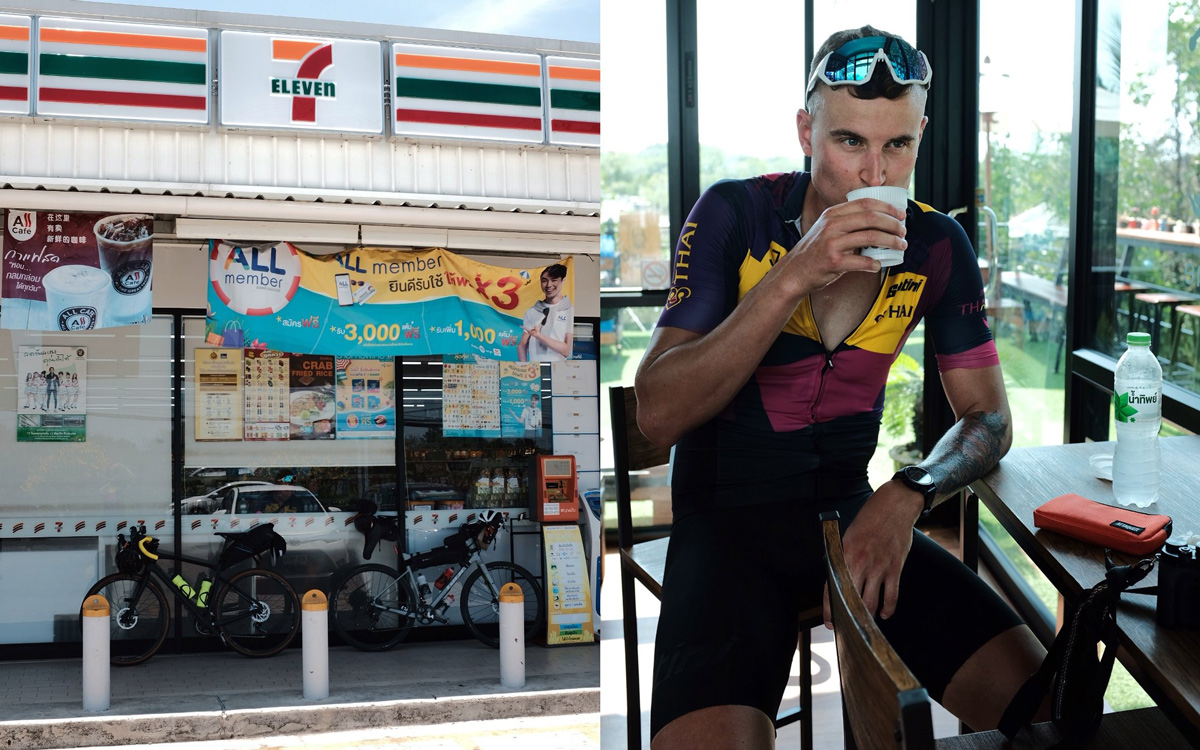 The Local People
While a large percentage of the local people have very little, their generosity and optimism for life truly inspired us. In Surat Thani, the halfway point of our adventure, we were met by the local tourism board and Government officials and treated to 36 hours of incredible hospitality. We were wined and dined, gifted massages and souvenirs and taken by private boat to the Koh Sok National Park for a day of adventure. The Koh Sok National Park was recently rated one of the top ten most beautiful attractions on earth. It certainly didn't disappoint. Vast expanses of rich green waters broken by small islands and sharp cliffs; our cameras couldn't keep up with the photo opportunities that were presented to us.
During the second half of our adventure, we arrived in the small mountainside province of Chandi. It was late at night having pushed on further than we'd originally planned and upon rolling into the 7-Eleven to re-fuel at the end of a tough day we found we had an audience for our arrival. The local cycling club had been tracking our location on the SPOT tracker and had decided to meet us and welcome us into town. Insanity! The following morning, the members of the club joined us for the roll out and guided us along quiet back roads and to the door of our accommodation in Krabi. Though there was the obvious language barrier in that we spoke no Thai and they spoke little English, our common love for the bike and two wheels was all we needed. We enjoyed coffee, amazing scenery and the taste of our own stems as the pace picked up towards the end of the ride. When the day's ride ended, we shook hands and parted ways having had one of our most memorable days of the trip.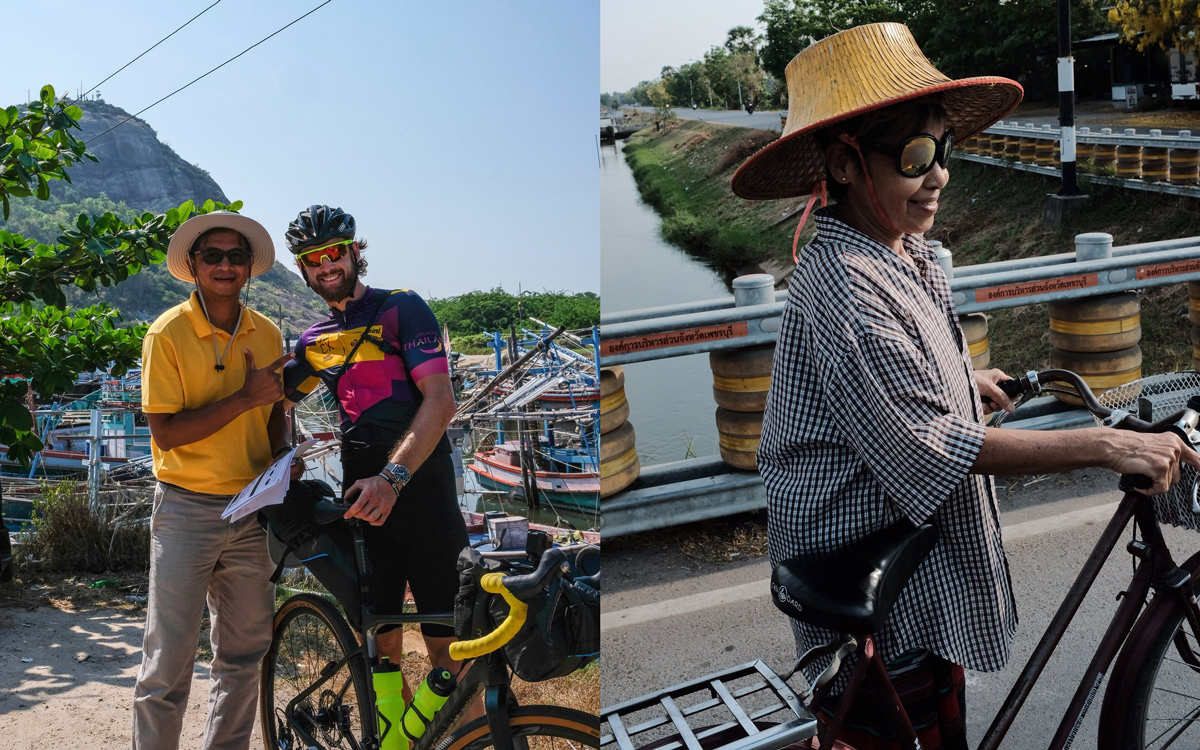 Off the Beaten Track
Making our way to Phuket on the final day of our ride, the GPS unit had us veering from the main road and into the thick coconut plantation of the National Park. Eager to experience our last real dose of adventure, we dropped the pressure in our tires and cracked on up and over several small bergs. An hour turned into a few hours and not a refuel point was in sight. It was hot and the midday sun was beaming down.  The chatter stopped as our energy faded, and we soon realized that we were out of food and water. The gravel turned back to tar and we were lucky to stumble on a small family run food stall. The owners couldn't believe their eyes as Julz and I raided the shelves and cleaned out their stock. Sitting on the small metal chairs under the shade of the porch, Julz and I sat in silence as we filled our bellies with sugar. Cookies, ice creams, chocolate and fruit. By no means 'generic ride fuel' but by all means 'satisfying.'
At one stage we found ourselves on a small single-track crushing through the bush. I was at the front, leading the way and the only thing on my mind was the cobra I was convinced would soon be wrapped up in my rear wheel. Although we only saw one live snake during our time (and a small one at that,) we certainly saw our fair share of dead ones stretched out along the road. Having seen the size of some of them, there's no way I'd want to come up close and personal with one in the lush Thai jungle! Each time we departed from the main road, the snake radars were activated, and our eyes worked in overdrive eager to spot anything sinister before it was too late!
Interestingly, the road quality in Thailand is fantastic, far better than that in some regions of the Western World. Wherever the opportunity presented itself, we'd take detours and explore the smaller, un-sealed roads. Some of these missions proved to be the most memorable and had it not been for the Revolts, we'd have been unable to explore so extensively.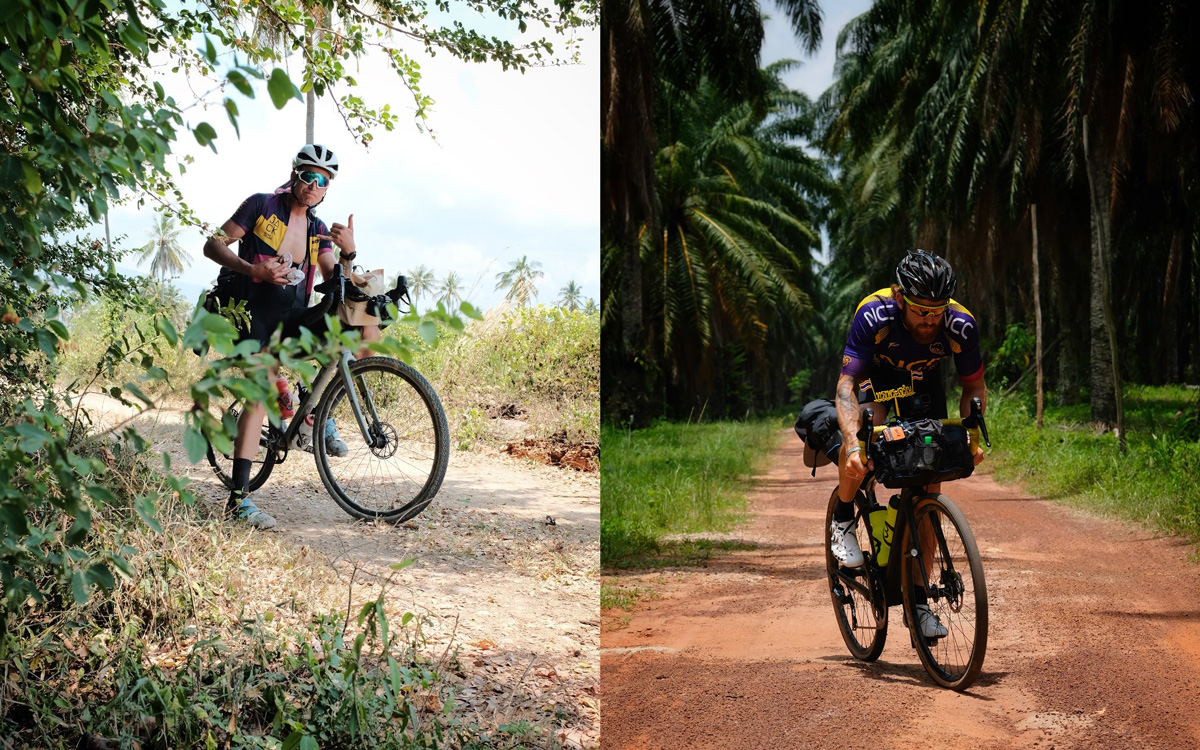 Wrapping Things Up
Closing in on the busy shores of the holiday hotspot Phuket, Julz and I looked back and shared some of our fondest memories. The scenery had been amazing, the food tasty and the people friendly. The roads had been safe, free from traffic and well equipped for the travelling cyclist. Our bikes had been perfect with not one mechanical or a flat tire and had served us well on the varying terrain.
While I have personally, been lucky enough to travel all around the world on my bike (generally alone,) what I found most rewarding about this adventure, was that I was sharing it with a new mate. As I've mentioned Julz and I hadn't met prior and probably wouldn't have met had it not been for the bike and the link at GIANT, by the end of our trip, it felt like we were best mates and for me, this is priceless.
As I board the plane for my next trip away to the mountains of Bhutan, I can't help but thank my lucky stars for the position I find myself in today. The bike is an incredible vehicle that can deliver us to all corners of the earth. Be it a road bike, a mountain bike, an e-bike or a gravel bike, there's something special about the bond these machines allow us to make with others.
Grab your whip, whatever it may be, rope in a mate and plan that next adventure. Who knows where it will take you and what you'll see?
A big thanks to Giant Bikes for their ongoing support. It's a privilege to be working with the best in the business.
Follow Jack and Jules on Instagram as they head off on new adventures: