This pro-level, fully composite XC flyer blends trail-smoothing Maestro suspension with the added control and stability of progressive 29er geometry. When XC racing is your game, this is your ticket to the podium.
Poudarki
Engineered with a full composite frameset including the front triangle and rear swingarm, this 29er has 90mm of smooth rear suspension travel and 100mm up front. The Maestro rear suspension system includes a trunnion mount shock that produces a lower leverage ratio for efficient pedaling and braking performance. The innovative linkage makes room for shorter chainstays to improve climbing capabilities and overall agility. The Advanced Forged Composite upper rocker arm is lighter, stiffer and stronger than aluminum, and other updates include wider Boost hub spacing and an integrated Giant WheelSystem that gives you super strong and stiff wheels for confident, precise handling on XC terrain.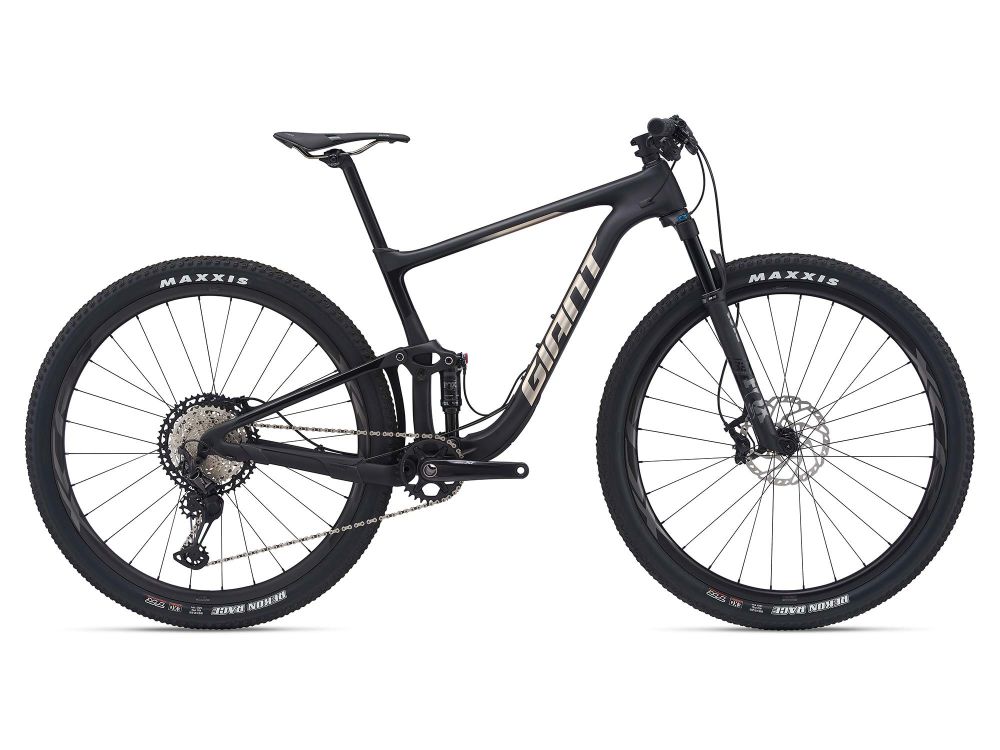 Galerija
Selecting any of the image buttons will open a larger image gallery with image descriptions
Tehnologije


Advanced Composite Technology
Za izdelavo materiala okvirja uporabljamo surovinsko ogljikovo gradivo visoke zmogljivosti, ki ga proizvedemo v lastni tovarni kompozitov z visokim razmerjem togosti in teže. Sprednji trikotnik teh okvirjev je sestavljen in oblikovan kot en neprekinjen kos v lastnem proizvodnem procesu, imenovanem Modified Monocoque Construction.

Advanced Forged Composite Technology
Za izdelavo sestavnih oblik ogljikovih vlaken, ki so lažji, trdnejši in močnejši od podobnih komponent iz aluminija, se uporablja vrhunski postopek oblikovanja pod visokim pritiskom. Ta tehnologija se uporablja v delih s kritičnimi zmogljivostmi, kot so rockerske povezave Maestro Suspension.


Maestro Suspension Technology
Štiri strateško postavljene vrtilne točke in dve povezavi delujeta skupaj, da ustvarita eno samo plavajoče vrtišče za najbolj aktiven, učinkovit in neodvisen sistem vzmetenja na sled.


OverDrive
OverDrive tehnologija izvirne velikosti cevi za vilice je zasnovana je tako, da zagotavlja natančne prednje krmilne lastnosti, velik sistem ležajev slušalk (1 1/4 "spodnji in 1 1/8" zgornji za cestni, 1 1/2 "spodnji in 1 1/8" zgornji za gorski). Smerne cevi delujejo skupaj in tako zagotavljajo optimalno togost volana.


PowerCore
Obsežno veliko območje spodnjih nosilcev / verižic ima popolnoma integrirano, 86 milimetrsko široko dno nosilca (92 milimetrov po cestnih kolesih). Asimetrične verižice zagotavljajo dodatno togost na stranski strani in stabilnost na ne-pogonski strani.