Riding In Romania
After our time in the Balkans, we planned to explore Romania with a highlight being the Transfagarasan. According to Top Gear (the television program about cars), it is the most spectacular road in the world, and we wanted to see for ourselves!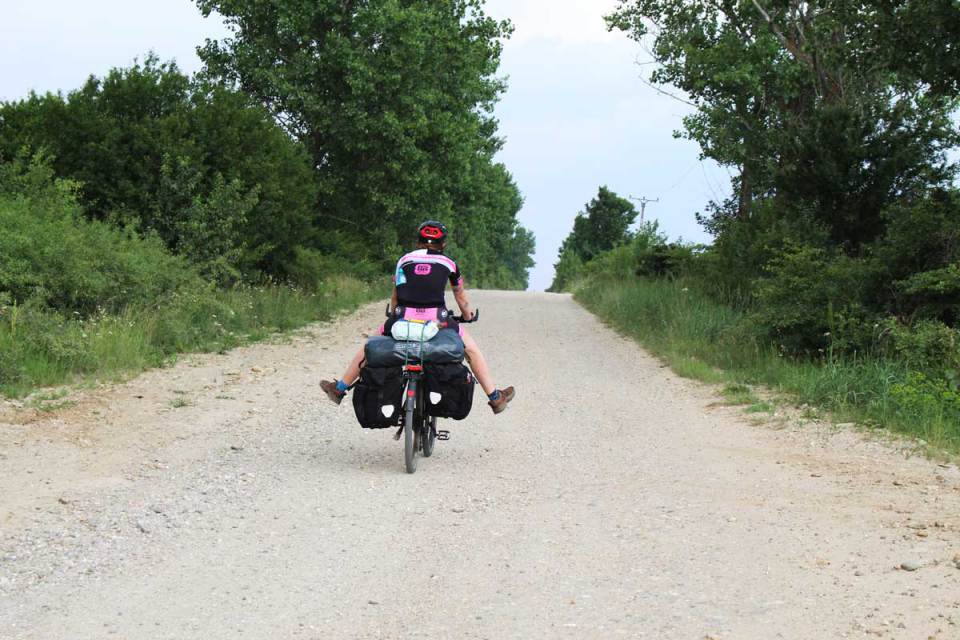 Entering Romania
After a very short visit in Bulgaria, we entered Romania. The first thing we saw was kind of weird: a small village with lots of drunk people who could barely walk. It was extremely hard to explain that we were looking for a place to sleep. Eventually we found a church, and Annebeth asked the priest if it was possible to put up our tent. He said this was no problem. But when the man saw that Annebeth wasn't traveling alone, suddenly we were no longer allowed to camp. The whole conversation had a very creepy atmosphere. We didn't trust the guy, so we left. We were very tired and it was almost dark when we found a place to sleep. After a lot of hand and feet talking, because they could only speak Romanian, we succeeded. Later that night, a friend of our host who spoke Spanish came by. Luckily, Gijs had learned some basic Spanish on a mobile app called Duolingo so we could talk a little.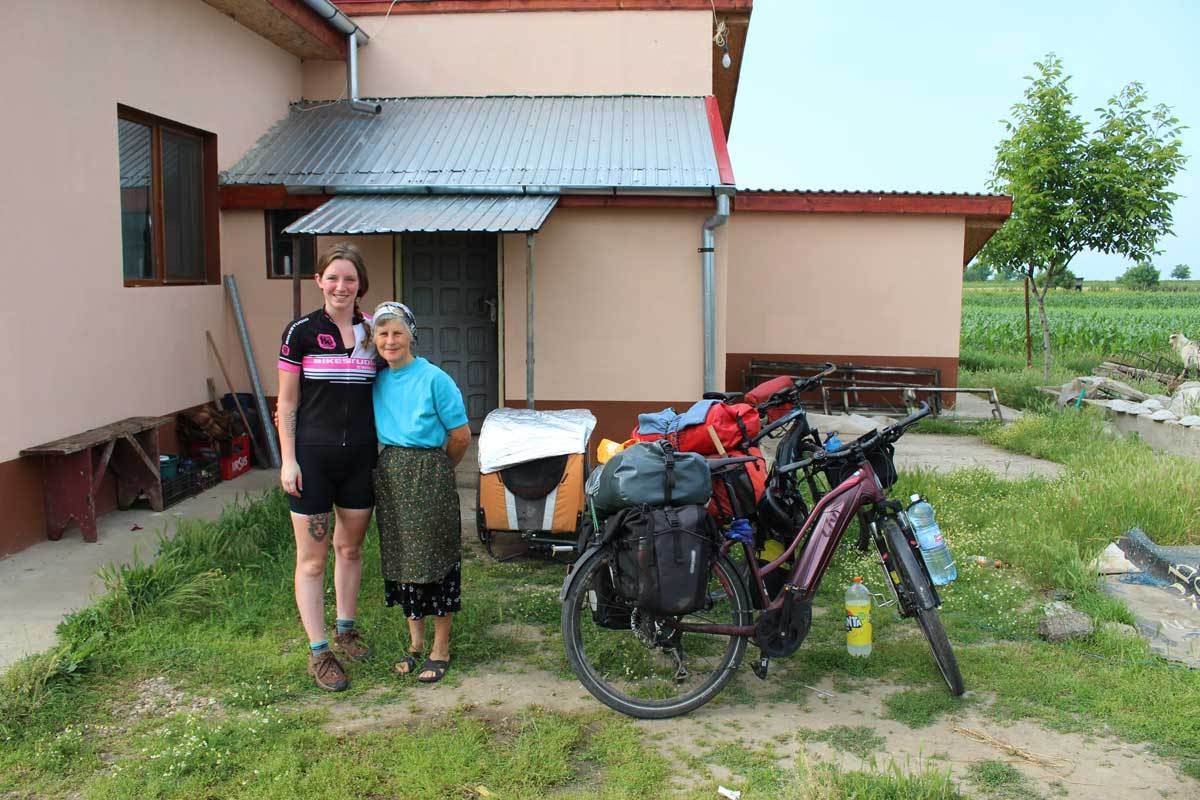 Annbeth with the lady who hosted us the first night in Romania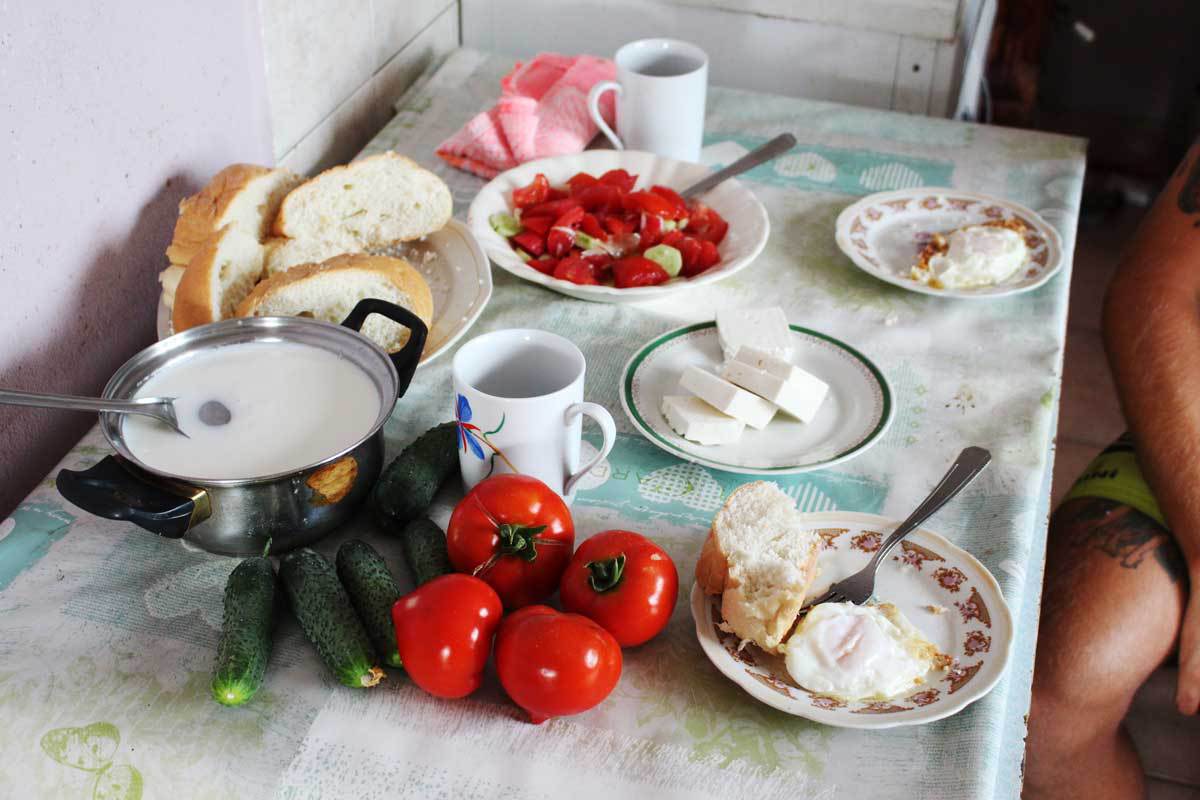 Typical Romanian breakfast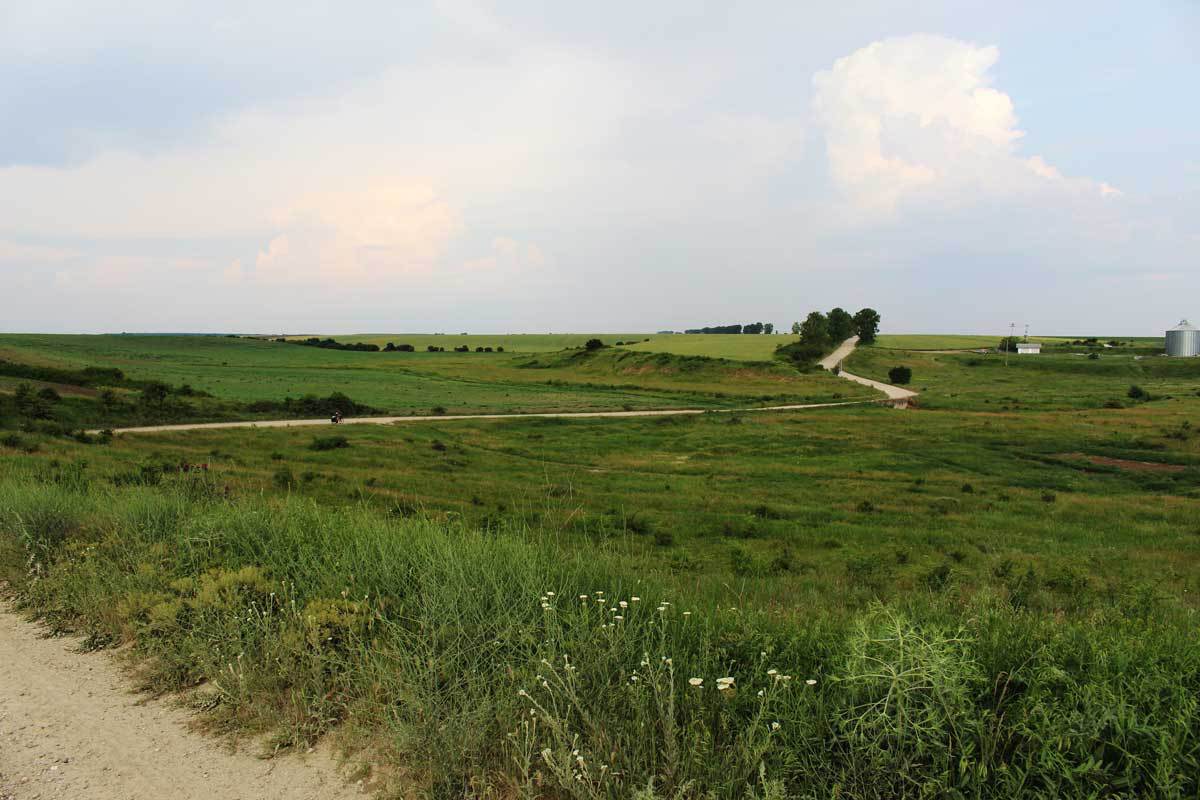 Beautiful countryside with Annebeth in the distance. Can you spot her?
We enjoyed cycling in the South of Romania, through the almost endless fields of grains and potatoes. We were happy that finally there were no mountains to climb. We had some days of rest in Craiova with a friendly Warmshowers host. The past weeks we were thinking of a new name for the blog and finally decided to change it from Green Travel Guru to Biketrotters.
Long before we started our trip, we had anticipated cycling the Transfaragasan. This amazing route is claimed to be the most beautiful mountain pass in the world. After a long time waiting, the moment was finally here—but then we heard it was closed until July 1 because of snow and rock slides. We were very sad until our Warmshowers host heard that another cyclist rode the pass three weeks earlier. We asked for more information and found out that the pass is open only to cyclists and hikers until July 1.
In our next blog post, we will tell you all about our adventures in the Transfagarasan, including some encounters with a wild bear!
Crazy Drivers
Of all the places we've visited in Europe, there is no country where people drive crazier than in Romania. Many times we got run off the road intentionally by big trucks, cars passing in dangerous places, and people aggressively honking.
Old friends and New friends
The last few days in Romania we stayed with an old study friend of Gijs. It was great seeing each other again! He showed us around Dej, his hometown, where we went to a festival and explored a salt mine. After two days it was time to say goodbye again, and we cycled in the direction of Ukraine.
This day was also the day we found Bella. Probably thrown out of a car, starved, full of fleas and ticks in the mountains of Romania. Someone left her there to die, so we decided to take her and bring her to the vet. It took us over 2 hours to gain her trust, as she was hiding deep in the bushes. After some time, she finally came out, we cuddled for a while and let her sleep. We found a box in a nearby village and put her in. She was very tired and she fell asleep instantly while we rode. We found a nearby veterinarian for a health check and some medicine for worms, fleas and ticks. They removed about 50 ticks from her body, they were literally everywhere!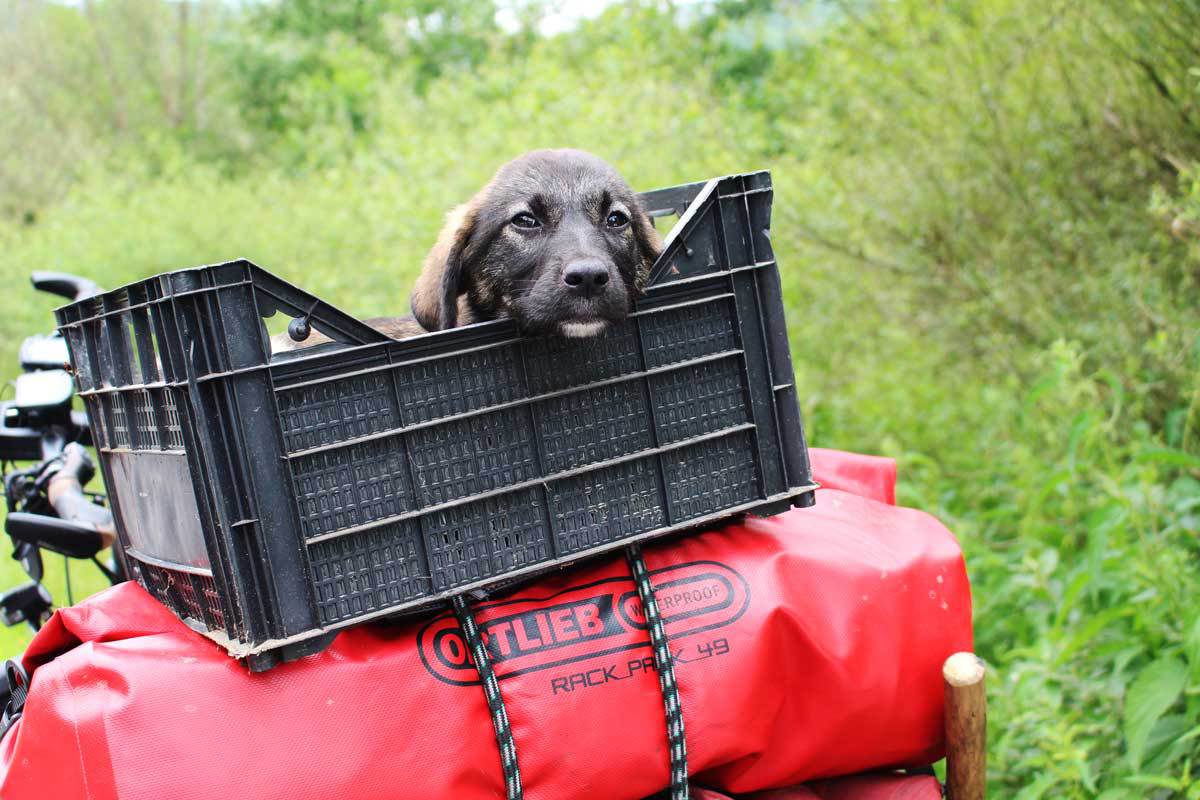 Bella on the back of Gijs's E-bike, after we gained her trust.
Now we had to decide what to do with her. Do we keep her? Or bring her to a shelter? It was a very hard decision. It was already difficult to cycle with two small dogs. How would it be with two small dogs and one gigantic shepherd dog? Yes, the veterinarian told us Bella would be a very big shepherd dog. We also knew bringing a shepherd dog like this to a shelter would turn her life into a miserable hell. Almost all big dogs we saw in Romania were on a short chain all their lives, frustrated and scared. We couldn't give her a future like this, so we decided to take her with us. At first we planned to find her a new home in the Netherlands, but now she is family and we are really attached to her. So, she stayed with us and at least we have a proper guard dog for camping in the future!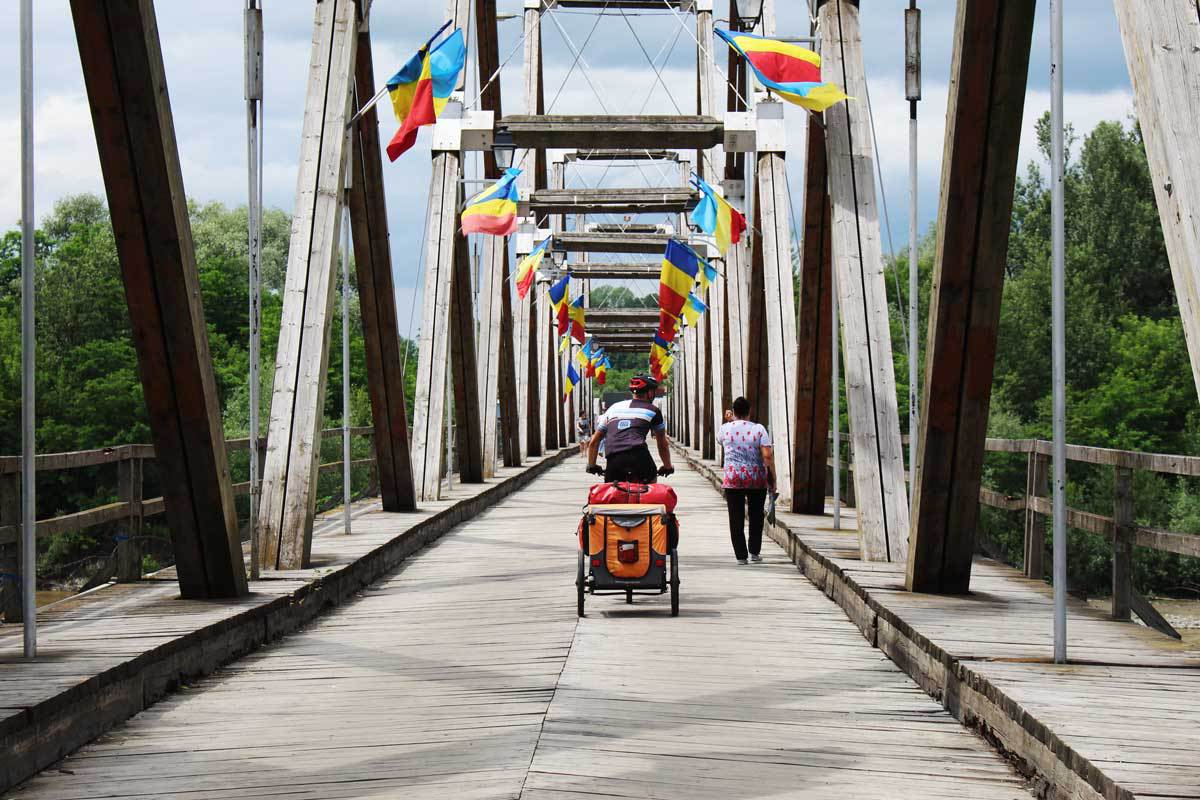 Crossing into Ukraine!