Electric Bike Travel Guide in Germany
Gijs Kremer and Annebeth Wynia are an adventurous couple from Zwartsluis, the Netherlands who share a passion for world travel. They have lived abroad in China, trekked through the Sahara Desert, and hiked through the dense jungles of Laos. They are currently cycling around the world with their two dogs, Huub and Liska, on their Giant E-bikes.
In this post Gijs and Annabeth share some of their experiences about riding their E-bikes through Germany, and some helpful tips on how to get around on E-bikes. Their goal is to motivate you to embark on your own E-bike adventures, and to help make your travels responsible, affordable, and, most of all, fun.
The Ride
Cycling in Germany with our Giant E-bikes has been a truly amazing experience—wandering through nature, eating delicious food, and enjoying this country's great cycling infrastructure. From long-distance treks to shorter rides and sightseeing, there is a route for everyone. We've cycled almost 1100 kilometers throughout Germany, often on roads known as Radwegen that are connected to the German Cycling Network (Radnetz Deutschland in German).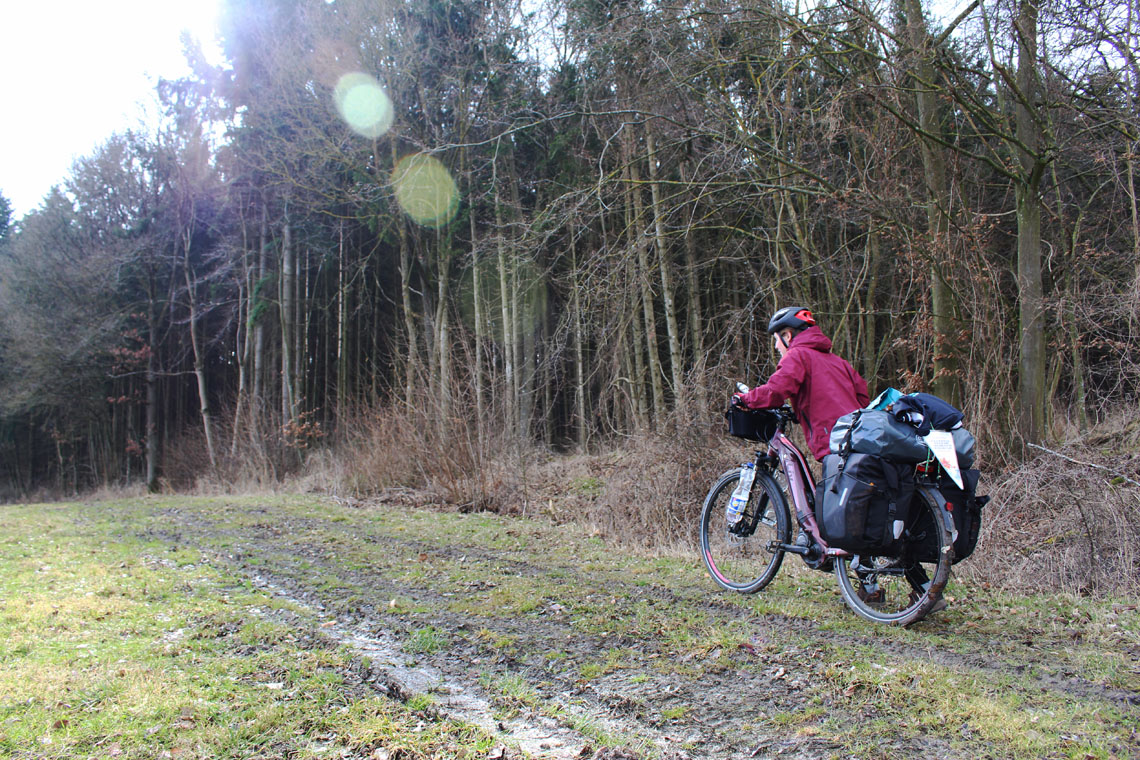 These paths form the national cycling route network of Germany. There are currently 12 long-distance cycling routes, called D-Routes (the "D" stands for Deutschland, i.e. Germany) crisscrossing the nation. The network was mainly established to promote bicycle tourism. These D-routes connect different regions, making it easier for cycling tourists to explore interesting places. They offer a wide variety of high-quality, well-developed roads that follow numerous riverside routes and beautiful paths through the forest. The D-Routes are designed to show off many of Germany's famous sights, which vary from nature parks to local restaurants and interesting architecture. The network is almost completely car-free, so you can ride in peace and safety.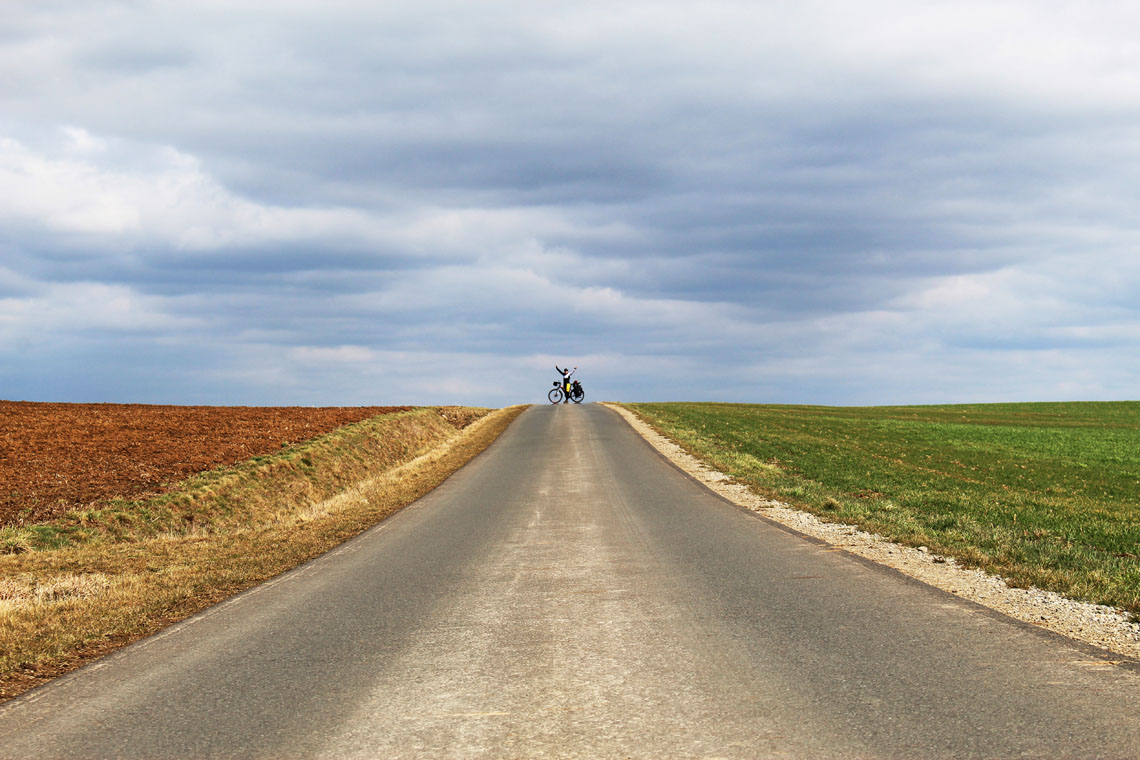 The D-routes are also connected to the European wide Eurovelo Network, so when you're crossing the border into another country, you're already on track for your next cycling adventure!
Tip:​ To recover from a long day of cycling, try one of the many famous beers Germany has to offer. Along the cycling routes there are many so-called Beer Gartens, and most of them even have a special cyclist beer called the Radler (German for Cyclist).
Useful websites:
The D-Routes: www.radnetz-deutschland.de
Route planner for Southern Germany: www.bayerninfo.de
Eurovelo Network: http://www.eurovelo.com
Traveling by E-Bike: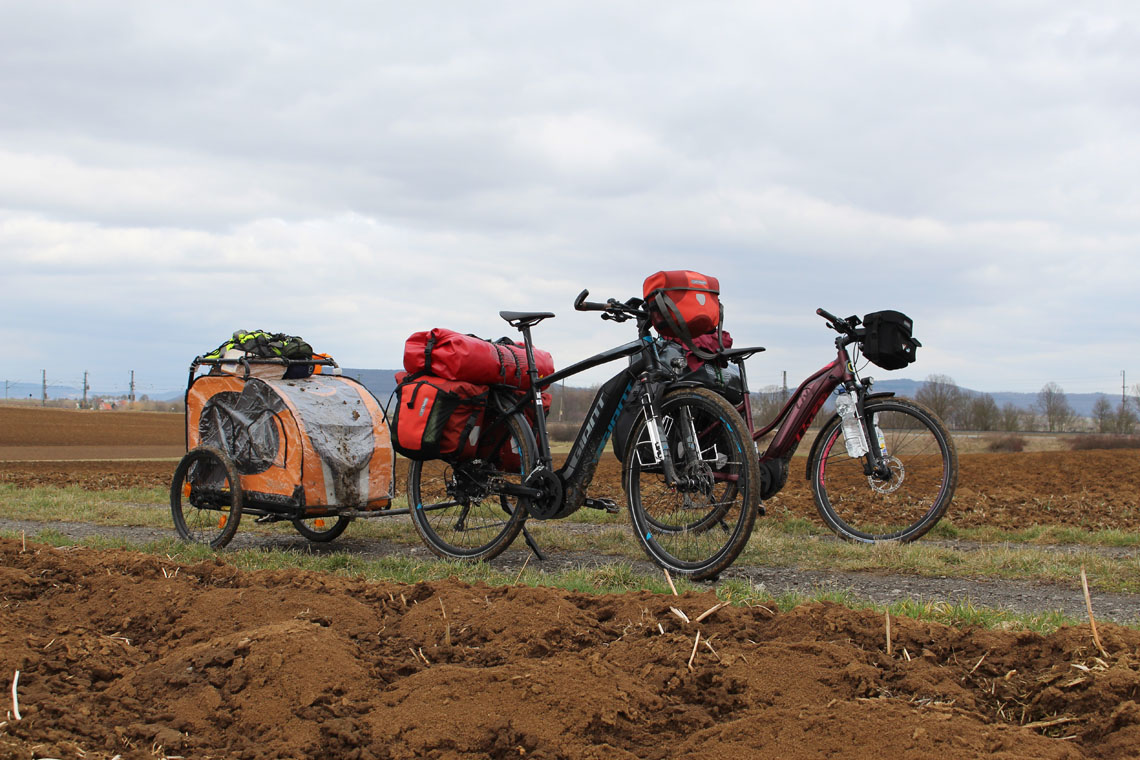 This was actually our first trip on our Giant E-bikes. After the first two weeks, the E-bikes are holding up great.  The batteries have lasted well in the extreme temperatures we've experienced. Gijs is riding a Giant Explore E+ with the dog trailer attached, so it is obviously using more juice than the Liv Amiti E+ that Annebeth is riding. But even heavily loaded, with a trailer attached and temperatures of -10 Celsius, we could ride 80-100 km on a single battery charge. We had an average daily distance of 85 km, so we had to charge our batteries every day. We haven't experience any problems with charging our EnergyPaks, usually plugging them in overnight at a hostel, homestay or campground. It is nice to know that along the Cycling Network there are many charging stations, restaurants and guesthouses. So if you stop for a cup of coffee during your route, you can most likely charge your E-bike for free.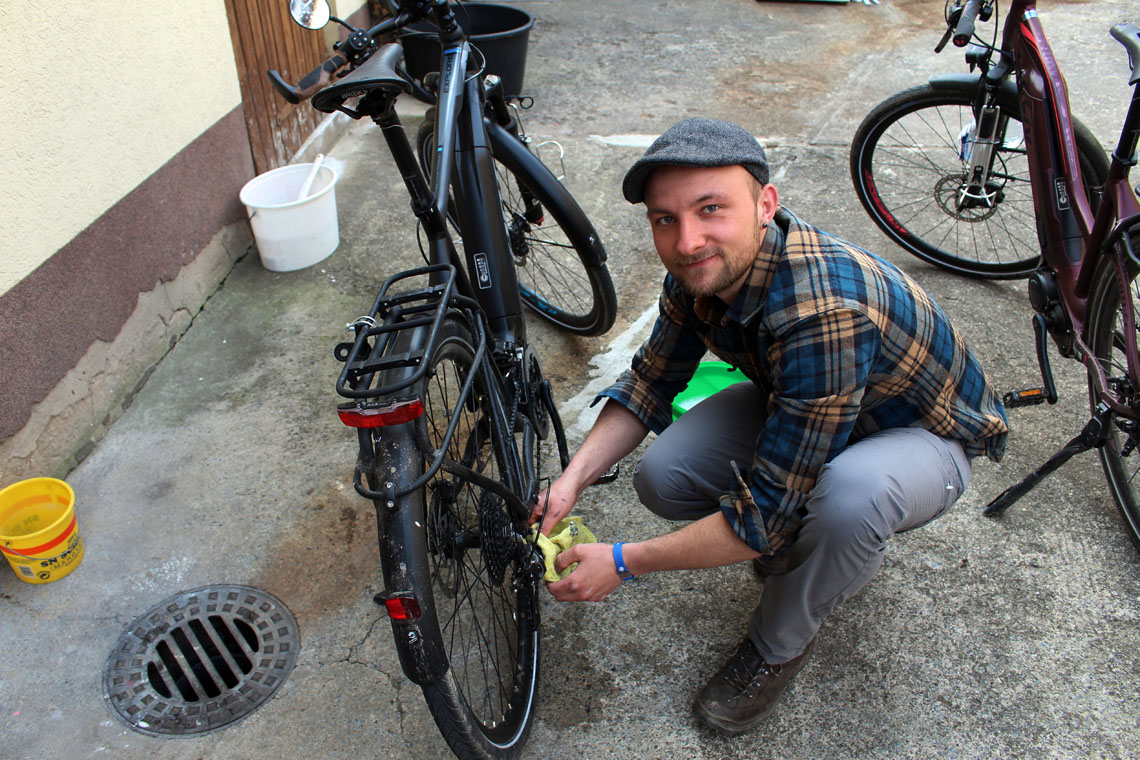 What to see:
The Donauroute (D-Route 6): This route follows the Donau River and brings you through two typical cultural regions: the Swabian-Alemannic at the Upper Rhine and the Bavarian starting at Donauwörth.
Black Forest: This famous forest, with its these densely wooded hills, is one of the most visited regions in Germany and a true heaven for cyclists and hikers.
Munchen: The capitol of Bavaria is known for its yearly Oktoberfest. But besides liters of beers and lederhosen, this amazing city is full of Baroque churches and art museums with so many masterpieces, it's difficult to know where to begin.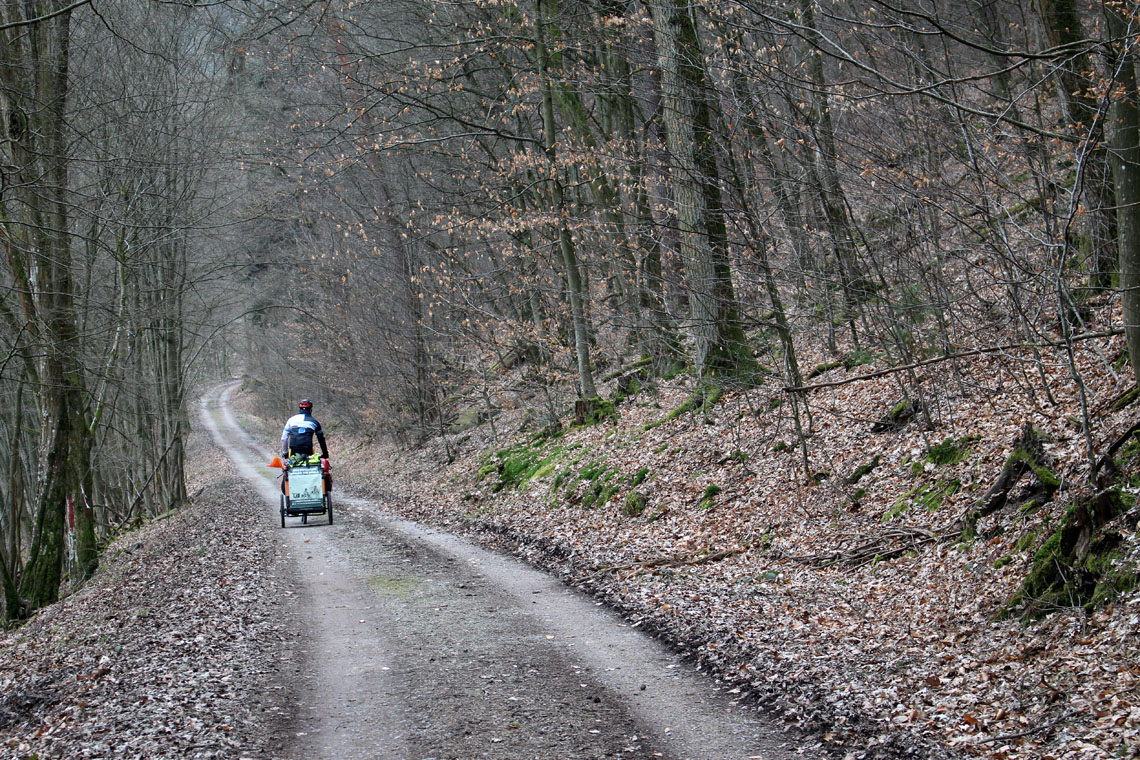 What to eat and drink:
Food:
Frühstück​: While many countries are famous for their lunch or dinner cuisine, Germans take their time to enjoy breakfast. Prepare for lots of different cheeses, meats, multiple jams and honey, boiled eggs, fruit and vegetables, smoked fish, and of course every kind of roll or hearty, seeded bread you could dream about.
Currywurst: A must-try snack​, this delicious sausage is topped with a mix of ketchup and spices and has been the subject for discussion for generations. Many citizens debate which town produces the best, but we think the best way to find out is to try them yourself.
Kaffee und Kuchen: When it's close to 16:00, it's time to step off your bicycle to enjoy this tradition. It typically happens in the afternoon—you meet with friends, family or coworkers to socialize and enjoy some coffee and cake.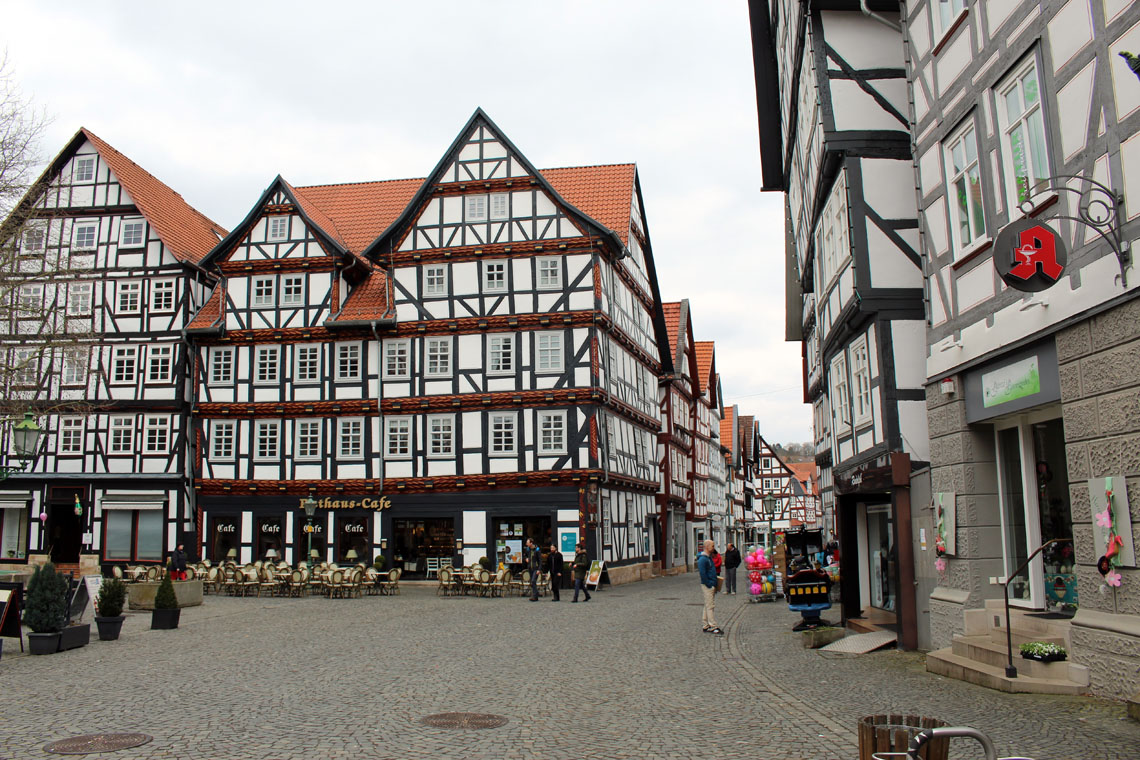 Drinks:
Beer: Of course Germany is famous for its wide variety of beers, and almost every village has its own brewery.
Schnapps: This is a very popular beverage in Southern Germany, a liquor made of fruits and herbs.
Spezi: This delicious thirst quencher is a mix of cola and orange soda and can be found all over Germany, made by many different brands.
Where to stay:
We are a big fan of Warmshowers​, an online hospitality platform for touring cyclists. You can get in contact with other cyclists from all over the world who are willing to host you mostly for free. These hosts can also provide you with information about the region, or just grab a drink with you while you share some amazing stories.
Along the Cycling Network there is a wide variety of accommodations. From low-budget campgrounds to luxury hotels, there is a place for everyone. For easy, reasonably priced accommodations, look for the Gasthaus​ or Zimmer Frei​ signs, which are locally owned guest houses that can provide you with a clean room and a delicious breakfast to start your day.
For the hardcore and low-budget cyclists, there are also many free-to-use Schutzhutte along the Cycling Network, which are extremely minimalistic and only provide you with shelter against the elements.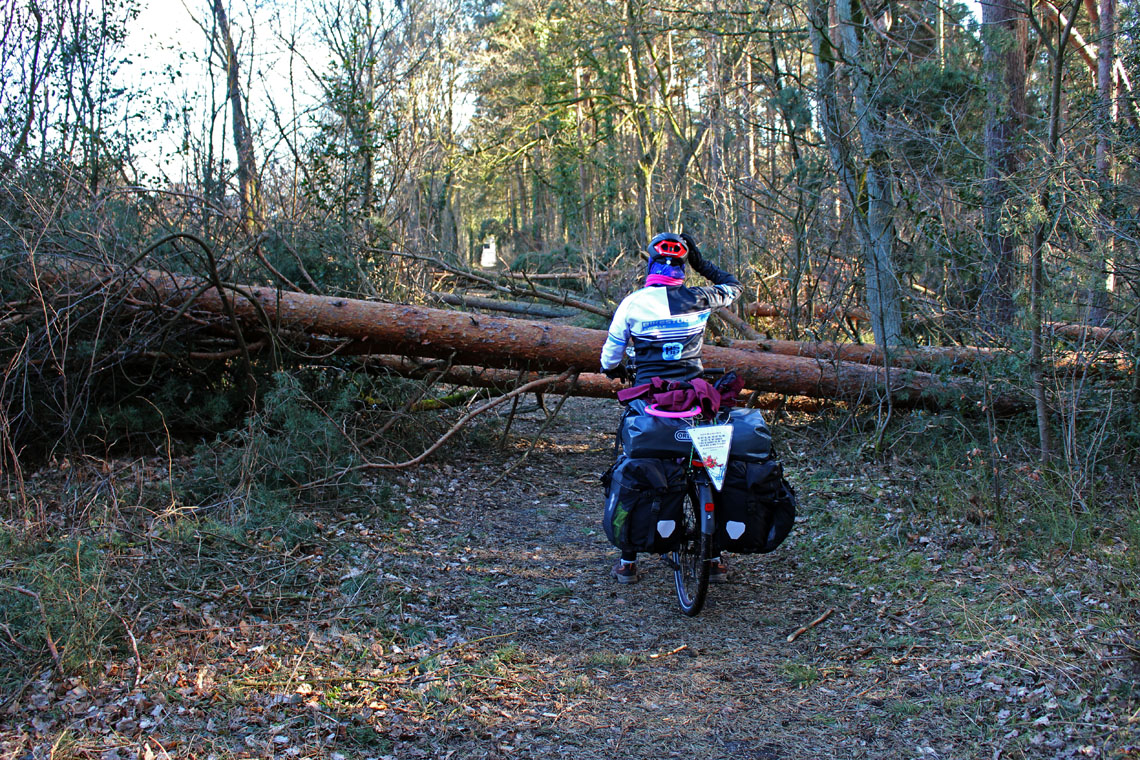 Helpful German phrases to know:
Hallo, wie geht's?(ha-low, vee gits?) – Hello, how are you?
Es tut mir leid (Es toot mir lied) – I'm sorry
3. Vielen Dank (vee-len dank) – Thank you very much
Ich habe viel Spaß! (Ikh ha-buh vee-el shpaa) – I'm having a great time!
Ich möchte nach _____ (Ikh muhkh-tuh nakh _____) – I want to go to _____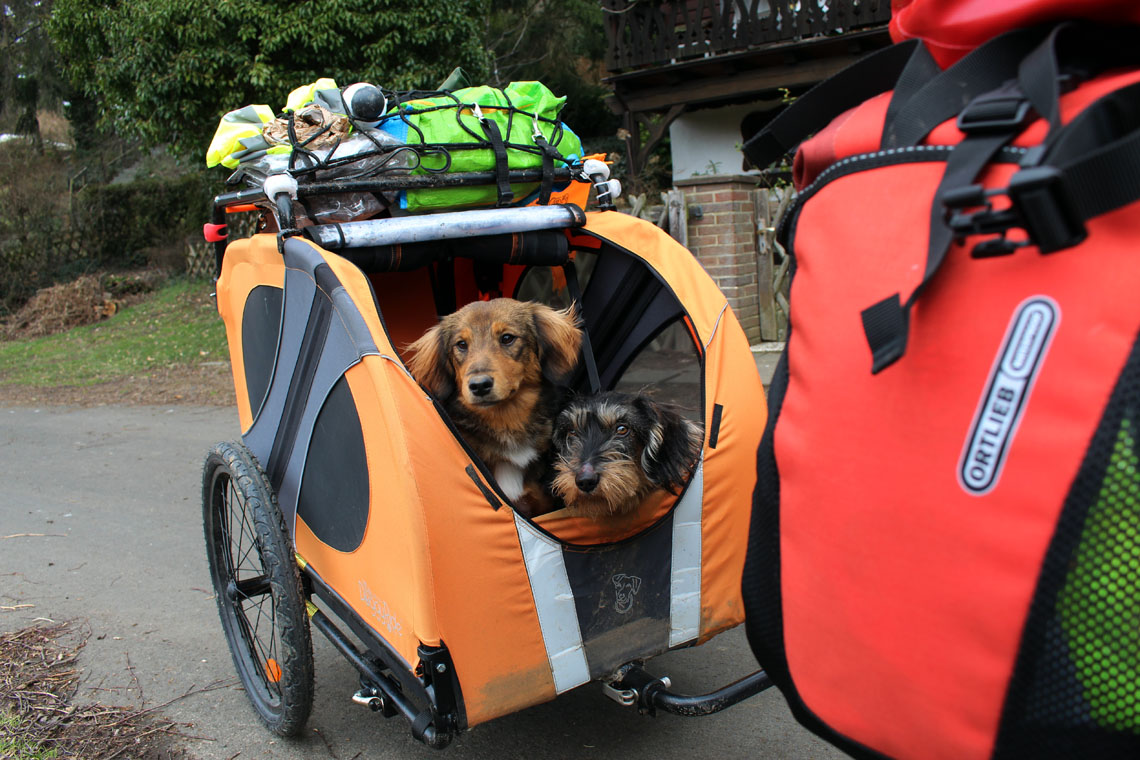 Follow more of Gijs and Annebeth's bikepacking adventure on www.biketrotters.com