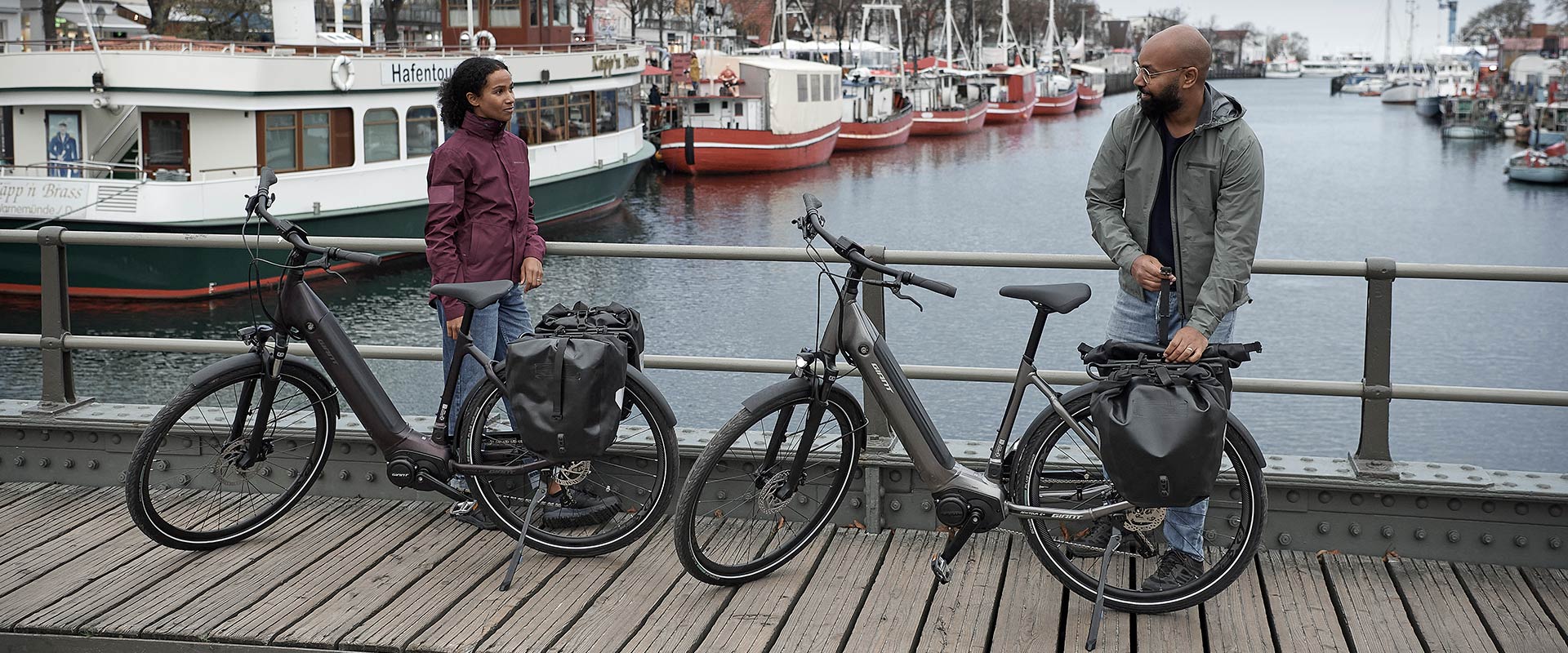 Long-distance adventure is better by bike. See the sights, experience your surroundings, and breathe it all in with this versatile E-bike. Smooth or rough roads, AnyTour E+ makes it easier.
Highlights
The AnyTour E+ has a comfortable, sporty and quiet feel with a 70Nm SyncDrive Sport motor that delivers up to 350 percent tunable support ratios. You can fine-tune it for the riding characteristics you prefer. It's designed to handle trekking terrain with a 60mm suspension fork that has a hydraulic lockout option. An EnergyPak 625 battery pack is seamlessly integrated into the downtube for a sleek profile and long-lasting power. The RideDash EVO offers navigation features with easy to use buttons and a clean handlebar mount.

Gallery
Selecting any of the image buttons will open a larger image gallery with image descriptions
Techs & Features

ALUXX SL Aluminum Technology
Acest material de aluminiu de înaltă performanță, de ultimă generație, este fabricat în principal din aliaj 6011 și oferă cele mai bune raporturi rezistență-greutate din clasa sa. Aceste seturi de cadru dispun, de asemenea, de tehnologii unice de sudură pentru o calitate de rulare de înaltă performanță.

Energypak
Cele mai recente sisteme de baterii EnergyPak de la Giant au design simplificat care sunt integrate cu bicicleta electrică pentru un profil elegant și modern. Bicicletele electrice Giant oferă mai multe opțiuni diferite EnergyPak, inclusiv EnergyPak Smart și EnergyPak. Fiecare dintre ele este conceput pentru a optimiza experiența cu bicicleta electrică pentru un anumit stil de mers.

Hybrid Cycling Technology
Tehnologia Hybrid Cycling este un sistem care combină puterea electrică cu puterea umană pentru a produce o experiență inteligentă, naturală și puternică de mers pe bicicletă electrică. Este un grup integrat de tehnologii care include unitatea noastră de control RideControl, sistemele de baterii EnergyPak și motorul SyncDrive. Pentru mai multe informații, consultați linkul de mai jos.

RideControl Ergo 2
Această nouă unitate de comandă este optimizată pentru bicicletele de oraș și de trekking care nu au schimbător față sau pârghii pentru tija de scaun pe ghidon. Este optimizat pentru ergonomie, cu butoane mai mari, ușor accesibile. LED-urile care indică nivelul bateriei și modul de asistență o fac o unitate de control autonomă care nu necesită afișaj. Un conector mai mic de 6 mm face posibilă rutarea internă a cablurilor ghidonului.

RideDash Evo
RideDash EVO este complet revizuit pentru 2021. Are o perspectivă mai sportivă, cu un afișaj color și grafică care arată noi funcționalități pentru a îmbunătăți experiența de mers cu bicicleta electrică. Are opțiuni de integrare ghidon/tupă și o conexiune fiabilă, prin cablu. Ecranul cu profil redus afișează informații despre călătorie, inclusiv viteza, distanța, autonomia bateriei și navigarea, ritmul cardiac și condiția fizică necesită conectarea aplicației.

Smart Assist
Toate motoarele SyncDrive au tehnologia Smart Assist, care ajustează suportul pentru a se potrivi nevoilor ciclistului. Prin utilizarea informațiilor de la mai mulți senzori, atât intrarea ciclistului, cât și feedback-ul terenului sunt utilizate pentru a determina cantitatea optimă de asistență la pedalare. SyncDrive este singurul sistem de biciclete electrice care utilizează atât inputul pilotului, cât și feedback-ul asupra terenului. Vă oferă o experiență de condus lină, naturală, cu o putere mare atunci când aveți nevoie de ea, păstrând totodată puterea atunci când nu aveți nevoie atât de mult.

SyncDrive Sport
Inovația, expertiza în producție și un sistem motor alimentat de Yamaha, toate se combină pentru a extinde abilitățile oricărui pilot. SyncDrive Sport oferă trei moduri de asistență și este echipat pe biciclete electrice care sunt utilizate atât pentru mersul zilnic, cât și pentru mersul off-road mai solicitant. Acest mic motor cu tracțiune medie oferă un cuplu masiv de maxim 80 Nm și este apreciat pe scară largă pentru performanța și fiabilitatea sa.