This pro-level XC flyer pairs new FlexPoint Pro rear suspension with a superlight full composite frame and race-ready geometry. It's the ultimate weapon for technical cross-country terrain.
Highlights
Proiectat cu un cadru complet din compozit, acest 29er are o cursă de suspensie de 100 mm în spate și 110 mm în față. Suspensia spate FlexPoint Pro cu un singur pivot, acționată de legături, face loc pentru tije mai scurte pentru a îmbunătăți capacitățile de urcare și agilitatea generală. Alte actualizări includ o nouă geometrie de cursă XC specifică pentru 29er, cu o rază mai lungă de acțiune și un unghi mai lent al tubului de direcție plus un set de roți compozit ușor și rigid pentru o manevrare rapidă și precisă.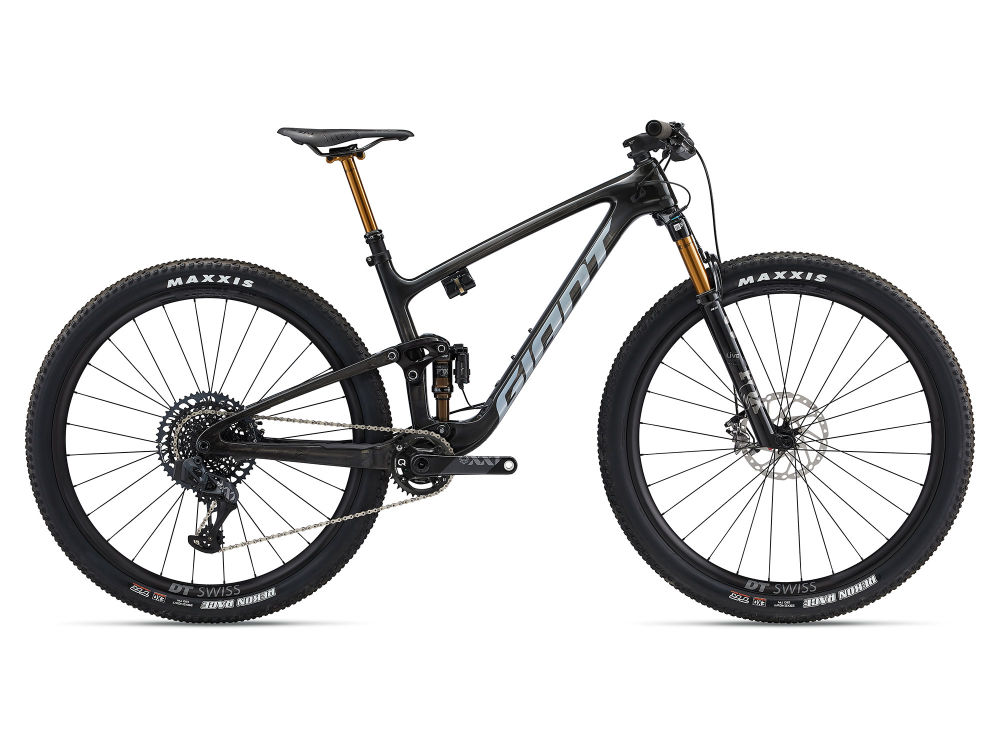 Gallery
Selecting any of the image buttons will open a larger image gallery with image descriptions
Techs & Features

Tehnologie avansată pentru manufacturarea carbonului
Pentru a produce aceste tipuri de cadru este folosit carbon de înaltă performanță Giant în propria noastră fabrică, cu un raport ridicat de rigiditate / greutate. Triunghiul acestor cadre este asamblat și turnat ca o singură piesă continuă într-un proces de fabricație specific Giant, numit Modified Monocoque Construction.

Advanced Forged Composite Technology
Un proces de turnare de înaltă presiune de ultimă generație este utilizat pentru a produce componente din fibră de carbon de formă complexă, care sunt mai ușoare, mai rigide și mai rezistente decât componentele similare fabricate din aluminiu. Această tehnologie este utilizată în piese de performanță critică, cum ar fi linkurile suspensiei Maestro .

FlexPoint Pro Suspension Technology
Dezvoltat ca o configurație de suspensie spate super ușoară pentru bicicletele XC care necesită eficiență, control și manevrabilitate receptivă, FlexPoint Pro este un sistem cu un singur pivot, acționat de legături, care oferă 100 mm de deplasare a roții din spate. Este proiectat cu un braț oscilant complet compozit care reduce semnificativ greutatea totală a cadrului.

OverDrive
Tehnologia originală a tubului de direcție a furcii supradimensionate de la Giant. Conceput pentru a oferi performanțe precise de direcție frontală, rulmenții supradimensionați ai sistemului cu cască (1 1/4" inferioare și 1 1/8" în sus pentru drum, 1 1/2" în jos și 1 1/8" în sus pentru munte) și conici. Tubul de direcție funcționează împreună pentru a oferi o rigiditate optimă a direcției.

PowerCore
O zonă masiv supradimensionată a pedalierului/lantului are un design de pedalier complet integrat, lățime de 86 de milimetri (lățime de 92 de milimetri pentru bicicletele off-road). Chainstays asimetrice oferă o rigiditate suplimentară pe partea de rulare și stabilitate pe partea din afara vehiculului.

Tubeless System
Mai puține cauciucuri cu pana. Tracțiune mai mare. Mai puțină rezistență la rulare și o călătorie mai lină și mai rapidă. Sistemul Giant Tubeless face mai ușor ca niciodată să experimentați toate aceste beneficii.