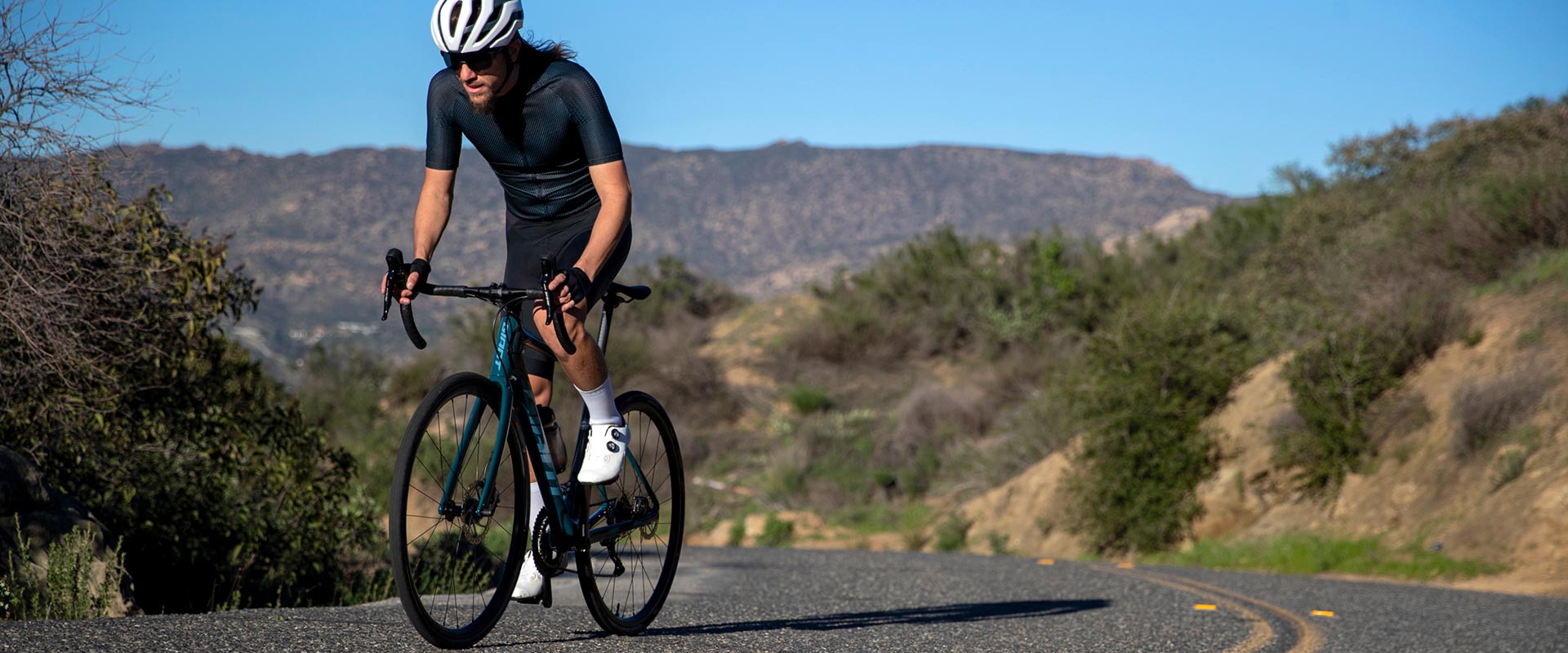 Elige la ruta más larga. Escala colinas más altas. Esta bicicleta de ruta de resistencia de conducción suave está hecha para recorridos de larga distancia en todo tipo de carreteras.
Destacables
Handcrafted with Advanced-grade composite material, the Defy Advanced is made with a specific carbon layup to give it an efficient, high-performance ride quality that helps you push new limits of endurance. The D-Fuse seatpost and handlebar system also help reduce road vibrations, adding to its smooth, compliant feel on the road. A tubeless Giant WheelSystem and tires boost speed and efficiency with a reduced risk of flats. And for added control, it features integrated disc brakes with flat-mount disc brake tabs and 12mm thru-axles.

Galería
Selecting any of the image buttons will open a larger image gallery with image descriptions
Tecnologías

Advanced Composite Technology
La fibra de carbono de alto rendimiento Giant se utiliza para producir este material de cuadro personalizado en nuestra propia fábrica con una alta relación rigidez-peso. El triángulo frontal de estos cuadros se ensambla y moldea como una pieza única en un proceso de fabricación patentado llamado Construcción Monocasco Modificada.

Compact Road Design
Presentado por Giant a finales de los '90 para el equipo profesional Team Once, el diseño Compact Road revolucionó la apariencia y la capacidad de rendimiento de las bicis de ruta de competición para siempre. Un tubo superior que se inclina hacia abajo (desde el tubo de dirección hasta el tubo de asiento) reduce el tamaño de los triángulos delantero y trasero, permitiendo concebir una bicicleta más ligera y resistente. Por otra parte, permite a ciclistas de todas las tallas tener un ajuste perfecto.

D-Fuse Technology
El exclusivo poste de asiento de carbono en forma de "D" amortigua las vibraciones ofreciendo una conducción más suave y cómoda.

OverDrive
La tecnología original de Giant del tubo de dirección sobredimensionado lleva grandes rodamientos de 1-1/4" el inferior y 1-1/8" el superior para bicicletas de ruta, y de 1-1/2" el inferior y 1-1/8" el superior para bicicletas de montaña. El tubo de dirección cónico ofrece un mayor control y rigidez a la dirección.

PowerCore
Un área de gran tamaño del eje de pedalier/vaina con un diseño del eje de centro con ancho de 86 milímetros completamente integrado (ancho de 92 milímetros para las bicicletas de montaña). Las vainas asimétricas aumentan la rigidez del lado de la transmisión y la estabilidad en el lado contrario.

Tubeless System
Menos ponchaduras, mejor adhesión al camino. Una resistencia mínima para conseguir una conducción más precisa, más rápida. El sistema Tubeless de Giant te permite experimentar todos estos beneficios como nunca antes.