Specs
| | |
| --- | --- |
| Tallas | XS, S, M, ML, L,XL |
| Colores | Blue/Orange |
| | |
| --- | --- |
| Cuadro | Advanced SL-Grade Composite, Integrated Seatpost |
| Horquilla | Advanced SL-Grade Composite, Full-Composite OverDrive 2 Steerer |
| Tija de sillín | Giant Variant, integrated |
| Peso | ¿Cuánto pesa la bici? Es una pregunta clásica e importante. No existe ningún estándar en la industria de la bicicleta que permita comparar el peso de una bicicleta de una marca a otra. Lo que a menudo conduce a informaciones erróneas. Las diferencias descansan en las tallas, los materiales utilizados, los elementos incluidos o nó en la evaluación del peso. Nosotros consideramos que la única forma de evaluar el peso de una bici es, sencillamente, probándola. |
Giant se reserva el derecho a modificar especificaciones, precios o colores sin previo aviso
Highlights
The TCR Advanced SL has earned its reputation as the ultimate all-around race bike. This is the lightest road frameset ever produced by Giant, and it boasts the highest stiffness-to-weight ratio of any road bike on the market. The new Variant integrated seatpost delivers an improved ride quality for more comfort on the longest, hardest rides, and the Advanced SL-grade composite frame makes the most of its proven Compact Road Design.
Sizing Guide and Geometry
Sizing to be used as a reference only. Please check with a local authorized Liv or Giant dealer to determine the correct size.
Available sizes may vary from country to country.
XS

 

157 cm

5'2"

167 cm

5'6"

S

 

167 cm

5'6"

173 cm

5'8"

M

 

173 cm

5'8"

178 cm

5'10"

ML

 

178 cm

5'10"

183 cm

6'0"

L

 

183 cm

6'0"

188 cm

6'2"

XL

 

188 cm

6'2"

194 cm

6'4"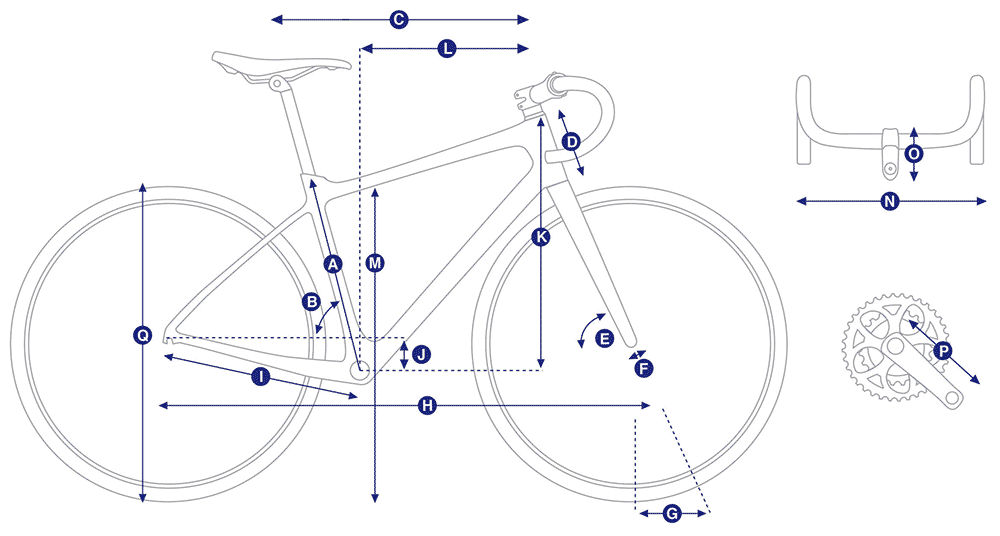 XS
S
M
ML
L
XL

A

Seat Tube Length

(mm)

(inch)

425

16,7

445

17,5

470

18,5

500

19,7

525

20,7

550

21,7

B

Seat Tube Angle

(degrees)

74,5°

73,5°

73,0°

73,0°

73,0°

72,0°

C

Top Tube Length

(mm)

(inch)

515

20,3

535

21,1

550

21,7

570

22,4

580

22,8

605

23,8

D

Head Tube Length

(mm)

(inch)

123

4,8

133

5,2

148

5,8

168

6,6

188

7,4

203

8

E

Head Tube Angle

(degrees)

71,0°

72,5°

73,0°

73,0°

73,0°

73,0°

F

Fork Rake

(mm)

(inch)

45

1,8

45

1,8

45

1,8

45

1,8

45

1,8

45

1,8

G

Trail

(mm)

(inch)

70

2,8

60

2,4

57

2,2

57

2,2

57

2,2

57

2,2

H

Wheelbase

(mm)

(inch)

972

38,3

974

38,3

976

38,4

997

39,3

1007

39,6

1021

40,2

I

Chain Stay Length

(mm)

(inch)

405

15,9

405

15,9

405

15,9

405

15,9

405

15,9

405

15,9

J

Bottom Bracket Drop

(mm)

(inch)

70

2,8

68

2,7

68

2,7

65

2,6

65

2,6

65

2,6

K

Stack

(mm)

(inch)

517

20,4

529

20,8

545

21,5

567

22,3

581

22,9

595

23,4

L

Reach

(mm)

(inch)

372

14,6

378

14,9

383

15,1

398

15,7

402

15,8

412

16,2

M

Stand Over Height

(mm)

(inch)

724

28,5

742

29,2

765

30,1

787

31

805

31,7

823

32,4

N

Handlebar Width

(mm)

(inch)

400

15,7

400

15,7

420

16,5

420

16,5

440

17,3

440

17,3

O

Stem Length

(mm)

(inch)

80

3,1

90

3,5

100

3,9

110

4,3

110

4,3

120

4,7

P

Crank Length

(mm)

(inch)

170

6,7

170

6,7

172,5

6,8

172,5

6,8

172,5

6,8

175

6,9

Q

Wheel Size

700C

700C

700C

700C

700C

700C
Giant se reserva el derecho a modificar especificaciones, precios o colores sin previo aviso