Specs
| | |
| --- | --- |
| Tallas | S, M, ML, L |
| Colores | Carbon/Red |
| Cuadro | Advanced-Grade Composite |
| Horquilla | Advanced-Grade Composite, Full-Composite OverDrive 2 Steerer |
| Manillar | Giant Contact SL |
| Potencia | Giant Contact SL |
| Tija de sillín | Giant Variant, composite |
| Sillín | Contact SL Forward |
| Manetas de cambio | Shimano Dura-Ace |
| Desviador | Shimano Dura-Ace |
| Cambio trasero | Shimano Dura-Ace |
| Frenos | Shimano Dura-Ace |
| Palancas de frenos | Shimano Dura-Ace |
| Casette | Shimano Dura-Ace, 11-28 |
| | |
| --- | --- |
| Cadena | Shimano CN-HG900 |
| Jgo. platos y bielas | Shimano Dura-Ace, 36/52 |
| Bottom Bracket | Shimano BB-9100 |
| llanta/Aro | Giant SLR 1 WheelSystem |
| Bujes | Giant SLR 1 WheelSystem |
| Radios | Giant SLR 1 WheelSystem |
| Cubiertas | Giant Gavia SLR Tubeless, 700x25, Front and Rear Specific, Folding |
| Extras | RideSense BlueTooth |
| Peso | ¿Cuánto pesa la bici? Es una pregunta clásica e importante. No existe ningún estándar en la industria de la bicicleta que permita comparar el peso de una bicicleta de una marca a otra. Lo que a menudo conduce a informaciones erróneas. Las diferencias descansan en las tallas, los materiales utilizados, los elementos incluidos o nó en la evaluación del peso. Nosotros consideramos que la única forma de evaluar el peso de una bici es, sencillamente, probándola. |
Giant se reserva el derecho a modificar especificaciones, precios o colores sin previo aviso
Highlights
Climbing, descending, cornering and sprinting—the award-winning TCR Advanced Pro gives you every advantage on the road. Through superior engineering and composite manufacturing, the proven Advanced-grade composite frame minimizes weight without sacrificing its best-in-class stiffness. Legendary Compact Road race geometry blends quick handling with aggressive positioning, while the OverDrive 2 steerer tube delivers precise steering performance. The Variant seatpost helps smooth out the ride, giving you a well-rounded machine for your road racing ambitions.
Sizing Guide and Geometry
Sizing to be used as a reference only. Please check with a local authorized Liv or Giant dealer to determine the correct size.
Available sizes may vary from country to country.
XS

 

157 cm

5'2"

167 cm

5'6"

S

 

167 cm

5'6"

173 cm

5'8"

M

 

173 cm

5'8"

178 cm

5'10"

ML

 

178 cm

5'10"

183 cm

6'0"

L

 

183 cm

6'0"

188 cm

6'2"

XL

 

188 cm

6'2"

194 cm

6'4"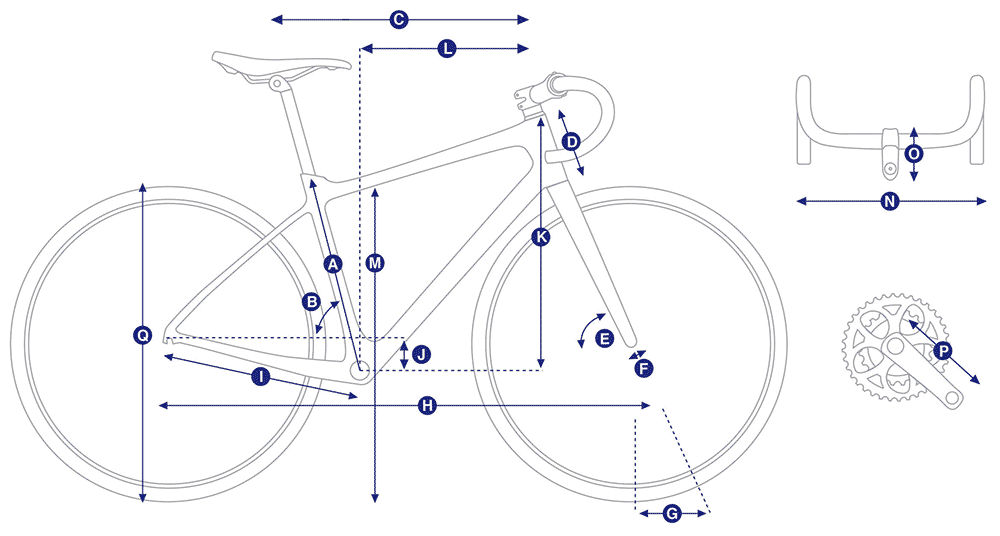 XS
S
M
ML
L
XL

A

Seat Tube Length

(mm)

(inch)

425

16,7

445

17,5

470

18,5

500

19,7

525

20,7

550

21,7

B

Seat Tube Angle

(degrees)

74,5°

73,5°

73,0°

73,0°

73,0°

72,0°

C

Top Tube Length

(mm)

(inch)

515

20,3

535

21,1

550

21,7

570

22,4

580

22,8

605

23,8

D

Head Tube Length

(mm)

(inch)

123

4,8

133

5,2

148

5,8

168

6,6

188

7,4

203

8

E

Head Tube Angle

(degrees)

71,0°

72,5°

73,0°

73,0°

73,0°

73,0°

F

Fork Rake

(mm)

(inch)

45

1,8

45

1,8

45

1,8

45

1,8

45

1,8

45

1,8

G

Trail

(mm)

(inch)

70

2,8

60

2,4

57

2,2

57

2,2

57

2,2

57

2,2

H

Wheelbase

(mm)

(inch)

972

38,3

974

38,3

976

38,4

997

39,3

1007

39,6

1021

40,2

I

Chain Stay Length

(mm)

(inch)

405

15,9

405

15,9

405

15,9

405

15,9

405

15,9

405

15,9

J

Bottom Bracket Drop

(mm)

(inch)

70

2,8

68

2,7

68

2,7

65

2,6

65

2,6

65

2,6

K

Stack

(mm)

(inch)

517

20,4

529

20,8

545

21,5

567

22,3

581

22,9

595

23,4

L

Reach

(mm)

(inch)

372

14,6

378

14,9

383

15,1

398

15,7

402

15,8

412

16,2

M

Stand Over Height

(mm)

(inch)

724

28,5

742

29,2

765

30,1

787

31

805

31,7

823

32,4

N

Handlebar Width

(mm)

(inch)

400

15,7

400

15,7

420

16,5

420

16,5

440

17,3

440

17,3

O

Stem Length

(mm)

(inch)

80

3,1

90

3,5

100

3,9

110

4,3

110

4,3

120

4,7

P

Crank Length

(mm)

(inch)

170

6,7

170

6,7

172,5

6,8

172,5

6,8

172,5

6,8

175

6,9

Q

Wheel Size

700C

700C

700C

700C

700C

700C
Giant se reserva el derecho a modificar especificaciones, precios o colores sin previo aviso