Highlights
Designed using Computational Fluid Dynamics and dynamic wind-tunnel testing, the Trinity Advanced Pro delivers a proven aerodynamic advantage. Handcrafted from premium Advanced-grade composite and meticulously formed with AeroSystem Shaping Technology, this is the choice of Giant pro triathletes including Ironman 70.3 World Champion Gustav Iden. It offers a comfortable fit for long distance training and racing nd its unique AeroVault system includes an integrated front hydration unit, top tube storage box and downtube water bottle that, together, actually improve the bike's aero performance on the road.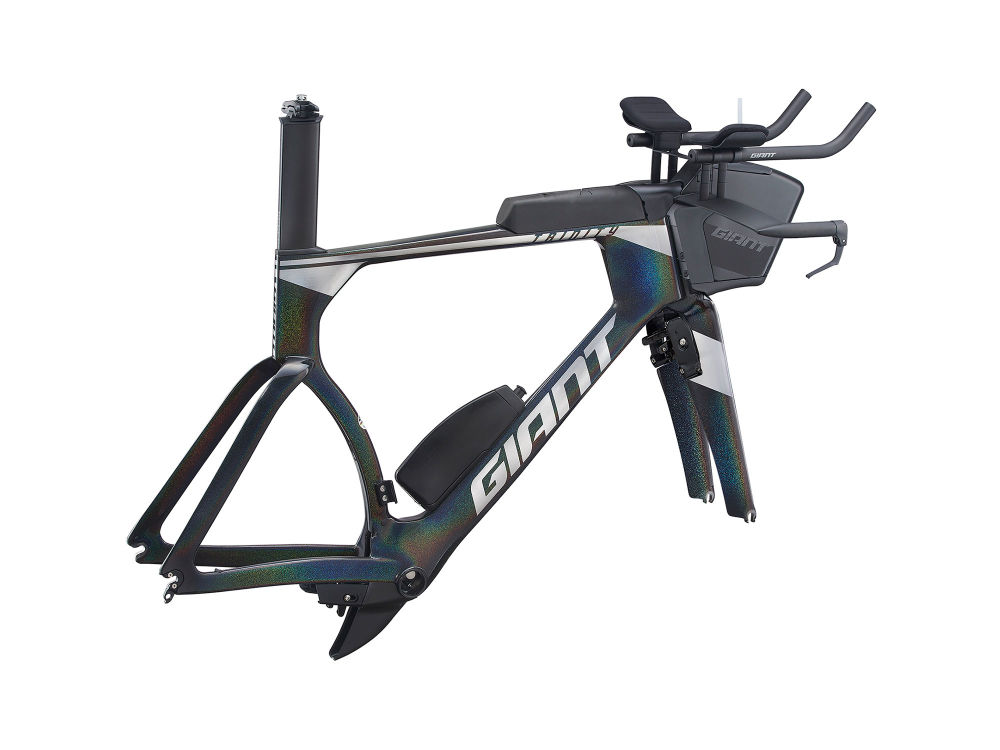 Tecnologie

Advanced Composite Technology
ADVANCED COMPOSITE TECHNOLOGY La fibra di carbonio grezzo ad alte prestazioni viene utilizzata per produrre materiale composito personalizzato nello stabilimento di compositi di Giant. Estremamente leggeri, rigidi e conformi, questi telai artigianali, presentano i seguenti materiali e processi. Materiali 1. MATERIALE A base di carbonio grezzo ad alte prestazioni per un elevato rapporto rigidità / peso. 2. RESINA La resina High Performance Formula fornisce un livello elevato di minimizzazione dei vuoti (meno bolle) pur mantenendo caratteristiche di resistenza eccezionali. Le particelle che assorbono le vibrazioni vengono aggiunte per aiutare a disperdere gli impatti causati dalla strada. 3 TECNICHE DI COSTRUZIONE COSTRUZIONE MONOSCOCCA MODIFICATA: Il triangolo anteriore (tubo obliquo, tubo sterzo, tubo superiore, tubo verticale) è assemblato e stampato come un unico pezzo continuo. Questa metà anteriore viene quindi unita ai foderi verticali e orizzontali in un processo secondario. La monoscocca modifcata elimina il foglio composito più esterno per ridurre il peso senza compromettere la qualità della guida, la resistenza o la rigidità.

AeroSystem Shaping Technology
Attraverso i dati CFD (Computational Fluid Dynamics) e test gallerie del vento, i nostri ingegneri ottimizzano ogni forma del tubo per offrire prestazioni aerodinamiche superiori.

PowerCore
Dotazione di una staffa inferiore completamente integrata, larga 86 millimetri (larghezza di 92 millimetri per le bici offroad). I foderi asimmetrici forniscono maggiore rigidità sul lato guida e stabilità sul lato opposto.
Galleria
Selecting any of the image buttons will open a larger image gallery with image descriptions