Accelera su strade aperte con questa nuova e-bike vivace creata per definire nuove prestazioni su strada. Con un telaio in alluminio reattivo, una forcella in composito ed il nostro motore SyncDrive Pro aggiornato, Road-E + Pro è la bici perfetta per prolungare le tue avventure su strada.
Highlights
Engineered with purpose-built geometry, excellent weight distribution and integrated power, Road E+ Pro keeps you going strong on busy commutes and any road riding adventure you can imagine. The SyncDrive Pro motor can reach 170 rpm cadence and has a powerful 80Nm of torque output. New this year is the integrated compact 375Wh EnergyPak. Tubeless tires provide a smoother ride, protection from flat tires, and lower rolling resistance. With its 6-sensor Smart Assist technology and RideControl EVO command center, all integrated with a smooth-riding ALUXX SL frameset and D-Fuse seatpost for added compliance, the Road E+ Pro is the choice for performance-minded road riders looking to climb higher mountains and ride longer distances.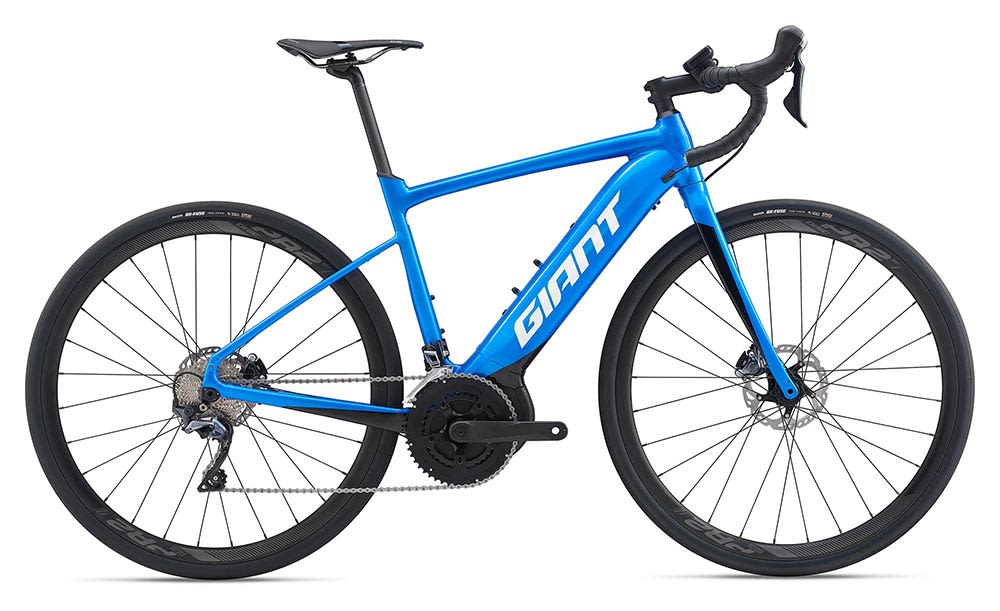 Galleria
Selecting any of the image buttons will open a larger image gallery with image descriptions
Tecnologie


ALUXX SL Aluminum Technology
Questo materiale in alluminio ad alte prestazioni e all'avanguardia è realizzato prevalentemente in lega 6011 e offre i migliori rapporti resistenza-peso. I telai caratterizzati da questa tecnologia dispongono inoltre di ulteriori tecnologie di saldatura esclusive per una qualità di guida ad alte prestazioni.


Energypak
I nuovi sistemi di batterie EnergyPak di Giant presentano design aerodinamici integrati con la tua E-bike per un profilo elegante e moderno. Le bici elettriche Giant offrono diverse opzioni EnergyPak tra cui EnergyPak Smart ed EnergyPak. Ognuno è progettato per ottimizzare l'esperienza della tua E-bike per uno stile di guida specifico.

Hybrid Cycling Technology
Hybrid Cycling Technology è un sistema che combina energia elettrica e potenza umana per produrre l'esperienza di guida E-bike più effciente, potente e naturale. È un'estensione senza soluzione di continuità della forza di un ciclista che distingue le E-bike Giant dalle altre biciclette "elettriche". Il sistema è costituito da quattro tecnologie innovative chiave che funzionano all'unisono con la potenza del proprio corpo -un'estensione perfetta delle proprie capacità.

RideControl EVO
RideControl EVO rappresenta il design e l'estetica all'avanguardia. Gli angoli puliti e arrotondati gli conferiscono un aspetto elegante; la sua custodia in alluminio rende RideControl EVO più durevole e resistente agli urti, anche su terreni sconnessi. RideControl EVO può essere collegato con Bluetooth e offre possibilità di ricarica USB. La connettività Bluetooth assicura che RideControl possa essere aggiornato, il che significa che avrai sempre a disposizione la tecnologia software più recente.

SyncDrive Pro
SyncDrive Pro con tecnologia Yamaha è progettato per la guida delle E-bike di chi cerca alte prestazioni. Giant ha messo a punto il motore per renderlo più potente, ottenendo uno stile di guida che permette di esprimere al meglio le proprie capacita'. Il motore SyncDrive Pro e' leggero e compatto e viene utilizzato principalmente sui modelli ad alte prestazioni di Giant.
Siamo spiacenti, non sono disponibili modelli di bici di questa serie in questo paese o regione