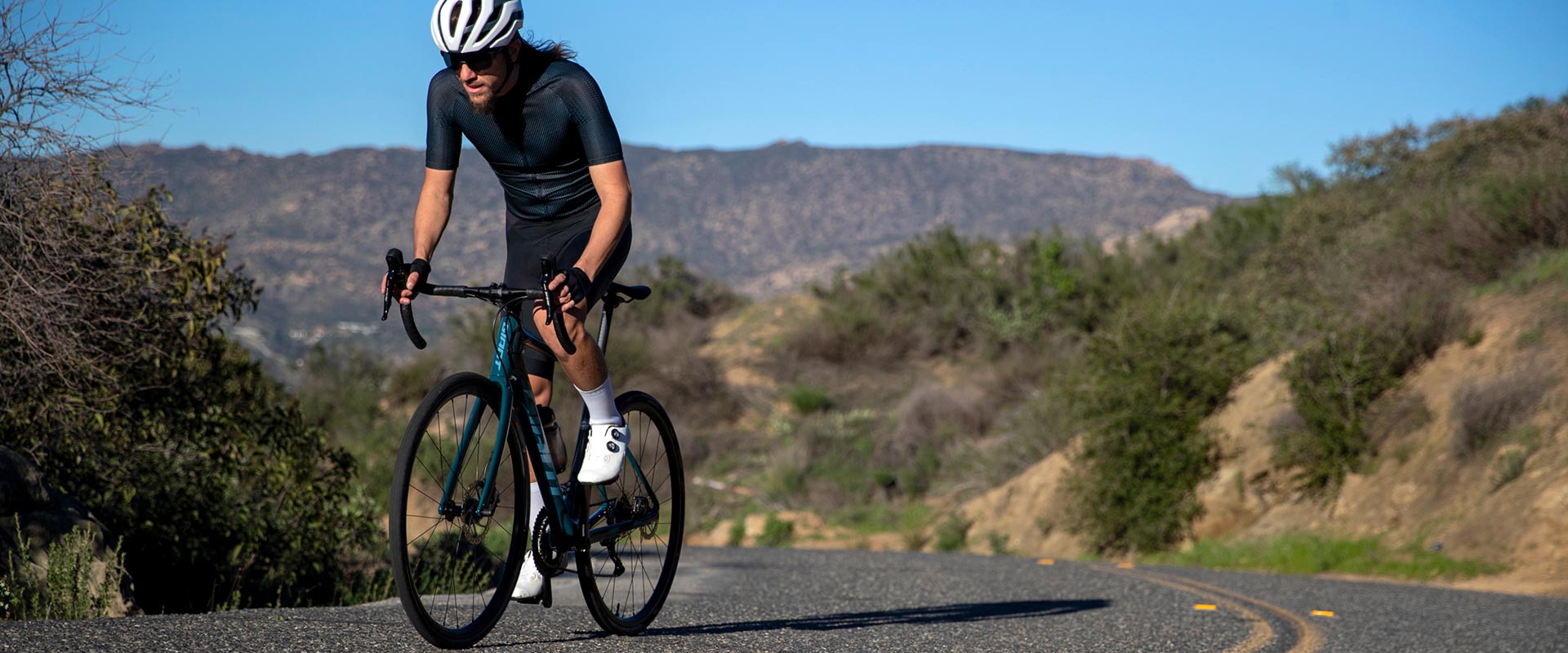 Scegli il percorso più lungo. Affronta le salite più faticose. Questa bici da strada endurance offre guida fluida ed è pensata per uscite su lunghe distanze e su tutti i tipi di strade.
Highlights
Handcrafted with Advanced-grade composite material, the Defy Advanced is made with a specific carbon layup to give it an efficient, high-performance ride quality that helps you push new limits of endurance. The D-Fuse seatpost and handlebar system also help reduce road vibrations, adding to its smooth, compliant feel on the road. A tubeless Giant WheelSystem and tires boost speed and efficiency with a reduced risk of flats. And for added control, it features integrated disc brakes with flat-mount disc brake tabs and 12mm thru-axles.

Galleria
Selecting any of the image buttons will open a larger image gallery with image descriptions
Tecnologie

Advanced Composite Technology
ADVANCED COMPOSITE TECHNOLOGY La fibra di carbonio grezzo ad alte prestazioni viene utilizzata per produrre materiale composito personalizzato nello stabilimento di compositi di Giant. Estremamente leggeri, rigidi e conformi, questi telai artigianali, presentano i seguenti materiali e processi. Materiali 1. MATERIALE A base di carbonio grezzo ad alte prestazioni per un elevato rapporto rigidità / peso. 2. RESINA La resina High Performance Formula fornisce un livello elevato di minimizzazione dei vuoti (meno bolle) pur mantenendo caratteristiche di resistenza eccezionali. Le particelle che assorbono le vibrazioni vengono aggiunte per aiutare a disperdere gli impatti causati dalla strada. 3 TECNICHE DI COSTRUZIONE COSTRUZIONE MONOSCOCCA MODIFICATA: Il triangolo anteriore (tubo obliquo, tubo sterzo, tubo superiore, tubo verticale) è assemblato e stampato come un unico pezzo continuo. Questa metà anteriore viene quindi unita ai foderi verticali e orizzontali in un processo secondario. La monoscocca modifcata elimina il foglio composito più esterno per ridurre il peso senza compromettere la qualità della guida, la resistenza o la rigidità.

Compact Road Design
Presentato da Giant con il team professionale ONCE negli anni '90, Compact Road ha rivoluzionato per sempre l'aspetto e la sensazione delle bici da strada ad alte prestazioni. Un tubo obliquo inclinato verso il basso (dal tubo sterzo al tubo sella) crea triangoli anteriori e posteriori più piccoli per una bici più leggera e rigida. Inoltre, rende più facile ottenere un fit ideale per i ciclisti di tutte le taglie.

D-Fuse Technology
Il reggisella in composito a forma di "D" smorza le vibrazioni, garantendo una guida fluida e conforme.

OverDrive
E' la tecnologia originale Giant a forcella sterzata sovradimensionata. Progettata per fornire prestazioni di sterzata front-end precise, i cuscinetti delle cuffe sovradimensionati del sistema (1 1/4 "inferiore e 1 1/8" superiore per strada, 1 1/2 "inferiore e 1 1/8" superiore per montagna) e di forma conica e il tubo dello sterzo funzionano congiuntamente per fornire una rigidità di sterzata ottimale

PowerCore
Dotazione di una staffa inferiore completamente integrata, larga 86 millimetri (larghezza di 92 millimetri per le bici offroad). I foderi asimmetrici forniscono maggiore rigidità sul lato guida e stabilità sul lato opposto.

Tubeless System
Sistema di pneumatici pratico e affdabile che offre maggiore effcienza, comfort e controllo.