Five years ago Giant introduced a new approach to high-performance bicycle wheels with its System Engineered technology. We studied the way that a wheel's components—rims, hubs, spokes and other small parts—affect each other, and then created the Giant WheelSystem. Backed by world-leading manufacturing capabilities, and a dedicated team of engineers, designers and athletes, the products have been constantly evolving every year. Today's Giant WheelSystems use innovative technologies to create three key benefits for riders:
1. SUPERIOR EFFICIENCY
Market-leading transmission stiffness, best-in-class weight and optimized aerodynamics.
2. PINPOINT CONTROL
Market-leading lateral stiffness and superior braking performance in all conditions.
3. ENGINEERED DURABILITY
Handcrafted with proprietary materials, resins and processes.
Technologies
Behind the performance of new Giant WheelSystems are a number of innovative technologies that, together, deliver superior efficiency, pinpoint control and engineered durability. Here's a look at the technologies you'll find in new high-performance WheelSystems such as the SLR 0.
Dynamic Balanced Lacing
A bicycle wheel is a complex structure of parts that sometimes act in opposition to each other, compromising performance. With Giant's breakthrough Dynamic Balanced Lacing approach, opposing spokes have different levels of tension when the wheel is static. But when a rider applies pedaling force as the bike is being ridden, the spoke tensions balance out. This improves a wheel's transmission stiffness, which increases efficiency. The rear wheel of a DBL WheelSystem is built with 21 spokes: 14 on the drive side and 7 on the non-drive side. It's engineered with more leverage on the "pulling" spokes, less on the "pushing" spokes. When a DBL wheel is static, these opposing spokes have different levels of tension. But when a rider applies pedaling force, the spoke tension balances out to produce a stiffer, more efficient wheel.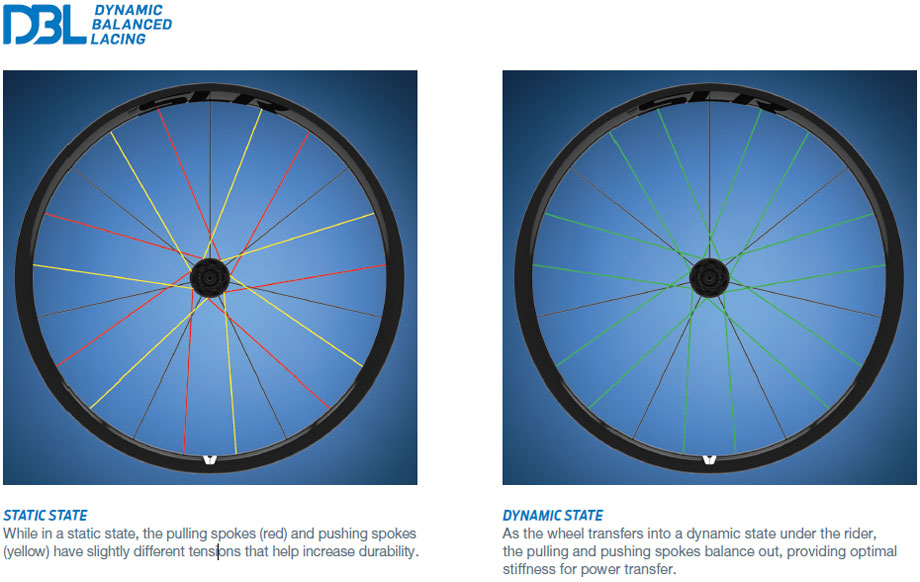 Optimized Anchor Point
Today's drivetrains feature up to 11 gears on the rear cassette, reducing critical space needed to maintain stiffness and strength in the rear wheel. With Optimized Anchor Point technology, Giant engineers have increased the drive side bracing angle nearly 2mm without affecting required gear spacing, and also increased the front wheel bracing angle. The result is more lateral stiffness for a stronger wheel that tracks more accurately and improves control, especially while cornering or descending.
Giant Composite Manufacturing
Composite WheelSystems including the SLR 0 are engineered and manufactured in-house at Giant's world-leading composite manufacturing facilities. Built with cutting-edge materials and designs, each WheelSystem is backed by the quality and reliability of the leading composite manufacturer in the bicycle industry.
Giant's proprietary resin system boasts an impressive Glass Transition Temperature (Tg) rating of 245ºC—versus the industry resin standard Tg rating of 160ºC—to ensure heat resistance under heavy braking situations. When combined with Giant's proprietary automated layup process, the result is greater overall consistency in materials placement, best-in-class brake heat protection, and improved overall toughness of the rim structure.
BUILDING A BETTER WHEEL
Here's a closer look at the key performance factors—superior efficiency, pinpoint control, and engineered durability—that give Giant WheelSystems a clear edge over key competitors.
1. SUPERIOR EFFICIENCY
Giant WheelSystems with DBL technology deliver the highest level of efficiency, as measured by its market-leading transmission stiffness-to-weight ratio and aerodynamic performance.
WEIGHT
With its unrivaled capabilities in composite engineering and manufacturing, Giant is able to produce WheelSystems that are consistently best-in-class when it comes to weight.
Here are the results:

TRANSMISSION STIFFNESS
The 2016 Giant SLR 0 WheelSystem was tested against top competitor wheels to determine overall transmission stiffness. A dynamic pedaling load equivalent to a 175mm crank and a 39/25T gear combo producing 65kg of pedaling force was applied, and deformation was measured to determine transmission stiffness. The weight of each rear wheel was then factored into the stiffness results to produce the overall stiffness-to-weight ratio. The Giant SLR 0 with DBL technology tested highest in transmission stiffness against leading competitors.
Here are the results:

Factoring in both transmission stiffness and weight, the Giant SLR 0 achieves the highest stiffness-to-weight ratio of all the wheels that were tested to deliver superior efficiency.

AERODYNAMIC PERFORMANCE
Giant WheelSystems are designed and engineered using CFD analysis to minimize wind drag for optimized aerodynamics. Tested at the Aero Concept Engineering wind tunnel facility in France, Giant WheelSystems were proven to provide a high level of aerodynamic advantage at various yaw angles.
2. PINPOINT CONTROL
Giant WheelSystems are designed to help riders climb, corner, sprint and descend with confidence and control. How? By improving performance factors such as lateral stiffness and braking performance, and also allowing riders to choose standard clinchers or tubeless tires.
LATERAL STIFFNESS
The combination of DBL and Optimized Anchor Point technologies helps boost the lateral stiffness of a wheel. This allows a bike to track more accurately, especially while cornering or descending. In a test to determine overall lateral deformation under a side load, the SLR 0 WheelSystem beats the competition, showing the lowest deformation. That means these wheels have the highest lateral stiffness front to rear, which gives a rider more control.
Here are the results: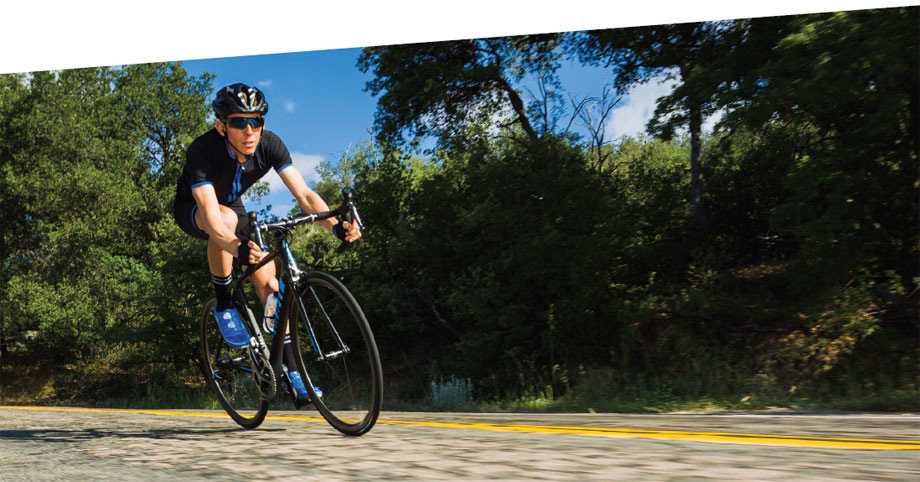 3. ENGINEERED DURABILITY
A number of factors contribute to the durability of a wheel. By increasing heat resistance in the rims, managing spoke tension in the rear wheel with DBL technology, and capitalizing on Giant's manufacturing expertise and processes, Giant WheelSystems ensure better overall strength and durability.
COMPOSITE RIMS
Giant's proprietary High Glass Transition Temperature (Tg) resin system and automated continuous composite layup process help ensure consistency of the materials used in the rim. These processes, combined with Giant's unrivaled composite engineering and manufacturing expertise, help produce rims that tolerate higher heat under braking, which enhances the rim's overall durability. To analyze the effects of heat build-up, the SLR 0 WheelSystem was tested against other leading wheelsets in a brake force and thermal resistance test. The equivalent braking energy of 75Wh, sustained over two 15-minute cycles using an average speed of 12.5 kph was applied. Tire pressure was set to 100 psi. The desired result was no deformation of the rim after the first cycle, and to finish the second cycle without rim failure.
Here are the results:

SPOKE TENSION
DBL technology evens out the tension of a rear wheel's opposing spokes when the wheel is in a dynamic state. This improves the overall strength and durability of a Giant WheelSystem.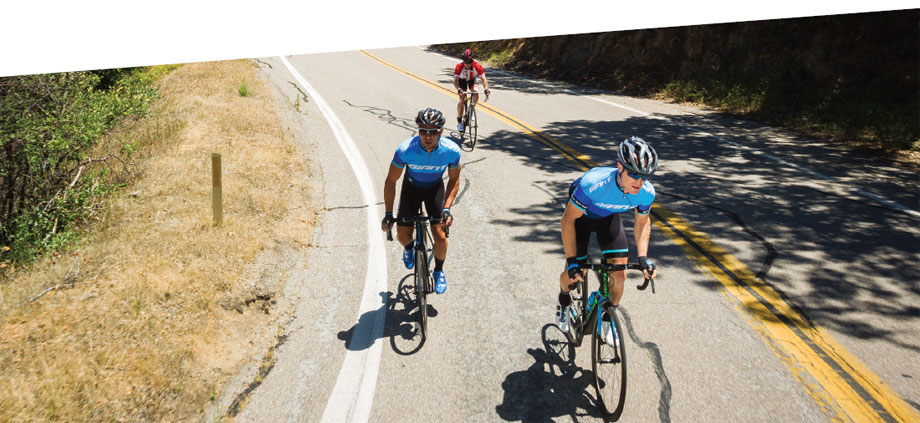 PERFORMANCE YOU CAN FEEL
By targeting goals such as best-in-class weight and stiffness, Giant engineers were pushed to develop new solutions. To rethink the old way of doing things and take a new approach. In the end, the test results speak for themselves. But the crowning achievement for Giant WheelSystems is the way they feel on the road, path or trail. Superior efficiency, pinpoint control and engineered durability all add up to performance you can feel. It means more powerful climbing, faster sprinting, more confident descending, and reliability you can count on day in and day out.