The compact and functional Recon headlight series provides a more consistent lumen output and a longer run time than any other comparable light on the market. It is also Giant's first headlight series which utilizes a smart function that adjusts your light output depending on your speed and the amount of ambient light. From casual commuter to seasoned pro, wherever and whenever you ride, the Recon headlight will give you the power, dependability, and safety you need.
Recon Light Technologies
RELIABLE LUMEN OUTPUT

ANSI certified, the Recon light series not only shines brighter, it lasts longer.  Giant's Electronic Control Design (ECD) generates a constant electric current throughout the complete runtime cycle, helping to maintain stable light levels that last longer at high output. Additionally, the power indicator will turn on blinking mode when the battery reaches less than 20% to remind you to charge the light after your ride.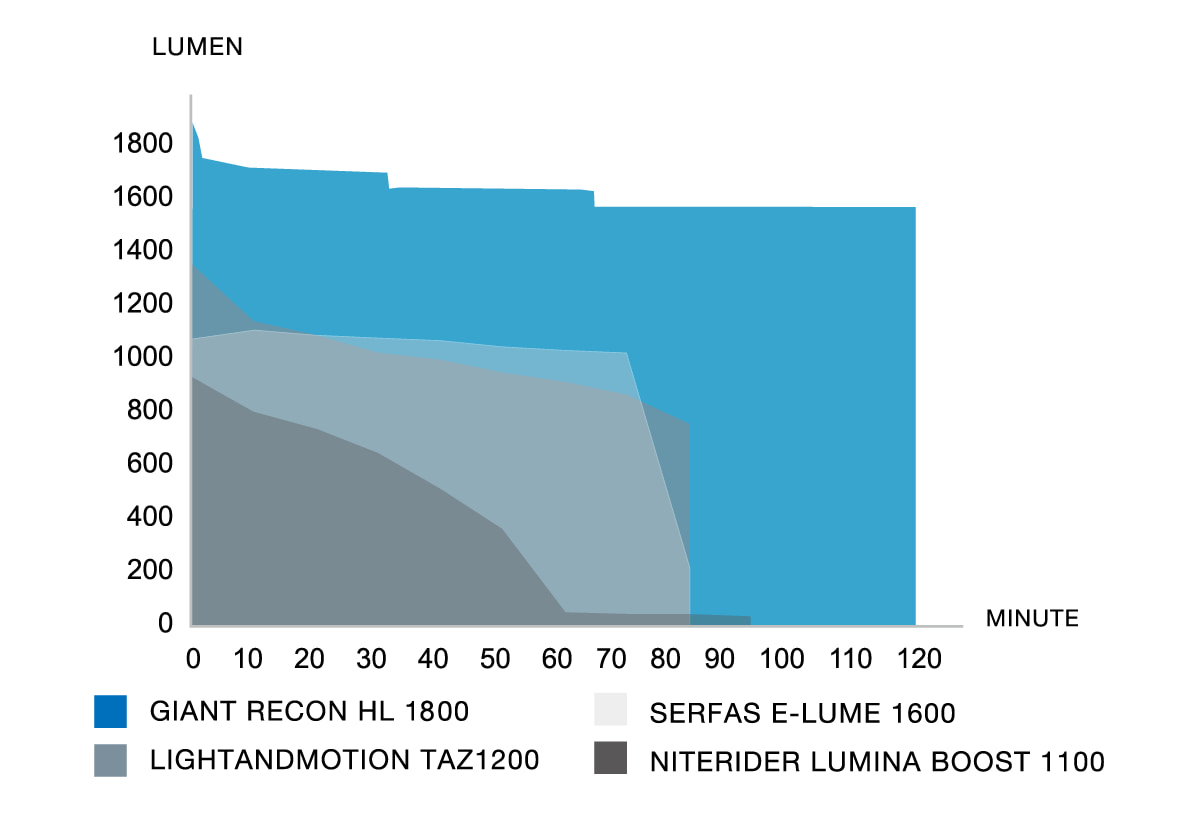 BRIGHTER
The Recon HL1800 provides the highest consistent lumen output over market competitors.
LONGER
The Recon HL1800 provides a longer overall usage time versus comparable lights in the marketplace.
SAFER
ECD prevents the Recon from suddenly turning off as battery power gets low and provides a minimum of thirty minutes in warning mode to ensure you finish your ride safely.
---
SMARTER
As well as pairing with ANT+ compatible computers to view battery information on the screen*, Recon lights can also monitor ambient light sources and change output usage to ensure that you have enough light to finish your ride.**

Day mode: when the ambient light sensor senses daylight, the Recon lights will switch to flash mode to ensure other vehiclescan see you.

Night mode: while riding in the dark or at night, the Recon light will switch to a steady output and the tail light will change to steady/flash mode to let vehicles behind you know exactly where you are.
* Recon HL1800 can pair with Garmin Edge® 520, 820, 1000 and 1030 devices.
** Recon HL1800/1100/800; Recon TL200 only.
COMPLETE MOUNT SOLUTION
Whether you prefer to mount your light with your computer, on the saddle, directly on your helmet or via an adjustable GoPro mount, the Recon Complete Mount Solution can do it all. Additionally, our redesigned rail mounting system provides a stronger, more secure solution to keep the light centered and stable; even when riding on rough roads or trails.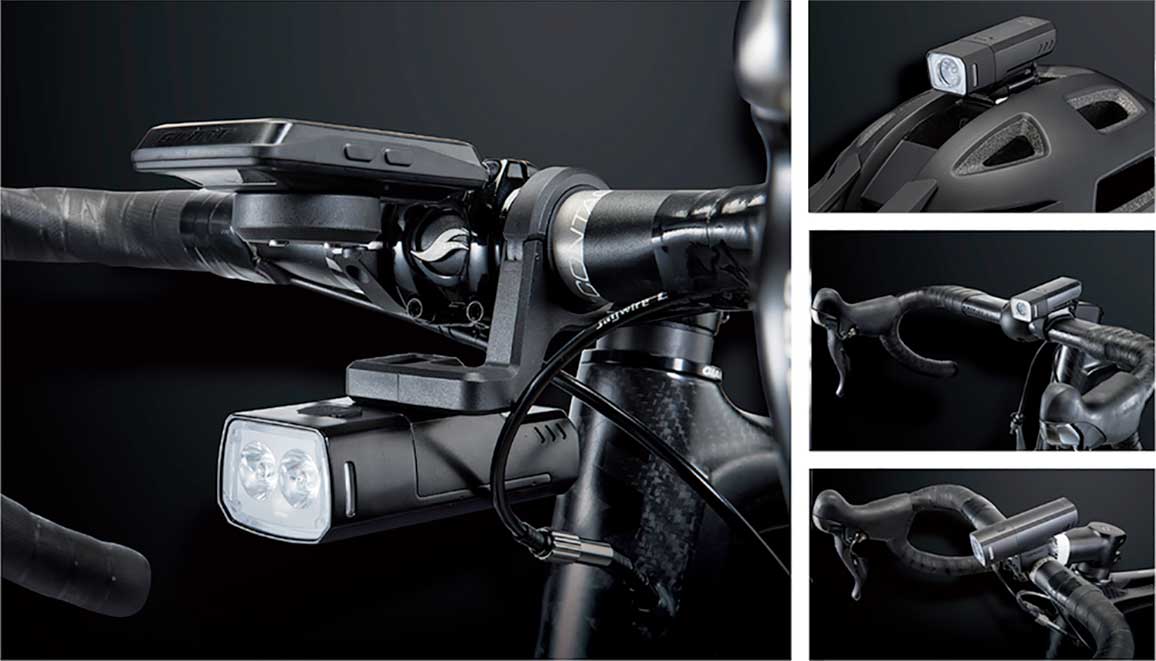 POWER/RECHARGE INDICATOR
The power status and recharge indicator displays current power level, alerts remaining run-time before powering off and indicates recharge condition.
ANSI-STANDARD CERTIFIED
All Recon series headlights are American National Standards Institute (ANSI) certified to provide not only a more consistent lumen output but also a significantly longer run time than any other comparable light on the market.
Side Light Design
Focused optics with a side light design provide over 270-degrees of visibility.
Complete Mount Solution
A quick and efficient rail mounting system provides a stronger, more secure base to keep the light centered and stable.
CNC Aluminum Casing
CNC-machined aluminum casing avoids overheating by increasing heat dissipation by 50% while simultaneously reducing overall size by 47% when compared to the 700-lumen Numen+ HL0.
IPX6 Water Resistance
All Recon series headlights are rated to the IPX6 standard, signifying their ability to withstand even the heaviest downpour.
Smart Mode
The Smart Mode light sensor monitors ambient light to adjust light output day or night.
ANT+ Compatible
The Recon 1800 can pair with ANT+ compatible computers to view battery information on the computer screen
Select your location to view gear products