The Grinduro "gravel enduro" concept is not new, really. It's a purple twist on enduro mountain bike racing. Which was adopted from motorbike racing, which was preceded by rally car racing, and probably some sort of enduro horse racing prior to that. All share a similar format: a long day in the field with bouts of all-out racing, separated by transits or liaisons or whatever you'd like to call the non-timed mileage. But Grinduro's popularity is proof that this fresh take on gravel riding is certainly compelling.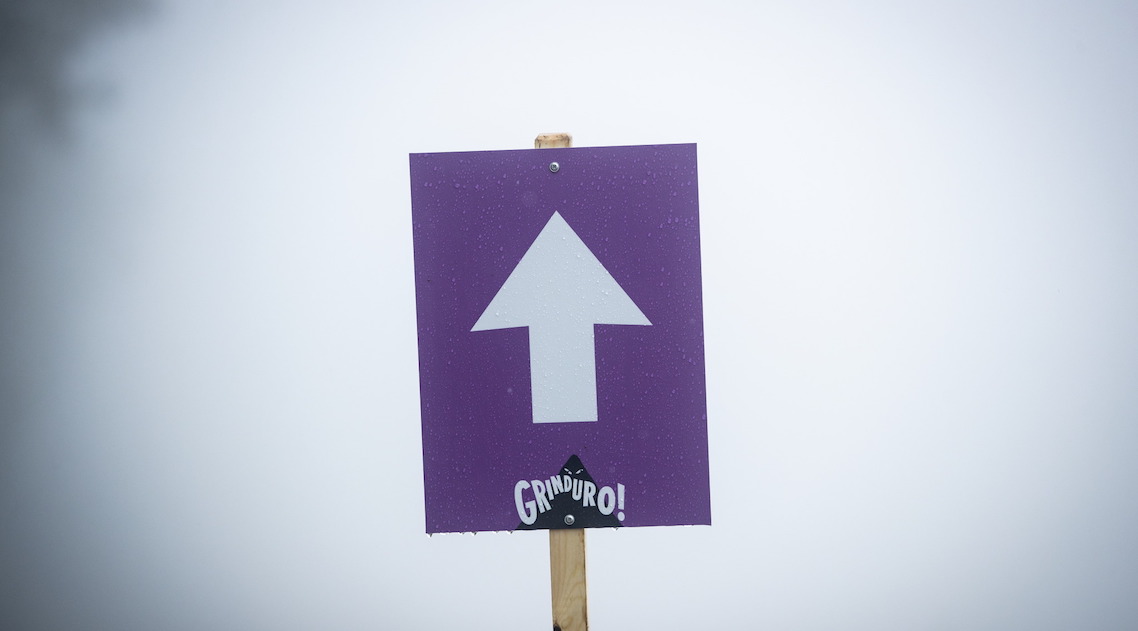 Into the mist: Despite the stormy weather, those who made it to the first Grinduro Japan event were treated to a good time. Dain Zaffke/Grinduro! photo
The "Party to Race Ratio" franchise has expanded to four events following the popularity of the original in Northern California. That event has sold out every year since it started five years ago. I've ridden it four times and won once, and it's palpably different than any other event I've done—from the camp vibes at the fairgrounds, to its unique mix of riders, revelers and industry insiders. It takes place in a tired logging town experiencing a spark of renewal in the form of cycling tourism. The mountains are big and beautiful. The riding offers the perfect amount of remoteness. That special setting, along with the food, and the custom steel-bike-riding hipsters, make Grinduro what it is. Or do they?  
When I heard Grinduro was coming to Japan this year, I was pumped. Of course I wanted to pack up my Giant Revolt Advanced gravel bike and go. And of course it sold out immediately and I feared I had missed the boat. But my favorite adventure sidekick, Barry Wicks, was also keen to go, and being a Giro athlete (Giro produces the race series) he secured us entries.  A few weeks later, Barry and I were on a plane to Tokyo. We had no idea what the course was like and only a vague idea where the venue was. But Barry had been to Japan several times for cyclocross events, and this would be my third trip to Japan.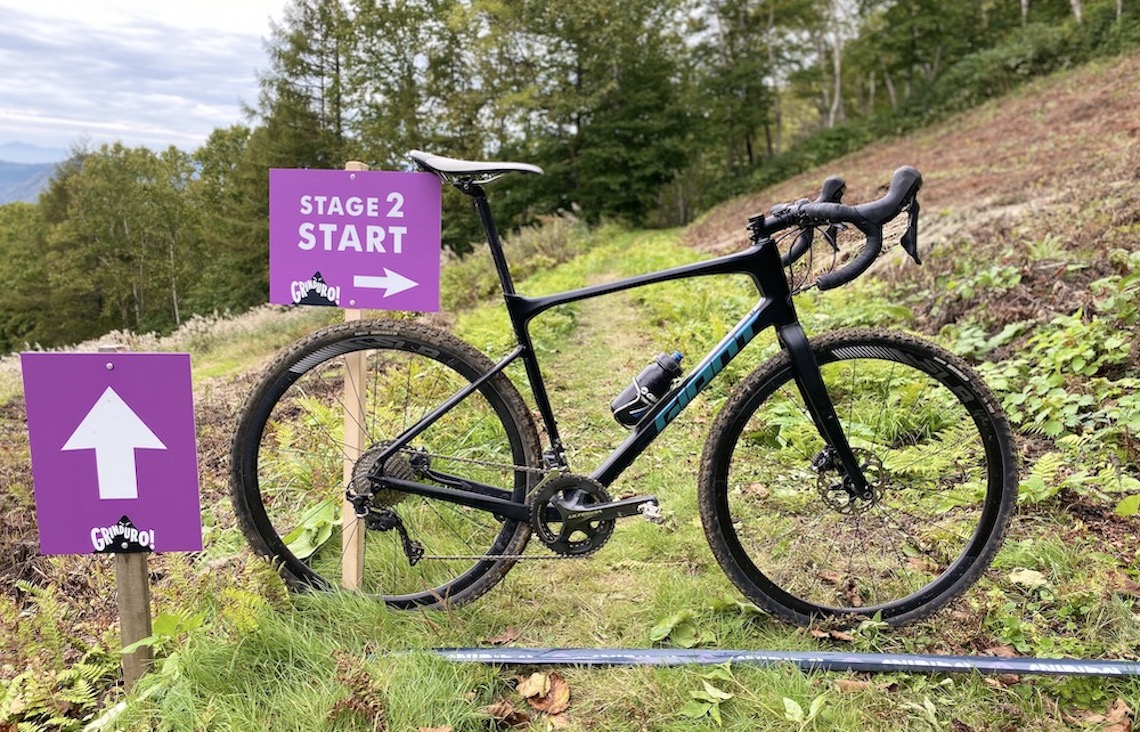 Gravel crusher: Carl took his new Revolt Advanced to Japan, the perfect machine for unpredictable conditions. Carl Decker photo
We landed in Tokyo, threw our bike cases over one shoulder and duffle bags over the other, and shuffled our way from one train to another making the five-hour trip to the venue. Eventually, we made it aboard the Hokuriku Shinkansen train and sat serenely as we hurdled along at 160 mph through the mountains that played host to the Nagano Olympics in 1998. Finally, we took a taxi up an old road to a mountain summit and Madarao Kogen, a large, mostly vacant hot-spring hotel that towers over a dilapidated but charming 1970s era ski village. The weather was sunny, and our spirits were high. We'd made it to Grinduro!  Hai!  We went for a jog and hit the onsen(Japanese hot spring pool) after a traditional—and wild—Japanese dinner at the hotel.  
By then, we had heard of the coming typhoon. Hagabis was on a direct course for Tokyo and was expected to wreak havoc on central Japan. Grinduro was possibly going to be cancelled. With 46 hours till game-day, we held out hope and went riding a lot, exploring the area where the event was rumored to take place. We took pictures of shrines, drank Pocari Sweat from vending machines, and admired the micro-farm covered hillsides of rural Japan. Micro tractors worked in micro fields. And micro cars sat in narrow driveways.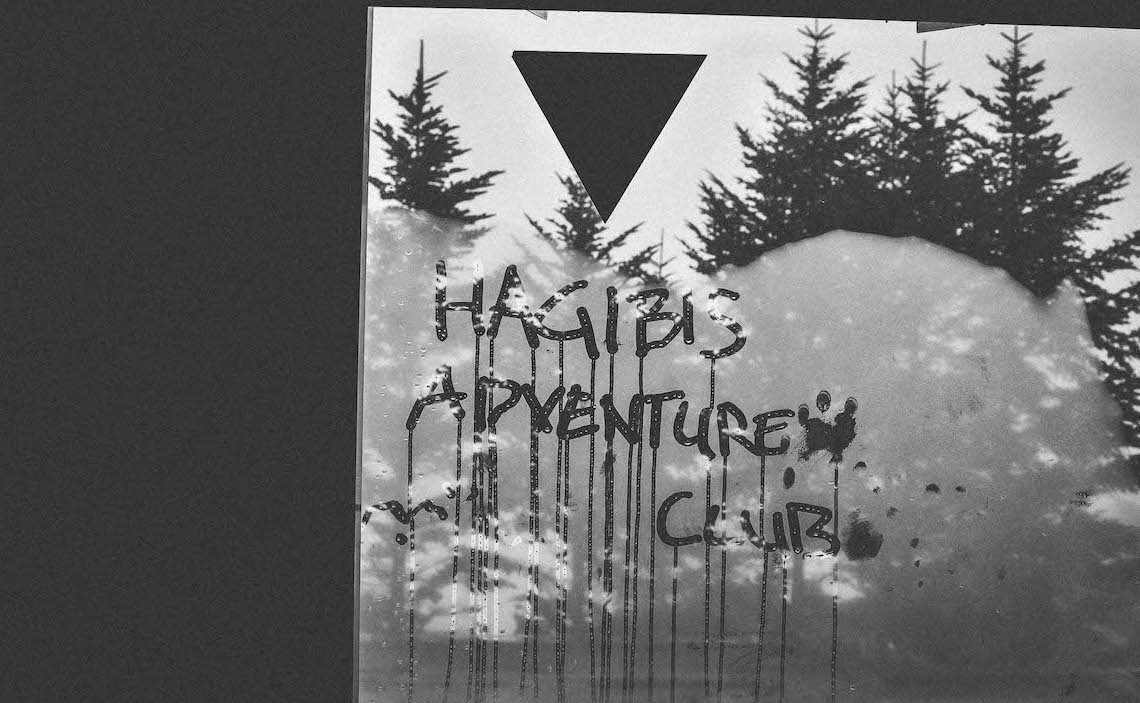 Typhoon Hagibis brought heavy rain and flooding, but event organizers made the best of it. Dain Zaffke/Grinduro! photo
By Friday, we were delighted to hear that the race would be shortened from 80k to 34k. At this point, with Hagabis approaching, we viewed it as lengthening the course from zero to 34k—a pleasant surprise. By Friday night maybe half of the 400+ registered riders had rolled the dice and shown up at Madarao Mountain. Most were Japanese, but there were a number of riders of other nationalities as well. Well put-together natives astride beautiful and expensive custom bikes, carefully color matched to their branded riding gear, were balanced out by kooky and unkempt (but maybe equally considered) foreigners on mid-fat touring bikes.
Without a car for transportation, food on the mountain had become a problem for Barry and me. The village restaurants were closed for the season, save for the intermittent hours of the hotel buffet. We'd come back from rides hungry, and often between buffet hours. More than once we had dinner from vending machines down the hallway. The first time you have ice-cream bars and $2 cans of beer for dinner is fun. But diminishing returns arrive pretty quickly.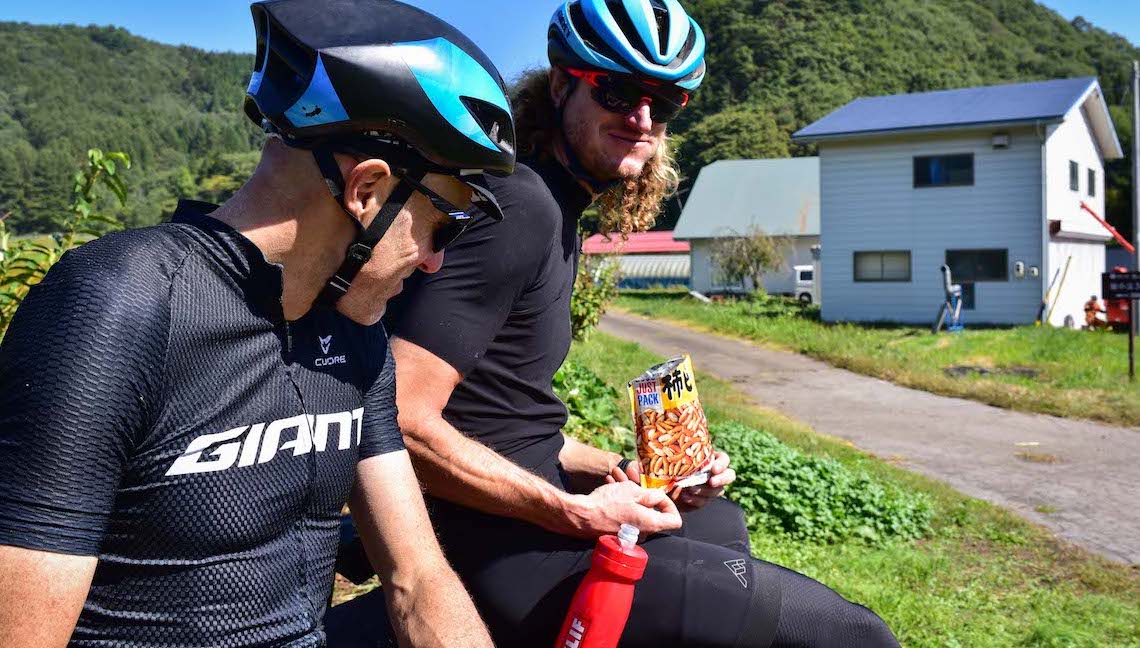 Snack time: Blue skies and vending machine dinners marked the days leading up to the race. Dain Zaffke/Grinduro! photo
So we were excited for breakfast on race day—part of the draw of Grinduro California is great catering, after all.  We were up at 4:30 (jet lag, what?) ahead of the 7:30 start, and were impatient for breakfast to begin at 6 at the Heidi ski area just down the hill.  Breakfast would consist of a hot dog and a banana. I appreciated the good omen for an auspicious day of Japanese racing, but Barry and I were still hungry. We asked for more wieners and were denied. We had our Japanese buddy, Daisuke, ask for more bananas, but were rebuffed. "This is not possible." Moments later, I saw a mostly uneaten piece of sandwich bread in a garbage can and gave Barry a guilty look before grabbing and eating it. At least there were feed zones out on course—let's get started already!
With the sound of a conch shell horn blown by a Shinto priest, we rolled from the start line and into the mist. Hagabis was just beginning to arrive, and the weather was warm and tropical, befitting the lush green mountainsides we were riding through. Course marshals were everywhere, and they were rabidly cheering us on—evidently unaware of the uncompetitive nature of the untimed sections.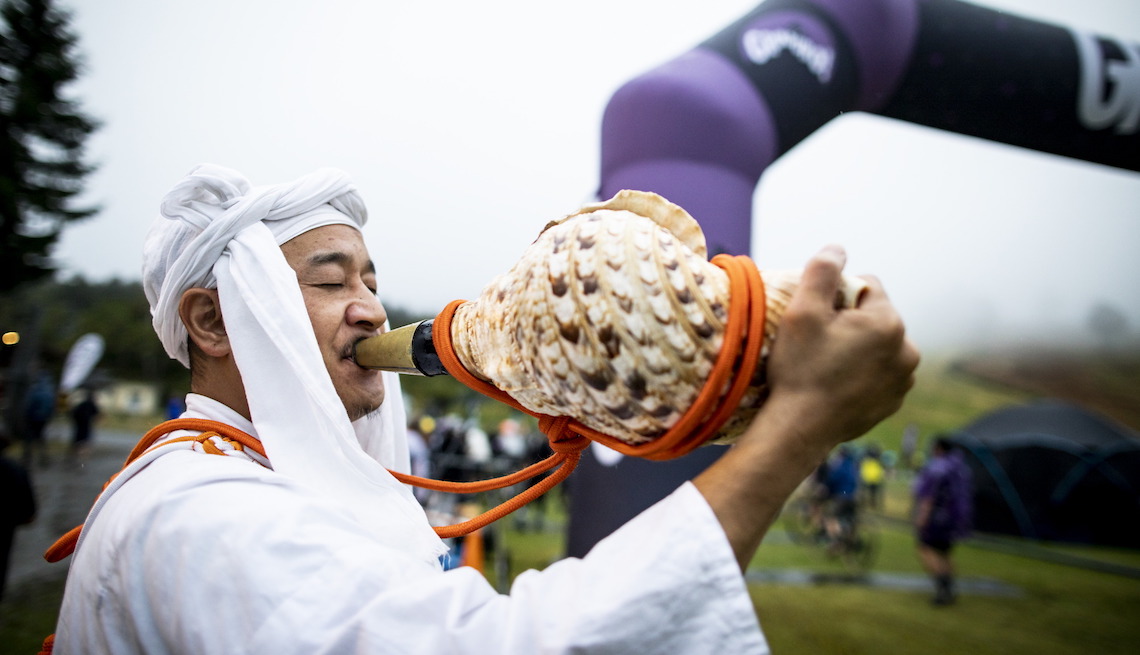 Local culture: Where else can you find a race that gets started with a Shinto priest blowing a conch shell horn? Dain Zaffke/Grinduro! photo
Stage 1 was an uphill time trial of undetermined length (some things were lost in translation).  Barry and I rode hard together, but slightly conservatively, and Tydeman Newman, a strong Junior rider from California, eventually came around us. We kept him in sight, and then at what I reckoned was about the midway point, Barry put in a huge effort to bridge to Tydeman. "We're not even halfway through," I shouted limply, as I let him go.  But seconds later, the finish line came into view. Oh shit! I'd missed the 500m to go sign, and they had not. Oops. Tydeman would eek out a small margin over Barry, and I'd finish 3rd on the stage.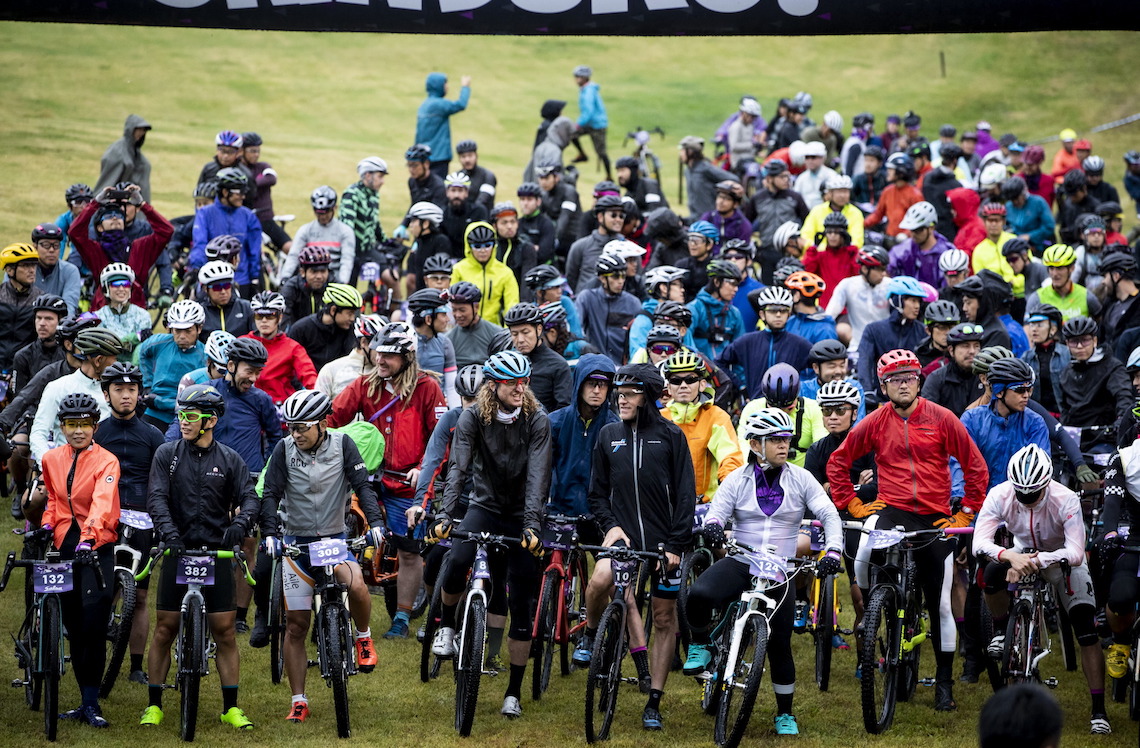 Ready for anything: Barry (No. 8) and Carl (No. 10) at the soggy start. Dain Zaffke/Grinduro! photo
The first feed zone was well stocked, and Barry and I arrived greedy for the offerings. Large energy bars in shiny red wrappers that read "PRO fit—20g protein," were enthusiastically handed to us as we rolled to a stop. You could feel that they were weighty too—my stomach groaned in anticipation. But peeling the wrapper back had all three of us looking at each other—they were twin-packs of uncooked hotdogs. We had a good laugh and put them back in the box. Orange slices for us, thanks!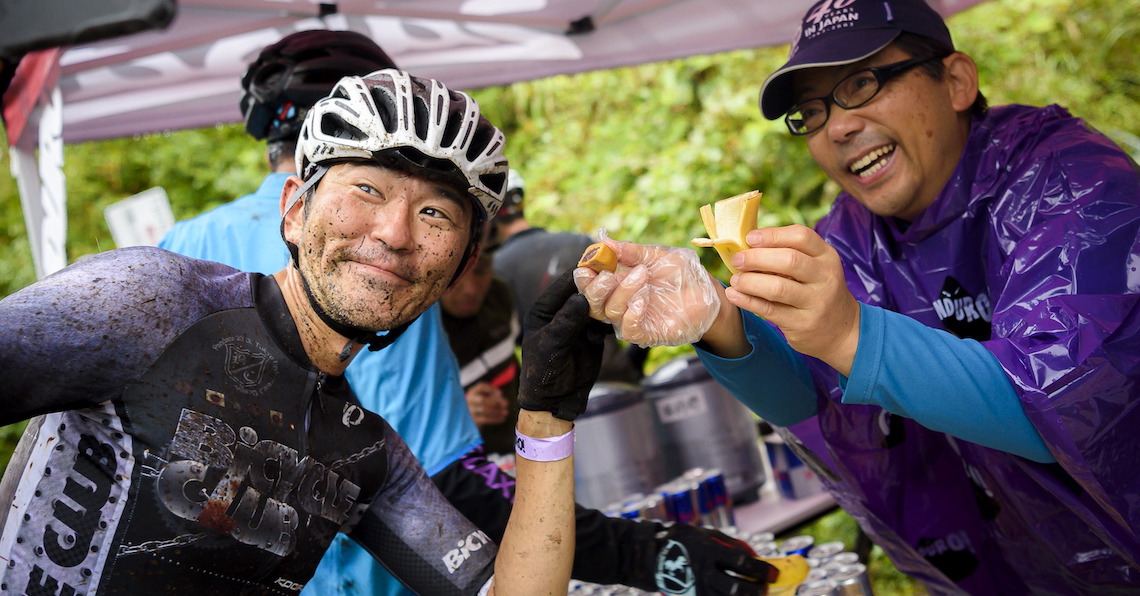 Feed zone: Racers were fueled by hot dogs and bananas. Dain Zaffke/Grinduro! photo
Stage 2 was mostly a downhill grass-track of undetermined length. The course was taped wide, with purple Grinduro ribbon held by unsplit pairs of wooden chopsticks. Barry, Tydeman and I had ridden what we thought was the course the day prior but it ended up finishing well short of what we had practiced. Regardless, it was a fun track reminiscent of 1990s MTB downhill racing, and pretty wild on a gravel bike. I ended up winning, with my gnarly Maxxis Ravager tires and foot-out cornering antics on sodden grass and clay as the rains strengthened.
The final stage was an even shorter grass DH track just below our hotel, but with the addition of half a lap of the sketchy go-cart track and the boring-but-safe off-road buggy track as a preamble. It seems that goofy ski area summertime attractions are universal, be it Oregon, France or Japan. Barry, with his MTB tires and seat dropper got the, uh, drop on us here, winning that stage convincingly. Three stages, three winners. Fun.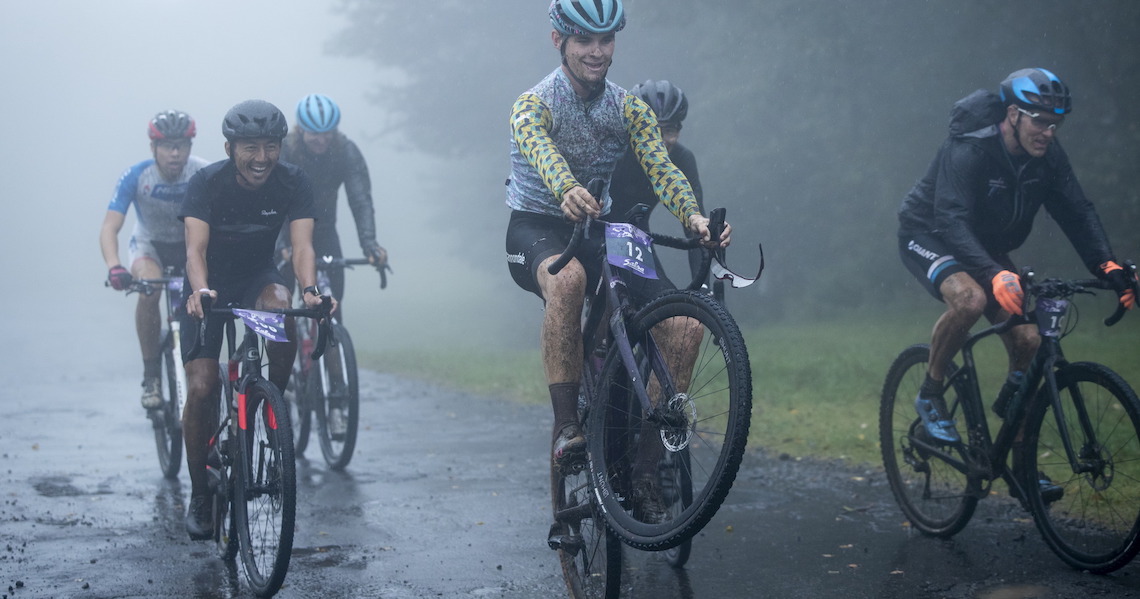 Putting on a show: Locals and foreigners alike couldn't help but smile and give their all for the enthusiastic spectators and race volunteers. Dain Zaffke/Grinduro! photo
Despite the typhoon, and the many changes and adjustments that the storm forced, the Grinduro staff did an outstanding job of staying nimble, keeping the event fun and the riders happy. It would have been reasonable—prudent, even—to cancel the whole damn thing. But their die-trying nature wouldn't allow it. They worked doubly hard for the benefit of only half as many racers. And I'll say that for me, personally, it salvaged my whole trip, getting to rip down those grass slopes carefully marked with chopsticks.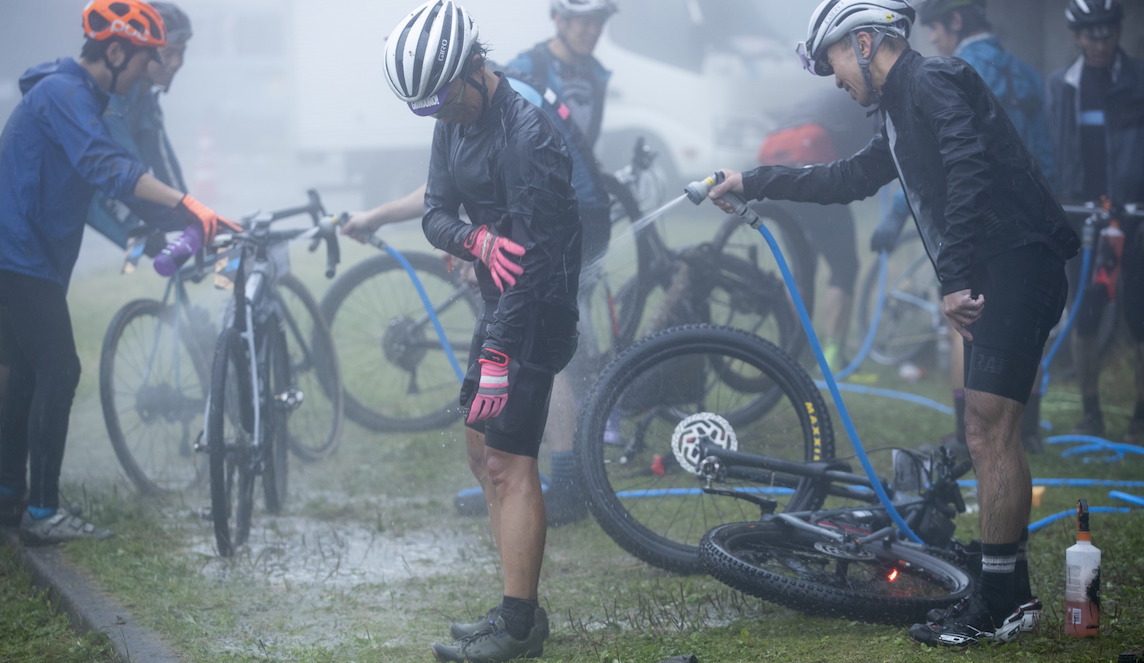 Clean-up: Racers hose down after the finish. Dain Zaffke/Grinduro! photo
At Grinduro California, awards happen around 9 pm during an intermission between bands. But with Hagabis bearing down on Grinduro Japan, awards were hastened to 3 pm, and most of the party was already hurrying to pack up and get off the mountain. Barry would stand regally atop the podium with a 2-liter bottle of sake and the other spoils of victory. I finished second, only barely ahead of the youngster Tydeman. There aren't many juniors that can keep it together for an event like this, and Tydeman's manner off the bike belies his age as well—an impressive kid.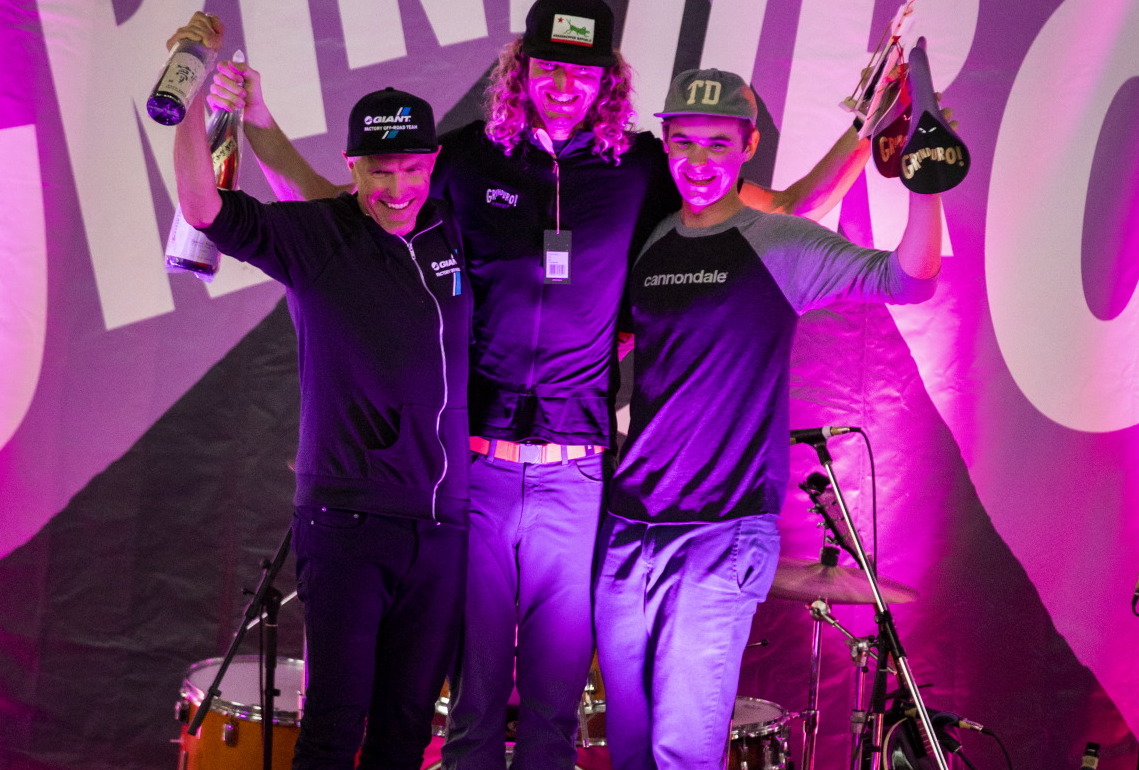 Podium players: Carl, Barry and Tydeman (left to right) took the top-three spots. Dain Zaffke/Grinduro! photo
The three of us had come a long way to compete in this event, and all of us had put our best foot forward in an effort to win.  But for most of the Japanese, racing results seemed secondary—it's the trying, or even the appearance of trying—that seemed paramount. Even on the untimed segments, many would stand and attack or feign effort for the cheering bystanders. Eventually, I too was standing up to accelerate for cheering spectators during untimed sections. It's rather opposite the Western racer's usual goal of hiding one's suffering, of playing it cool. I've never liked that sentiment. I want to try hard. I like it when other people try hard. But prizing the effort itself might have its own pitfalls.  
As quickly as the race had arrived, it was packed up and gone. Barry and I were left in the nearly empty hotel. It rained a lot—not the most furious rain I've seen, but it was totally unrelenting for two days. By the time we were slated to leave, the road to the train station was closed by mudslides. And the train station was flooded anyway. So we extended our stay another night. We read books and tried the rest of the ice cream flavors in the vending machine. We played 15 games of ping-pong. Barry won nine. We lay in bed and talked about life, and I told him the story of the very first time I saw him at a local race, back in the day. "We've been doing this shit together for 20 years, Barry!" I exclaimed. We hung out at the onsenenough that we became almost used to the casual male nudity there. We became experts at what things to avoid at the breakfast buffet (pickled plums) and what things to enjoy there (octopus fritters). 
And then, when the clouds lifted on Monday, Barry and I joined the hotel's four remaining Grindurists and chartered a taxi an hour or two north to the nearest functional train station. The following tour of the Japanese countryside via Bullet Train didn't reveal as much devastation as we'd expected. Rivers were high and chocolatey, yes, but adjacent rice paddies seemed to shrug off the flooding with little care. Things looked surprisingly normal.  
There were casualties, though—both human and infrastructural. The Hokuriku Shinkansen line we'd ridden north is still closed as of this writing, 120 of its high-tech cars destroyed by flooding that will take an estimated $300M to replace. 
All things considered, we got out of there pretty easily. And with an adventurous bike race to boot.