Giant ambassador Josh Reid rode from China all the way home to the UK, a four-month journey that crossed through 19 countries and covered 15,000 kilometers. This is his story.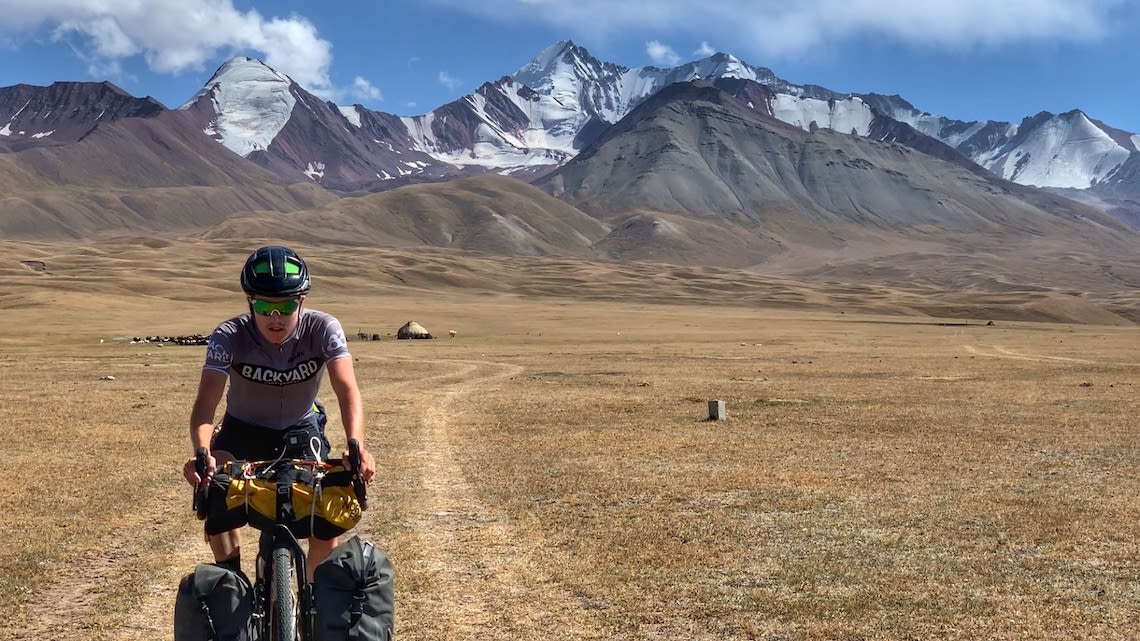 Have you noticed the lack of bikes available in shops? That's the bike boom for you. I was lucky to get ahead of the curve by importing a bike from China—but I didn't do it the typical way. To get my new Giant Revolt Advanced gravel bike home to the UK, I rode it all the way across Asia and Europe.
It's been more than a year since I completed my journey home to Newcastle in the north of England. All of this happened before the global pandemic, at a time when I could strap bags to a bicycle and ride from one side of the world to the other.
I grew up with bikes. My dad writes about bikes and travel for a living, and my doctor mum rides to work on an E-bike. Their honeymoon was on a tandem, and my first cycling tour was a trip to Luxembourg with my dad when I was 7. I did my first 100-mile ride when I was 10, and four years after that I accompanied my dad on a bike trip to the interior of Iceland. I remember our tent, pitched on volcanic sand, blowing down in a gale. In addition to bike touring from an early age, I also raced—but the distances were always too short. As you can tell, I'm a bit of a mile eater.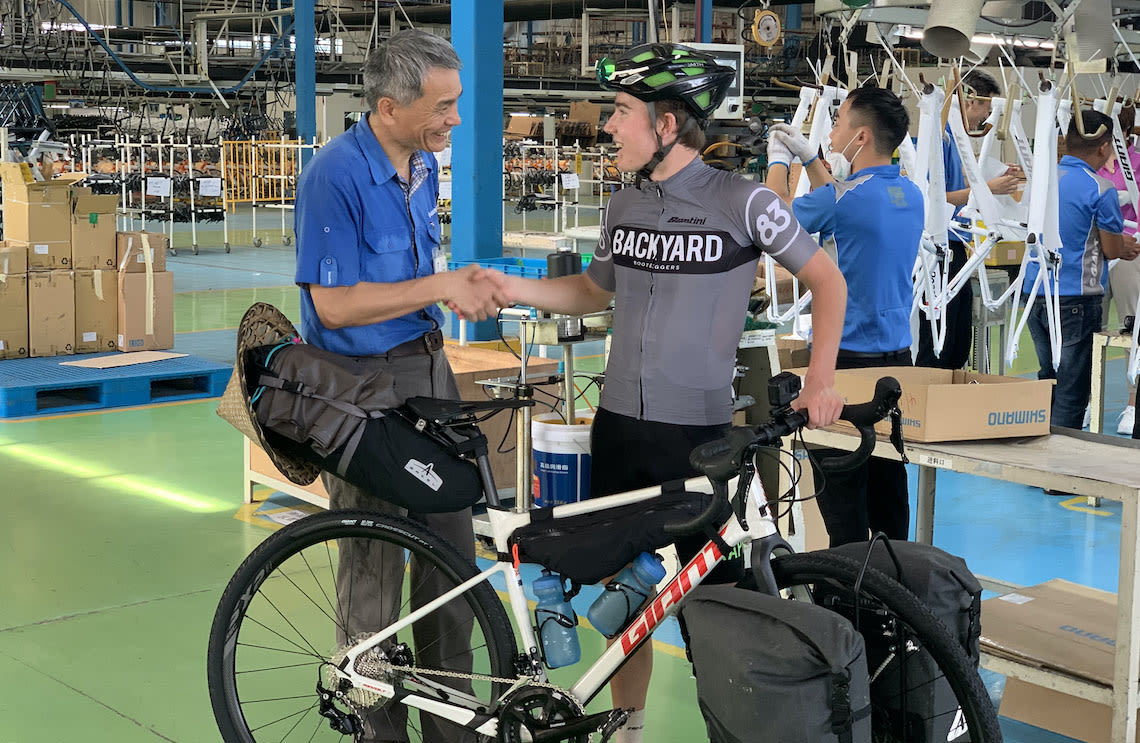 Not knowing what I wanted to do after I finished school, I became a ski instructor in British Columbia, Canada. It was fun, but not exactly lucrative. I solved that problem by getting a job planting trees in the Canadian wilderness. I did that for two years and ended one stint by buying a bike and riding from Montreal to Cape Breton at the northern tip of Nova Scotia.
 
That three-week trip rekindled my love of bicycle travel and had me itching to go on a longer, more adventurous journey. When some friends planned a backpacking trip to Asia, I decided to join them. But instead of flying back, I would ride. Many bikes are made in Asia, so I contacted some manufacturers to see if I could pick up a new bike from where they're born.
 
That's how I ended up at the Giant factory in Kunshan City, a little west of Shanghai. I picked up my Revolt, and after a right royal send-off I began the 15,000km journey that would take me through 19 countries. My bike was set up with two panniers on the front, a rear seatpack, and a cut-up backpack strapped to the handlebars (a reconfigured remnant from the backpacking trip). Amazingly, I had zero punctures the entire ride—tubeless tires are wonderful.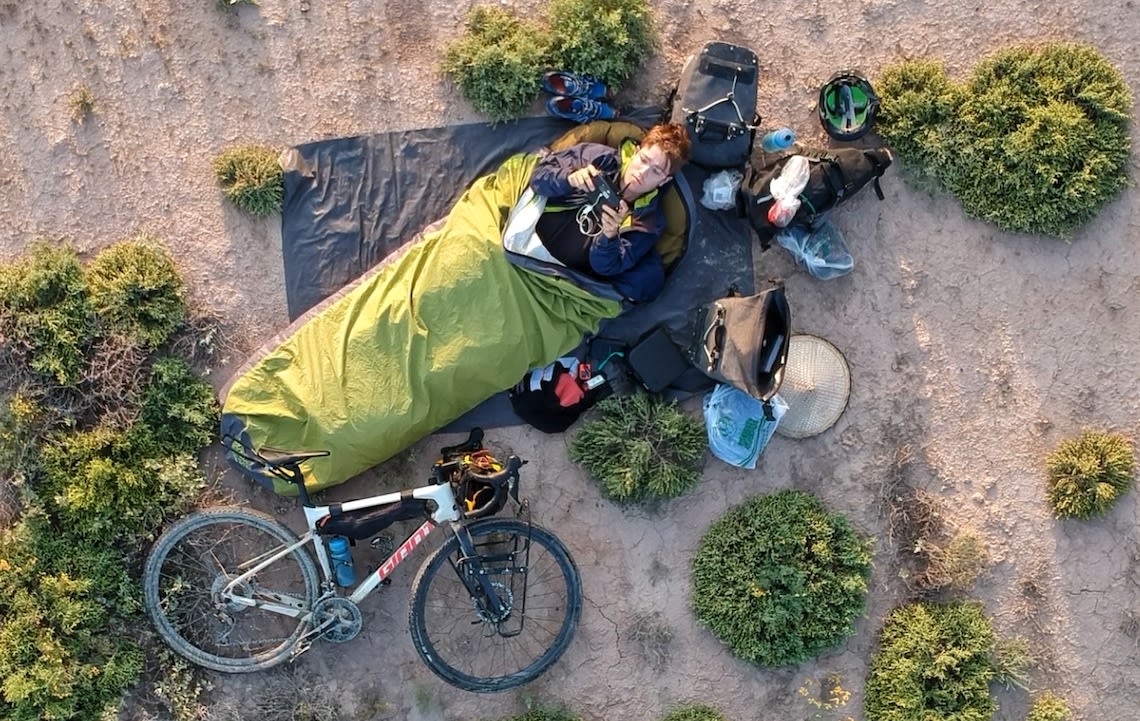 I would ride as far as I could each day and set up camp by the side of the road as it got dark. I slept in a bivvy bag, no tent. Luckily, I only had a few days of rain over the duration of the trip. The bivvy was for when no one was around, but when I rode through villages I was often stopped and offered food and shelter. No questions asked, no money requested.
 
I quickly learned to trust strangers and accept their kind offers. People are much friendlier than you ever imagine, even when there are language barriers. I stayed in several mosques and many homes, helped along the way by so many warmhearted strangers. This kindness helped me overcome my initial concerns embarking on such a long journey.
I rode varying distances each day depending on the weather, altitude and if there were any places I wanted to see along the way. My goal was to make it home before winter took hold in Europe. Along the way, I made time to visit sites such as the terracotta warriors and the Great Wall of China.
To navigate, I used a phone app called maps.me, which provided offline maps using OpenStreetMap data. I would download a map a day or two before I crossed into a country, figuring out where to go from there. My route was malleable. I knew roughly where I wanted to go but would often make adjustments based on local knowledge or information gleaned from cycle tourists heading the opposite direction.
The map would sometimes offer a juicy looking shortcut that would not always turn out to be the best option. I learned this the hard way. In Kyrgyzstan, I veered off the smooth tarmac road skirting the mountains to take a rural gravel track over two mountain passes. In theory, it was 50 miles shorter and easier. In practice, not so much.
Initially, the road was a gentle gradient passing through a village at the base of the first pass. After being chased by some very aggressive dogs I decided I wasn't turning back. Now committed to this first pass, I began the slow ascent. Halfway up, with dusk approaching, I was stopped by a man on horseback. We had no language in common. By mime, he asked if I had a gun for the "volk." From his growling gestures, I worked this out to be Russian for "wolf."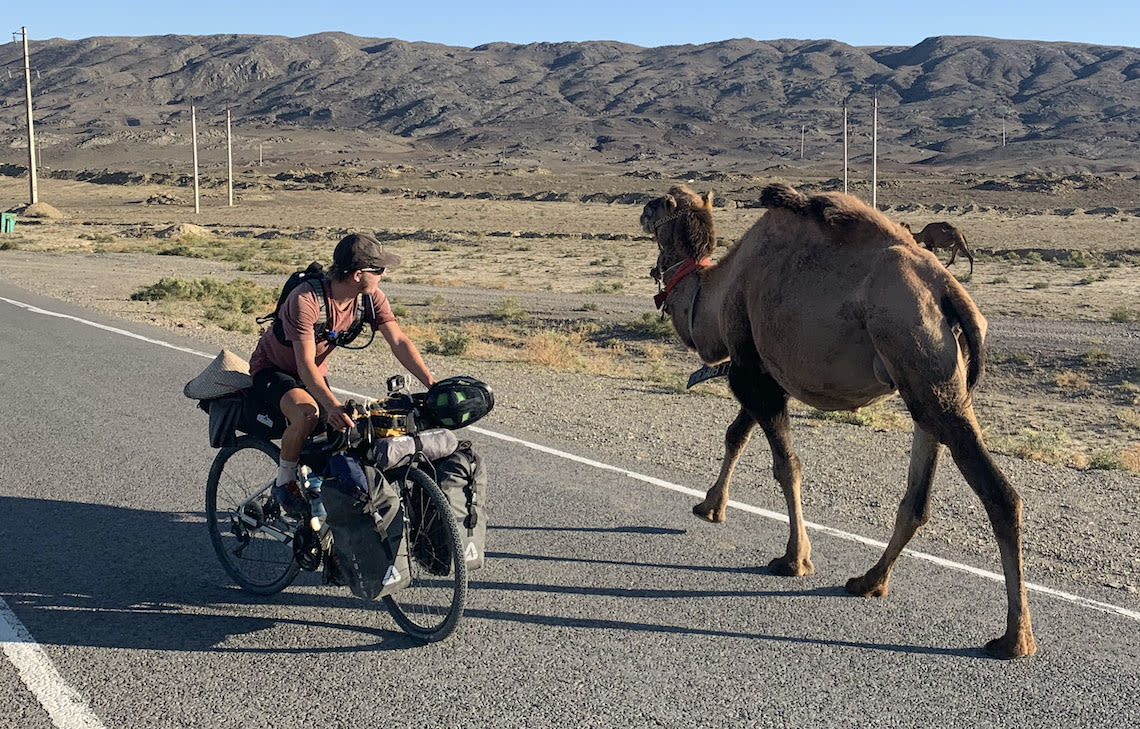 With visions of being ripped to shreds—the area was also home to snow leopards—I carried on, looking for a wolf-free place to camp. I had a sleepless night, waking every few minutes to scan the darkness for hungry eyes.
I was quite awake when I heard animals approaching at 1 am. It turned out to be three locals on horseback. I don't know who was more surprised, them or me. Probably them because I flicked on my head torch. One of the guys leapt from his horse and asked—via the internationally understood baby's bottle mime—if he could drink some of my water. He drank almost the entire one bottle I had left.
In the morning light I crossed over the pass and descended into the valley below. Looking up at the next pass, I saw that it was even higher than the first one. Having already pushed my luck, I decided to abandon that climb and follow the parallel gravel road back to the smooth asphalt.
When riding at home it's normal to wave or nod to riders going the opposite direction. When cycle touring in exotic locations, and when you have been riding alone for days with little interaction, instead of a wave you stop and have a conversation. These conversations often gave me valuable intel. For instance, I detoured to ride the Pamir Highway instead of the faster route through the desert of Kazakhstan. This spectacular route is known as the "roof of the world" and climbs to 4,655m above sea level before running along the border with Afghanistan for 400km.
 
Riding a bike at this elevation adds an extra layer of difficulty to the already tricky task of negotiating the washboard roads of the Pamir Highway. The last mile to the summit over Ak-Baital Pass required a rest every 100 meters to recover from oxygen debt. I was following the historically well-trodden path of the ancient Silk Route, connecting the west to the east.
With difficulties getting into Iran on a British passport, I decided to cross the Caspian Sea rather than take the land route. There's no regular ferry, but if you camp in the port of Aqtau in Kazakhstan, you can eventually hop on a freight ship going your way.  After twiddling my thumbs for 36 hours, I got on a ship that subsequently sat at anchor for another 36 hours.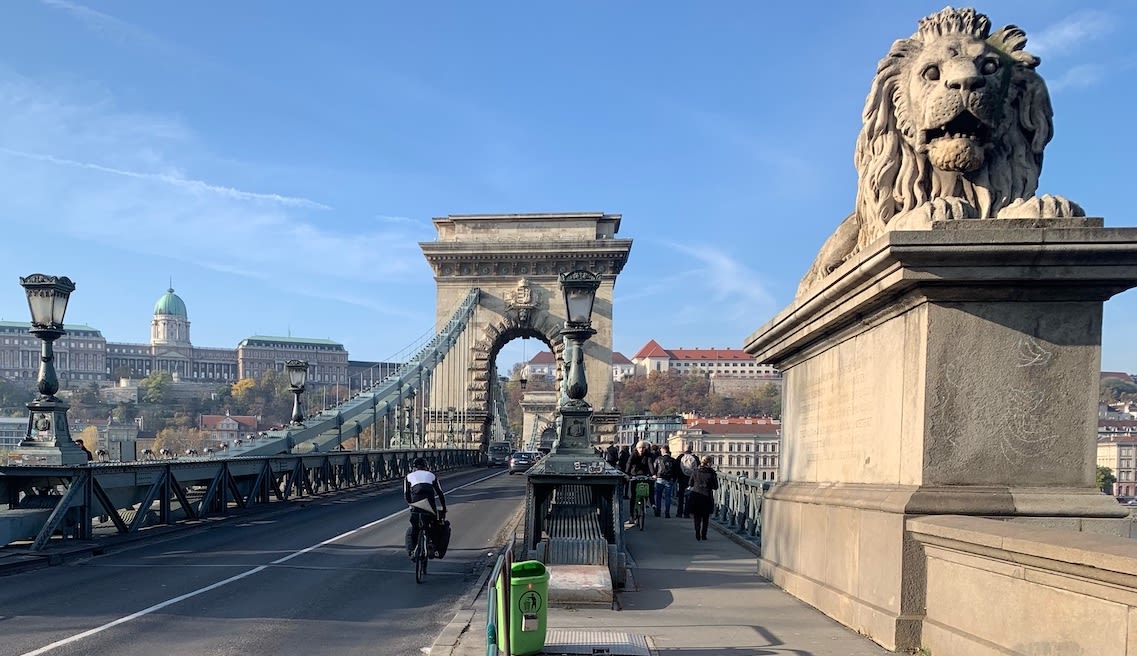 In Azerbaijan, back on the bike, I was fueled by pomegranates and sugary tea, reaching Georgia in a day or two. The first signs of autumn warned me that winter was approaching and that I had better get a move on. I had neither the camping kit nor the clothes to survive cold weather for long. The fastest and easiest way across Turkey was hugging the Black Sea coast all the way to Istanbul.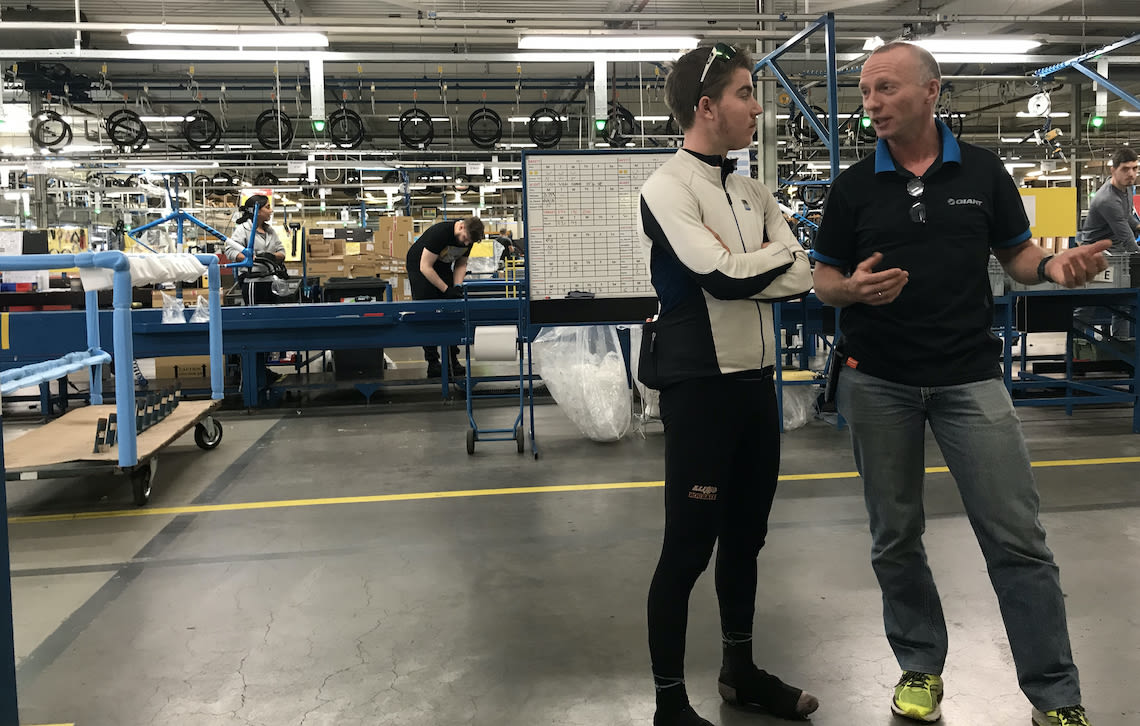 After taking the ferry across the Bosphorus, Asia was finally behind me. From Budapest, I followed the signed Eurovelo cycleway along the Danube. I made a brief detour into the Austrian Alps, visiting the scenic village of Hallstatt. I rode fast through Luxembourg and Germany, benefiting from smooth, straight bike paths and that beautiful feeling of not having to worry about feral trucks.
 
In the Netherlands, before the ferry home to Newcastle, I stopped at Giant's European headquarters near Amsterdam. Yes, I could have picked up a bicycle a lot closer to home. But where's the fun in that?