Austrian Adventures and Scenic Slovenia
There it was, standing as a mighty big wall in front of us. Yes, we're talking about the Alps, the towering mountain range that forms a natural border between Mid and Southern Europe. After more than two weeks and 1200 kilometers of riding E-bikes through Germany, it was time for a new adventure. We had no idea what to expect. The only thing we knew for sure was that we had to climb a lot.And we were hoping to see some snow left over from winter.
Cycling through a painting
When we first spotted the Alps, we still had 140 kilometers to go, which included crossing the German border. We planned to do this ride in one day because Bad Mitterndorf in Austria would be the first longer stop during our bike expedition. Our plan when we arrived there was to do some voluntary work, which we found on the online platform HelpX. This platform allows travelers to earn food and accommodations in exchange for doing some work at host houses—things like gardening or babysitting.
We left early that morning to give ourselves time to ride the 140 kilometers. Fortunately, a long part of our planned route was on the Salzkammergut-weg. This cycling path is one of the most scenic routes of Austria, passing by beautiful lakes with crystal clear water and mountains. It almost looks like a painting.
The weather was great and the sun was shining. We were really enjoying our ride—until our friend Google Maps showed us a very nice route over a mountain that was actually a "closed" mountain bike route. After a few hours of pushing our bikes through meters of snow, the snow became higher and higher. Since night was falling, we decided to descend quickly and ride via the highway pass over the mountains.
We finally arrived at our destination very late, but we were warmly welcomed with some nice food and beer. Later we heard that all the mountain bikes routes in the area were still closed due to snow. But at least it was a unique experience, and the dogs had tons of fun playing in the snow.
Crossing the Border
We stayed with the family in Bad Mitterndorf for about two weeks. After we finished painting their balcony and helping with the house, it was time to move on. We planned a ride to the border of Slovenia, which would take us over one high mountain pass.
As we climbed the mountain, we saw some signs that the pass was closed ahead because of the snow. Being the stubborn Dutch that we are, we  couldn't believe that a big road like this was still closed.  It was
already 25 degrees Celsius and the sun was shining, so we decided to ignore the signs and ride to the top ofthe mountain. That ended up being one of the dumbest decisions we made during our trip. After about two hours of climbing, we came to a crossing where we saw the snow. And yes, it really was impossible to ride through. With no other choice, we turned back on a mountain for the second time in Austria, having to make a 70kilometer detour.
The next day we tried a different pass, called the Loibl Pass, which was open. It was a very scenic route to finish up our time in Austria. At the summit, we came to a tunnel that serves as the border between Austria and Slovenia. After a short ride through the tunnel, we were in Slovenia. And our adventures there  started off very well, with a very descent toward the city.
TIP: Always listen to the Locals!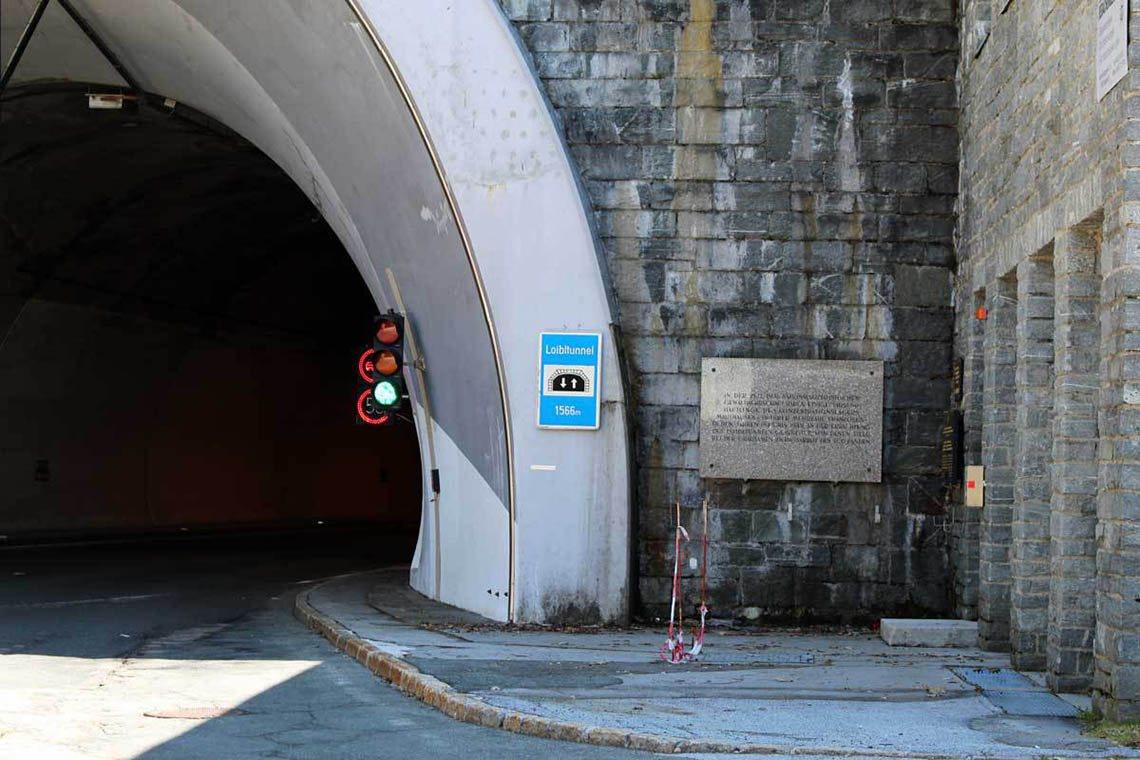 Scenic Slovenia
Slovenia is one of the most scenic countries we've ever been to, the green fields contrasting with the snowy mountains and crystal clear blue waters. It really is a magnificent thing to see. The country is very clean, with a lot of outdoors activities and architecture to admire. We rode a few days through Slovenia, and of course we couldn't miss out the famous Lake of Bled. We also visited a less-known place called Lake Kreda, an extremely blue lake that's hidden in one of Slovenia's many national parks.
Lake Kreda is a man-made lake in the Radovna Valley in northwestern Slovenia. It got its name from the chalk (Slovene: kreda) that was mined in the area until 1985. The digging also
created a basin, which gradually filled with water to form the lake. The mining ceased due to conservation concerns (the area is within Triglav National Park), but the lake remained and is now occasionally used for recreation. Today, the lake and its surrounding wetlands are an important habitat for amphibians such as frogs and toads in the Radovna Valley.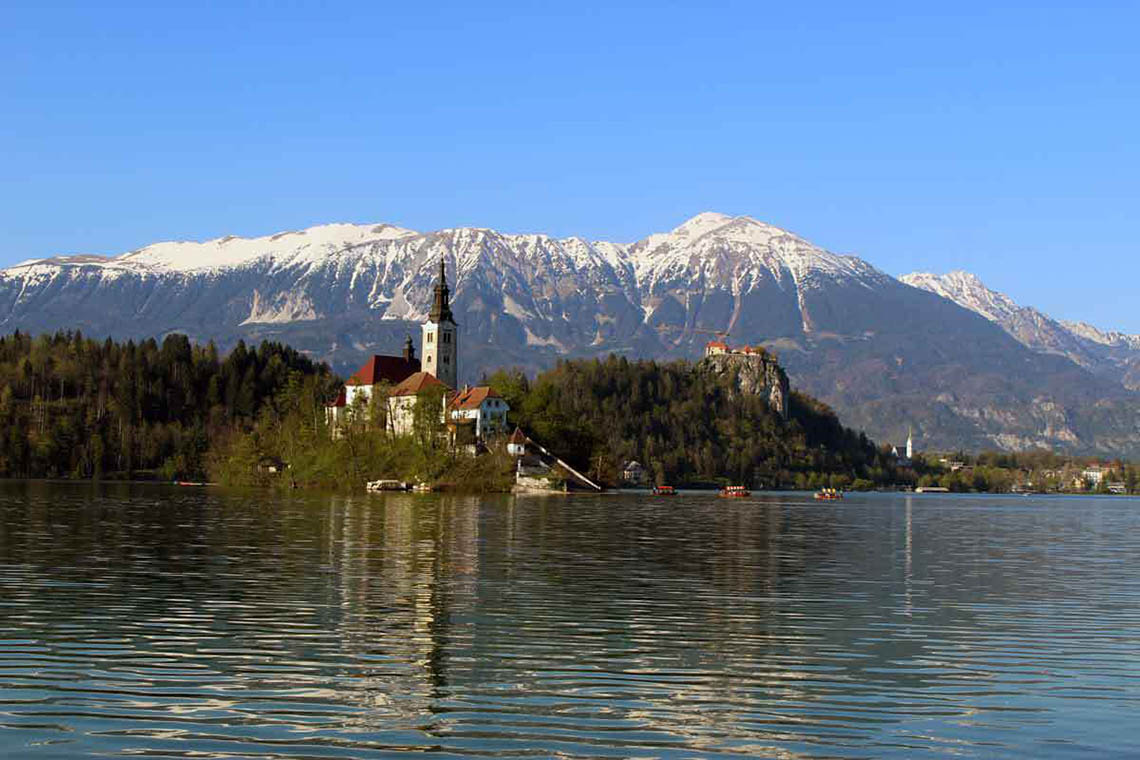 Traveling by E-Bike
Our E-Bikes are still holding up very well.  The batteries have on average usage of 1 on 1, which means they use about 1% of battery over a distance of 1 kilometer. Although this is the average usage, they had a tougher time in the mountains. The steep passes drained the batteries quickly when going up, but luckily there was no usage of the battery when descending. We've also completed several long-distance days in Austria and Slovenia, between 100 and 160 kilometers. On those long days, we changed batteries after about 100 kilometers.
After six weeks on the road with an E-Bike, we can say they can be used very well in Western Europe and a part of the Balkans. But we do recommend that you always carry an extra battery pack in case you run out of juice in a remote area. Electricity is relatively easy to find almost anywhere in Europe, even when traveling low-budget like we are. So far we haven't had any problems charging batteries on the road. We're making notes on some tips we have found useful when traveling with the E-bikes and will share those in a separate post soon!

Coming up!
Austria and Slovenia were really amazing countries with lots of outdoor activities and nature to enjoy. Both are very scenic and easy to ridewith good cycling networks. So far, we have climbed more than 11,000meters—so you can really train your
legs there!
In the coming weeks we are riding through the Adriatic Coast and the Balkans. The temperatures are getting warmer, and we've even taken our first dives into the sea.
To follow more of Gijs and Annebeth's bikepacking adventure on www.biketrotters.com
Lake Kreda - Spherical Image - RICOH THETA