Let's face it – most people would always prefer cycling in the long, warm days that summer brings, but this doesn't mean that cycling in winter has to be any less enjoyable. With the right preparation and equipment, winter cycling can be just as fun. Here's our guide to help you get the most out of road cycling over the colder months.
Winter Bike
First and foremost, if you plan on winter cycling, you're going to need a bike! Many keen cyclists will swear by having a dedicated winter bike, the idea being that your 'best' bike can be kept for the summer months when there isn't as much salt, grit, water etc on the roads that can quite quickly destroy expensive components. A winter bike is normally cheaper and of a lower spec than most riders summer bikes.
However, always remember - just because it's a winter bike, it doesn't mean you can neglect it. Pay attention to the components, keep the bike clean and well maintained to ensure hassle-free riding all winter long.
Bike set up
An advantage of having a dedicated winter bike is that you can spec it to suit the conditions you expect to ride in, rather than swapping components around on one bike. Here we look at what components you might want to think about having on your winter steed:
Mudguards
Mudguards are a winter essential and there are numerous benefits to using them. Firstly, they offer some protection for your bike from the spray of the road, reducing the amount of corrosive salt and grit landing on the bike.
Secondly, they offer significant protection for you as the rider, as they will reduce the amount of muck thrown up from the wheels. By fitting a good set of mudguards you're not going to get wet from water spraying up from your wheels meaning you can stay dry and warm for the duration of your ride.
Thirdly, if you're riding with a group, it stops them from getting wet from water spraying off your back wheel! It's also an important safety aspect - spray in a riders face can cause visibility problems which is something you definitely want to avoid, especially when in a group. Trust us, any fellow cyclists aren't going to want to ride with you in winter if you haven't got mudguards.
If you've got a dedicated winter bike then the chances are it will already have mudguard eyelets, allowing you to fit heavy-duty mudguards that will offer complete coverage. If not, then there are plenty of clip-on mudguards options available. However, do ensure you've got enough tyre clearance and checked compatibility before committing to any purchase.
Tyres
As the only contact point between the road and your bike, making the right tyre choice in winter is very important. We would suggest a hard-wearing tyre, with suitable tread for grip on wet roads and a high level of puncture protection. Something like the Gavia Fondo 0 would be ideal.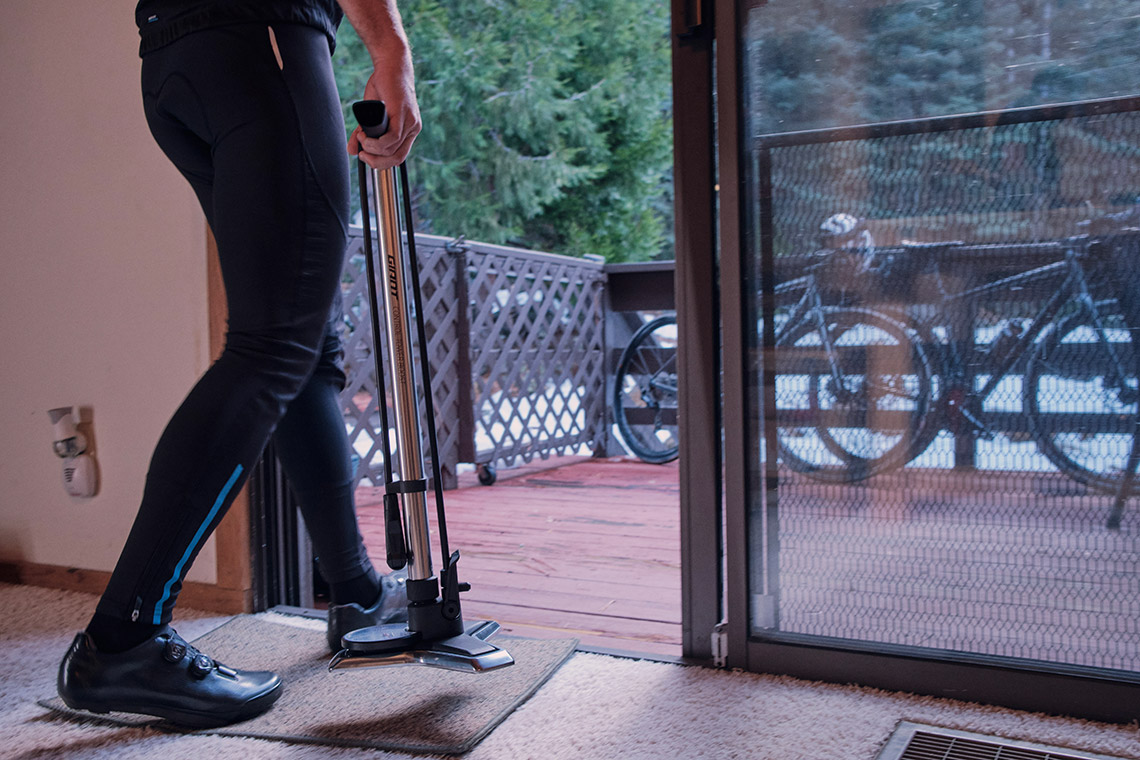 Lower tyre pressure results in a bigger surface area on the road, increasing the amount of grip available
A common trick is running slightly wider tyres than normal – 28mm or above would be ideal. We'd also recommend going tubeless; the advantages include reduced risk of punctures and being able to run them at lower pressures, which improves the contact area between the tyre and the road, increasing the amount of grip at your disposal.
Lights
As the days in winter are shorter, a good quality set of bike lights are vital for safety. Very bright LED lights are now small, lightweight and don't have to break the bank so there really is no excuse not to have them.
We'd suggest one on the front of the bike and at least one on the rear. Flashing lights are advised because they catch people's eye so you're more likely to be seen. We offer a range of lights in a range of different lumens for all types of riding. You can read our full guide to lights for more information.
Clothing
Perhaps the most important aspect to consider before heading out during the winter months is what you're wearing. Making the right choices can make or break a ride, no matter how wet or cold the weather gets – as the old saying goes, 'there's no such thing as bad weather, just bad clothing'.
One word that's key when it comes to clothing for winter riding - layers.
By wearing layers, you have options should the weather change and you begin to warm up. Furthermore, wearing layers can be a really good value way of staying warm – you don't necessarily need winter specific clothing if you use your existing wardrobe to layer correctly.
Every outfit should start with a good quality moisture-wicking base layer - This is important as it moves sweat away from the skin, keeping the body dry. They can be bought in a range of materials, including natural fabrics like Merino, which offer good thermal qualities. They are available in short or long sleeve, depending on your preference.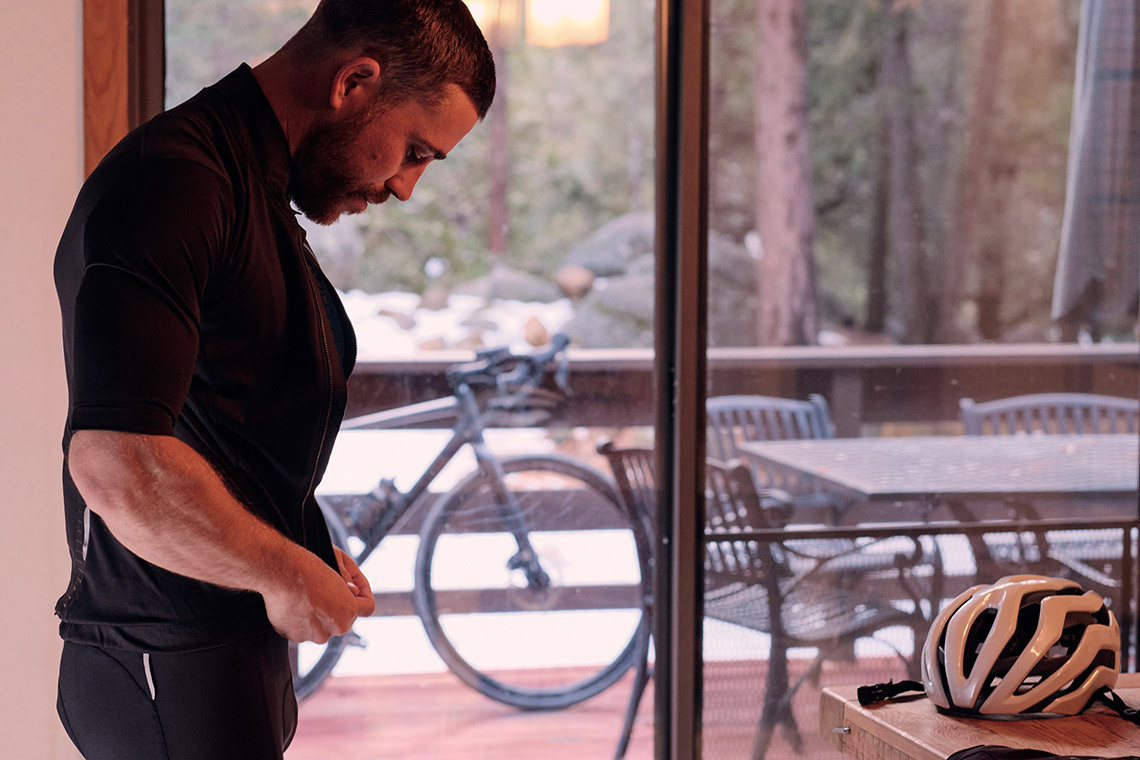 Depending on how cold it is, you could then wear a mid-layer. This could be a short or long sleeve jersey that works with the base layer to let sweat vapour out and should be a relatively thin material. If it's not too cold then a good, thermal softshell or waterproof jacket might be enough.
It depends on the weather conditions as to whether you opt for a waterproof jacket or just a windproof jacket, but the key thing to look for is that it is breathable, fits well, and of course style; you want a high-visibility colour to stand out or may need pockets to stash ride essentials – whatever it is, make sure it's right for you!
Don't forget the other accessories – a thermal skull cap will make a huge difference, as approximately 10% of body heat is lost through the head. A good set of gloves and overshoes will make the rider much more comfortable as extremities are much more susceptible to getting cold first, these are important areas to protect.
Training plan
Winter is the perfect time to evaluate the year that's been and plan some goals for the following year. It's a great opportunity to make a start towards achieving these goals. Calculate how much time you have before your first goal and realistically plan your training to fill this gap.
For many cyclists, winter training consists of racking up 'base miles' which build a strong aerobic base for the coming season. As you get closer to your goal however it's time to start upping the intensity and adding some shorter, sharper sessions to really push your fitness up.
Off the bike
Winter is also a great time to focus on off the bike aspects of cycling that will benefit you when it comes to actually riding. One of these is stretching and conditioning. Hitting the gym when the weather outside is bad can be a good alternative to riding. Focused strength work, specifically working on your core and legs, can provide a real improvement in your cycling performance.
Another thing to consider at this time of the year is nutrition. Eating well through the winter can really set you up for the coming season. Pre and post-ride nutrition is also a key aspect to think about when riding in winter as this will help recovery and ensure your immune system stays strong and healthy during the winter months.
Turbo Training
If the weather is too bad to venture into, then there's always the turbo. Indoor training can be a really effective way to boost fitness, thanks to being able to focus purely on the workout. It can also be really time efficient, making it perfect for those strapped for time. We've recently written a complete guide to turbo training which you can read here.
Keep up-to-date with all the latest Giant news by following us on Instagram @GiantUK, Twitter @GiantUK or like us on Facebook. If you want your Giant news digested into email format, you can sign up for our newsletter.