With racing back on the horizon, I thought I could show how I fuel for longer distance racing, hoping that it could help others on race day.
So, here's my very own take on a 70.3 distance fuelling strategy. This won't work for everyone, but I hope the information provided can give greater insight and perhaps some ideas to take into your next race.
Race day nutrition starts with a 'taper week diet', specifically focussing on nutrition the days leading into the race - but that's another topic. Here I'll focus on what race fuel looks like.
It's essential to train the plan and make sure that your stomach can handle the fuel you intend to use. By using the same on long rides and race-specific sets, you'll be safe in the knowledge your nutrition won't cause an issue, and there'll be no upset stomachs on race day.
Half Ironman Fuelling Strategy - Swim
Around half an hour before the swim, I'll take some Enervit Liquid Gel with 20 mg caffeine and 30g carbs. From then until the start, I tend to sip on an electrolyte solution, provided I've managed to have a decent breakfast, that is.
I don't think it's necessary to consume energy drinks here - I feel it upsets my stomach on the swim.
Half Ironman Fuelling Strategy - Bike
After the swim is done and I'm onto the bike, this is when the real fueling can start. I usually have a plan of around 100g of carbs an hour, but that's something I've tried over some time, and I have trained the body to absorb the higher levels of carbs through plenty of training and practice.
As I'm on the bike for around 2 hrs/90km, I use the following, which I'll start from about 5k on the bike when the pace has begun to settle. Then, regularly throughout the ride, I'll consume the following:
1l of Enervit ISOCARB 2:1 in the front bottle, which gives 90g/carbs per 750ml


500ml of Enervit ISOCARB 2:1 in the aero bottle, which is another 60g of carbs


I also take 2x Enervit ISOGEL - one at 30 mins and another at 75 mins into the ride, both with 20g of carbs and 60mg of caffeine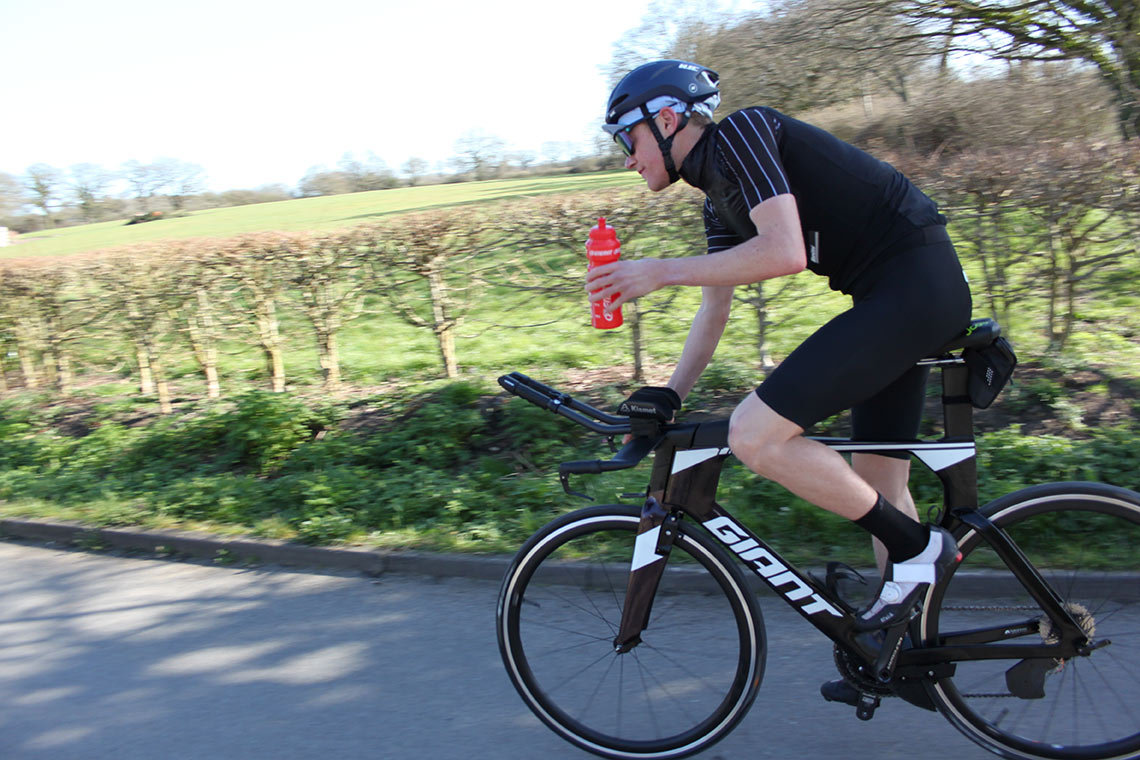 Towards the end of the ride, I'll take a final liquid gel, so another 20mg of caffeine and 30g of carbs. All the gels live in the integrated bento box on the Trinity, making for easy access while still on the TT bars.
Half Ironman Fuelling Strategy - Run
As I come onto the run, fueling becomes a bit trickier and a bit more to feel.
I've had days where I come off feeling amazing and other days when I need to change the plan. I always set out with the idea of using a liquid gel every 4k (around 15 mins) - so a total of 4 gels (120g carbs, 80mg caffeine).
However, if I start flagging or my initial strategy isn't going to plan, I'll use on-course nutrition. I tend to stick to old fashioned Coca Cola, staying away from unknown brands that I've not tried before.
Half Ironman Fuelling Strategy - Summary
As I mentioned earlier, it's important to remember to trial any nutrition in training; and identify the products that work for you. I've found that Enervit is the best for me and my stomach, so I stick to what I know.
Be sure to remember what everyone always says and never try anything new on race day, and I hope this information helps you get around your next 70.3!
Keep up-to-date with all the latest Giant news by following us on Instagram @GiantUK, like us on Facebook or follow us on Twitter @GiantUK.