E-Bikes are a relatively recent addition to the cycling world, and as a result, there are many questions that people have when it comes to these new machines. Here we've listed the top ten most asked questions when it comes to E-Bikes to save you asking them yourself. 
What is an E-Bike?
Quite simply, an e-bike, or electric bike, is a bicycle that's fitted with a battery and an electric motor. When you pedal, the motor engages and supports your riding. This assistance means some of the strain is taken away from powering the bike and as a result, you can ride further, faster and for longer.
So how fast can an E-Bike go?
It's important to remember that an E-Bike is still a bicycle – it's not a scooter. As such, there is legislation that governs the rules around E-Bikes. For example, in Europe, an E-bike's motor cannot exceed a maximum power of 250W which can assist the E-Bike to a maximum speed of 25 km/h. It's worth noting that the bike will still go as fast as you can pedal, however, the motor stops supporting you when you reach the max speed limit.
Do I need a license/insurance/tax to ride an electric bike on the road?
No, not at all. You would only need a license if your bike exceeded the specified specification governed by EU law. All Giant/Liv electric bikes can be used anywhere without the need for a license. The same is true for tax and insurance.
How long does the battery last?
A difficult question to answer, as it depends on how the bike is used and the battery that's supplied with the bike. If someone were to ride the E-Bike in the highest support mode up steep, uneven climbs the battery won't last as long as a rider who is using the lowest support mode and riding on smooth, level terrain.
Here at Giant, we use Panasonic batteries which are known for their quality and reliability. The table below gives an idea of the ranges you can expect to get out of an E-Bike (note that this depends on the type of motor fitted to the bike). The left-hand range column is the minimum; the right is the maximum distance.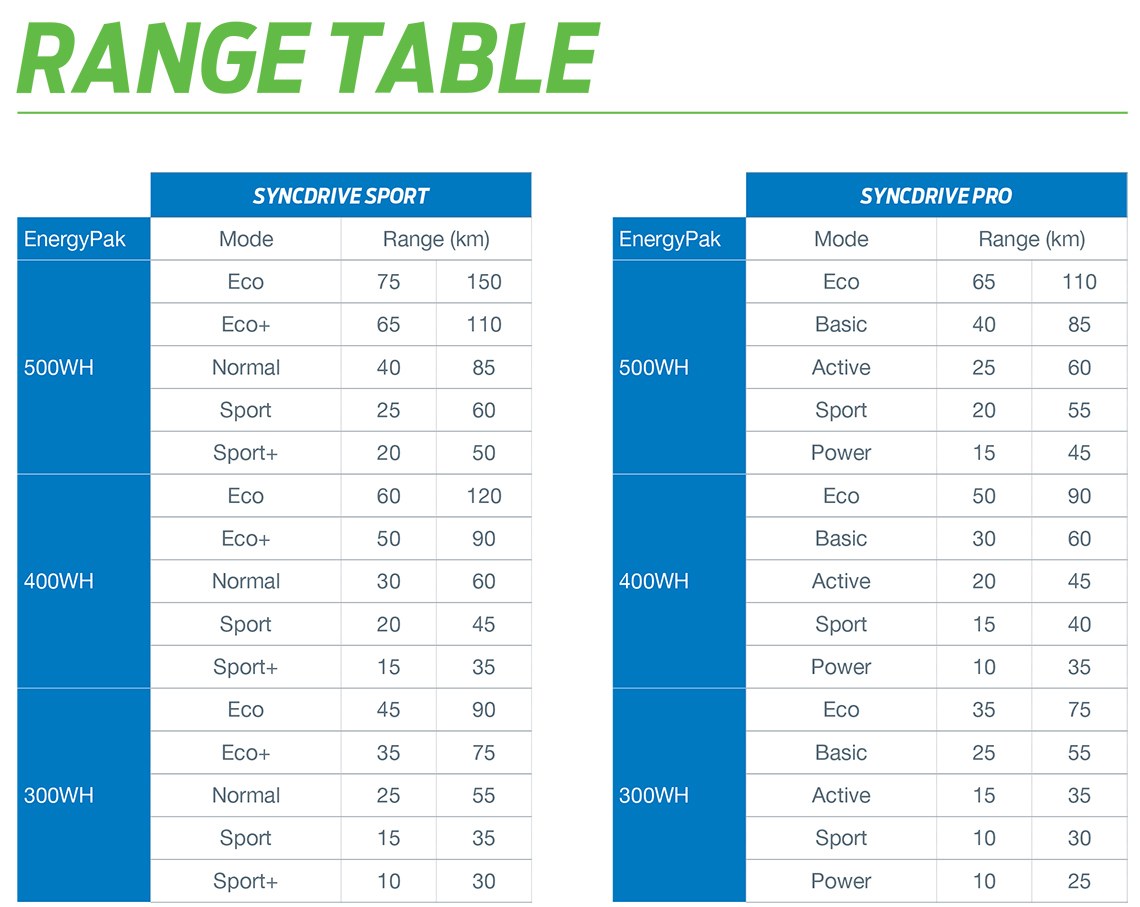 Does the electric bike recharge while I am pedalling?
No, it does not.
So how do I charge the battery and how long does it take to recharge the battery?
Charging the battery is easy. You can either remove the battery from the bike or charge it while it is still on the bike. Giant batteries are designed to be functional and easy to remove from the bike.
Using Giants Smart Charger, a 500Wh battery can be fully charged in 3 hours 40 minutes.
Additionally, Panasonic batteries can boast the highest number of battery recharge cycles of any brand due to their high quality, so you can guarantee the battery will last a long time.
What happens if my E-Bike battery runs out while I'm on a ride?
Since an E-Bike is still a bicycle, you can simply pedal home safely! It won't necessarily be as easy as a regular bike (because of the additional weight), so the hills will take more effort, but you'll still be able to make it home.
Can I purchase extra / replacement batteries?
Yes, extra batteries can be purchased through your local Giant retailer.
Someone told me that E-Bikes are cheating and only for lazy people…
This couldn't be further from the truth! Firstly, since the rider actually has to pedal to engage the motor, an E-Bike still offers a great workout. Secondly, thanks to the battery and motor some people will find that they can travel further on an E-Bike than on a standard bike, allowing them to explore new places and spend longer on the bike - far from lazy!
How heavy is an E-Bike?
This varies from bike to bike depending on the style of bike, the power of the motor and the size of the battery pack – usually an E-Bike will be roughly 10kg heavier than a similar style standard bike. This increase is mainly because frame tubes are thicker and components are reinforced to deal with an added motor and battery. Most E-Bikes start around 18kg with full suspension mountain bikes weighing up to 25kg, depending on the components and frame materials used.
 To find out more about the Giant range of E-Bikes, as well as the technology used, visit Power Your Journey and find out more. 
Keep up to date with all the latest Giant news by following us on Instagram @GiantUK, Twitter @GiantUK or like us on Facebook.