Matt Bottrill is no stranger to indoor training - for most of his career, he juggled a full-time job and parenting duties with his training, so he knows all about the benefits of a quality indoor session that is both productive and time efficient. We spoke to Matt about his tips for getting started and a few recommended sessions to get you back into the swing of things; 
The prospect of starting winter training so soon after the end of the season can be hard to take. However, the simple fact is that the longer you put it off, the longer it will take to get going again.

Here are some of my top tips for getting ready for winter turbo training:
Prepare
For the first few sessions back, motivation can be difficult - make it as easy as possible by preparing everything beforehand so there's nothing stopping you from jumping on the turbo and finishing the session. It may sound a bit silly, but make sure your head unit is fully charged - there's nothing more demoralising than getting halfway through a session and losing the ability to record your hard work.
Get A Fan 
Overheating while training indoors can be torturous. I recommend looking beyond a regular desk fan and start thinking industrial sizes. It's crazy how much heat you generate while putting in a hard effort.
Get Drinks Ready
If you're doing a long or intense session, 1 or 2 bottles may not be enough hydration. Have extra bottles filled and ready to go within reach of the bike, so you don't have to get off halfway through that killer sweetspot session.
Get Interactive
Turbo training can be tedious, but getting online with apps such as Zwift can make time fly. A small monthly subscription can give you hours of riding with other interactive users and remove some of the tedium from indoor training.
Get The Right Gear
There are hundreds of different turbo trainers out there, all with various features depending on how much you spend. Starting simple and cheap can get you on the indoor training ladder, but there is a good chance the experience won't be that good. Committing to a direct drive smart turbo trainer that connects to your power meter and/or computer will likely help you enjoy (or at least hate a little less!) the indoor training.
Be Realistic
Long sustained efforts can become boring quite quickly, so if you're forced onto the turbo through time constraints then make sure you are realistic with the type of session you aim to do. At Matt Bottrill Performance Coaching we regularly set shorter more intense efforts to keep the brain stimulated for the session as well, so that 60 or 90 minutes will soon fly.
Don't Overdress
Typically, a pair of bib shorts and base layer is enough to keep you warm, especially as the session builds and your temperature rises. Wearing too many layers is a recipe for overheating, cutting the session early.
Keep A Towel Handy 
You will nearly always get sweaty when training indoors, so a towel resting on your handlebars will help to keep the majority of the sweat off your bike. Keeping sweat away from the sensitive components helps to prevent bolts from corroding while limiting the amount of clean up required post session.

Got the motivation to jump on the turbo, but struggling for a session to complete? Here are a couple of examples for you to try this winter.

Session 1 - Sweetspot/FTP Changes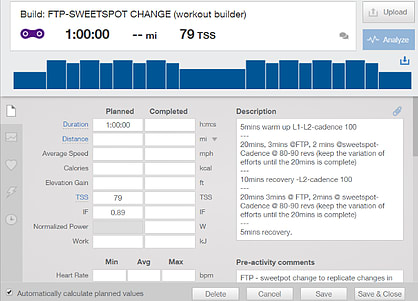 5 minutes warm up L1-L2-cadence 100
---
20 Minute Block – 3 mins @FTP, 2 mins @sweetspot (87-93% of FTP)-Cadence @ 80-90 (keep the variation of efforts until the 20 minutes is complete)
---
10 Minute Block - Recovery -L2-cadence 100
---
20 Minute Block - 3 mins @ FTP, 2 mins @ sweetspot (87-93% of FTP)- Cadence @ 80-90 (keep the variation of efforts until the 20 minutes is complete)
---
5 minutes recovery
Session 2 - Mix of intervals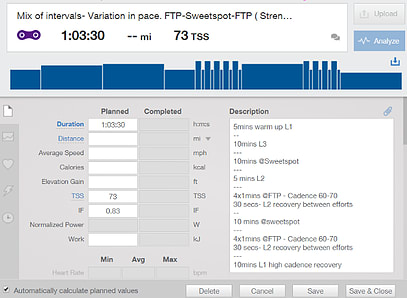 5 minutes warm up L1
--
10 minutes L3
---
10 minutes @Sweetspot (87-93% of FTP)
5 mins L2
---
4x1 minutes @FTP - Cadence 60-70
30 secs- L2 recovery between efforts
--
10 minutes @sweetspot (87-93% of FTP)
---
4x1 minutes @FTP - Cadence 60-70
30 secs- L2 recovery between efforts
---
10 minutes L1 high cadence recovery
If you would like to know more about our coaching options, performance reviews or bike fitting services, then get in touch. 
Keep up-to-date with all the latest Giant news by following us on Instagram @GiantUK, Twitter @GiantUK or like us on Facebook.