Do you remember the long summer evenings, the sun still high in the sky and the warm air blowing on your face? Rushing home from work ready to jump on the bike knowing that you have time for a good ride before dinner? No, I don't either. 
Summer has faded and the long, cold nights are here to stay. Rather than sitting on the sofa reminiscing about days gone by, there is another option. 
I have been a fan of night riding for quite some time. It only requires one simple addition to what you already have - a good light. There is something that really fires up the senses inside, when you are out in the dark and moving at speed. Be it on the hills or in the woods, on a trail you are riding for the first time, or one you have ridden a thousand times before. Riding is different this time, it's changed. It makes you feel truly alive. Being both hunter and prey at the same time.
I have used several lights over the years from cheap ones from China through to some of the most expensive ones on the market. With that said, I was given the chance to try the newly released Giant Recon HL 1600 Light, the brightest from their new Recon Light Range.
I was interested to find out more.
Technical
The Recon HL 1600 has some very nice features built into it that makes it more than just your standard light. It has a maximum lumen output of 1600 Lumens. In case you are unsure of what lumens are they basically measure light output. For instance, the typical high beam of a car is 1200 lumens. This light at 1600 puts out much more light. The HL1600 is waterproof to IPX6 rating which means it can handle anything winter can throw at it, including the clean down after the ride.
It has built in side lights that increase the field of view. The lack of side lights is something that has bothered me with lights in the past and I am glad it is something Giant have implemented into the design. You want a strong spotlight for where you are looking but still something to fill the peripheral vision too. In the past, I have found other lights focus too much on just a spot. This leaves anything nearby out of visibility as you are looking so far ahead.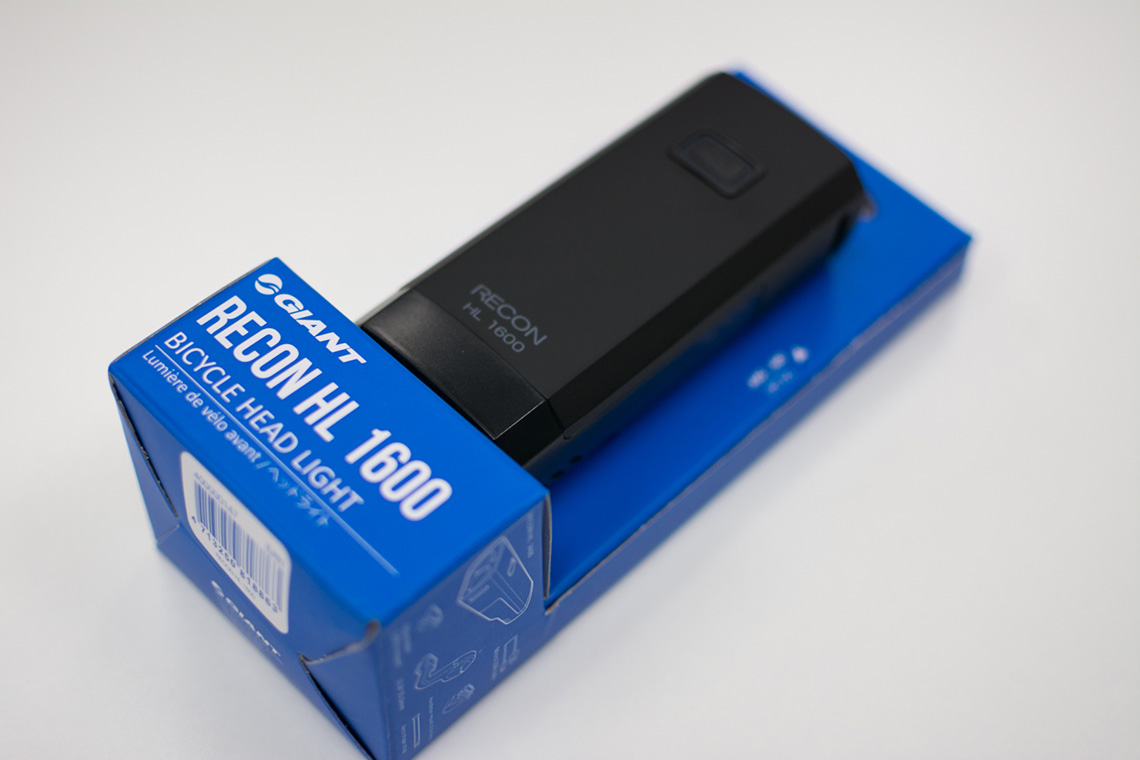 It has Speedbeam technology, which means it can be paired with a Giant Ridesense sensor and can then be put into a mode that automatically adjusts brightness based on your current speed (faster is brighter). The lights that are around you can also make it dim or brighten automatically. This is a feature I will not be able to test in this review.
It has fast charge capability and a very respectable battery life, which varies depending on the brightness selected. It charges via a supplied micro USB cable. The shell is aluminium and it weighs in at a very impressive 208 grams. Included in the box are many ways to mount the light also from bar mounts to GoPro mounts, which is a nice touch. 
First Impressions
My first impression of the light was that it is small. That's a good thing. Given its output versus some of the other similar output lights I have used in the past, it is a very small and tidy package. No need for an external battery pack strapped to your frame with the risk of trailing cables becoming unplugged.
It's light too - at 208 grams you might expect it to feel a bit plasticky, but the aluminium shell really does give it a premium and very solid feel. It feels like it's made to last a long time.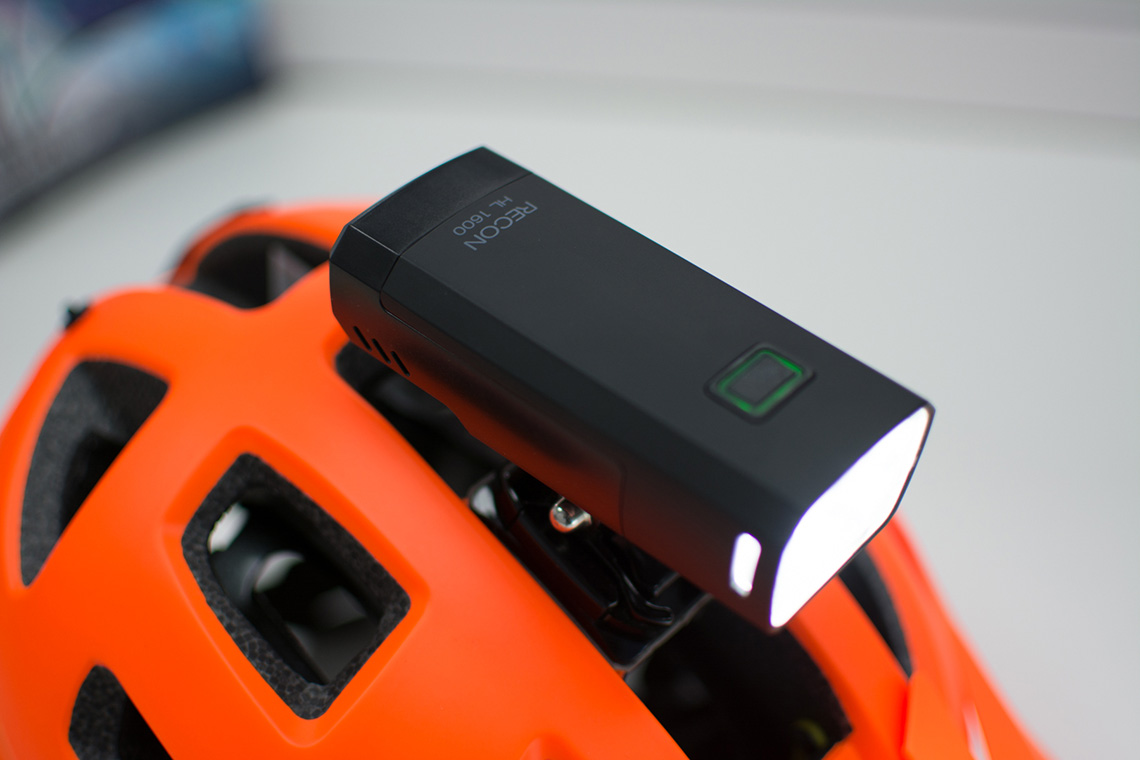 Upon opening the packaging, I was greeted with an array of different mounting options, USB cable and an instruction manual. I put the light on charge straight away, it charged at a fast rate. The green power light goes from flashing to solid once fully charged.
Once home, I decided that for the test, I would mount it to my Rail SX Mips helmet. I chose to use the supplied GoPro mount for this and had it fitted and in place in no time. All that's left now is to go and hit the trails and see how it performs.
Riding
Given the time of year, I knew it was going to be muddy out on the trails. I really wanted to put the light on a good test. So instead of going out into the open areas and pedalling over the moors, I decided to go and ride the freeride line at Havok Bike Park.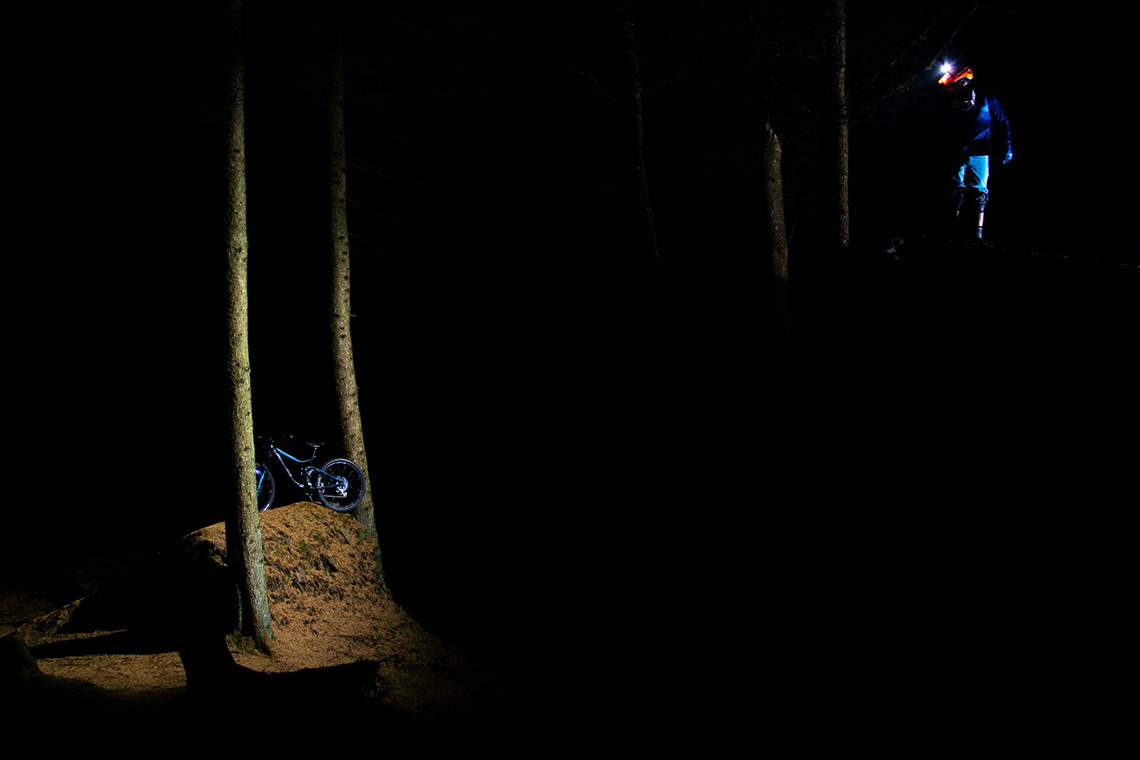 Hitting features like those in the dark filled me with all kinds of worry on the trip there. I arrived after nightfall and it was deserted. Nothing but the wind blowing through the pine to keep me company. I pushed up to the top of the freeride trail which has a nice qualifying drop at the top. It is one that is pretty blind at the best of times.
The light was switched on to maximum and I rolled in for the first time, albeit cautiously. The drop is one you have to go quite slowly off. The landing went fine so I pulled up the bike and went back to do it again a few more times. It's a drop where you can never really see the landing until you are over it, adding that extra element of danger in the dark. Confidence growing, I then moved on down the trail.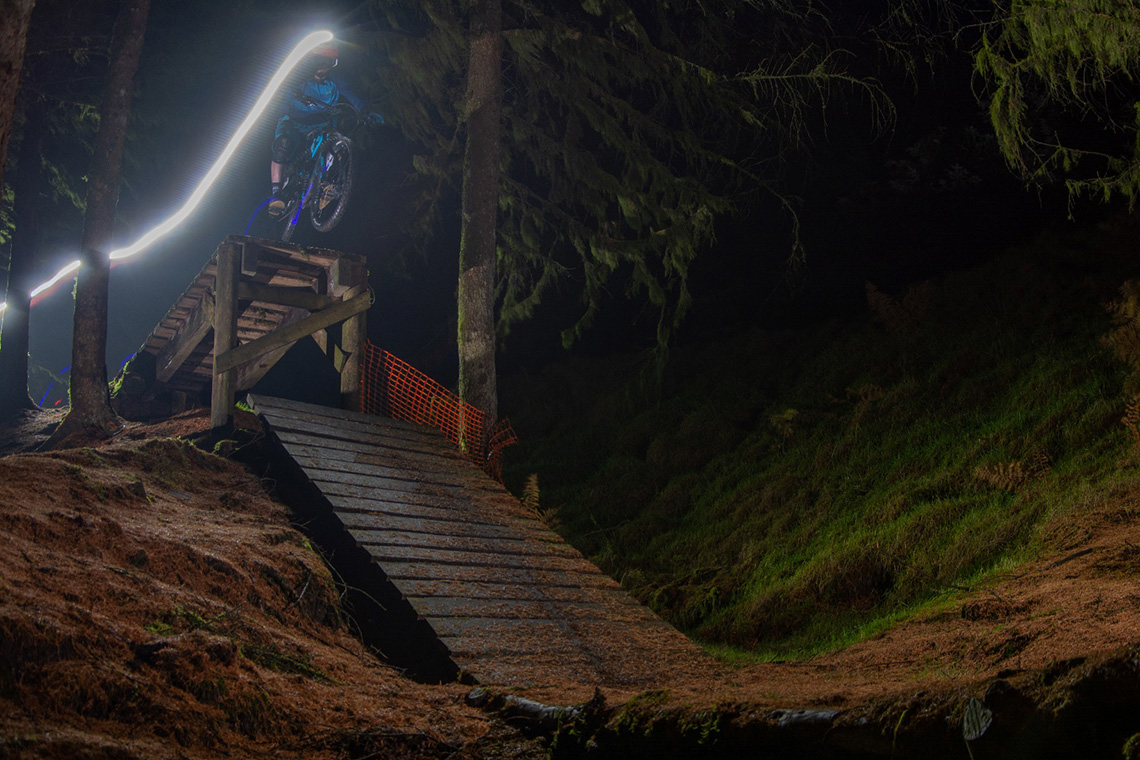 I then started hitting various features along the way, from technical rooty sections through to doubles, hips and wallrides all of which I rode like I would in the daylight. Each run gave a better feeling and the pace increased. I am used to riding with two lights but this time I was only using the one. However, the more I rode the more my confidence grew. The light stayed steady and didn't move even on heavier landings.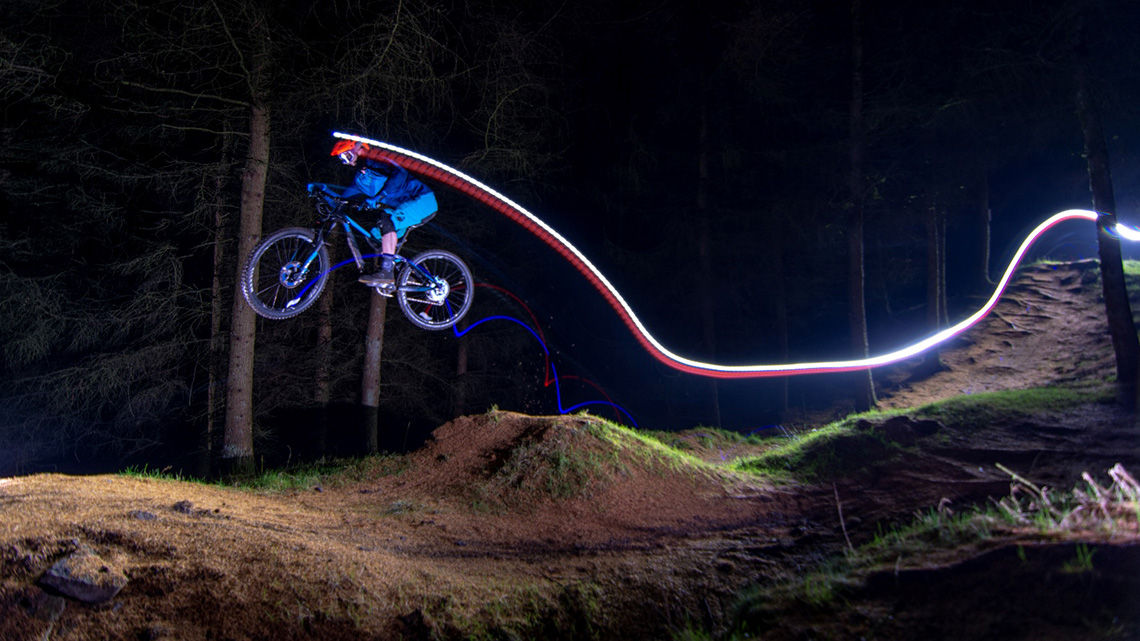 Due to its mix between spot and flood, I was able to see everything coming at me on the trail easily and really attack the trail. All whilst still being able to see my front wheel and be able to time hops, pumps and jumps. I didn't miss the second light at all, in fact, I forgot I didn't have one fitted. I had gone bigger in the dark than I ever had before I was grinning from ear to ear.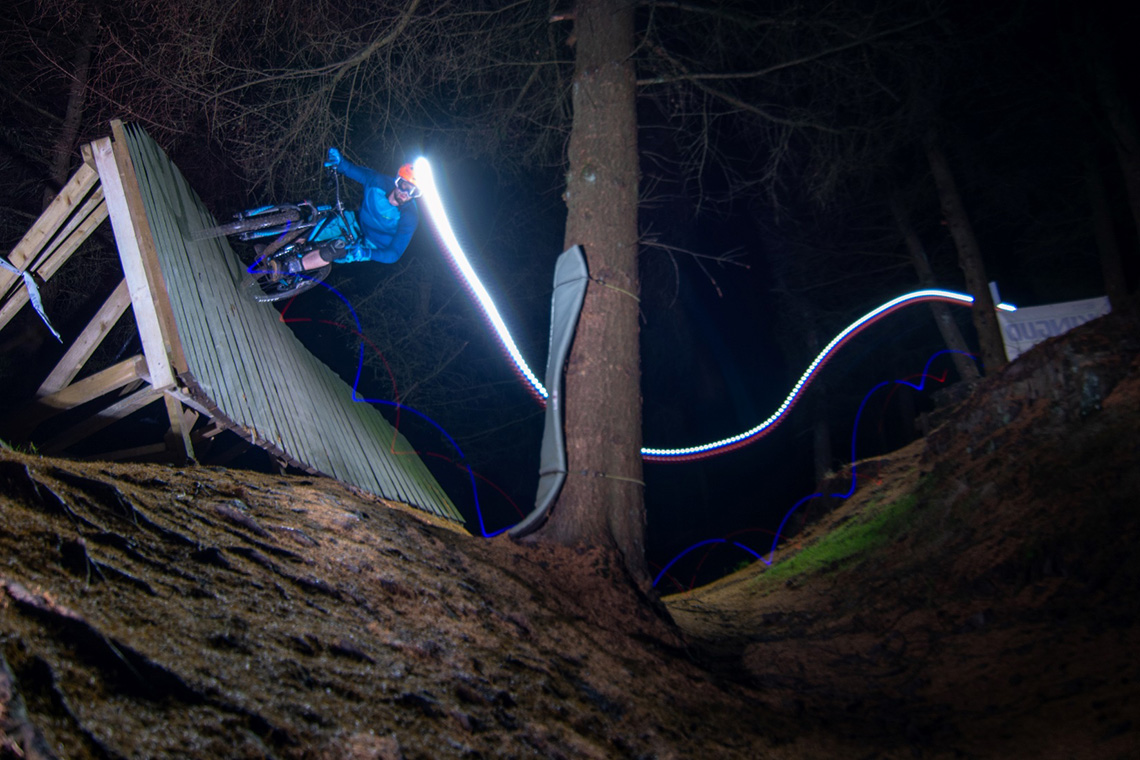 I then moved on to the downhill trail for a couple more runs and again was blown away by how well I could see in the deep forest, still riding the trail in attack mode despite the very greasy conditions. Even the more technical sections I felt I did not need to nitpick a line through, and could still take the faster more difficult lines. I was amazed at the range of visibility that I had. Three hours of playing around later and it was time to head home. Muddy, tired and smiling. 
Conclusion
I always felt that I would need two lights on the bike to ride at night. Now I know I was wrong with that presumption. I genuinely feel I have never pushed my comfort zone so far on a night ride before. It has really opened up what is possible in the dark for me. It doesn't need to be just trail riding or loops over the hills. You can go big if you want too. Inspiring confidence in every turn and on every feature. All in such a small package too, the Recon HL1600 really is very good.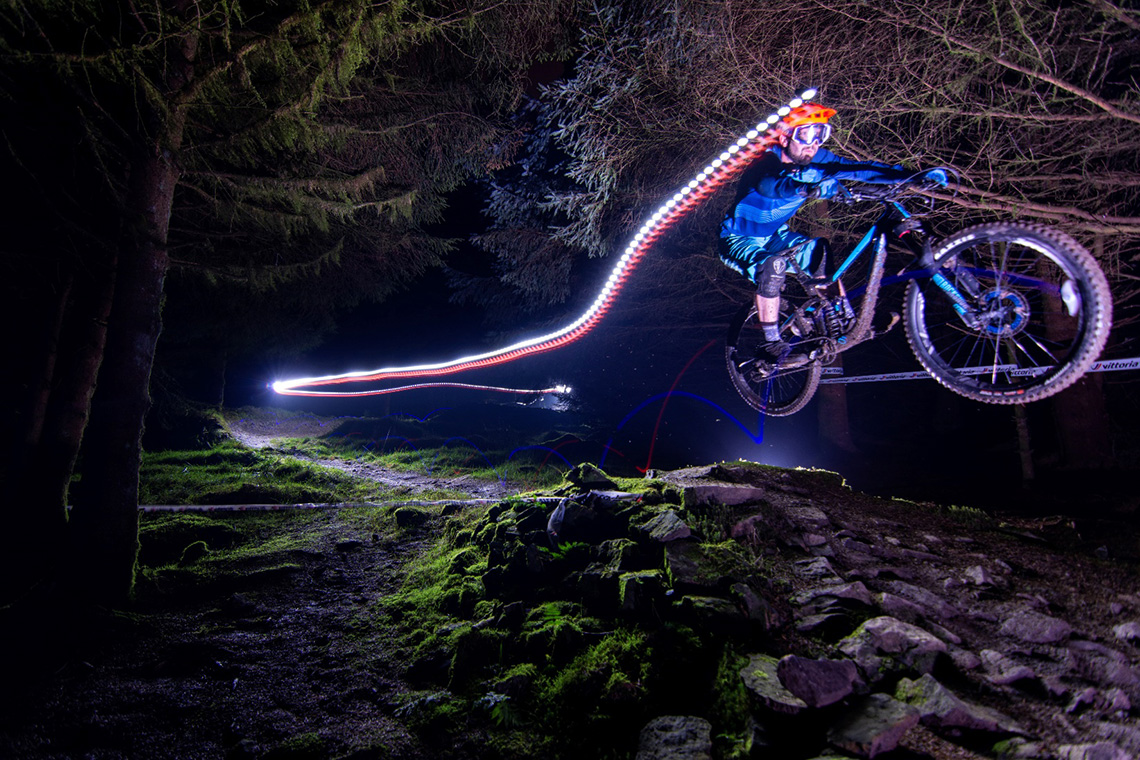 It's a must take in the backpack for any ride, just in case the vibes are good as the sun sets and I am not quite ready to call it a day. I will not miss the cables trailing around from the light to a battery, be it strapped to the frame or trailing through a jersey to my pocket. Nor the complicated setups some have. The simplicity it provides is great, as I don't like keeping things attached to my bike and that means less messing between rides too. It's so easy to fit with the go pro mount and that leaves you ready to ride in just seconds. Anything that gives you more time on the trail is a definite win for me.
The light was in its brightest mode for much of the test and after three hours was still going strong. That's much more than the average length of a night ride for me and means you don't need to worry about being left in the dark. I for one am itching to get out for my next night ride. The Recon HL1600 taking pride of place on top of my head.