Having a good set of bike lights is essential over the winter – the reduced visibility can make riding on the road or trail just that little bit more hazardous so quality front and rear lights can make all the difference to the enjoyment and safety on your next ride.
In this guide, we'll go through the range of cycle lights on offer, some features to look out for and the key differences between the models, so you can make the best choice and keep those pedals turning all year round.
What To Look Out For? 
Before you start browsing, it's a good idea to understand your needs and the key features to look out for in a new light. No matter if you are a road rider or mountain biking, it's essential to assess your needs and the typical light conditions you ride in so you can purchase the right unit for you.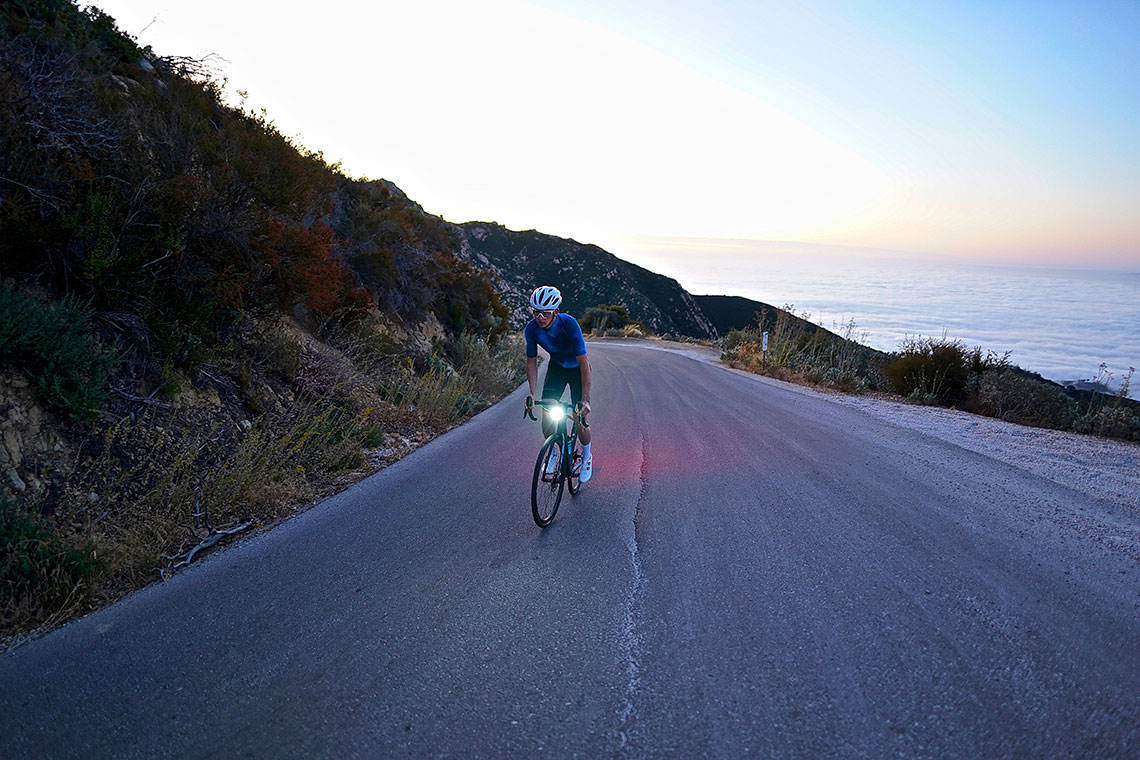 Power
A lights output is measured in 'lumens' – the higher the number, the more powerful the light is and in theory the more visibility it should create. Why is it not measured in watts like a standard house light, we hear you ask? Well, a watt measures energy usage and not necessarily the brightness it gives out, so a lumen is a better standard of measurement to ensure you are getting the right light output for your needs.
Power is usually a greater consideration for the front light rather than the rear, as this needs to help you see what's in front of you, but it's always good to have a powerful rear light too so that you can clearly be seen.
Battery
An important aspect when buying a light is how long it's going to last – there's nothing worse than running out of juice halfway through a ride and being left in total darkness. Therefore, the expected run time should be a big consideration when purchasing a new light.
Make sure to check the advertised battery life aligns with your needs – running a continuous beam at full power takes way more energy than a reoccurring flash on a lower power output, so check the features or specification for the full run times in the different modes to make sure you know exactly what you are getting.
Mounts
Finally, the last thing to think about is where the light sits on the bike. In most cases, a light will be placed on the handlebars for front and the seatpost for the rear light, although mountain bikers and commuters also like helmet-mounted options for greater visibility. No matter where its placed, it's important the mount is both secure and easily removed, especially if you commute or leave your bike locked up for periods of time.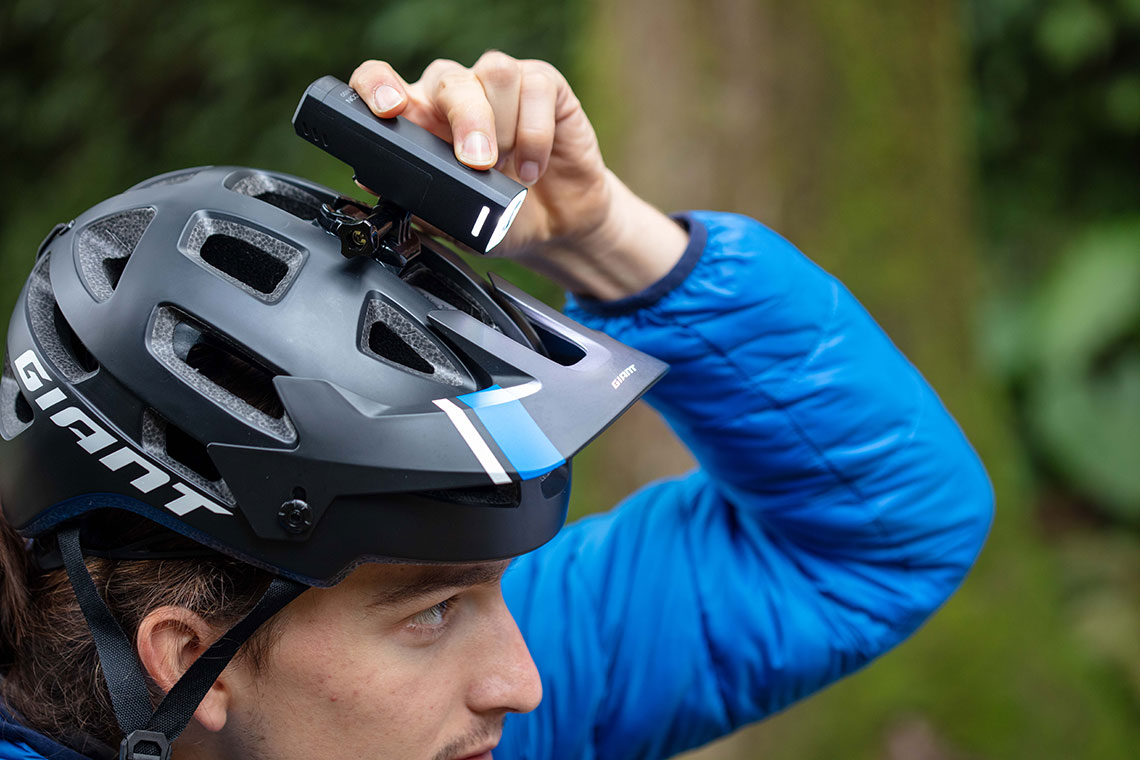 All Giant lights come with a standard mount provided in the box. If you have non-standard bars or seatposts, such as aero specific designs, then you may need to purchase an additional fixing unit to ensure compatibility.
Front Bike Lights
Front lights are pretty simple – they are usually mounted on the handlebars of your bike and throw out a white beam to light up the road or trail ahead as you ride, similar to car headlights. They are classified into two categories based on their output; 'seeing' lights and 'be seen' lights.
Be seen lights are designed for riding in the daytime, dusk and on well-lit roads. They are usually compact in size and designed to allow other road users to notice you as you ride, but they shouldn't be relied on for anything more than that as the beam won't be strong enough.
Seeing lights are a lot more powerful. They allow riders to see more of what's ahead by using a stronger beam, lighting up the road or trail so you can ride faster and safer in dark or unlit places. For greater visibility, we would recommend a minimum of 700 lumens, but for ultimate sight and presence while riding, our range goes up to 1800 lumens.
Recon HL 1800 Front Light - £119.99
Featuring an outstanding lumen capacity and industry-leading battery life, the Recon HL 1800 is our top of the range front light designed for night time road rides and moonlit trail riding.
It's not all about the power – it also features a clever 'smart mode'. This power mode monitors the ambient light and adjusts the lights output to provide the right amount of visibility to conserve battery life. Not only that, it can pair with a Garmin head unit to provide battery information and light mode on screen.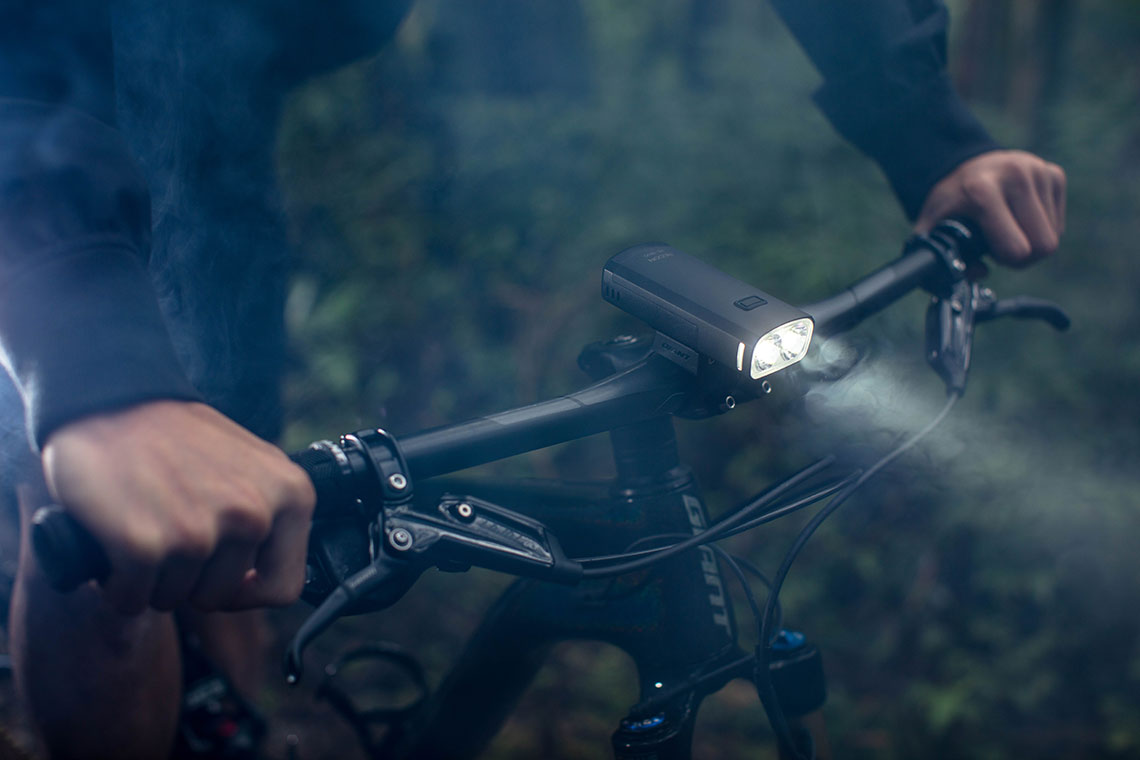 With over 270 degrees of visibility, an IPX6 rating so it can withstand huge downpours and a premium aluminium casing, this light will let you see everything on the road ahead. It's the ultimate front light for dedicated night riders.
Recon HL 1100 Front Light - £79.99
If the Recon HL1800 is out of your price range, but you still need a high quality and powerful seeing light, then the Recon HL 1100 is the next best option. Although it's not as powerful as the HL 1800, it offers a still fantastic 1100 lumen output, 5 run modes and a huge battery life, plus it includes the same smart mode and premium aluminium casing as found on the top of the range model.
The Recon HL 1100 is a great choice for the majority of riders who need to illuminate the road ahead at a lower price point.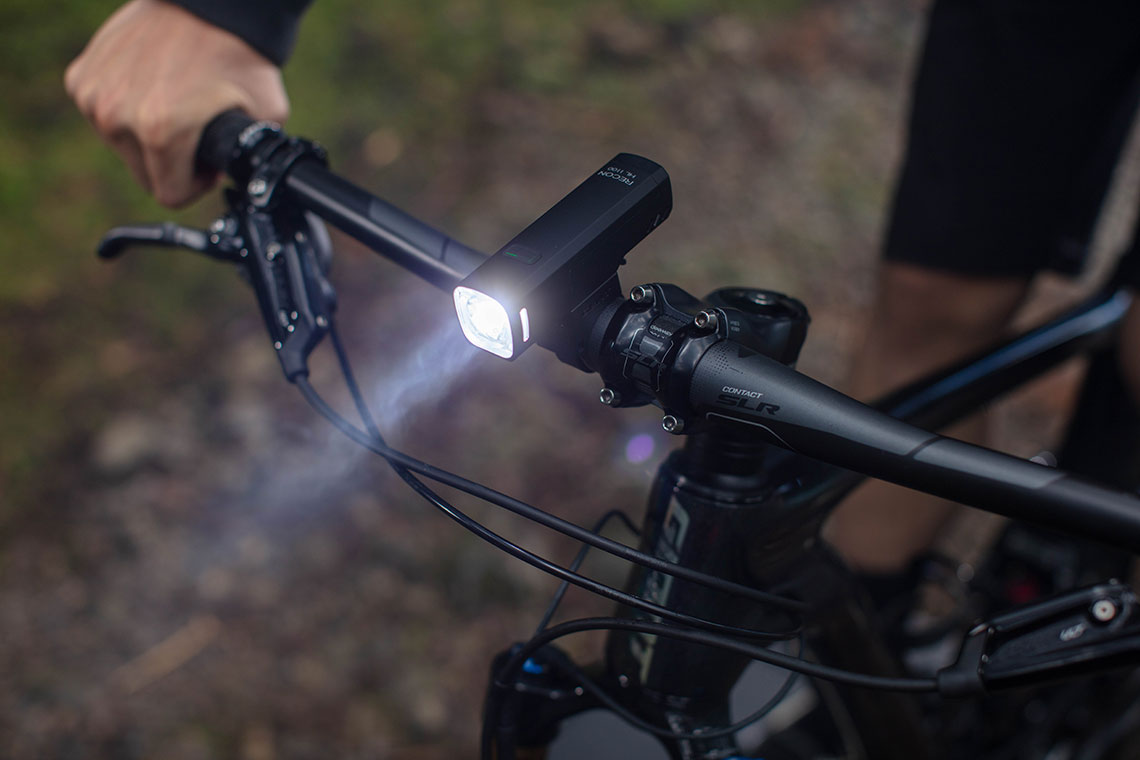 Recon HL 700 Front Light - £59.99
As we've mentioned, the lowest lumens we would recommend for a front seeing light is 700, so the Recon HL 700 sits on the border between a backup seeing light and a powerful 'be seen' light, making it an ideal purchase for either requirement. Again, plenty of features are present from the top of the range HL 1800 and HL 1100 models, therefore it offers great value for money as a do-it-all front light.
Recon HL 350 Front Light - £34.99
If you primarily ride in the day and are looking for a lightweight 'be seen' front light, then this is the ideal option. The Recon HL 350 has the lightest weight of the Recon series, boasts day/night flash modes with superior run time and is IPX7 waterproof rated, so it can withstand the best of the British weather.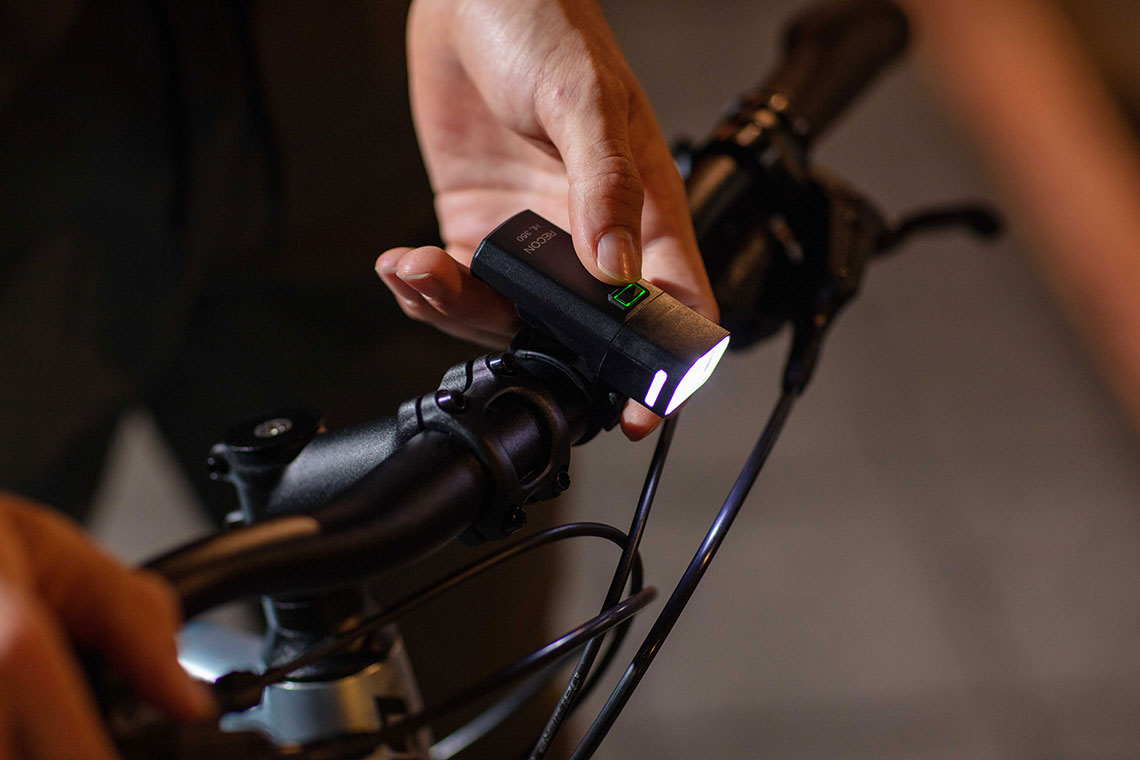 It packs some great features into its diminutive size, including a clever motion sensor which will automatically turn the light off if you stop riding in order to conserve the battery. A superb be seen option for commuters and road riders alike.
Recon HL 100 Front Light - £24.99
The Recon HL 100 is our budget-friendly front light offering. Featuring a 100-lumen output and 180 degrees of visibility, this light is easy to use, ultra-portable and lightweight with great battery life. A perfect be seen light for daytime riding or secondary option alongside a seeing light for night time rides.
Rear Bike Lights
Rear lights are a lot easier to navigate – they have one job, to alert other road or trail users of your presence from behind in the form of a red light. It's advisable to use the flash setting mode with a rear lamp, as this will extend the battery life and provide greater awareness and visibility to other road or trail users over a single continuous light.
Aside from battery run time, other features to look out for are charge time, water-resistance and mount compatibility with your seatpost or saddle.
Recon TL 200 Rear Light - £34.99
At 200 lumens, the Recon TL 200 is our most powerful rear light in the lineup. A two-lens design provides a focused and a dispersed light beam simultaneously, ensuring you are seen from multiple angles and from as far as 1km away.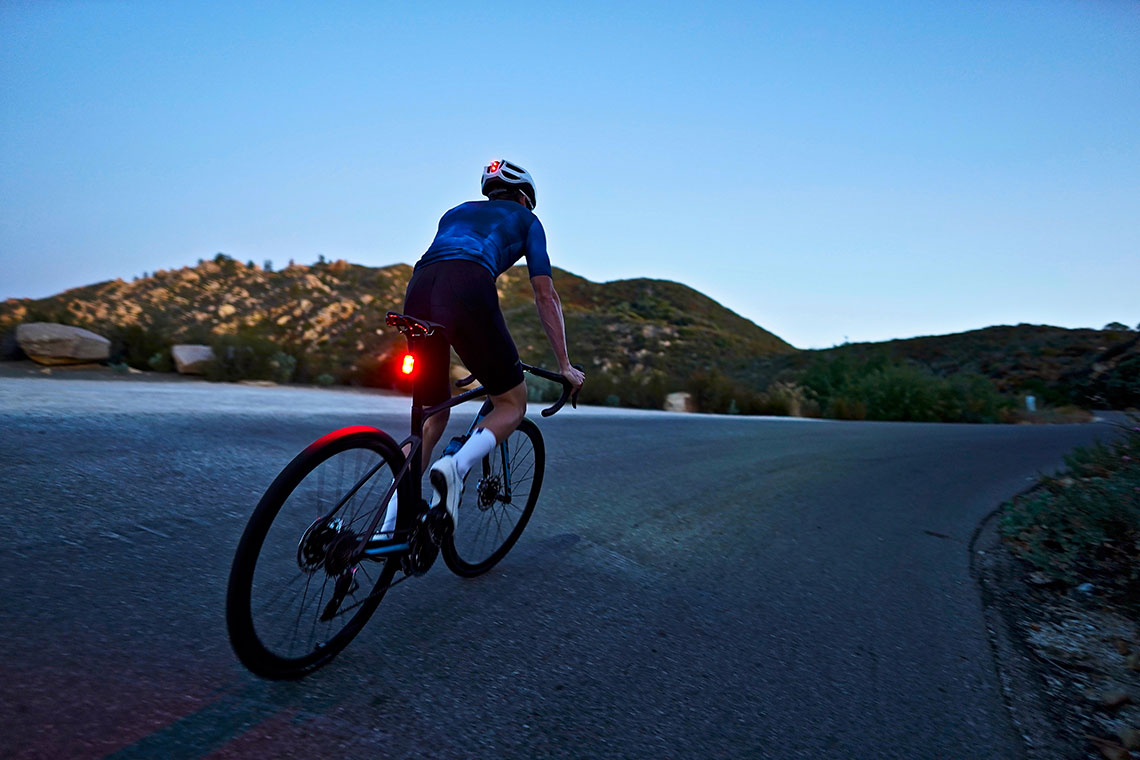 Aside from a powerful output, It features a compact design, an integrated power indicator and is IPX7 waterproof certified. Additionally, the smart light sensor can auto adjust the light output, day or night, to ensure you can be seen all the time and conserve battery life as much as possible.
Recon TL 100 Rear Light - £24.99
Using a single LED compared to the Recon TL 200, the Recon TL100 is easy-to-use, ultra-portable and lightweight. With an integrated power indicator and IPX7 waterproof certification, the Recon TL100 provides maximum high-powered visibility at an accessible price. Both Recon TL 200 & 100 units can be mounted to compatible Giant & Liv helmets through an additional mount, providing flexibility when it comes to placement.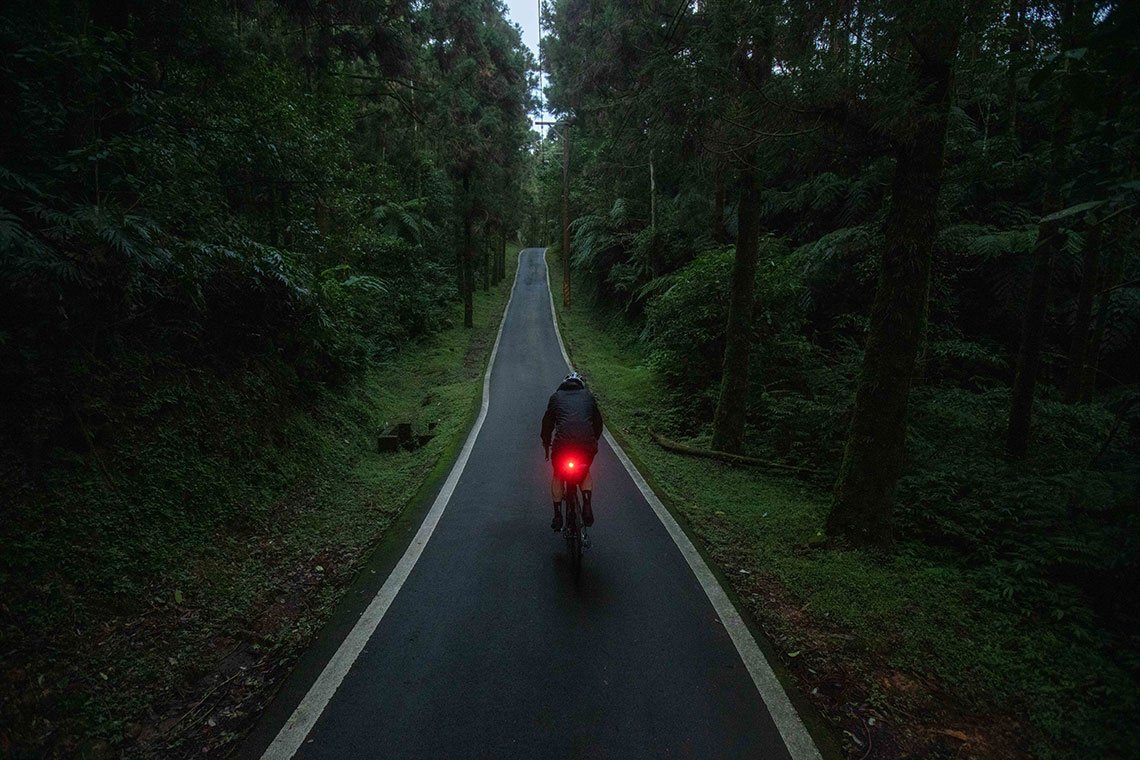 Numen Alumbra TL - £17.99
Designed to integrate seamlessly with compatible Giant and Liv helmets*, the Numen Alumbra TL is the slimmest and most lightweight helmet-attachable taillight and features a unique quick magnet mount design for easy on and off, as well as a built-in low-power indicator.
Not to be substituted for a dedicated tail light such as the Recon TL 200/100, however, the Alumbra TL is an incredibly neat secondary option that provides even more safety and visibility due to its upright location for dedicated night riders and urban commuters.
*Compatible with Rev Comp, Compel, Roost, Strive, Lanza, Coveta, Rev Liv Comp and Luta series helmets.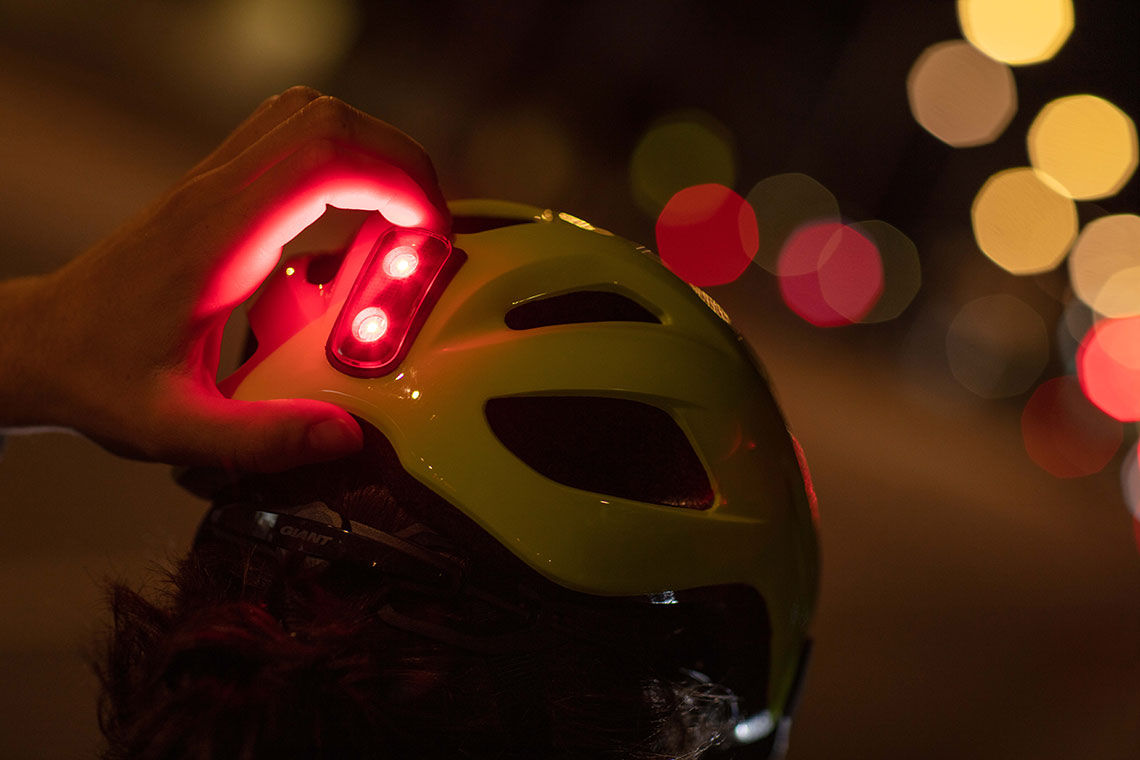 There's your guide to the Giant range of lights. No matter which you choose, we recommend making sure it provides more than enough run time for your typical ride length, provides enough power and illumination for the conditions you'll be riding in and – crucially – you take a back up front and rear light on all rides, as safety is the number one priority when riding in the dark.
Ready to purchase? Browse our range of lights and take advantage of Klarna on any baskets above £35, allowing you to either spread the cost over 3 equal monthly payments or pay 30 days after you receive your goods - the choice is yours. We offer free click and collect to any Giant retailer, and free shipping on orders over £50.