When looking at electric bikes, there are two big features that stand out - the motor and the battery. Without them, it's simply a standard two-wheel bicycle, so it's important to make the right choice on both when thinking about purchasing an electric bike.
The motor affects how much power is delivered, however, the battery is the beating heart of the bike. Without a good battery, the motor can't be used as long, which defeats the purpose of having a pedal-assist bike in the first place. If you are planning to cover long distances on your E-bike, then a long-life battery is essential.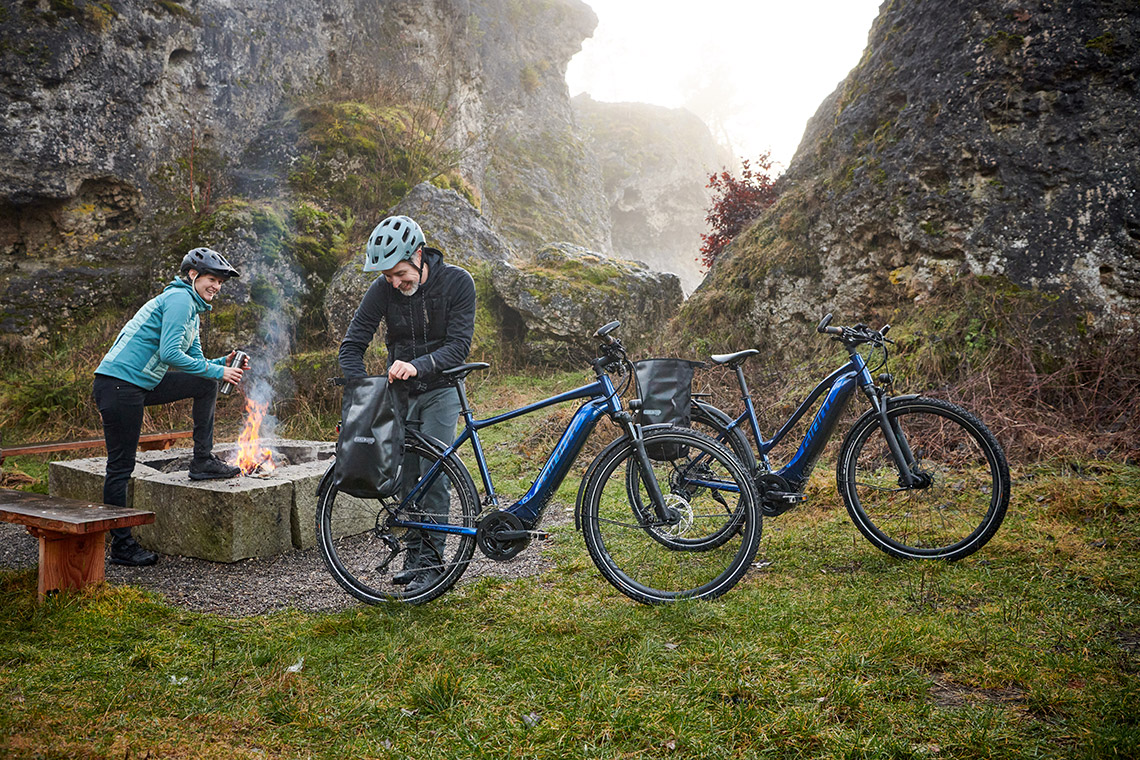 Giant electric bikes use batteries from the biggest and the best battery manufacturer available – Panasonic. Thanks to our relationship with this world leader, our batteries are high quality and packed full of the best and most up-to-date technology.
In fact, Panasonic manufactures the complete battery, including the cells and the battery management system. They also assemble the final structure, so you know that with any Giant or Liv E-Bike you are getting a reliable and technologically advanced product made from the market leaders.
All the batteries are 36v Lithium-Ion batteries (commonly shortened to Li Ion) – more specifically, Lithium Cobalt Manganese batteries. This specific type of battery has the lowest discharge rate of all E-Bike batteries, which is an advantage when the bike isn't being used.
How does this benefit you? Well, when you come to use it, there's going to be more charge in it than another battery pack could offer. It also decreases wear and tear on the battery and extends it's charging lifecycle.
Furthermore, Lithium Cobalt Manganese batteries have impressive charge cycles - they can comfortably be charged 1000 times – not something that can be said for other brands on the market.
Reaching 1000 charges isn't a cut-off, as the battery will 'step-down' to a lower capacity. Once it's reached a 1000 charges, it will go to 80% of full capacity for a further 800 charges, then up to 60% of full capacity for 600 charges and so on, so it can continue to be used for a long time.
Range
It's important to know how the battery affects the range, as you need to make sure that the electric bike will meet your needs. The first thing to look at is the capacity of the battery itself.
We offer different battery capacities depending on the bike's use; 300Wh, 375Wh, 400Wh, 500Wh & 625Wh. Wh stands for 'Watt Hour', and the number can be compared to the size of a fuel tank in a car. A larger number gives the bike more fuel as the battery can hold more volume of charge.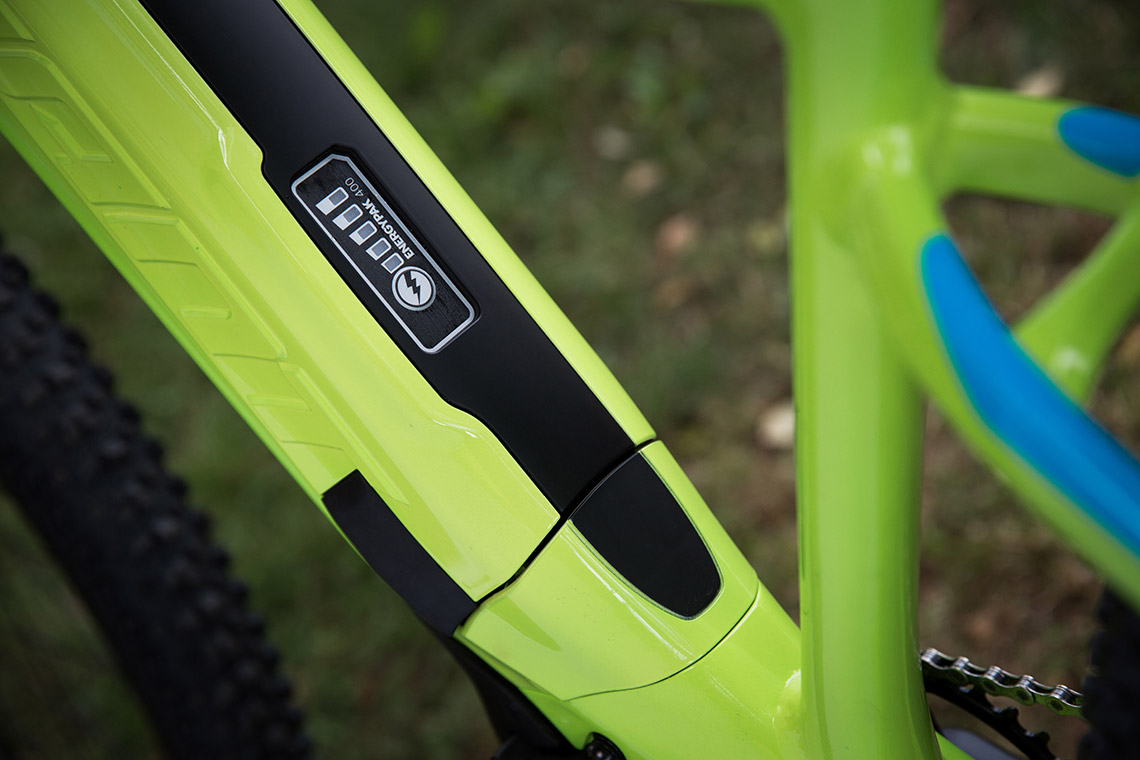 Don't be fooled into thinking it's just a numbers game though - a higher number doesn't always necessarily equal a longer range, as there are so many external factors to consider. Weight, riding conditions, terrain and plenty more will all have a big impact on the range of a battery.
The type of electric bike is also a factor. Electric mountain bikes will usually come with a large battery - most Giant E-mountain bikes will use at least a 500Wh battery, whereas a city bike might only come with a 300Wh battery as standard. However, a mountain bike battery has to power a much heavier load up and down steeper and slippier terrain, so the battery will drain quicker than a ride on a flat bike path where the motor is under less stress.
Also, purchasing an aftermarket battery is a great option to factor into your budget - if you have a big ride planned or decide to go away for the weekend without access to a power source, then having a fully charged backup ready to go is a lifesaver.
Charging
Charging one of our batteries couldn't be easier. For a start, the batteries can be charged on or off the bike, giving flexibility depending on where it's being stored. If you want to charge the battery off the bike, they are easily removable. Charge time varies depending on the size of the battery but for the biggest sized battery (625Wh) the charge from 0% to 100% is no longer than 4 hours.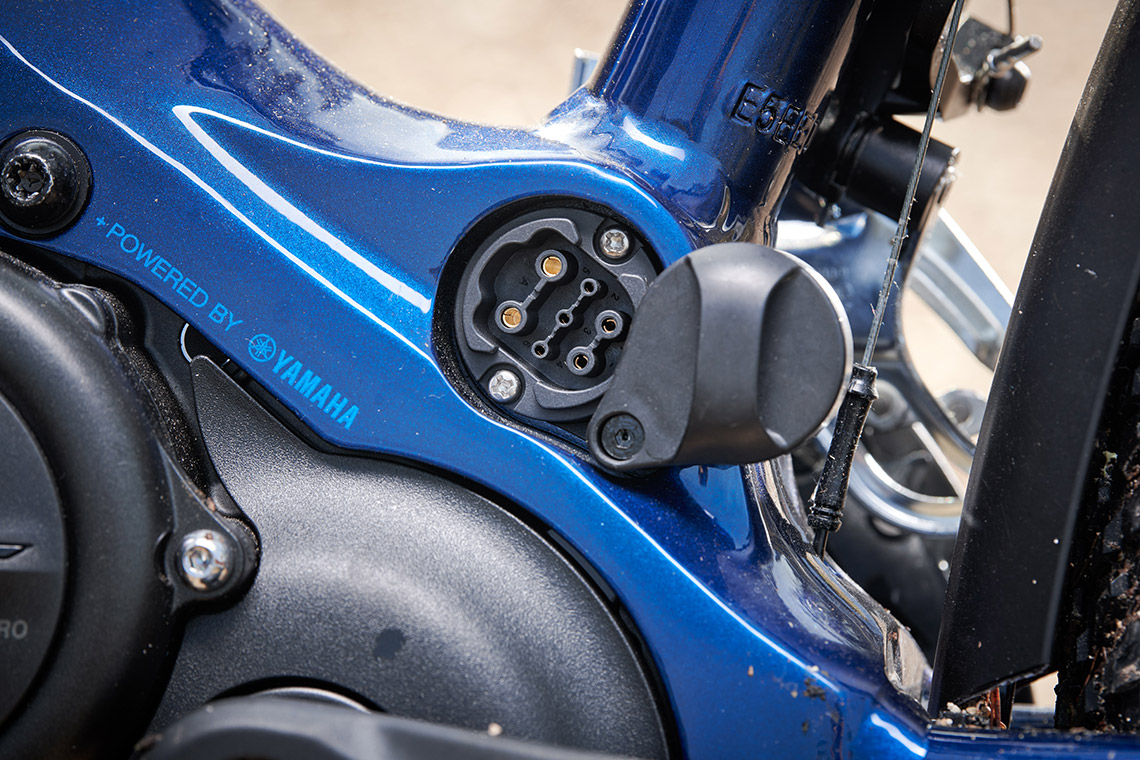 An exciting new feature is called 'smart charging' - Compatible with Giant's latest downtube EnergyPaks, the new smart charger offers super-fast charging, providing more than 60 percent capacity within 90 minutes. This is an essential feature if you plan on tackling long days in the saddle and need to be able to juice the bike in a hurry.
The Smart charger doesn't just offer quick charging - it helps extend battery life by ensuring that once a battery has been charged more than 500 cycles, it automatically drops to a lower voltage, so battery life is extended while the total charging time remains the same.
Through continuous communication between the charger and the induvial battery cells, the Smart charger is able to effectively manage the heat within the Downtube EnergyPak by shifting charge to different cells if certain cells become too hot.
The Smart charger can also be used with the 60% storage charge mode which allows for safer storage. We recommend that before long-term storage of the bike, the battery is charged to 60% and kept in the house at room temperature.
Giant's electric bike batteries are always located and designed to optimise the experience for each specific style of riding – so whether the battery is mounted on the downtube (with top-pull, side-pull or down-pull options) or on the rear carrier, you know it's in the best possible place for what you need to do.
The latest updated EnergyPak is mounted in the downtube and offers a more minimalist design than ever before. With an aluminium casing, a moulded protector along the bottom and a double lock feature, it's designed to handle rough rides.
Service, Aftercare and Warranty
As long as they are stored correctly, E-bike batteries are pretty self-sufficient and shouldn't need any further care or maintenance. Our batteries are fully cased and waterproof, however, avoid using a jetwash as they can force open gaps and let water seep in. In fact, we strongly recommend never using a jet wash on any part of an electric bike, just in case!
There are some actions we'd recommend you perform - firstly, to fully maximise the capacity of the battery, we suggest to run the battery flat at least once every 3 months. Another top tip, especially for us in the UK, is that riding in cold weather (below 5 degrees) has a negative impact on the capacity of all Lithium-Ion batteries - to avoid this, we recommend to store and charge the battery in the house at normal room temperature, then insert it into the bike just before you start your ride. This will stop the battery having a reduced capacity and gives you better range than you would have if the battery was stored in the freezing cold garage.
Don't worry though, cold weather does no lasting damage to the battery at all - it has a temporary effect but it will go back to normal, so don't worry if you forget!
If you ever encounter a problem with your E-bike, we've got you covered. Every Giant E-bike retailer has access to a service tool that can communicate with the battery management software within the battery itself.
This tool can identify any issues within minutes, therefore, if there's ever an issue with the battery system, it can easily be diagnosed without any complex mechanic work required. E-bikes come with a 2-year warranty on all the electrical parts, including the battery, which offers added peace of mind.
You can keep up-to-date with all the latest Giant news by following us on Instagram @GiantUK, follow us on Twitter @GiantUK or like us on Facebook. We also have a newsletter, packed with news, reviews and special offers, and you can sign up here.