Starting road cycling is an exciting prospect, so choosing the right bike to begin is essential for prolonged enjoyment in the sport. This guide aims to help sift through all the information available and inform you so that you can have the best possible cycling experience from the start.
What Defines a Road Bike?
Although they come in many shapes and sizes, you can usually spot a road bike with its skinny frame, narrow tyres and drop handlebars; these features help to produce a faster ride on the tarmac when compared to a heavier mountain or hybrid bike. Road bikes often have a different gearing set up to mountain bikes, and it's unlikely that you're going to see any front or rear suspension on a dedicated road bike like you see on the off-road version.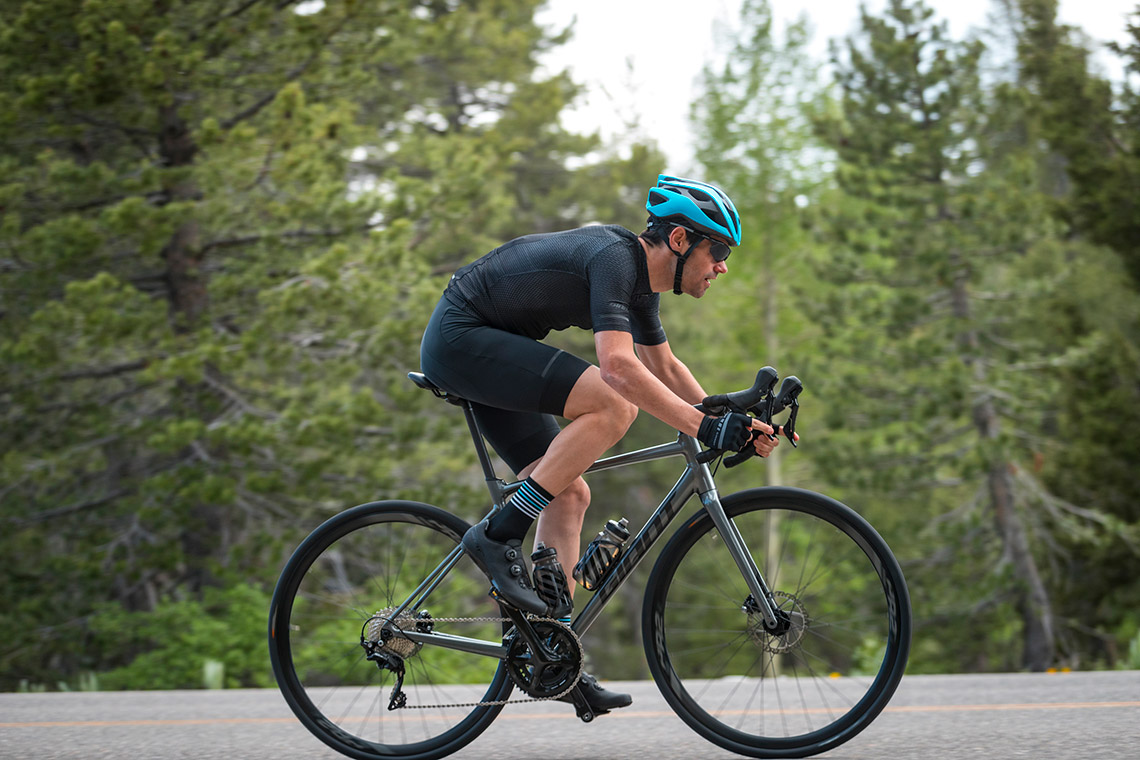 Budget
Before starting any research, it's wise to establish the budget you are willing to spend on a bike before diving in. Like most products, bikes can vary hugely in price, with certain high-end models topping out well into the five figures. Establishing a budget early in the process makes it easier to stick to, and discounts models out of your price range before you get too tempted.
Although plenty of people advise going with the most bike you can afford, if it's only going to be used for a gentle 30-minute spin every few weeks in the summer, there's not much point in spending thousands as it won't be cost-effective. Map out exactly what you'll be using the bike for, how long each week, and you can work out whether stretching the budget is worth it in the long run. Remember, you'll need some room for essential gear and accessories, like a helmet and pedals, if you haven't already got them.
Size
Once you've got your budget ready, then the next step is finding what size you need. It doesn't matter how much the bike costs or how flashy it is - if it doesn't fit properly, it won't be nice to ride. Too big, and the bike will be hard to handle, and you'll be stretching to reach the handlebars, making it uncomfortable on your back and shoulders. Too small, and you could end up banging your knees on the handlebars as you pedal. Either way, it's vital to get the size right.
Selecting a size that's too big or too small and thinking 'it'll fit' or 'I can make it work' isn't an option either, as the size of a bike doesn't just refer to the frame – components are generally scaled to accommodate the rider.
For example, a small bike might come with a 170mm crank, however, on a Large bike it might come with a 175mm crank instead. It's the same with the stem, handlebars and various other components, so not only will it be an uncomfortable ride, it might take more money than you think to try to put it right by swapping for smaller or larger components.
Even then, just swapping the components offers no guarantee that it will correct the problem – An overly short or too long stem on a bike can dramatically affect the handling, making it twitchy or slow to respond, which gives a poor ride experience compared to the original bike you bought.
Now we've established the importance of finding the correct frame size, it's time to measure up.
For a general guide, take your height and inside leg measurement and apply it to the sizing guide on our website – each bike has a 'what is my size?' link in the product page. Here's an example below;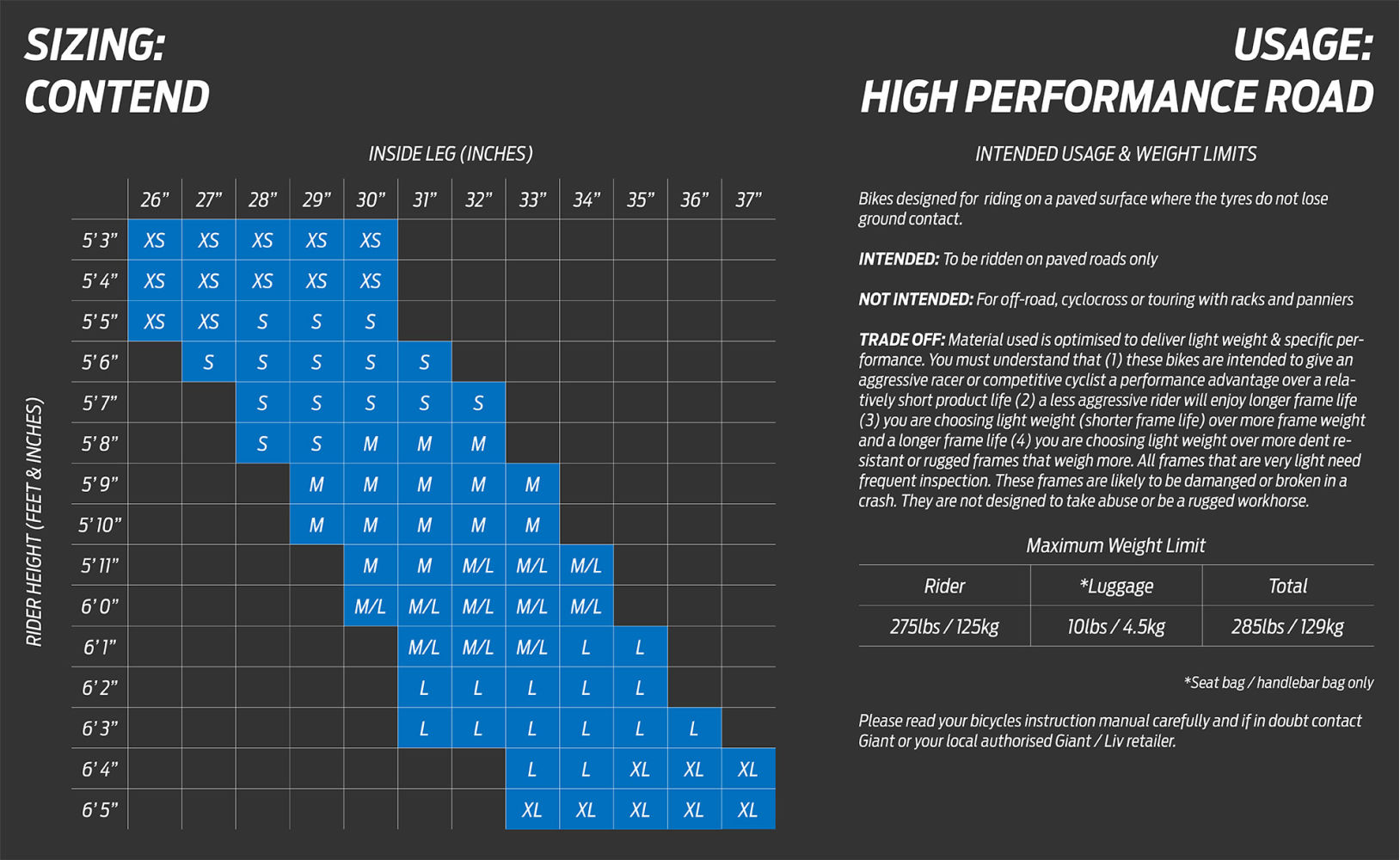 While we offer a general size guide, we always advise brand new riders to go and try the bike before committing to any purchase – the only way to get a feel for a bike and its size is to ride it, so contact your local Giant retailer, and they will be happy to assist on your journey into road cycling.
Need help with a fit? Why not book in for a Powerfit to take out the guesswork.
Style
As cycling has developed over the years, more and more specialisation has occurred in the design of the bike so they can perform specific tasks better. You may have seen various terms used, such as aero road, endurance, sportive, etc. They refer to the particular area of cycling they excel at, and it's useful to know what part of road cycling your bike specialises at before you buy it;
At Giant, we have four distinct road models to choose from;
Propel
Also known as an 'aero road bike', the Propel is an out and out race bike, having been aerodynamically designed in a wind tunnel to go as fast as possible in a straight line. Since its launch in 2013, it's been consistently one of the top performers in the pro peloton, famously leading Marcel Kittel to the yellow jersey in the Tour De France 2014 after his victory in Harrogate.
Despite its racing prowess, it's no less accessible than any other road bike in our lineup. In fact, the disc brake version was named aero bike of the year in 2018, and models start from £1749, with the Propel a big hit amongst regular riders hunting strava segments on their local loop or partaking in a bit of weekend racing.
The Propel range starts from £1749 and goes up to £9999 for the top end model, the Propel Advanced SL 0 Disc.
TCR 
The TCR is Giant's classic race bike, the product of legendary bike designer Mike Burrows way back in 1997. The iconic sloping top tube gave birth to the term 'compact road', which revolutionised cycling after it was first introduced. The unique design creates smaller front and rear triangles for a lighter, stiffer bike.
The pedigree of the TCR is still evident, having won numerous awards and accolades over the years, including the bike of the year award in 2018, as well as powering Tom Dumoulin to Giro D'Italia victory in 2017. Its popularity has stemmed from its all-round ability for both climbing and sprinting, combined in a lightweight package.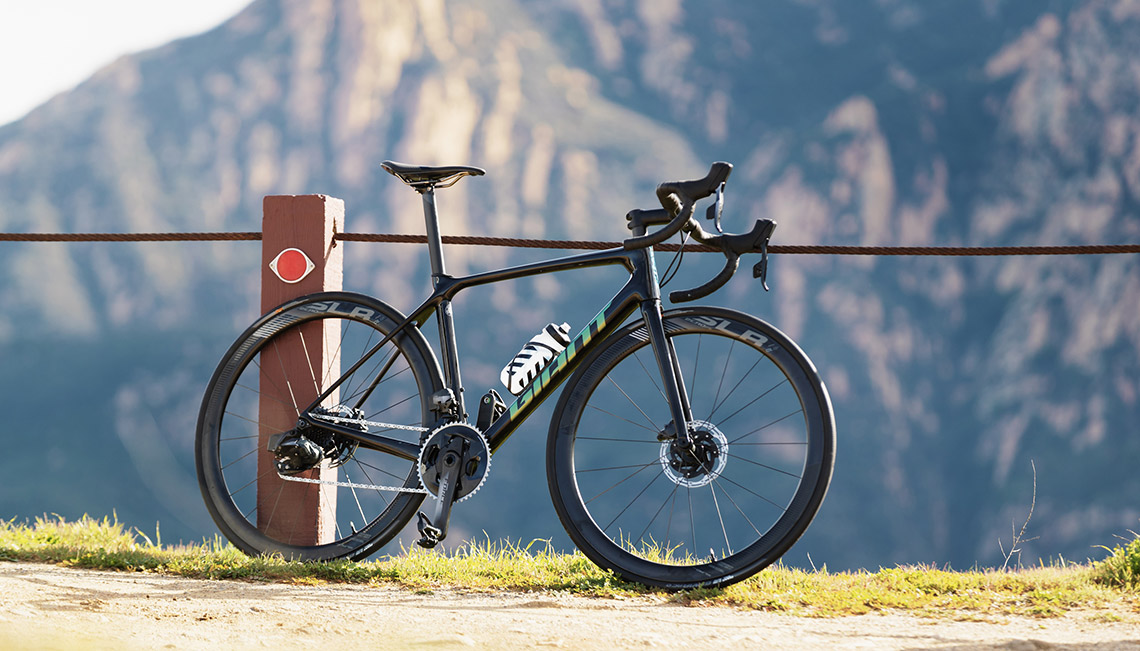 The TCR range starts from £1399 and goes up to £8999 for the top-end model, the TCR Advanced SL 0 Disc Red.
Defy
A firm favourite amongst endurance road riders, the Defy has been a staple part of the Giant lineup since its introduction in 2008.

The new Defy has been a huge hit, even recently being crowned the 'best for comfort' in Cycling Plus' bike of the year award. Its popularity has come from its plush ride quality, managing to smooth out the roads in the UK, which is an impressive feat in itself! It's great to use over winter, has clearance for wider tyres, powerful disc brakes and mounts for mudguards, making it a true all year riding companion.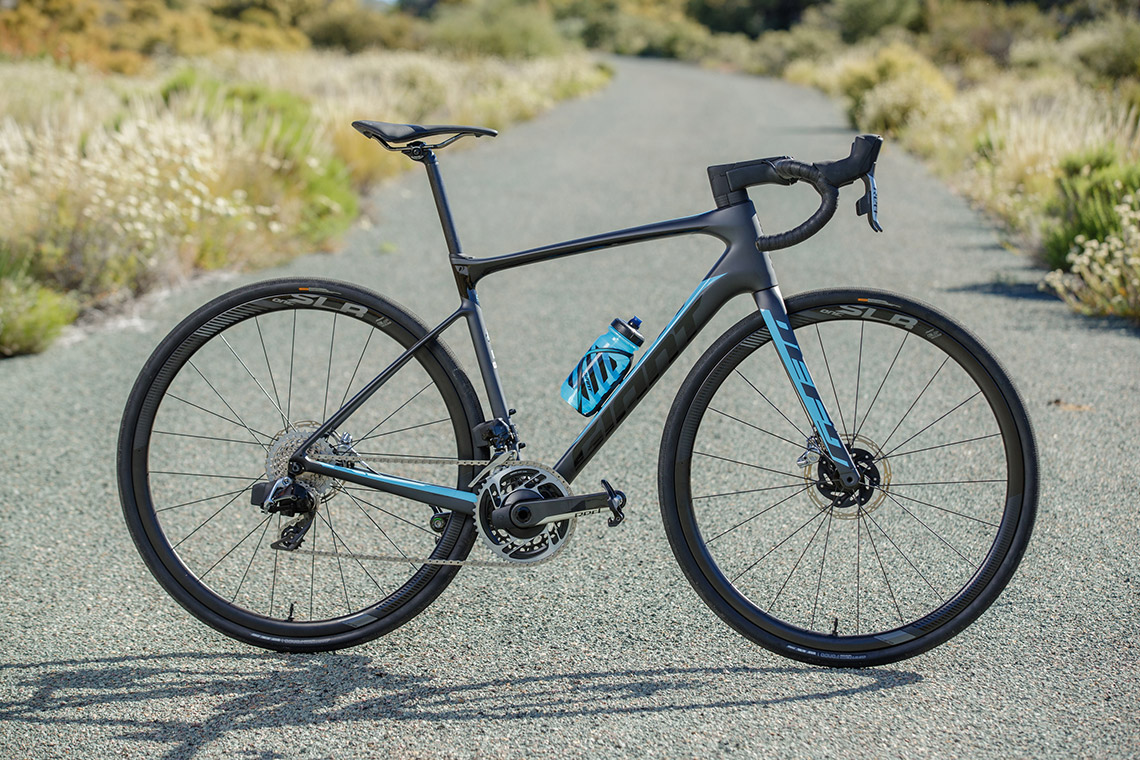 The Defy range starts from £1599 and goes up to £4499 for the top end model, the Defy Advanced Pro 0.
Contend

Launched in 2016, the Contend is our aluminium entry-level road bike that offers a balanced ride and neat features that exceed the price tag. The Contend mixes the endurance capability of the Defy with the responsive acceleration of the TCR, making it one of the best beginners road bike - even Road.CC agrees.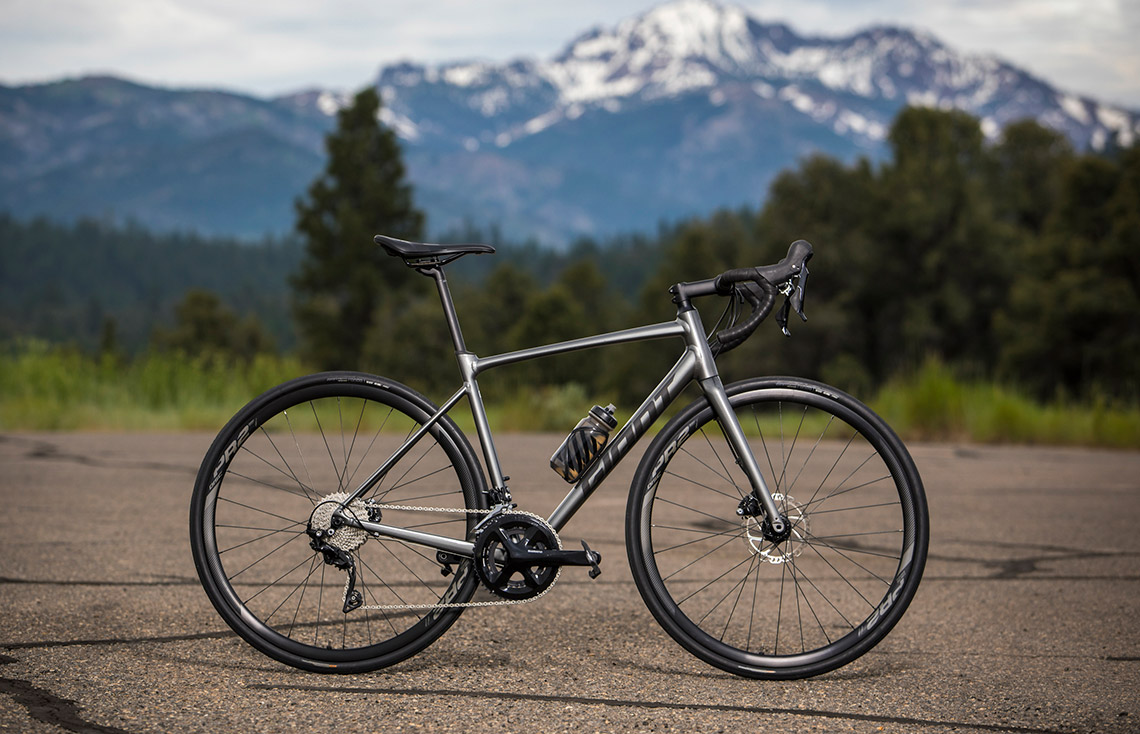 The Contend range starts from £625 and goes up to £1399 for the top-end model, the Contend SL 1 Disc.
These categories aren't exclusive – many riders race on a Defy, or smash a 100 mile ride on a Propel, so don't feel that you have to be pigeonholed into a particular model if it doesn't feel right. Our bodies are all different, so some riders might feel more comfortable on a certain bike compared to another; it's just about personal preference.
Disc or Rim Brakes
Despite being popular in mountain biking for many years, disc brakes have only just started to catch on in the road bike world. Now, we offer most of our road bikes in either rim brake or disc brake models so you can choose depending on your preference.
What's the difference? Well, disc brakes offer better and more consistent braking, especially in wet weather. They do however come with an added weight penalty and are usually a touch more expensive for the same spec rim brake model. Rim brakes are also more widely used within cycling, so swapping wheels and changing parts is traditionally easier, although the trend is definitely moving towards disc brakes, so this may not be such an issue in the future.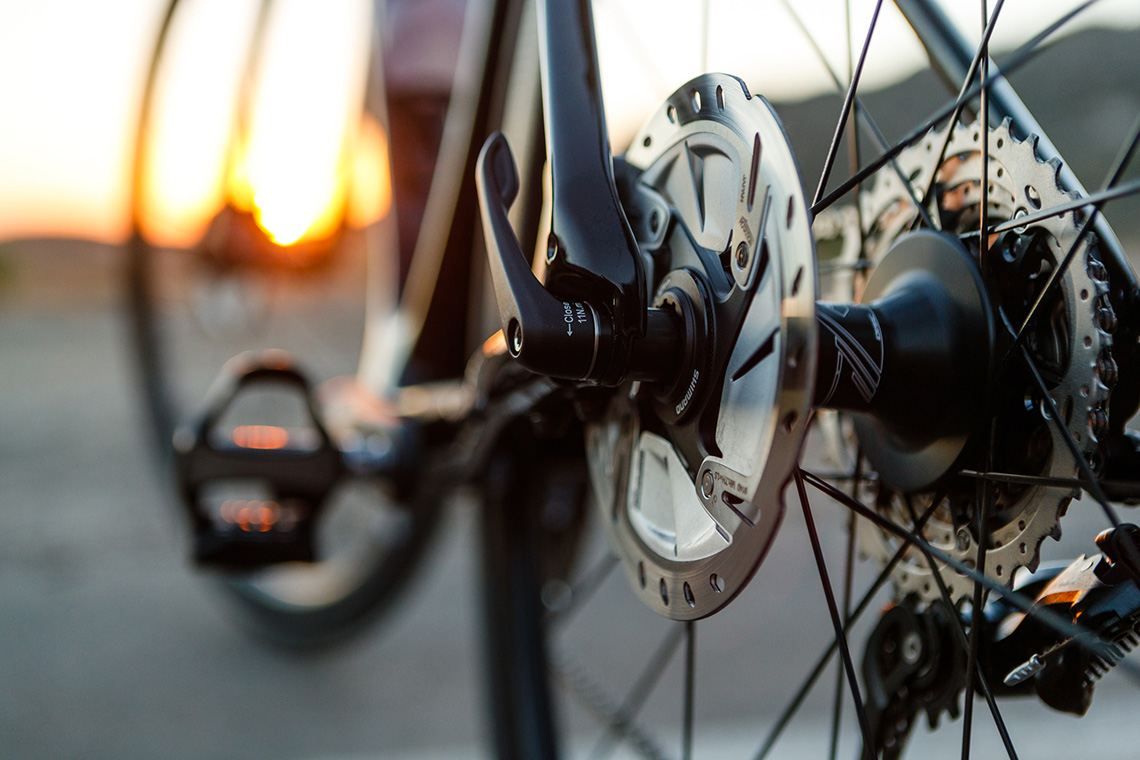 As a beginner, the added stopping power of disc brakes can be a real bonus, especially if you get into any sticky situations while out riding. They are great to run over winter, as the stopping power isn't affected as much by rain or grime, so if you're choosing one bike to use all year round then disc brakes aren't a bad option at all. The added cost and weight penalty is something to consider though.

Frame material
The big choice here is aluminium or carbon fibre – we won't go into the finer details of each material, as there's plenty of reading that can be done on the subject. However, we can give it a quick summary; Carbon is lighter, offers more compliance (soaks up more road vibration which provides a smoother ride) and is still a really strong material; However, it comes at a cost – aluminium is usually the cheaper material out of the two and commonly features on road bikes below £1000.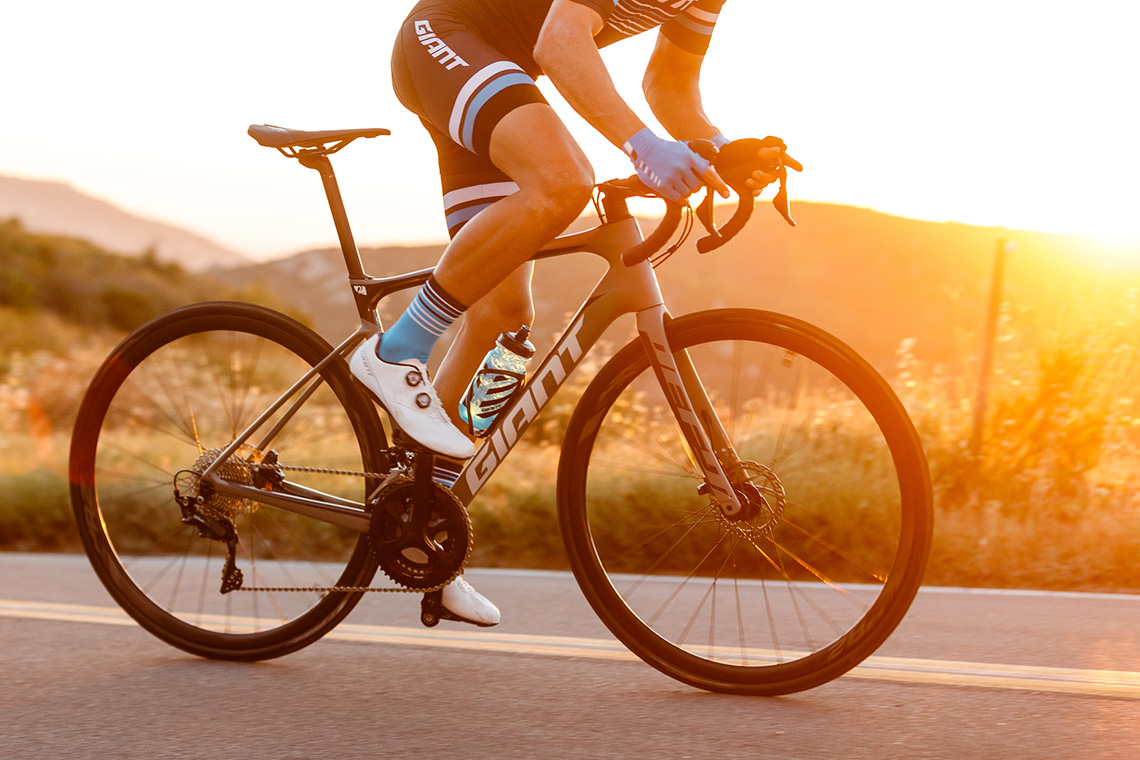 One of the compromises on certain models, especially on bikes around a thousand pound, is pairing an aluminium frame with a carbon fork. This combination offers the excellent stiffness of the aluminium material paired with the road soaking qualities of the carbon in the fork to improve the ride quality. It also saves a small amount of weight, making the bike lighter than a full aluminium model.
Both materials are excellent choices, and there's not a huge amount to choose from, but it usually comes down to budget, as carbon is the preferred frame material for a lot of riders.
Components
The main bulk of components on a bike make up what is known as the groupset, defined by Cycling Weekly as "any mechanical or electronic parts that are involved in braking, changing gear, or the running of the drivetrain".
There are three big brands of components to choose from – Shimano, Sram or Campagnolo. At Giant, we mainly use Shimano on our road bikes, but Sram does feature on certain models - the Propel Advanced SL 0 Red has the latest Sram electronic groupset, for example. 
One consideration you need to think about when buying your first road bike is the gearing – the crankset (also known as the chainset) usually comes in three options – compact (50/34), semi-compact (52/36) or standard (53/39). Don't be daunted by the numbers, they just refer to the number of teeth on the crankset. A higher tooth count means the bike can push a bigger gear, making it faster for each pedal revolution.
A compact (50/34) crankset is a better choice if you'll be climbing a lot, as you'll need the extra gearing at a lower speed as you go up hills. If your main aim is to fly on the flats, then a semi-compact (52/36) or standard (53/39) will be the better choice as you can push a bigger gear when reaching higher speeds.
On the rear cassette, the theory is reversed – the higher number is better for climbing, whereas an 11x23 or 11x25 is better for flat riding. Choosing a high tooth rear cassette and low tooth front crankset is the best choice for climbing, whereas the opposite is true for mainly flat riding.
The majority of bikes now come with a semi-compact and 11x28 cassette as standard, which gives an excellent, balanced range of gears, capable of climbing and going fast at the same time. Unless you are frequently ascending in the Alps, then you won't need to worry about gear ranges.
Now What?
Hopefully, all this information has helped, and you're closer to selecting your first road bike. Once you've decided, the best step is to visit your local Giant retailer - they can answer any further questions and offer advice from their experience as a local independent bike shop.
Looking for a women's bike? Check out the Liv range of women's specific models
If you're ready to take the plunge, we offer 0% finance and zero deposit on all bikes starting from £500 when purchasing online, so you can spread the cost of your new bike into affordable monthly payments. There's free home delivery on selected models, and all Giant bikes include a lifetime frame warranty so you can ride your new bike with confidence.
Keep up-to-date with all the latest Giant news by following us on Instagram @GiantUK, Twitter @GiantUK or like us on Facebook. If you want your Giant news digested into email format, you can sign up for our newsletter.