If you're looking to start cycling but not sure which bike to begin with, our guide to the range of Giant bikes £500 and below will help steer you in the right direction. From city bikes through to dedicated off-road machines, there's plenty in the lineup to choose from to get you going on two wheels.

Escape / Escape Disc

If you're looking for a versatile bike that can handle the road and canal paths, then the Escape is the ideal purchase. This hybrid bike features a lightweight aluminium frame, making it easy to ride and manoeuvre, and the flat handlebars and upright riding position put you in control no matter what terrain you're on.

The Escape is equipped with puncture-resistant tyres which limit the number of flats you will experience, and integrated mounts provide ample support for any extras on the bike, such as racks or mudguards.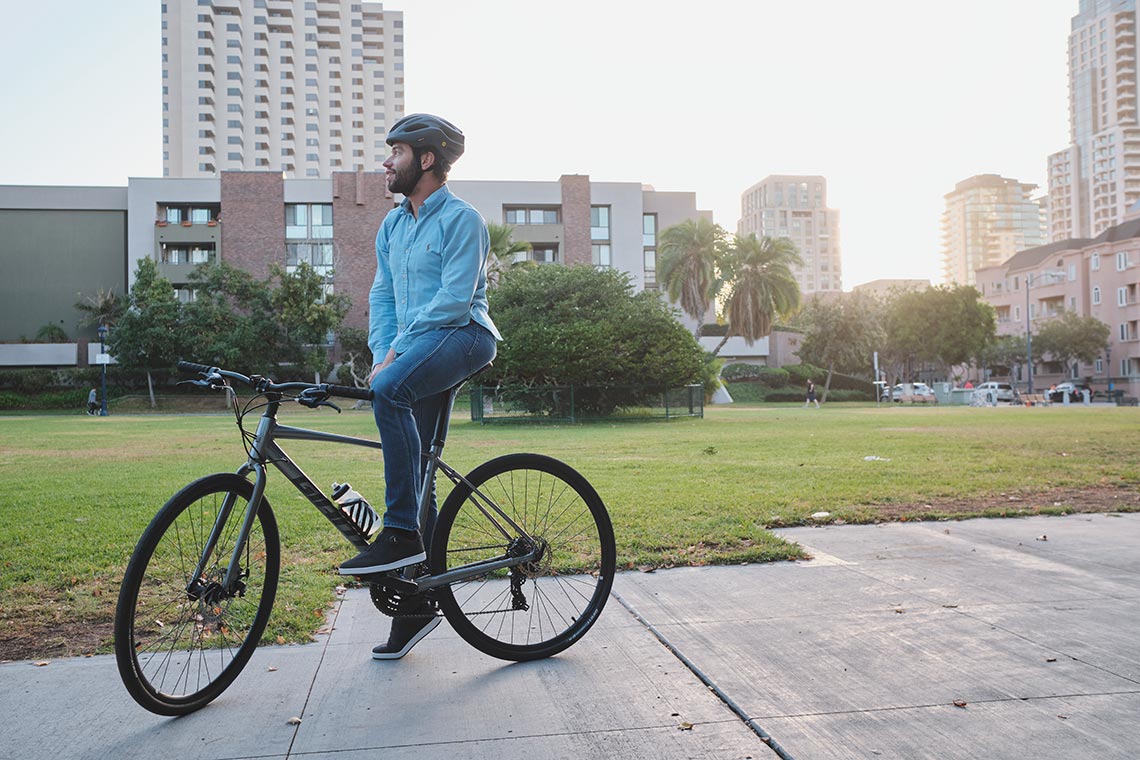 The range starts from just £349 for the Escape 3, however, we'd suggest opting for disc brakes for better stopping power – the Escape 3 disc is £399, and would be our recommendation for any riders wanting an all-purpose bike that can double up as a commuter.
Ideal For: General road riding, canal paths and cycle routes with the family, commuting
Roam Disc

Combining the best qualities of a mountain bike and road bike, the Roam Disc is a true all-rounder. It has chunkier tyres than the Escape, and the addition of the front suspension fork makes it more equipped for off-roading, however, it also rolls really well if you spend more time on the tarmac.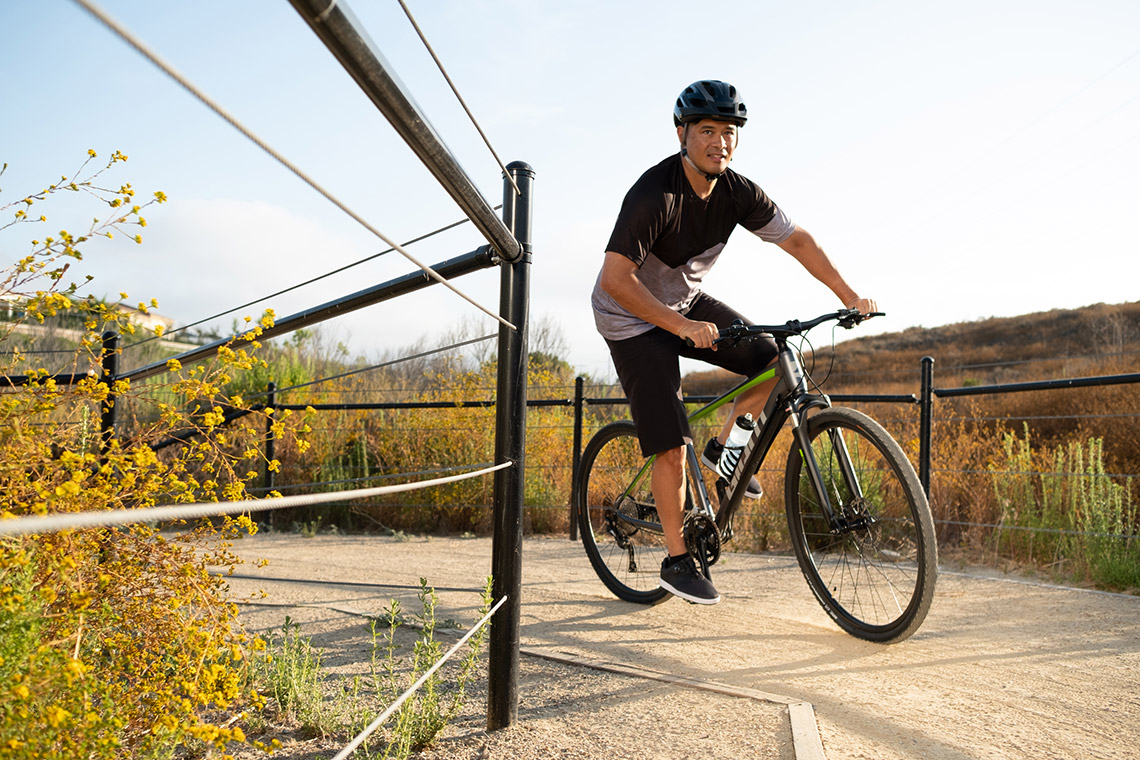 Starting at £449, the Roam 4 Disc gets you plenty for the money – full hydraulic Tektro disc brakes, built-in downtube protector and Giant Crosscut anti-puncture tyres. For just £50 more, the Roam 3 Disc nets you an upgraded 8 speed drivetrain, plus the ability to lock out the fork for better performance on road, so the Roam 3 disc would be our model of choice.
Ideal For: canal paths, cycle routes with the family, light trails
ATX
From forest trails to canal paths and everything in between, this versatile bike can add some spice to your commute or fitness routine. With its flat handlebar, upright positioning and suspension fork, it's cool and capable on or off-road.
Another neat feature of the ATX is that the XXS & XS sizes in the 2 & 3 models are equipped with 26" wheels. For smaller riders, this provides a better fit and easier to handle, making it the ideal bike for children who have outgrown their 1st bike, but not quite ready for a full adults' sizing just yet.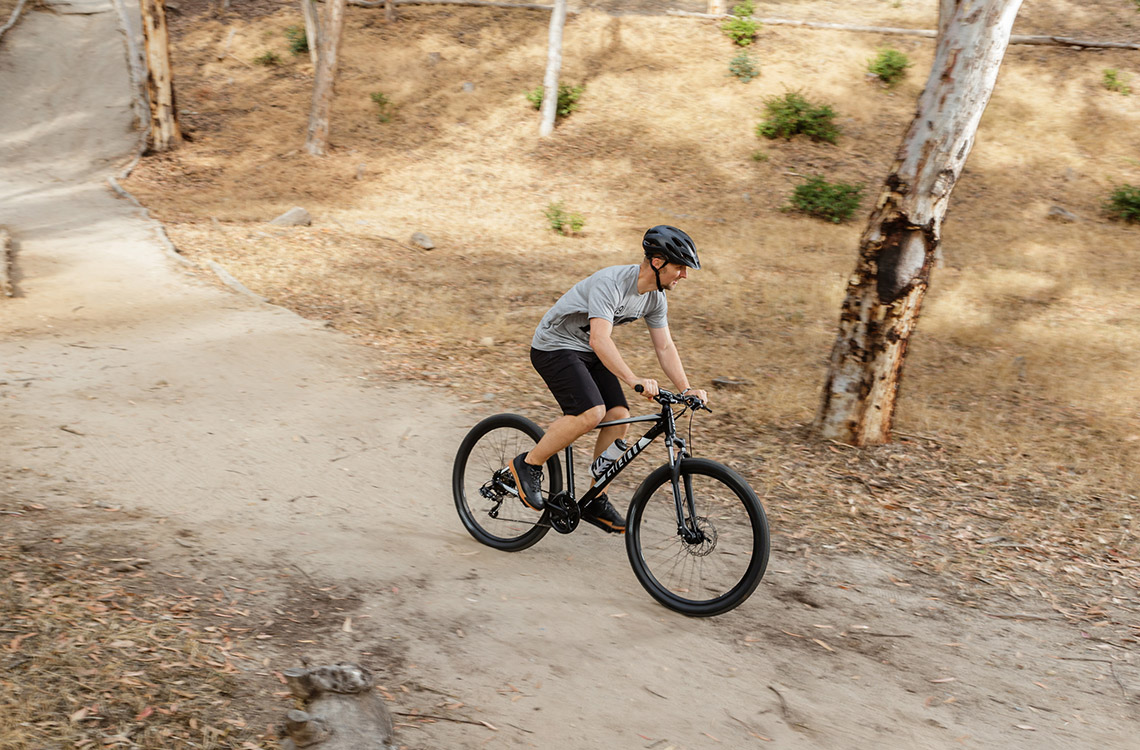 Starting at £365, the ATX range offers excellent value for money, all the way up to the top ATX 1 model, which is £449.
Ideal For: canal paths, cycle routes with the family, light trails
Talon / Talon 29

The Talon is a dedicated mountain bike, featuring a lightweight aluminium frame and a 100mm front suspension fork to soak up the trails and dirt paths. The Talon comes with a choice of either 27.5" or 29" wheels, so it's down to personal preference which one you choose as the specification is the same apart from the wheel size.

We'd recommend the Talon range if you want a bike that can handle a weekend at the trail centre, but equally comfortable on a leisure ride with the family.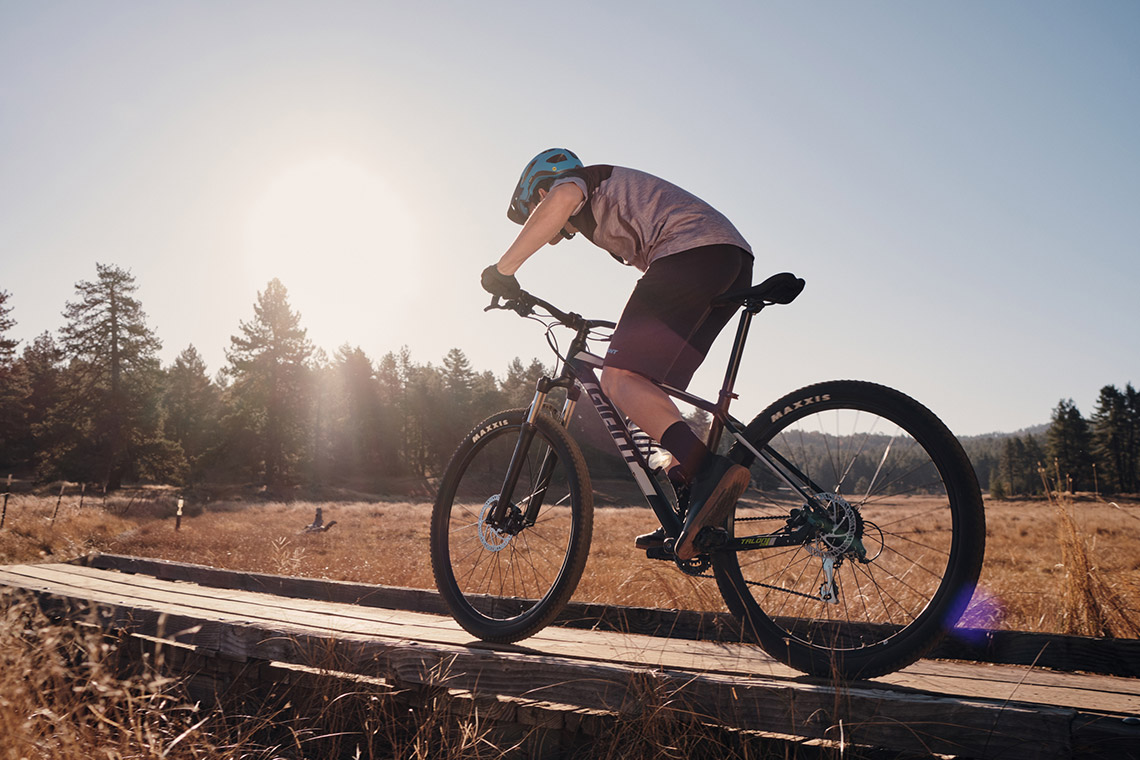 The Talon 3 is available for £475 with either 27.5" or 29" wheels. We'd opt for the 27.5" version, simply because it's a little bit lighter thanks to the smaller wheel size, making it easier and more agile on general rides away from the trails.

Ideal For: trails, dirt paths & bridleways, gravel tracks
There's our roundup of the best Giant bikes you can get for under £500, and there's plenty to choose from – which one you go for just depends on what type of riding you'll be doing. Every Giant bike is available with a lifetime frame warranty, free home delivery and fully assembled by a local Giant authorised retailer, no matter the price point.
Looking for a road bike instead? Read our guide to choosing your first road bike, or check out our guide to the essential gear items every cyclist needs.