Turbo training can be a really effective tool for cyclists, especially in the winter months when inclement weather and a few hours of daylight can put a stop to any plans of effective training rides. With huge leaps forward in the last few years in terms of the software and equipment available, turbo training has increased massively in popularity and the effects of proper turbo training shouldn't be underestimated.
Below, we offer a complete guide to turbo training, from choosing the right unit, through to set up and essential accessories so that you can get pedalling straight away.
What Is Turbo Training?

Quite simply, turbo training is stationary, indoor cycling. The term usually refers to the act of using a normal bike (road or mountain) set up on a turbo trainer (or smart trainer, which we'll come to later) rather than a dedicated indoor bike like those found in the gym, such as a Wattbike.
You don't have to be a competitive cyclist to feel the benefit of a turbo trainer either – one of the most frustrating things is ending the summer feeling strong and in great shape, only for Winter to hit and then have to start from scratch come spring. Recent studies have found that short, sharp intervals are just as effective as longer, slower rides for maintaining fitness and they are much easier to fit into your schedule.
Why Use A Turbo Trainer?

A turbo trainer really does have a multitude of advantages over regular cycling, or even over other indoor cycling options (for example, spinning or using rollers).
The first is that it uses your own bike. By spending time in the saddle, you're getting your body accustomed to the position of the bike so that come summer, you should be able to ride niggle free and comfortably.
Second is the fact that a turbo trainer can be used anytime, anywhere! Wet and dark outside? No problem – just train inside on the turbo. The fact they are often easy to transport and don't take up much space mean they can be used in a spare room or garage allowing you a good workout without even leaving the house.
It's also a really effective tool if you want to train or keep in shape but work away a lot, as it's you're not always guaranteed to have a gym in the hotel. However, with a turbo in the boot of the car, you are able to get in a ride no matter what.
Thirdly, a turbo trainer allows a really structured and effective workout. By not having to worry about all the obstacles you'd encounter on the road (ie. Cars, potholes, junctions), you can just focus on 'hitting the numbers'. This makes it much more time-efficient, so if like many of us you only have a limited amount of time to train, this is a solid option.
Finally, thanks to the recent advancements in technology, turbo training genuinely can be fun. Thanks to Zwift you can race against others all over the world in the 'comfort' of your own home. Or if you're not feeling that competitive, you can organise a group ride and ride with friends. Other programmes, such as Fulgaz, allow you to ride in your favourite locations all over the world without even leaving the house!
Getting The Most From A Turbo Trainer

There are several things we would suggest in order to get the best out of your turbo trainer.
First, have a dedicated turbo training area, ideally set up with a matt, a fan and a towel and water for when you're on the bike. Depending on how you're working out (ie. Whether or not you're using software) you may need somewhere in front of you to sit a laptop or a screen so take this into account. By preparing everything beforehand and making it is as easy as possible to jump on, it really reduces the likelihood of backing out and ensures you get the work done!
It is also important to have some structure to your turbo sessions. Have a workout planned before you start your session and make sure that it's specific to your goals – it is very easy to swing your leg over the bike and start aimlessly stamping on the pedals but this isn't going to be the best use of your time.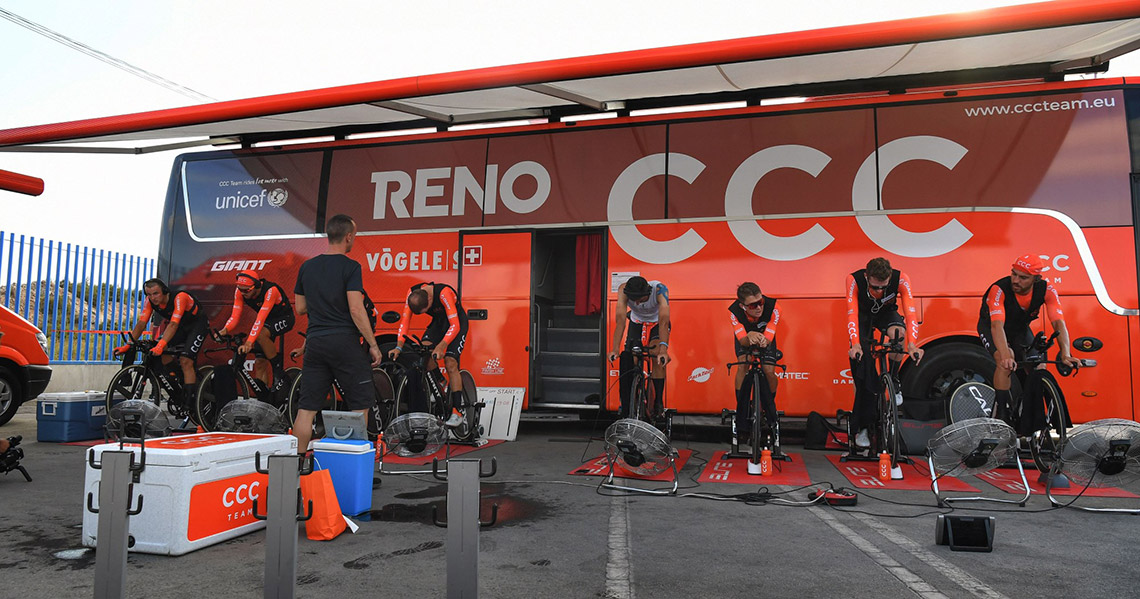 CCC-team use turbo trainers to warm up effectively before a big effort - here they are at the start of the team time trial at the Vuelta in 2019
What Do You Need?

To get started, all you need is a turbo trainer. Choosing a new trainer can be difficult as there are plenty of options on the market, but when you boil it down there are two basic options – flywheel and direct drive.
Flywheel trainers are usually split between their resistance – either magnetic or fluid. Magnetic resistance turbo trainers are usually cheaper; they are simple to use but can be louder and heavier – fluid resistance tends to improve the ride feel and smooths out the resistance, reduces the rear wheel slippage and makes the pedalling feel more authentic. This usually comes at a price – fluid trainers are usually more expensive when compared with their magnetic counterparts.
A recently growing trend, direct-drive units are popular as they have a fixed cassette so the rear wheel of the bike is removed and the bike mounts straight onto the turbo. This means there's no tyre wear and is meant to best simulate road riding, as there's no loss of resistance between the flywheel and tyre like on a traditional turbo. They can be tricky to set up if you are not comfortable with adjusting gearing and they are usually more expensive than regular turbos, although as more options hit the market the prices have started to drop.
Regardless of whether you choose a traditional flywheel or direct drive trainer, we'd definitely suggest opting for a smart trainer to make things a bit more interesting. Being able to monitor power data as you pedal, have the resistance change automatically and connect up with your computer or smartphone is a real benefit and will offer better results as you can focus on structured training, especially if you don't currently have a power meter.
As well as the turbo, there's a host of accessories that are designed to make it a much more pleasant experience. You don't need all of these below, but some are very useful to have and can help to make the time on the turbo much more tolerable.
Zwift: Many people will agree that turbo training can be boring so investing in something like Zwift makes the time pass quicker and gives you something to focus on while completing those intervals. A small monthly subscription can give you hours of riding with other interactive users and remove some of the tedium from indoor training.
Trainer Mat: These are designed to soak up the vibrations from the turbo, reducing the noise and wear on your floor. They can also offer sweat protection, as turbo mats are usually easy to wipe down - especially handy if you have carpet. They are essential if you live in a flat or need to dampen the sound as much as possible.
Riser Block: When your bike is mounted on the turbo, it raises the rear wheel up off the floor. This small, usually plastic unit sits under the front wheel which levels out the bike. This puts your riding position level - similar to that on the road. It also prevents the front wheel from moving about when doing harder intervals.
Sweat cover: a sweat cover protects the bits that are prone to excessive drips from all the hard work! As your head is directly over the headset, this is the most exposed area of the bike and sweat is corrosive, so a sweat cover is vital to keep your steed safe in the long term.
Turbo wheel and tyre: This is only recommended if you opt for a flywheel trainer, but if you plan on logging plenty of hours on the turbo, getting a dedicated turbo wheel and tyre can save plenty of money in the long run. A cheap rear wheel and turbo specific tyre, which has a harder, longer-lasting compound rubber, can be swapped in for the regular rear wheel before each session.
This is ideal if you have expensive tyres and want to save them for riding on the road. Having a dedicated turbo wheel means it is quicker to change over than swapping tyres each time, and it doesn't matter as much if it gets damaged.
A fan: Whether it is essential or not is debatable, however, we certainly think it is. Riding on a stationary turbo means you'll get hot, so if the environment isn't right, you'll be a sweaty uncomfortable mess 5 minutes in. A big floor fan pointing up is a great way to alleviate the heat and keep you pedalling longer.
Set-Up

Firstly, you'll need to prepare your turbo training space. It needs to be a decent size to accommodate your bike, plus a little extra to manoeuvre and for a fan if you have one. We recommend a nice, flat surface that's stable. If you have a trainer mat, lay this out and place the turbo at one end. Once you've checked its level, you can now fix the bike in, often using the dedicated quick release lever which comes with turbo trainers (or mount to the cassette if it's direct-drive).
Once the bike itself is fixed in place, it's now time to set the resistance. Most smart trainers have the ability to adjust the resistance built into the software, but older flywheel turbo trainers have a screw that sets the resistance against the rear wheel – screw this in until the unit is firmly pressed against the tyre. Turn the pedals by hand to check if the resistance is too tight or too loose and adjust accordingly.
Some trainers will have a remote which can adjust the resistance from the handlebars – mount this in a comfortable position that is easily accessible. This will give you small adjustments without having to keep getting on and off – very handy, especially if you are planning a session that uses varying degrees of resistance.
Once everything feels right, it's time to turn your fan on, swing your leg over and start pedalling. This is when the hard work starts!
Sessions To Try

Below are a couple of sessions suggested by Giant ambassador Matt Bottrill to get you going, with suggested power zones for each section.
Session 1 – Sweetspot / FTP Changes
5 minutes warm up L1-L2-cadence 100
20 Minute Block – 3 mins @FTP, 2 mins @sweetspot (87-93% of FTP)-Cadence @ 80-90 (keep the variation of efforts until the 20 minutes is complete)
10 Minute Block - Recovery - L2-cadence 100
20 Minute Block - 3 mins @ FTP, 2 mins @ sweetspot (87-93% of FTP)- Cadence @ 80-90 (keep the variation of efforts until the 20 minutes is complete)
5 minutes recovery
Session 2 - Mix of intervals
5 minutes warm up L1
10 minutes L3
10 minutes @Sweetspot (87-93% of FTP)
5 mins L2
4x1 minutes @FTP - Cadence 60-70
30 secs- L2 recovery between efforts
10 minutes @sweetspot (87-93% of FTP)
4x1 minutes @FTP - Cadence 60-70
30 secs- L2 recovery between efforts
10 minutes L1 high cadence recovery
Keep up to date with all the latest Giant news by following us on Instagram @GiantUK, Twitter @GiantUK or like us on Facebook. You can also sign up for our newsletter to receive exclusive access to all the latest offers, news and promotions straight to your inbox