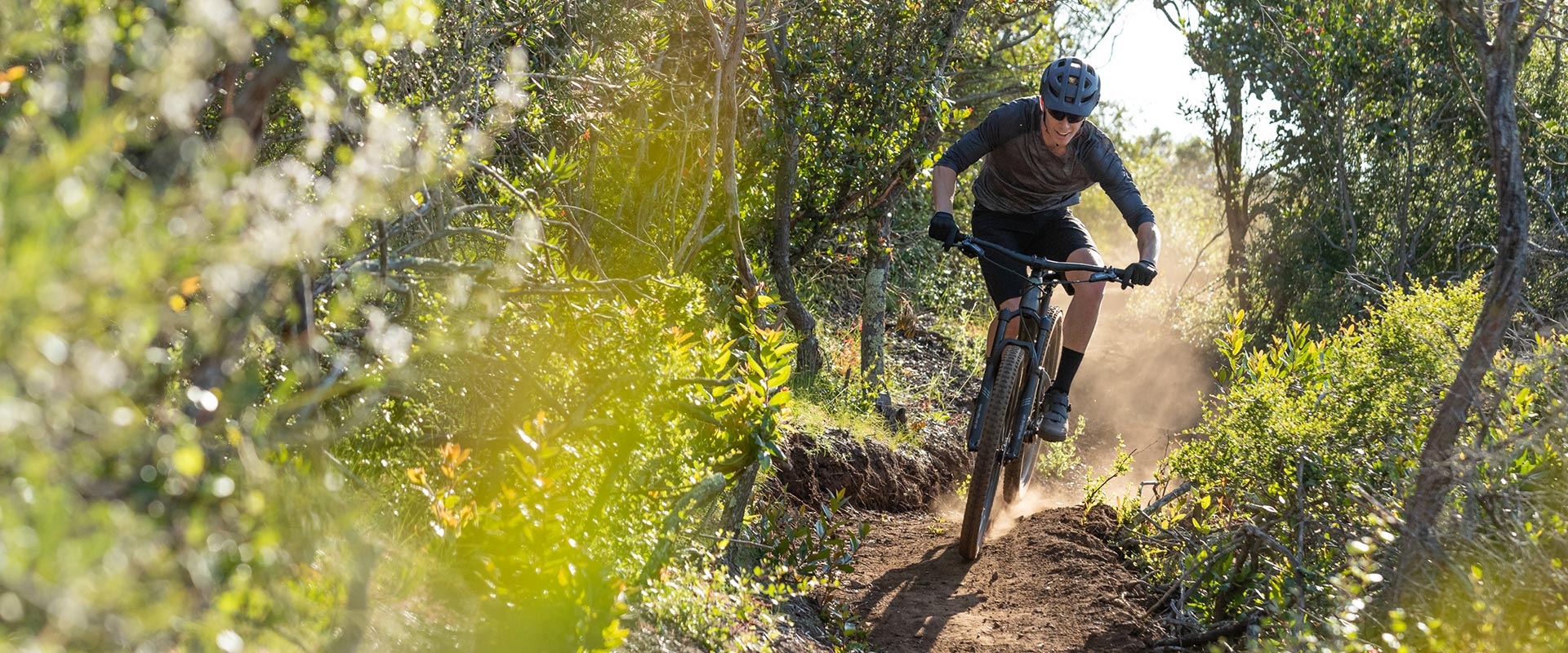 Amenez vos aventures tout-terrain au niveau supérieur avec ce tout nouveau 29er. Que vous soyez à la quête de temps plus rapides ou en préparation pour une longue randonnée de backcountry, faites le comme il le faut avec ce vélo de singletrack.
Points importants
It took years for our team of engineers, product designers and pro riders to create a new short-travel 29er that met their high standards. The wait was worth it. The latest iteration of this legendary trail bike marks a huge step forward, offering a true advantage in all-round trail performance. It starts with a full composite frame that's fitted with our most up-to-date Maestro suspension. The Advanced Forged composite rocker arm and trunnion-mount shock help produce 115mm of smooth rear-wheel travel that's active and sensitive to small bumps, giving you killer traction and confident control. And the frame geometry is updated with progressive headtube and seattube angles, shorter chainstays and a longer toptube—all engineered to balance the speed and control of its 29-inch wheels with the quickness and agility you need to rail corners, hammer through rock gardens and do it all with confidence and control.
Technologie


Technologie Advanced Composite
Le matériau en fibres de carbone haute performance de Giant nous permet de fabriquer ce kit cadre au sein de notre propre usine de composite. Grâce à des techniques de fabrication et matériaux de pointe, les cadres en composite Advanced de Liv bénéficient d'un maximum de rigidité et de confort tout en étant particulièrement légers.

Technologie Advanced Forged Composite
Processus de moulage de pointe sous haute pression permettant de produire des composants en fibres de carbone de forme complexe plus légers, rigides et résistants que des composants similaires en aluminium.


Suspension Maestro
Quatre points de pivot stratégiquement positionnés et deux biellettes travaillent ensemble pour créer un point de pivot flottant, pour un système de suspension actif, efficace et indépendant.


OverDrive
Conçue pour améliorer la précision de la direction de la partie avant, cette technologie de pivot de fourche utilise des roulements surdimensionnés dans le jeu de direction (pour la route, inférieur 1 1/4", supérieur 1 1/8", et pour le tout-terrain, inférieur 1 1/2", supérieur 1 1/8") ainsi qu'un pivot de fourche conique, qui fonctionnent en association pour apporter une rigidité optimale de la direction.


Tubeless System
Moins de crevaisons, plus d'adhérence. Une résistance au roulement moindre, pour un pilotage plus précis, plus rapide. Le système tubeless de Giant rend tous ces avantages plus accessibles que jamais.