Tässä huippuluokan XC-pyörässä yhdistyvät uusi FlexPoint Pro -takajousitus, erittäin kevyt täyskomposiittirunko ja kilpapyörän geometria. Se on lyömätön taistelutoveri tekniseen maastoajoon.
Kohokohdat
Tässä 29erissa on täyskomposiittirunko ja 110 mm:n joustohaarukka. Linkuilla varustettu 100 mm:n FlexPoint Pro -takajousitus mahdollistaa lyhyemmät takahaarukan alaputket paranten pyörän ketteryyttä ja ominaisuuksia ylämäissä. Muita päivityksiä ovat uusi 29er-spesifinen XC-kilpapyörägeometria, jossa on pidempi reach-mitta ja loivempi emäputken kulma sekä kevyt ja jäykkä komposiittikiekkosarja, joka tekee ohjauksesta entistä nopeampaa ja tarkempaa.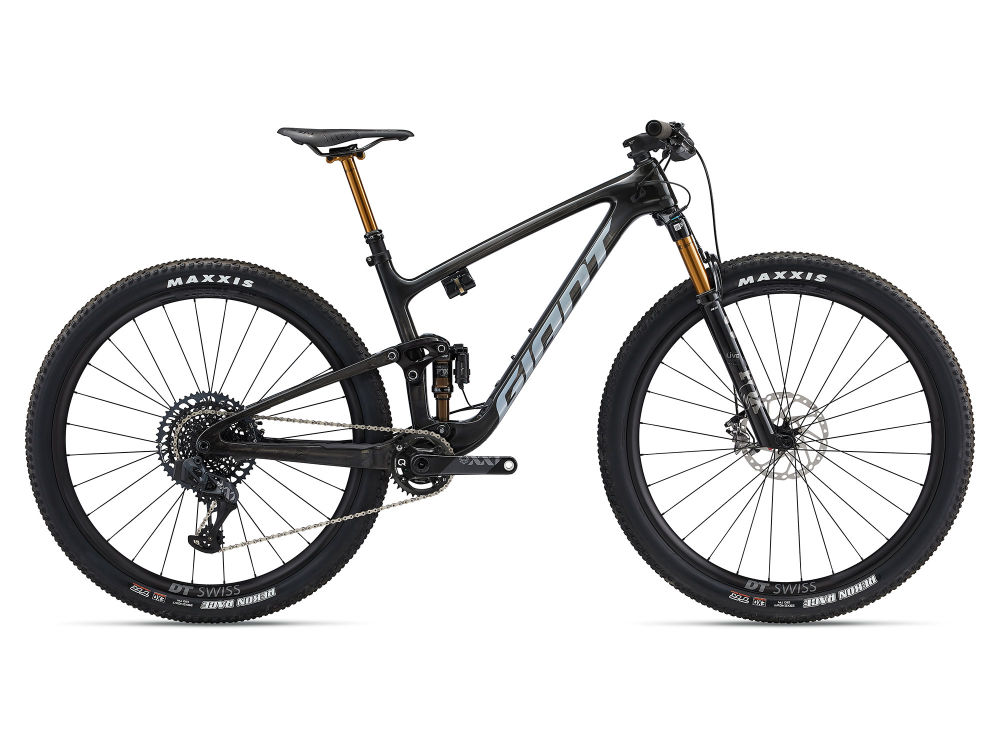 Galleria
Selecting any of the image buttons will open a larger image gallery with image descriptions
Teknologiat ja ominaisuudet

Advanced Composite
Giantin High Performance -raakahiilimateriaalia käytetään tämän erikoisvalmisteisen runkomateriaalin tuottamiseen omassa komposiittitehtaassamme korkealla jäykkyys-painosuhteella. Runkosarjojen etukolmio on koottu ja muovattu yhtenä yhtenäisenä kappaleena patentoidussa valmistusprosessissa nimeltään Modified Monocoque Construction.

Advanced Forged Composite
Huippuluokan korkeapainemuovausprosessia käytetään muodoltaan monimutkaisten hiilikuitukomponenttien valmistukseen, jotka ovat kevyempiä, jäykempiä ja vahvempia kuin vastaavat alumiinista valmistetut komponentit. Tätä teknologiaa käytetään suorituskyvyn kannalta ratkaisevissa osissa, kuten Maestro-jousituksen keinulinkussa.

FlexPoint Pro -jousitus
FlexPoint Pro on kehitetty erittäin kevyeksi takajousitusjärjestelmäksi XC-pyörille, jotka vaativat tehokkuutta, hallintaa ja herkkää käsiteltävyyttä. Se on linkuilla varustettu yksinivelinen (single pivot) jousitusjärjestelmä 100mm joustomatkalla. Siinä on täyskomposiittinen takahaarukka (swingarm), joka vähentää merkittävästi rungon kokonaispainoa.

OverDrive
Giant-pyörien alkuperäinen kaulaputkiteknologia, joka on suunniteltu parantamaan keulan ohjauksen tarkkuutta. Oversize-malliset ohjainlaakerit (1 1/2" alempi, 1 1/4" ylempi) ja tapered-kaulaputki tekevät ohjauksesta optimaalisen herkän.

PowerCore
Oversized-malliseen keskiön/takahaarukan alaputken alueeseen kuuluu täysin integroitu, 86 mm leveä keskiö (maastopyörissä 92 mm). Epäsymmetriset takahaarukan alaputket tarjoavat lisäjäykkyyttä vetopuolelle ja vakautta ei-vetopuolelle.

Tubeless System
Vähemmän tyhjiä renkaita. Parempi pito. Kevyempi, pehmeämpi ja nopeampi ajaa. Giantin Tubeless System tuo ulottuvillesi kaikki nämä edut.