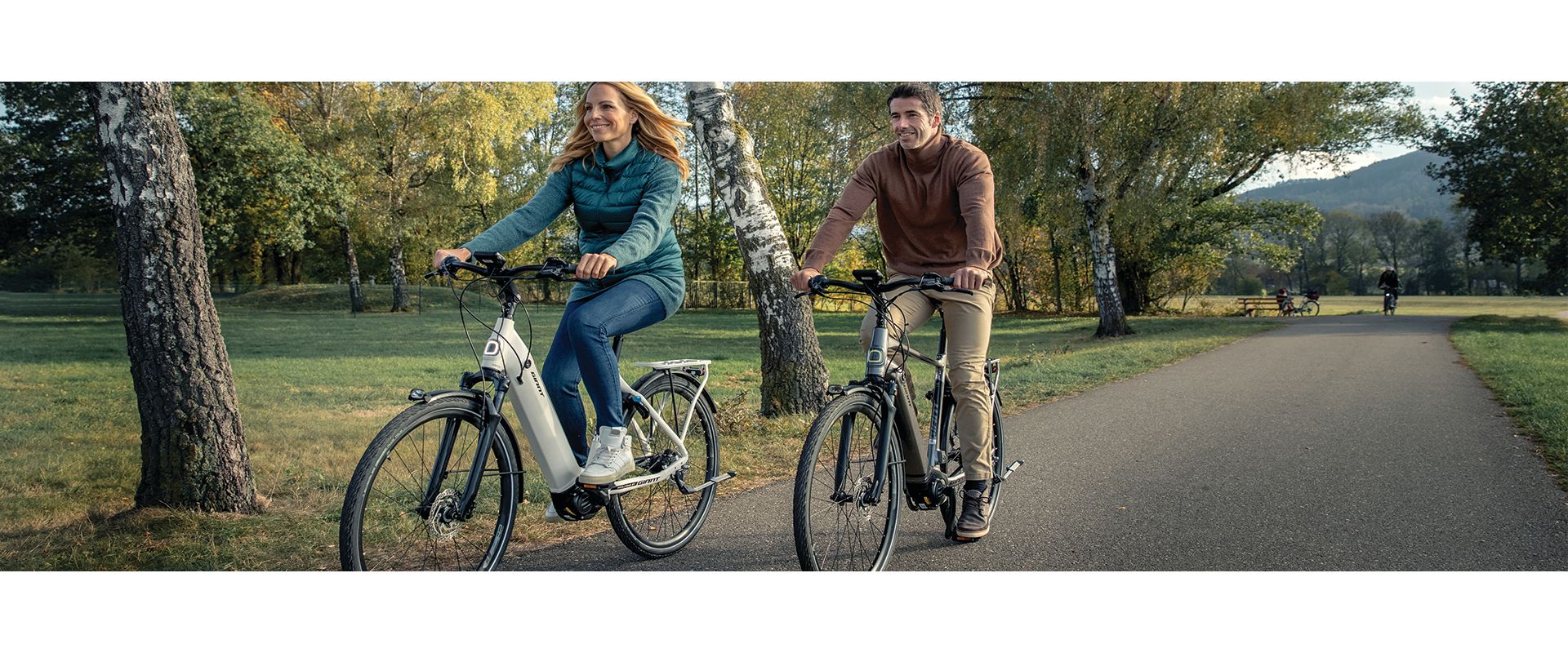 Oplev den seneste teknologi indenfor E-bike, inklusiv automatisk support, navigation, og integrerede lygter. Daily Tour E+ er en ny måde at opleve vejene på.
Højdepunkter
This versatile and practical E-bike is ideal for daily use in a variety of environments. It comes with all the built-in features you can think of, including a kickstand, lights, fenders and racks—all neatly designed and built to help you pack and carry your essentials and keep them secure. With a SyncDrive Life 60Nm motor, you also have the ability to ride in the Smart Assist mode. This technology determines the support you need and shifts automatically—so you can fully concentrate on the road and your own riding experience. On-board navigation is another great feature, and it comes to you via a new RideControl EVO display that's smoothly integrated into the handlebar. Integrated lights, which run day and night, increase your safety with added visibility on the road. And to ensure more comfortable ride, the DailyTour E+ has a Monoshock OD2 suspension fork to soak up bumps and smooth out your ride.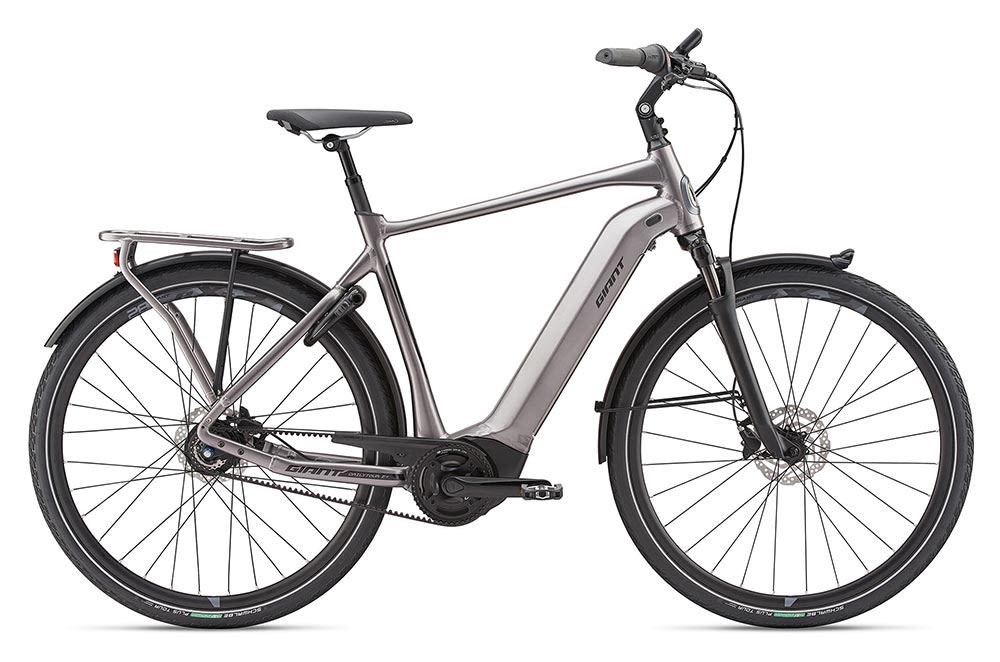 Galleri
Selecting any of the image buttons will open a larger image gallery with image descriptions
Teknologier


ALUXX SL Aluminum Technology
Dette moderne aluminiumsmateriale er overvejende lavet af 6011-legering og leverer det bedste styrke-til-vægt-forhold. Rammesættet har også unikke svejseteknologier til en højtydende kørekvalitet.


Energypak
Giants nyeste EnergyPak-batterisystemer har strømlinede design, der er integreret med elcyklen for en slank og moderne profil. Giant elcykler tilbyder flere forskellige EnergyPak muligheder, herunder EnergyPak Smart og EnergyPak. Hver enkelt er designet til at optimere oplevelse for en bestemt kørestil.

Hybrid Cycling Technology
Hybrid Cycling Technology er et system, der kombinerer elektrisk strøm med menneskelig kraft til at producere en smart, naturlig og kraftfuld elcykel køreoplevelse. Det er en integreret gruppe af teknologier, der omfatter vores RideControl styreenhed, EnergyPak batterisystemer og SyncDrive motor. Du kan finde flere oplysninger i nedenstående link.

RideControl EVO
RideControl EVO repræsenterer top-of-the-art design og æstetik. Rene, afrundede hjørner giver det et elegant udseende. Og med aluminiumshuset er RideControl EVO mere stødsikker og holdbar, selv på ujævnt terræn. RideControl EVO kan tilsluttes bluetooth af vores forhandlere og tilbyder USB-opladningsmuligheder. Bluetooth-forbindelsen sikrer at RideControl kan opdateres , hvilket betyder, at du altid vil være opdateret med den nyeste softwareteknologi.


Smart Assist
Alle SyncDrive-motorer har Smart Assist-teknologi, som justerer hjælpen, så den passer til rytterens behov. Ved at bruge oplysninger fra flere sensorer bruges både rytterinput og terrænfeedback til at bestemme den optimale mængde pedalhjælp. SyncDrive er det eneste elcykelsystem, der udnytter både rytterinput og terrænfeedback. Det giver dig en jævn, naturlig køreoplevelse med rigelig kraft, når du har brug for det, samtidig med at du sparer strøm, når du ikke har brug for så meget.

SyncDrive Life
Giant SyncDrive Life er den ideelle løsning til elcykler med lav indstigning. Denne kompakte centermotor sikrer perfekt vægtfordeling, hvilket gør elcyklen mere stabil og afbalanceret. Centraliseret masse fører til en naturlig vægtbalance under kørsel og ved start/stop. SyncDrive Life hjælper dig med at køre med komfort og frihed og leverer maksimalt 60Nm (Newton Meters) med dokumenteret ydeevne og pålidelighed.