How to describe DK200? In simple terms, it was a day-long eating and drinking contest — while inside a sauna fixing flat tires. Although it sounds a bit awful, it was, after all, a day on the bike. I travelled for 200 miles (330km) with 1350 like-minded fools, on the most spectacular gravel roads I have ever ridden, back-dropped by unbelievable scenery.

Preparations
The heat was the one thing that I was concerned about going into the race as Kansas in early June is typically in the mid 30°C's. Couple this with the fact that I had one training ride this spring that was above 20°C (all others were below 10°C) — I was concerned. Yes, people talk about the fierce winds of Kansas and the potential for thunderstorms and rain, which, of course, would lead to thick mud, but riding in miserable conditions is what we do in Ontario, Canada. Heat training, on the other hand, really only happens during that one week in August — which was not going to help me. When I checked the weather one week out, the Flint Hills were forecast to have a high of 25°C and only a 50% chance of thunderstorms and negligible winds — sounded ideal to me. As the week went on the temperature slowly increased and the day before I was seeing a high of 28°C, 50% chance of thunderstorms at 3 pm and a max of 25km/h winds. It sounded great if I'm being honest — except that it was not like this. at. all. According to my Garmin, we hit that 28°C at 9 am and it only went up from there, maxing out at 40°C.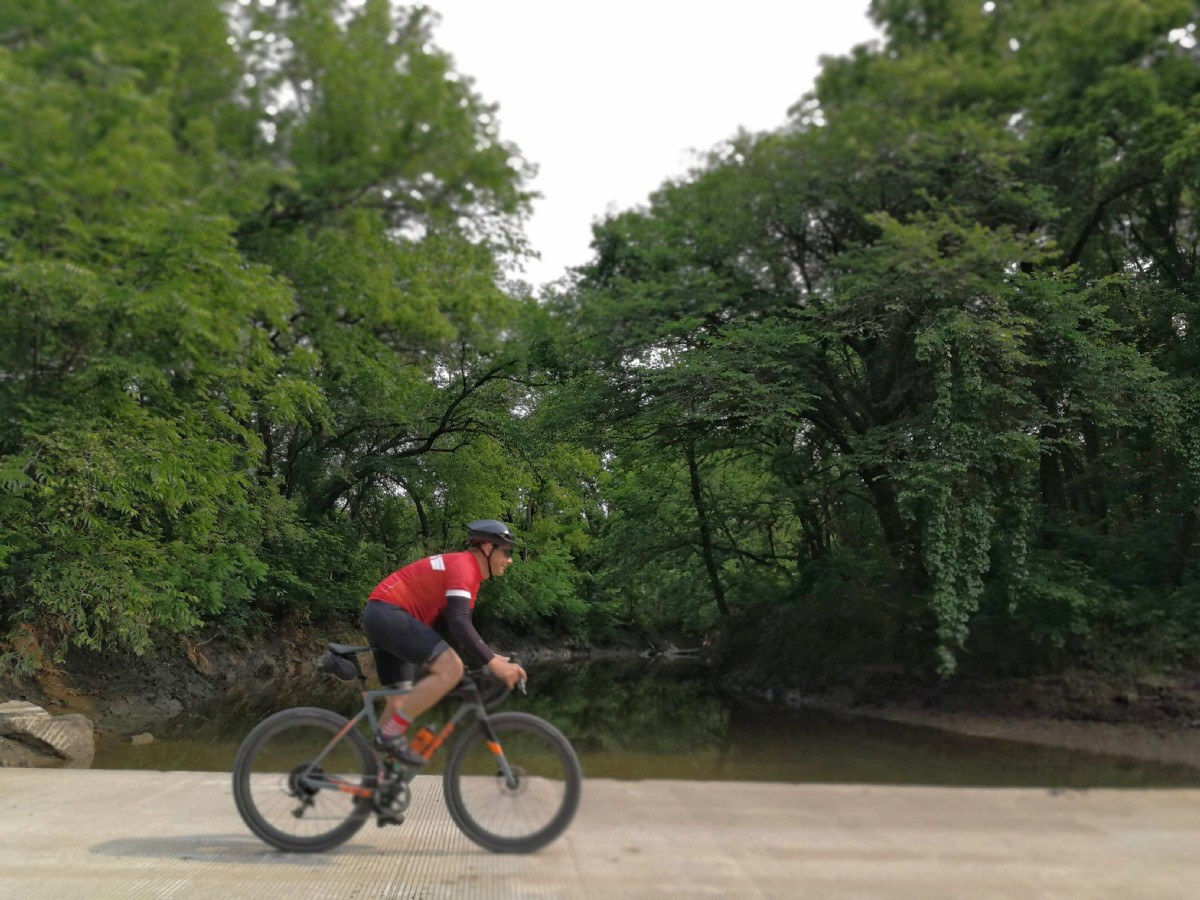 Given the forecast, I felt that I had my nutrition, hydration, and gear on point and was hopeful that I had everything I could possibly imagine I might need to tackle 330km of harsh gravel roads. If you are interested, I put together a list of everything that I took with me here. I spent the evening before the race loading up the bike for the first leg and organizing the rest stop supplies with my wife, Karen, and support crew extraordinaire. She had packed a cooler full of all the nutrition and water I would need to pick up at each of the 2 checkpoints. We also had packed the car with spare wheels, spare tubes, spare CO2, spare everything and we also had everything and anything else I may need to repair the bike if things went completely bad. I felt good but was anxious to get started. I just needed to pedal my bike, follow my nutrition plan, and try to stay hydrated!
I rolled out of bed at 4 am, enough time for an excessive amount of muesli, coffee, and more muesli. Karen and I had talked about riding to the start (about 5km down the road) but in the end, decided to drive so she could jump in the car right away and try to intercept the race along the route for some photos. This gave me plenty of time to get the starting corral about 30 minutes early and I lined up about halfway in the 12-hour corral. The rollout was like any other mass start event I've participated; an easy, but fast roll out through Emporia Kansas and into Lyon County. I really put in very little effort and just made sure I could still see the front of the race. If the group started to split up in front of me, I would put in a little effort and make my way back onto the front group. The pace was still reasonable and I didn't feel the need to get to the head of the race.

Leg 1: Emporia to Alma, 104km
The first 90 minutes flew by and I really felt as if I had been doing nothing. I did, however, see at least a dozen riders already off fixing flats (or pros taking a nature break). It was about that 90-minute mark that my front tire went very soft and was suddenly rolling on the rim. I don't really know what caused this flat but it was a quick fix as I just hit it with CO2 and everything was good — I was stopped for maybe 60 seconds. During this time I assumed that hundreds and hundreds of riders would continuously fly past me but this wasn't the case. There was likely only 50–75 riders that went past. It seemed there was already a huge gap in the field.
There was no one coming up behind me so I put in a big effort and caught the group in front of me within a couple of kilometres. As soon as I caught the group the pace slowed down as we hit the first gnarly, rutted, rocky, narrow farm path. I saw dozens of flats, at least 3 crashes (one looked really serious and I hope that the rider was ok) and we had our first creek crossing.
I luckily made it through this section without issue and caught up with another strong racer that wanted to work together to rejoin a faster group. We were working pretty hard and managed to pick up a handful of groups strewn throughout the course until we had passed at least 30 riders. I had a quick chat with my fellow racer and we agreed to keep rotating together and try to pick up as many groups as we could.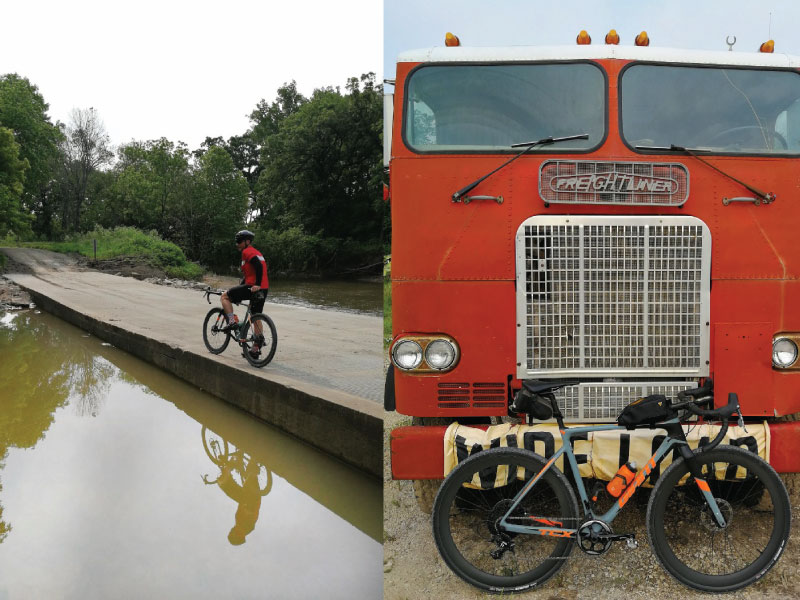 As soon as we made those plans — bam, flat number 2. This time it was a sidewall puncture. It was too big for sealant so I quickly stopped, plugged the tire with a dynaplug (these things are amazing), topped up the tire with another CO2 and I was ready to go.
Even though it was only a 90 second stop, from this point on, I never really rode with a group again. The one group that did catch me and I managed to latch onto was a small group containing Taylor Phinney — Taylor was nice and let everyone else in the group sit on the front and he sat second wheel except on the downhills. I held this group for a long time but they were hitting a little above what I thought I could sustain for the entire day and let them go. Funny enough, a few minutes later down the road Phinney was under the shade of a tree taking his kit off …. I guess, it was starting to get hot?
This was the smooth gravel we tested out on our pre-ride of part of the course.
I did also get the chance to talk to Geoff Kabush as he must have also suffered a mechanical early on in the race. I caught up to him and made sure I let him know how nice his kit was. I was feeling good and even though he was flying to get back to the front of the race, I was able to hang onto his wheel for a bit. Eventually, I decided to ease up to ensure I could finish the 200 miles. At this point (around 9 am) I was starting to feel the heat and I was finding it hard to maintain power. I wasn't feeling cooked, my legs were not cramping, I just felt like there was no power in my legs.
I arrived at the first checkpoint in Alma and easily found Karen waiting for me. We had a really smooth transition — or so I thought. I gave her my Camelbak to refill, she already had food and bottles waiting for me to swap out, I lubed my chain, threw out my spent CO2 cartridges and picked up a couple more spares. I doused myself with water and thought about swapping out my front wheel but since the plug was holding without issue, I decided to keep using it. All in all, this stop was less than 5 minutes and it couldn't have gone much better. I forgot to reapply sunscreen which kind of sucked, but I survived. More importantly, I would find out later that when I ditched my spent CO2 I also unknowingly left behind my CO2 inflator — now that could be problematic.
Leg 2: Alma to Council Grove, 141km
Leaving the Alma aid station I felt amazing! Power was back in the legs and heart rate was reasonable. But that didn't last long. It actually took me a bit to realize that I was overheating and that dumping water on my legs, arms, and head helped resolve this. The difficult part of this was that in my bottles I had drink mix and the only water I had was in my Camelbak. Getting water to cool yourself down out of a Camelbak isn't the easiest thing, but eventually, I figured it out. My cooling method did create a problem of running out of water. I really wasn't planning on using so much water for showering throughout this leg of the race. Also, did I mention that this leg was 140km?
I knew that there was one water oasis on the course (a place to fill water bottles but no crew support allowed) which I had initially assumed I would skip but since I was using most of my water for my head, I was happy to know that this was on the course. I just needed to make it 90km farther for more water. Unfortunately, I only made it 60km before I was out of water. I still had one full 750mL bottle of drink mixed water.
Thankfully, at this point someone in an EF Education First Procycling t-shirt let me know that just over the next hill was a water refill station — earlier than I expected. This was great news!! I crested the hill only to see a gated level railroad crossing with the lights flashing. I sprinted down the hill trying to beat the gates and train. Alas, I didn't make it and had to wait about 5 minutes while the train went by. As riders trickled in to join me train side, one racer was saying that he thought his day was done as his front tire was nearly flat. This dude had already used all his tubes on his 5 PREVIOUS FLAT TIRES — yes 5! He was also out of CO2. I insisted and gave him a tube and another rider gave him a CO2 — I really hope this guy finished because going down to one tube made me a little nervous but I figured I scored big karma points for doing this.
At the EF water station I filled up with water, iced bandana, got a full body soak, and took only a couple of minutes. I once again felt amazing! I continued along, eating, drinking, dousing with water, and just trying to maintain a decent pace while keeping my heart rate under control. This wasn't easy. At this point in the race the climbing was starting to add up (I was already at 2000m) and this section, by far, had the steepest sections of climbing. Riding along Little Egypt Road was absolutely spectacular but it was tough! There were many racers off walking their bikes on a few of the ascents (and not just the single speeders).
Not much changed for most of this leg: ride fun roads, eat, drink, try to cool down, pass riders, pass people fixing flats, pass people sitting under the shade of a tree, cross a river or 5 (I can't remember). Eventually, Taylor Phinney and his escort (turns out it was TJ Eisenhart) caught me again, passed by, only to find them shooting the breeze under the shade of a tree another few km down the road. That was the last I saw of Phinney (that's right, I beat a world tour pro).
I ran out of water in my Camelbak again just as I arrived at the water oasis in Alta Vista. I rolled in and filled one of my bottles as well as the Camelbak. I struggled to close the Camelbak without it leaking for about 5 minutes and eventually was back on the road, once again, feeling great.
This was the point that I realized that this is a very lonely race. I basically rode solo for the rest of the day. Anyone I caught up to was going backwards and all the others that I saw were either fixing a flat at the side of the road or laying in the grass under a tree trying to recover from the heat. I was ready to get to that second aid station, replenish my stores and just finish the race. I knew I was looking to finish under 13 hours and knew I had the legs to do so — I just needed to put in the time.
About 10km from the next checkpoint I was once again out of water and once again riding on a soft front tire. I was so close to the checkpoint that I considered continuing on. At one point I figured it would only take a couple of seconds to top it up so I dug around for my co2 — where the f#*% did it go? It must have dropped out of my pocket? So I resolved to keep going. The tire wasn't so bad and it was less than 10km to the checkpoint. I told myself I would be fine. Then bombing down a hill with just 5km to the checkpoint I hear my rear tire go. Sealant was spraying out everywhere! I had a big sidewall tear. It was too big for a plug so I hunkered down to repair this flat. Unfortunately, there was not a tree in sight so, out in the exposed 40°C heat I got the tire off, covered the tear with some gorilla tape, threw in a tube and pumped it up with the spare mini-pump I had … by the way, mini pumps are fucking stupid. I got it pumped up all the way and then when I went to unscrew the head of the pump it also took the valve core out of the tube with it, and so it let out all the air (FML). I ended up using my teeth to get the valve core out of the pump, screwed it back into the tube and tightened it up once again (thankfully, I also had a valve core tool to get it nice and tight). I pumped up the tire, again, to a rideable pressure and gingerly limped to the checkpoint. This ended up taking well over 20 minutes — not what I wanted.
Other than the flat tires the bike performed incredible! Thanks to Tim at VeloFix Kitchener-Waterloo!
As I rode into the checkpoint with my front tire on the rim and a soft rear tire, Karen was the first person I saw. I rolled in on the smoothest pavement of the course and turned hard to get to the car, I nearly crashed in front of a big crowd of spectators and crew- that could have been embarrassing.
Karen was watching me on the Spokz App and knew I had stopped for what felt like an eternity to fix a flat (or was dead in a ditch). As soon as I arrived she asked "would this have helped with the flat" and she showed me my missing CO2 inflator. Yes, yes it would have. But that was in the past and at this point, I just needed to keep moving forward. I quickly swapped both wheels, drowned myself in water, drank a coke, took a bite of a PB & J sandwich and lubed my chain. Karen repacked my food and got new bottles on the bike. She also dumped half a bag of ice down my back which felt glorious. I packed my seat bag with new tubes, CO2 and about 6 minutes later I was back and on my way to the finish.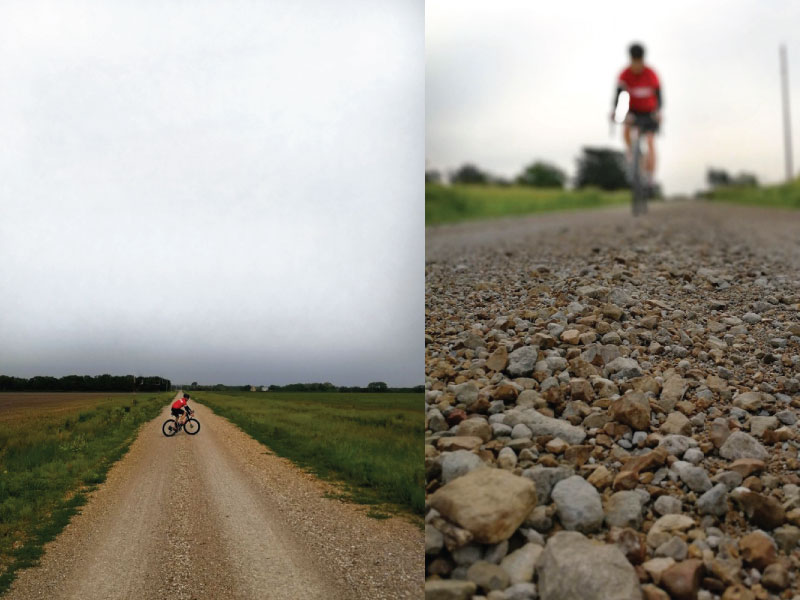 Leg 3: Council Grove to Emporia, 80km
Only 80km left to go. Karen thought I was about 150th coming into the checkpoint and my goal was to be in the top 100 so I figured I needed to hammer it home (as much as one can hammer 250 km into a 330 km race). I wanted to catch those 50 riders. As I was riding, I think I caught maybe 5 riders and passed maybe a dozen others that were laying in the grass under trees. I really didn't see anyone else on this leg. It was a long solo ride.
For the next 50 km, I rode up a hill, bombed down the other side… and repeat. I was about 40km into this gravel purgatory when I spotted a rider in front of me putting what looked like everything they had left into one of the climbs. It was the first time in a very long time that you couldn't see more hills in the distance. She reached the top as I was approaching and as she turned the corner, I could see her look off into the distance, unclip, and simply lay her head onto the bars of the bike. I asked if she was ok, and without moving I got a very solemn "…yup…". I am not sure how long that rider took to regain their enthusiasm for epic gravel rides…but it was probably a while. I wished them luck and bombed down yet another hill — only another thousand little hills to go.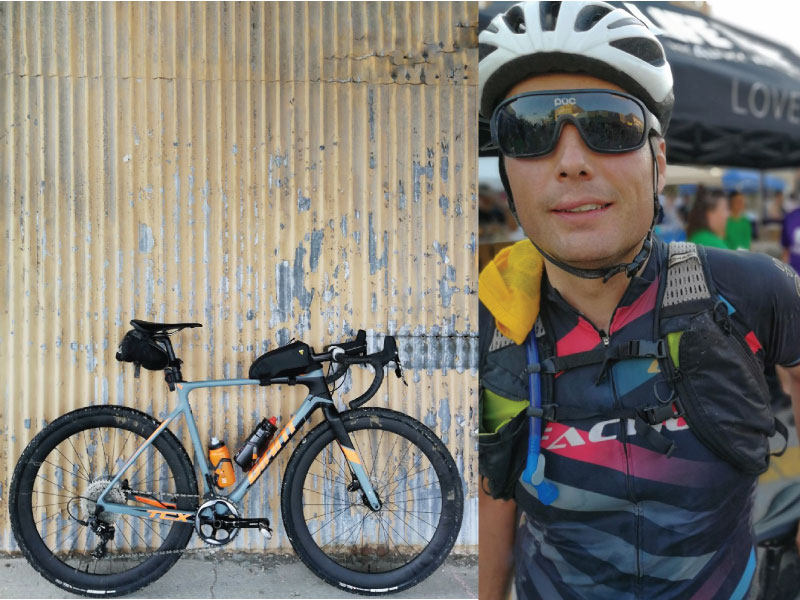 Once I hit the small town of Americus with just 25km left in the race I actually felt great, the temperature had dropped below 30°C and I knew the Flint Hills were behind me. I put my head down and for the first time since that first flat over 250km ago I felt like my regular self. I rode as hard as I could (which was not all that hard after 300km and 4000m of climbing in my legs) and ended up catching a few more riders along the way.
Finished. Before the sun. Feeling pretty good.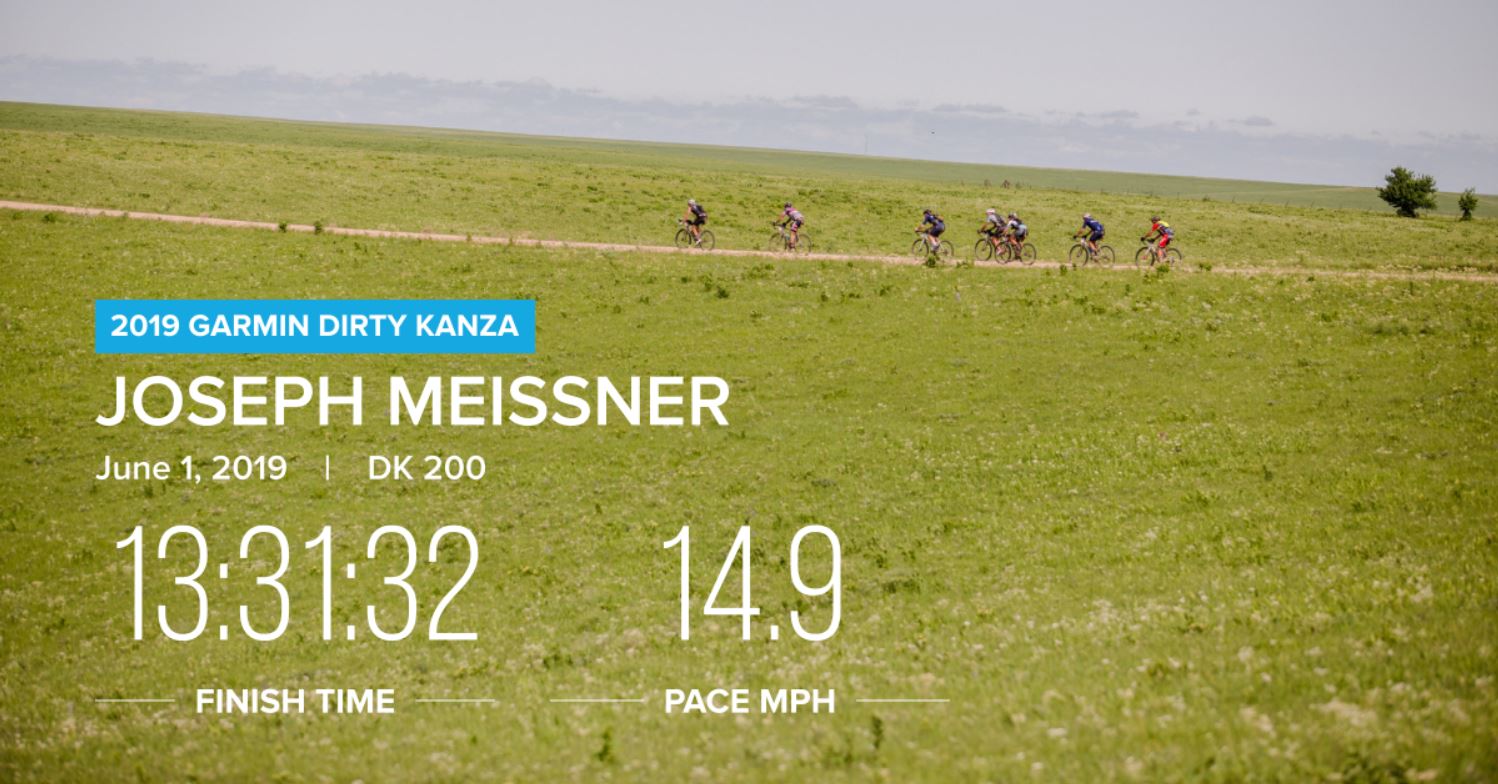 Rolling into the finish was a massive highlight. It was just incredible! There were hundreds and hundreds of spectators lining the route cheering people on, kids reaching out to get high fives from the riders, cowbells, everything! I have never been at an event with more than a handful of people watching the finish. It felt like half the town of Emporia was out supporting the event. I couldn't get over how many people were there! I was happy that 13 hours and 33 minutes after the gun went off, I managed to achieve my primary goal to simply finish before the sun went down and although I was just outside the top 100 (112th) I was still happy with my placing given my 4 flat tires, along with the fact that of 1350 that started only 850 finished.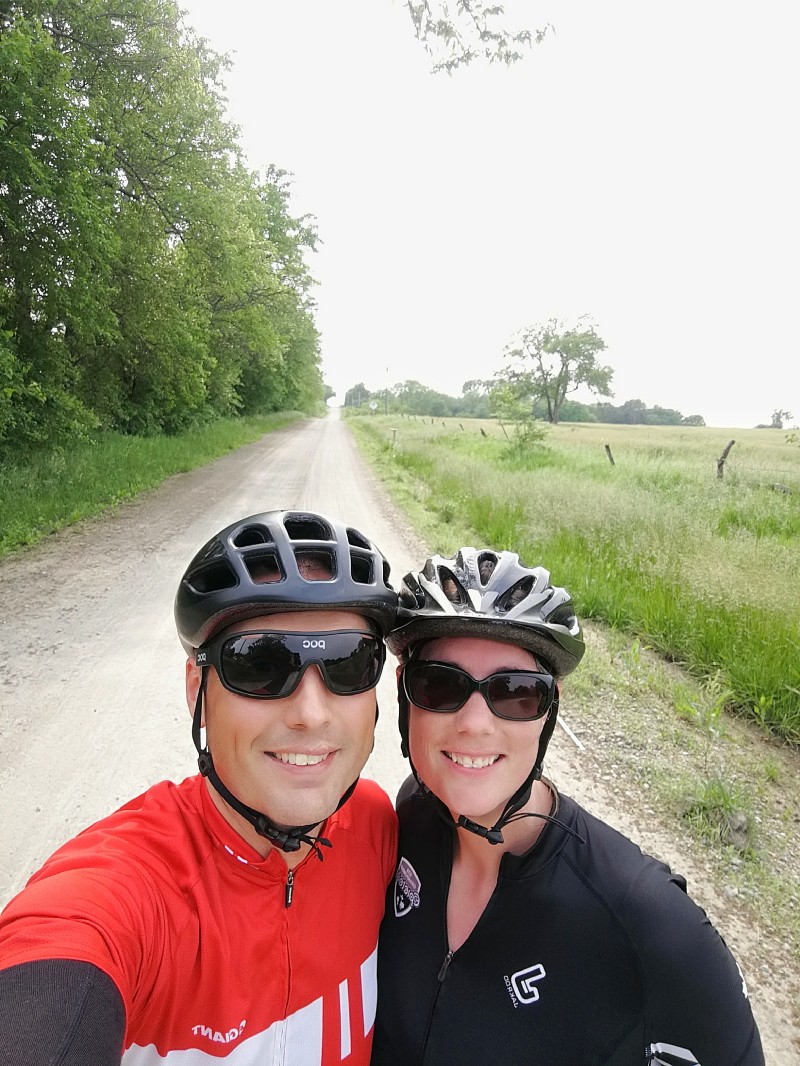 In the end, the absolute best part of this entire race was that even though I only saw Karen for a total of 11 minutes over a 13.5 hour day, I felt like we had raced and conquered this thing together. How she spent an entire day driving all over Kansas, waiting for hours on end and was still there at the end of it all with a smile on her face ready to help me with anything I might have needed, is just beyond my comprehension. Thank you for that!
 Photos by Salsa Chase the Chaise Crew and The Photo Social Co