Every once in a while you come across somebody who looks like they have a very full plate when it comes to their daily life. Raising a young family, running numerous restaurants, charity work, working with local communities and riding their bike all in between that. That somebody is John Jackson Co-Chef and Co-Owner of some of Calgary's finest Restaurants. In 2019, Giant Bicycle Canada will be partnering with John to help raise awareness for his team of riders who will represent Canada at the Chefs Cycle - No Kid Hungry Charity bike ride in Santa Rosa, California on May 14-16th. John embodies what a Giant Ambassador should be. He promotes the health benefits (both physical and mental) of what bike riding is all about. He inspires his staff and friends to ride more and always wants to give back to his community. John will be supported by Ridley's Cycle in Calgary, AB.
We managed to get some time to chat with John to get a better understanding of his daily life and what inspired him to join the cause of raising awareness for the No Kid Hungry campaign which effects 1 on 6 children across North America.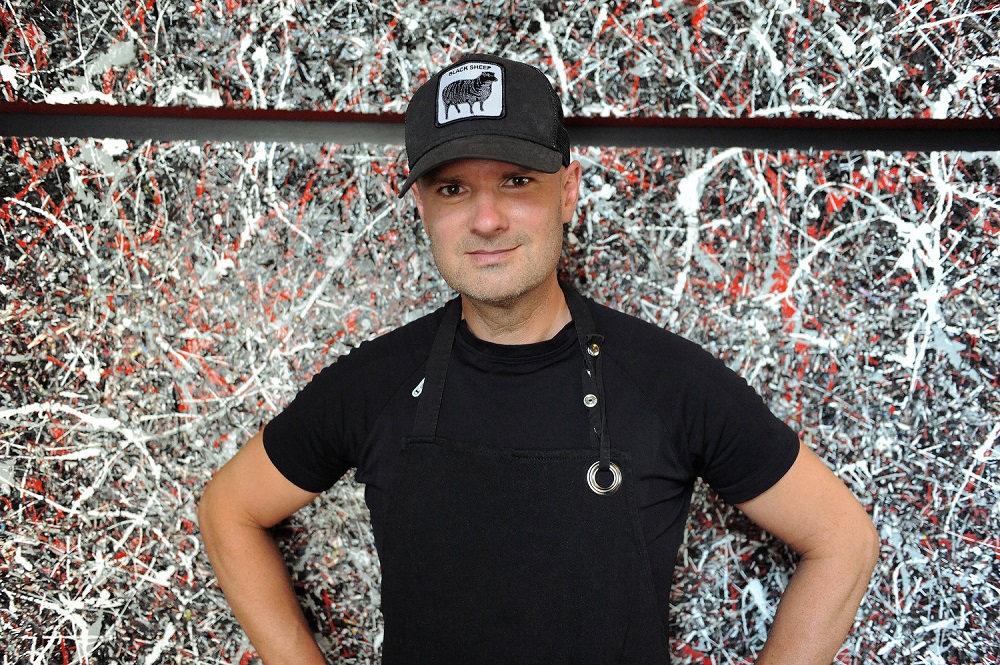 Let's go back to the start, what inspired you to enter the kitchen and become a chef?
John: I began my cooking journey out of nessesity. My mother was raising three young children on her own while working and going to university full-time. I found myself gravitating towards the kitchen as a place to contribute. It was there I fell in love with the energy you get from making people happy through food.
I was not the best student in highschool and ended up getting in a bit of trouble, which led me to get a full-time job. I was fortunate enough to have an in at the local higher-end hotel (Hotel Saskatchewan), where I started as a server assistant and kitchen prep/dish washer at 14 years old.
I was not sure of the direction my carreer would take, but I continued to find myself cooking every chance I had; even throwing dinner parties at the early age of 16.
I started dating my wife, Carrie, when we were 17, and when we graduated we started looking at places to move to go to school. She seemed to have a much more clear direction for her future, but mine was still not defined until I discovered that there were schools you could attend to become a professional cook. We both chose to move to Calgary where she would go on to law school and I attended the professicnal cooking program at SAIT.
After gradutating from SAIT, I started my culinary journey around the world; from San Francisco and New York City to Bora Bora and small villages in Italy.    
After many years of experience all over the world learning your craft, why did you decide to set up business in Calgary?
John: My Co-Chef, Connie, along with Carrie, were looking at destinations to open our restaurant while we were all living in San  Francisco. We saw something very special happening in Calgary and wanted to be a part of the young culinary community that was just blossoming. We returned to Calgary in 2009 to open our first venture, CHARCUT Roast House, which presents "back-to-basics" food expertly prepared, fresh and from scratch. 
But before we even starting to build we wanted to learn more about the community that we had been away from for so long. The moment we arrived, we set out to start building relationships with our local farmers, ranchers and artisan producers; we called this "40 farms in 40 days," getting to know the names and faces of the people that would grow, make and supply us with the food we were going to showcase. It was a critical step for us to start here and focus on cultivating these relatonships early on. 
We also wanted to do the same with the restaurant community. An idea we had was to have a giant potluck where we called every independent restaurant and chef in the city and invited them and their family to a potluck hosted by us in our backyard. We had everything from an antique fridge smoker, rotisserie, and goat petting zoo to a homemade cheese demonstration. It was a fantastic way to re-introduce ourselves and also share with each other who we are through the food we eat. We took the opportunity to also invite media to the event to highlight our restaurant community and how diverse it had become with a pool of talent like any other major food destination city.
In the end, returning to Calgary was the best decision for us and we have been fortunate enough to be recognized as enRoute Magazine's best new Canadian restaurant top-ten; Avenue Magazine's Top 40 Under 40; FoodService and Hospitality Magazine's Best Independent Restauranteurs; Vacay.ca's best restaurant; Maclean's Magazine top 50 Restaurants in Canada; ACE Bakery Tastemakers; and Cook It Raw community ambassadors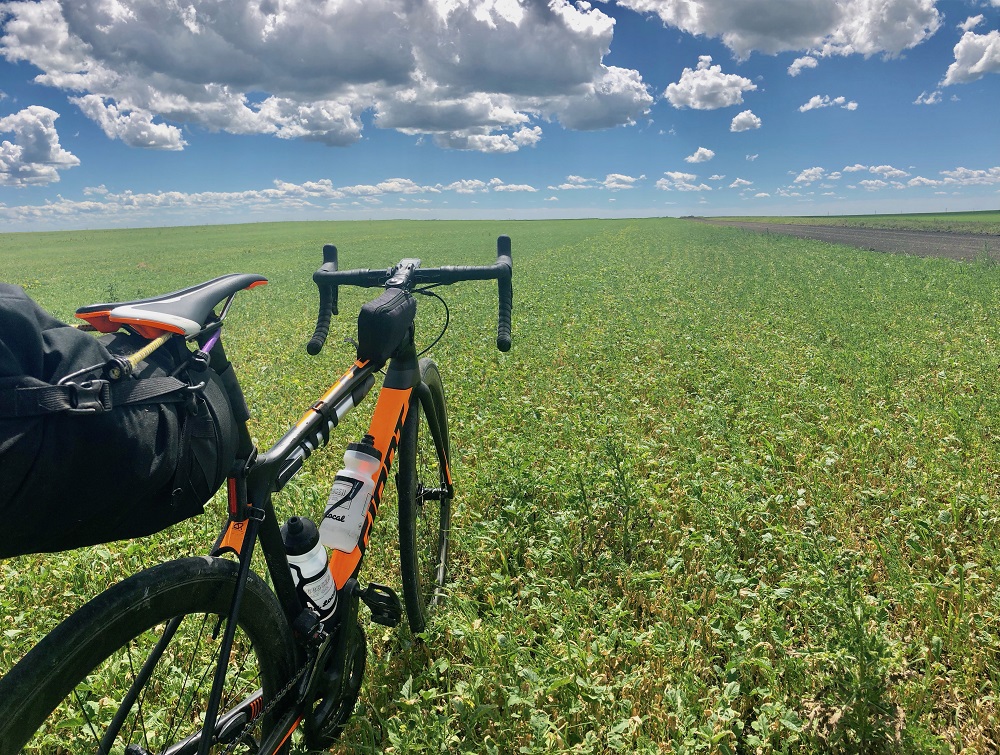 Have you always had a love of bikes?
John: Since the moment I could ride one! As you aready know, I have never had a drivers license and learned to rely on my bikes for not only transportation, but for all sorts of activites. My two young daughters love having days off with me as I pull them around to far off places in their chariot for random, spontanious picnics or to a swimming hole in Fishcreek Park.
Full disclosure: before my first daughter, Frances, was born I got my learners license so that I could drive Carrie to the hospital when she was in labour. She had her license, so it was all ligit. I did have to drive with all the windows open because I was so used to hearing my surroundings when biking. She was a little cold, but we made it in time and in one piece.
Some people will be surprised to hear that the bike is your main mode of transport and that you do not have a driver's license? How is that in Alberta in the winter?
John: Some days are much harder than others. It always takes a couple of hard cold rides to get prepared. I now have several proper layers, even lithium battery socks to keep me warm. When I ride in -30c tempurtures I have no skin exposed. I have snapped a chain and gotten a flat and it is a hard task recovering from that.
My Chrismas present last year was an AMA/CAA card for cyclists needing roadside assistance. Pretty sweet!
How did you get involved in the No Kids Hungry Ride? You are the Captain of Team Canada.
John: Connie and I both lived and worked in California for many years (where the ride started). It was there that I first was introducted to the ride and the cause. When we got back to Canada it was always a goal of mine to support such an amzzing event and do that 500km ride. I made the decision two years ago that I was going to commit and I wanted to bring together a few more riders. My friend and fellow chef, Bob Blumer, introduced me to all the right people at ChefCycle and once I was all set up my team grew from just Connie and myself to a team of five: Justin Leboe, Rob Fooks, Baruch Laskin, Connie DeSousa and myself.
This year we are aready 10 members strong and growing! From coast to coast! Our goal is to crush childhood hunger as it is a global issue and we as chefs and food lovers have an obligation to bring education and create awareness to the cause.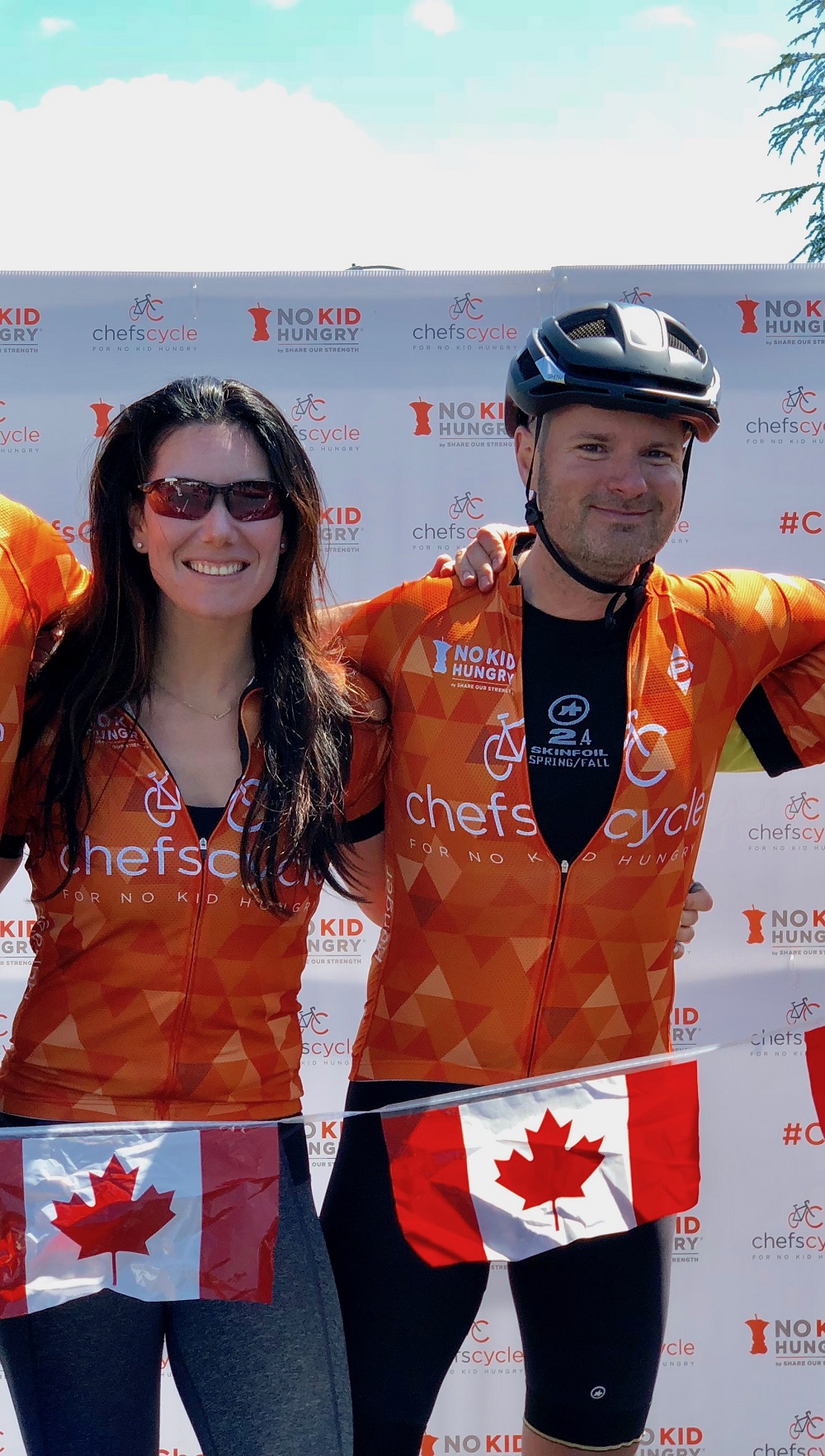 In 2019 you will have a team travelling to Santa Rosa to complete the ride. What is the goal of the team?
John: Well of course to raise as much money as possible, help create awareness and crush childhood hunger. We are also excited to ride and continue the conversation with other like-minded passionate chefs and industry supporters.
As chefs we have a voice and we should use it. This is a subject that hits home for all of us. 
Who will be joining you this year?
John: Below is the start of our list, but we plan on growing even bigger before ride day.
John Jackson / @cyclingchefs / @charcut
Connie DeSousa / @ConnieDeSousa / @charbar_yyc
Chad Rittenhouse / @chadrittenhouse
Rebecca Mackenzie / @CanadaCulinary
Justin Leboe / @justin_leboe
Zane Caplansky / @caplansky
Brandon Clark / @brandonclark1313
Ned Bell / @nedbell
Natalie Goldenberg-fife / @nataliegoldenbergfife
Baruch Laskin / @baruchlaskin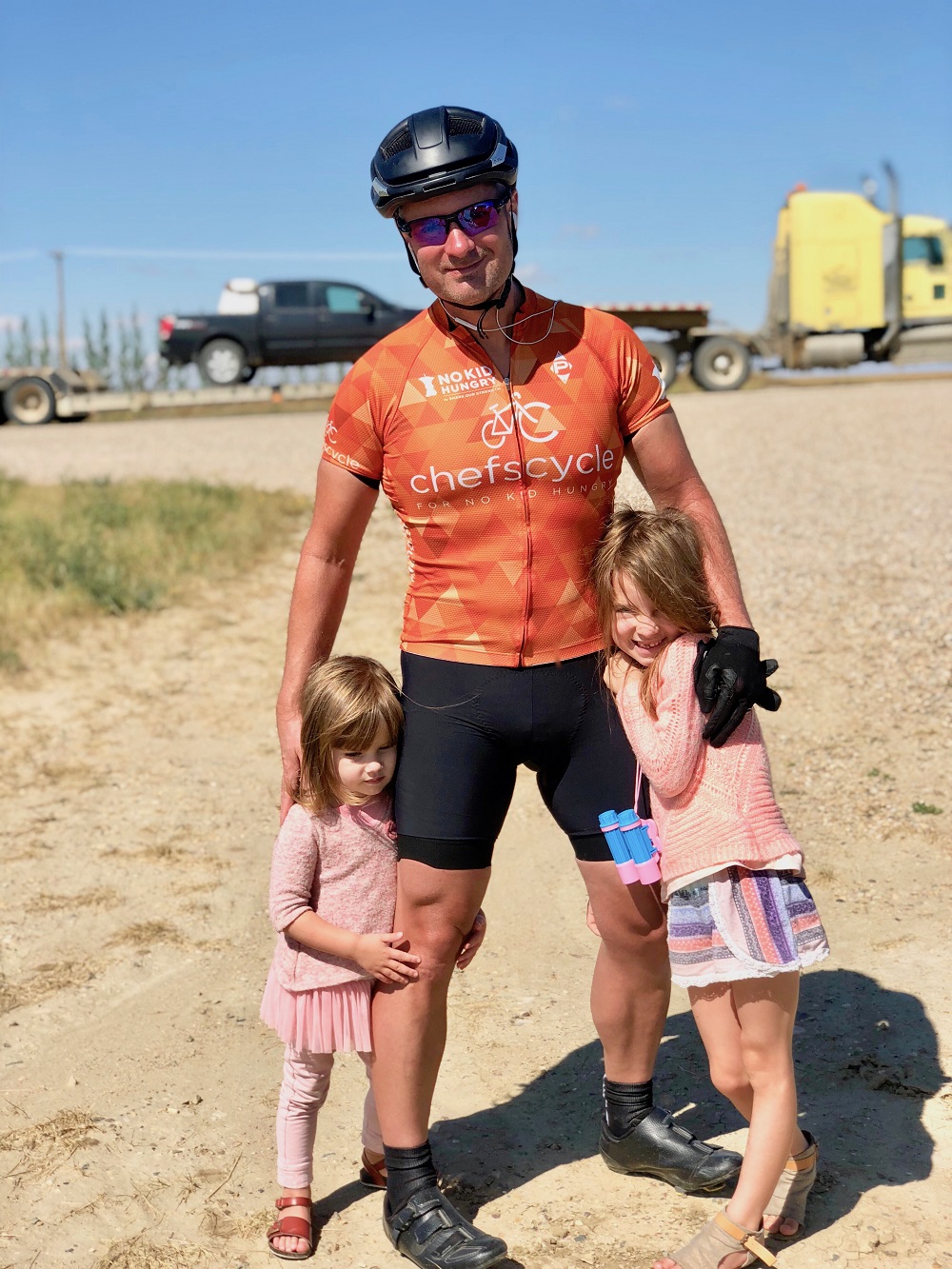 How do you find the time to train with all of the other commitments you have in your life?
John: I really struggled with this in the early days but I made it a priority and built it into my regular day-to-day activites. A healthier, happier me is a better role model for my children and for my amazing staff. It also gives me a sense of accomplishment, not to mention I have so much added energy to do more and feel better doing it.
In the early days I felt guity riding to work instead of just jumping in a cab. I knew that there would be meetings I might miss or times of the day I could just not commit to for work. I used to make excuses, as the guilt of commuting by bike at least 2 to 3 hours a day was a bit overwhelming. After a while I got use to just saying "I am sorry I am not available during that time, as I will be riding in to work on my bike." It became a priority and I think not only myself but everyone around me is better for it.
What is a typical week for John Jackson?
John: There is really no tyical week for me now a days. That is what I love about the career I chose as a chef and being a restaurant owner with multiple locations. I am constantly moving to areas of the business that need me the most and I am loving every minute of it.
We are on our 10th year at our flagship restaurant CHARCUT Roast House and have been busy growing our restaurant business over the years, adding charbar in the Simmons in 2015. Our new venture will be announced shortly and is scheduled to open this summer in Calgary's trendy East Village. We are also very much cause-conscious, raising funds for not only No Kid Hungry but for a range of other charities throughout the year. 
If I have a couple hours to spare before work and the kids are at school I might take the long way in to the restaurants and ride an extra 100+ km. Or I might just ride 800 km to Saskatchewan on my days off to meet my family that still live there.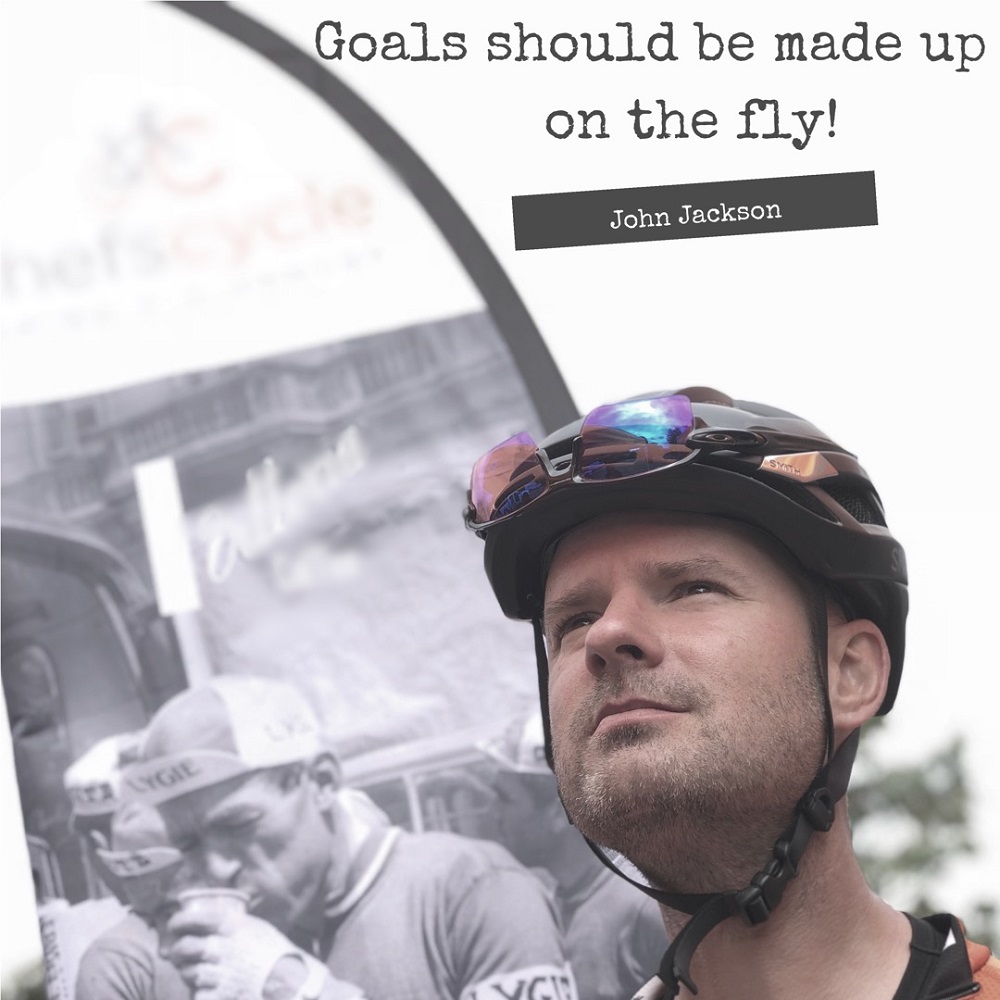 What does the future hold for you? Any goals for 2019?
John: I rode over 13,000 km last year and I would like to break that 15,000 km this year. I am also falling in love with some really big distance rides. We are planning a ride from Calgary to Vancouver this summer, along with some other big ones. My goal is to get as many of my staff on bikes and promote a balance for our chefs and for the restaurant industry. Cycling has been such an incredible, much-needed, healthy outlet for me and I think others would feel the same.
Starting in May, John will be sharing some great meal tips for the active cyclist. Make sure you stay tuned for these delicious quick prep meals.
For more details on the Chefs Cycle, click here: http://www.chefscycle.org/
To follow john's adventures on Instagram click here: http://www.instagram.com/cyclingchefs