Last year before the Chefscycle in California our Giant Ambassador John Jackson shared some great quick meals for the active cyclists. As we find ourselves looking for motivation and something to keep us busy, why not try out some of John's recipes for yourself. In true Pinterest style, why not share your creations by using the hashtag #giantbicyclecanada or tag us at @giantbicyclecanada so we can see how you get on.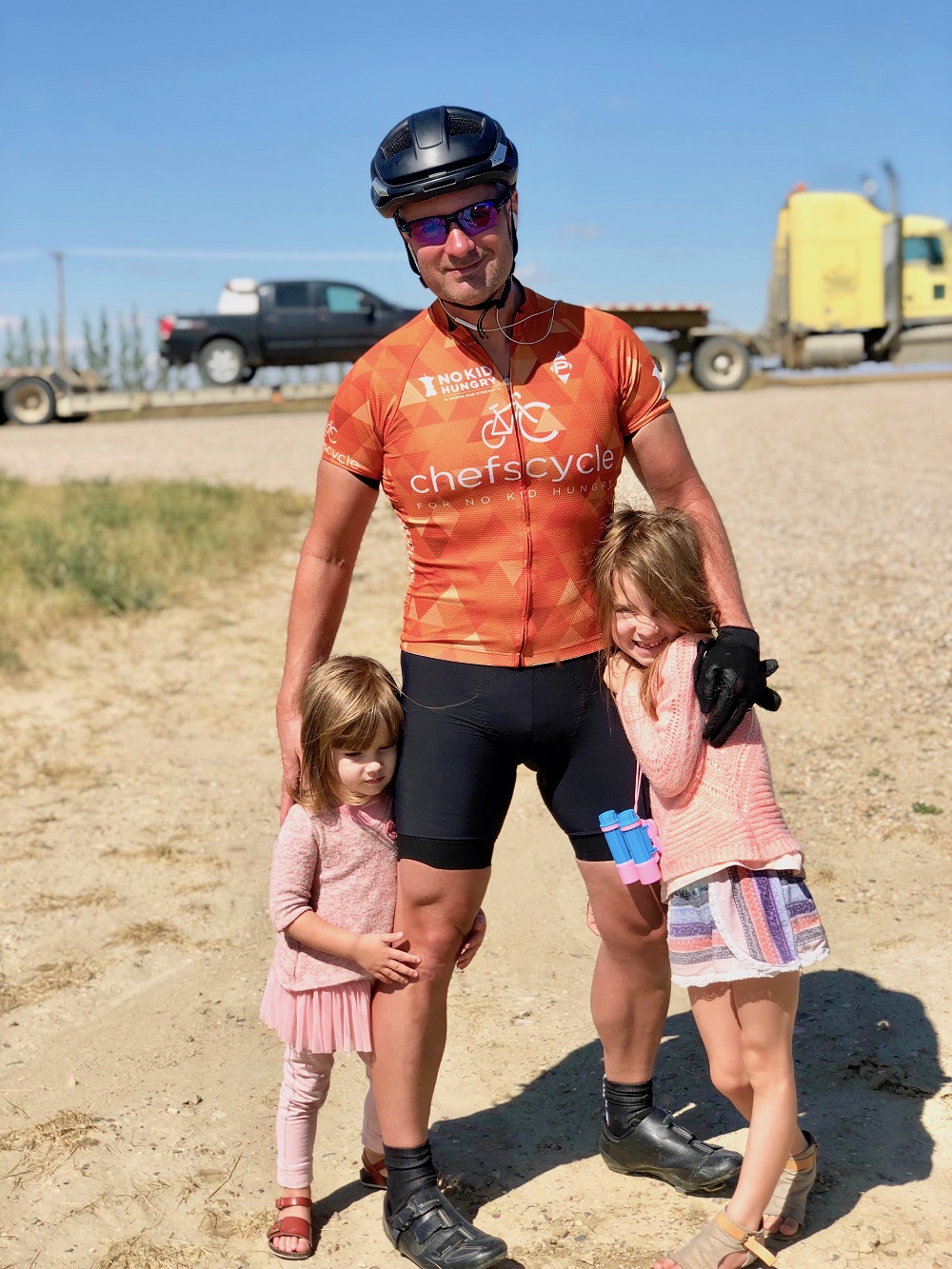 Leading up to a big ride like ChefsCycle I usually start my day with a 30-40km Depletion ride into the restaurants. I have wanted to thin down a bit before, so I look great in that spandex in front of all my chef colleagues.
I finish my rides with spiced nuts, bananas or other whole fruits. After that, the meals begin!
The first dish is so good we will be creating a version of it for our menu at CHIX Eggshop but with the addition of fried falafels. Our new spot is a "Fast-Fine Diner" which is a quirky, nostalgic, counter service–only breakfast and lunch spot opening in the Alt hotel east village later this summer.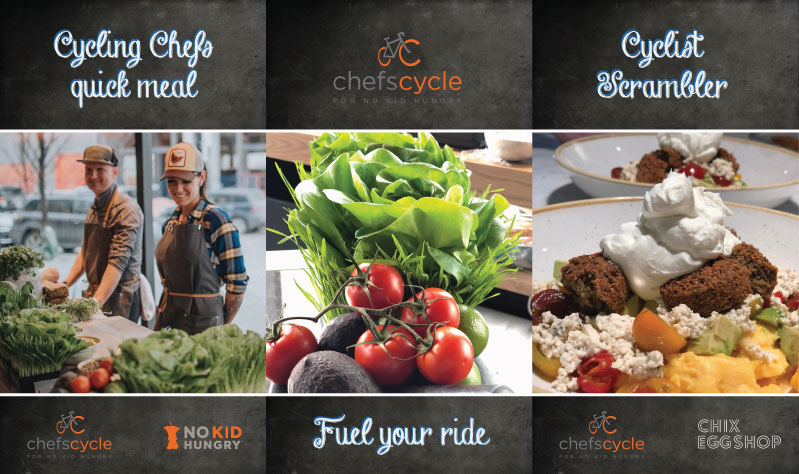 Cyclist Scrambler 
Cage free-eggs, diced avocado, fresh tomato bites, feta cheese, lemony labneh
Serves 4
12ea                       cage-free eggs
4 Tbsp.                   unsalted butter
4 oz.                        heavy cream
Pinch                      salt and black pepper
1 ea.                       avocado
12ea                       cherry size tomatoes
4 oz.                        feta cheese
4 oz.                        Labneh
½ ea.                       Lemon
Optional.                Falafels
Step 1.
Wash and cut tomatoes in half and reserve for final dish plating.
Pit avocado and dice and reserve for final dish plating.
Crumble feta cheese and reserve for final dish plating.
Step 2.
In a small bowl add labneh and juice of half of the lemon. Also, use a zester to zest skin and add to bowl. Mix until fully incorporated and reserve for final dish plating.
Step 3.
Melt butter in the same skillet over medium heat.
Step 4.
Whisk eggs with cream in a medium bowl; season with salt and pepper.
Pour egg mixture and cook, stirring constantly, until eggs are set but still creamy, about 3-5 minute. Divide into four serving bowls or plates immediately.
Step 5.
Top optional falafel, eggs with cut tomatoes, diced avocado, crumbled feta cheese.
Step 6.
Spoon on a dollop of labneh onto the top of each egg dish and serve
With only one week left to the #nokidhungry @chefscycle ride in California, you have done all the training, prepped the bike and now its time to rest and eat well before the event.
John Jackson is ready to go. He will exchange his busy daily life of Restaurant owner, Dad, Husband and advocate to go ride his bike with his teammate for 3 days and over 300m miles to raise awareness for this awesome charity. This will be one of his last meals before the big ride and he wants to share it with you.  "I love higher protein meals as I get a lot of my carbs from whole fruit snacks throughout the day. This steak is a simple version of our steak at @CHARCUT Roast House our metacentric restaurant in downtown Calgary".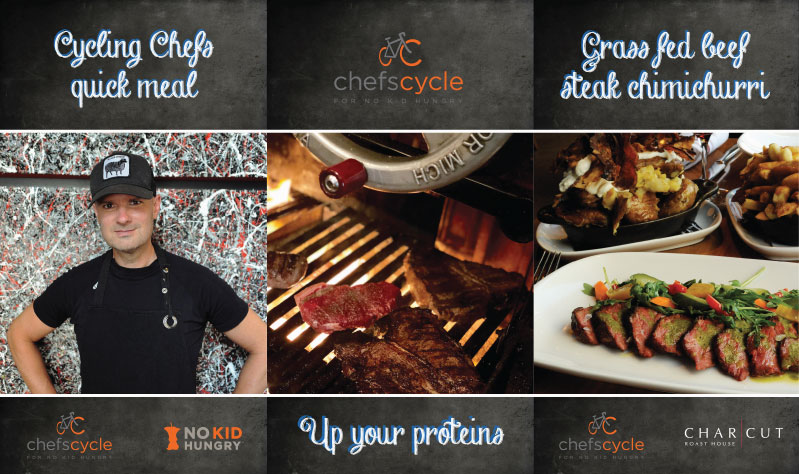 Grass-fed Beef Butcher Steak Chimichurri
Serves 6
STEAK
6 ea.                       Cleaned Butcher steaks approximate 5 to 7oz each (petite tender, skirt steak etc)
1 oz.                        Olive Oil
tt                             Kocher Salt
tt                             Black Pepper Ground
Clean steaks removing all silver skin and connective tissue. Pour olive oil in a bowl and mix with steaks to coat. Sprinkle with salt and pepper and set on high grill. Cook 4 to 6 minutes per side depending on thickness. Remove and let rest 5 to 10 minutes before slicing.
CHIMICHURRI
¼ cup                      Red Wine Vinegar
¼ cup                      Water
4 ea.                       Garlic Cloves
1 tbsp.                    Kocher Salt
1 tsp.                      Red Chilli Flakes
1 tsp.                      Black Pepper Ground
1 cup                      Olive Oil
½ ea.                       Flat Leaf Parsley Bunch
1 tsp.                      Oregano Leaves
3 ea.                       Rosemary Sprigs (6inch each)
Add all ingredients except olive oil to blender and pulse. Slowly add olive oil pouring in a stream little at a time until mixture is thick and smooth. About 5 minutes of preparation.
FINISH
Slice steak and lay fanned on platter or plate. Spoon on a generous amount of Chimichurri and garnish with chopped kitchen pickles and wild arugula.
We thank John for sharing these quick meals and all that he does for the No Kids Hungry Charity. Unfortunately in these times, it is likely that the 2020 edition of the ride will be cancelled. John had an amazing trip planned in the lead up to the ride. The ride was planned to take place in Bend, OR in July. To keep up to date with the ride check out the website and join in if you want to help out more.
To follow John adventures check out his Instagram. Or if you are in Calgary why not stop by one of his restaurants: Charbar, Chix Egg Shop, Charcut