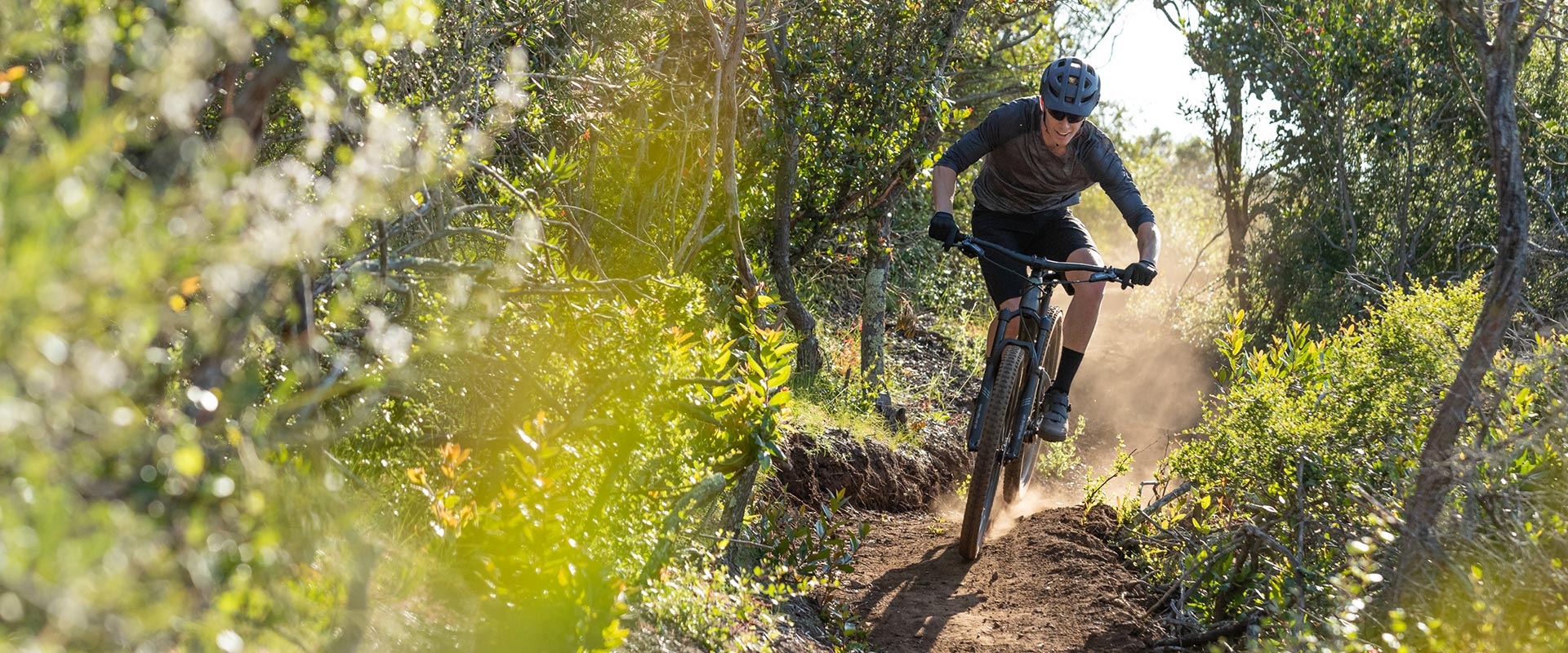 Gooi je trailriding-avonturen in een hogere versnelling met deze gloednieuwe 29 inch alleskunner. Of je nu op zoek bent naar snellere enduro-tijden of lekker wilt spelen op een vet rondje in het bos, je bent alles en iedereen de baas op deze singletrack shredder met grote wielen.
Highlights
Het kostte ons team van technici, productontwerpers en profrijders jaren om een nieuwe mid-travel 29er te creëren die voldeed aan hun hoge standaards, maar het wachten is beloond. De wedergeboorte van deze trailbike is een grote stap voorwaarts want hij biedt een functioneel voordeel op het gebied van allround trailprestaties. Het begin allemaal met het full composite frame dat voorzien is van de meest recente uitvoering van onze Maestro-vering. De Advanced Forged composite rocker-arm en de trunnion-mount demper produceren 115 mm soepele achtervering die actief en gevoelig reageert op kleine oneffenheden waardoor je geweldige tractie en controle hebt. Daarnaast heeft de nieuwe framegeometrie progressieve balhoofd- en zitbuishoeken, kortere liggende achtervorken en een langere bovenbuis. Het resultaat is dat de snelheid en controle van de 29 inch wielen in balans zijn met de wendbaarheid en levendigheid die je nodig hebt om met maximaal vertrouwen en controle door de bochten te scheuren en over rock gardens te knallen.
Foto's











Technologieën


Advanced Composite Technology
Het hoogwaardige carbon van Giant wordt gebruikt om dit custom framemateriaal te produceren in onze eigen composietfabriek met een hoge stijfheid-gewichtsverhouding. De voorste driehoek van deze framesets wordt geassembleerd en gegoten als één doorlopend stuk in een eigen productieproces genaamd Modified Monocoque Construction.

Advanced Forged Composite Technology
Zeer modern hogedruk-vormgevingsproces voor de productie van de complex gevormde carbon bovenste rockerarm die lichter, stijver en sterker is dan een aluminium versie.


Maestro Suspension Technologie
Vier strategisch gepositioneerde draaipunten en twee linkages werken allemaal samen om één ​​enkel zwevend draaipunt te creëren, voor het meest actieve, efficiënte en onafhankelijke veersysteem in het terrein.


OverDrive
Er is gebruikgemaakt van Giants, oversized stuurbuistechnologie. De oversized balhoofdlagers (1 1/4" onder en 1 1/8" boven) en de taps toelopende stuurbuis zorgen voor optimale stijfheid in het bochtenwerk en verbeterde stuurprestaties.


Tubeless System
Minder lekke banden. Meer grip. Minder rolweerstand en een soepelere, snellere rit. Het Tubeless-systeem van Giant maakt het eenvoudiger dan ooit om al deze voordelen te ervaren.