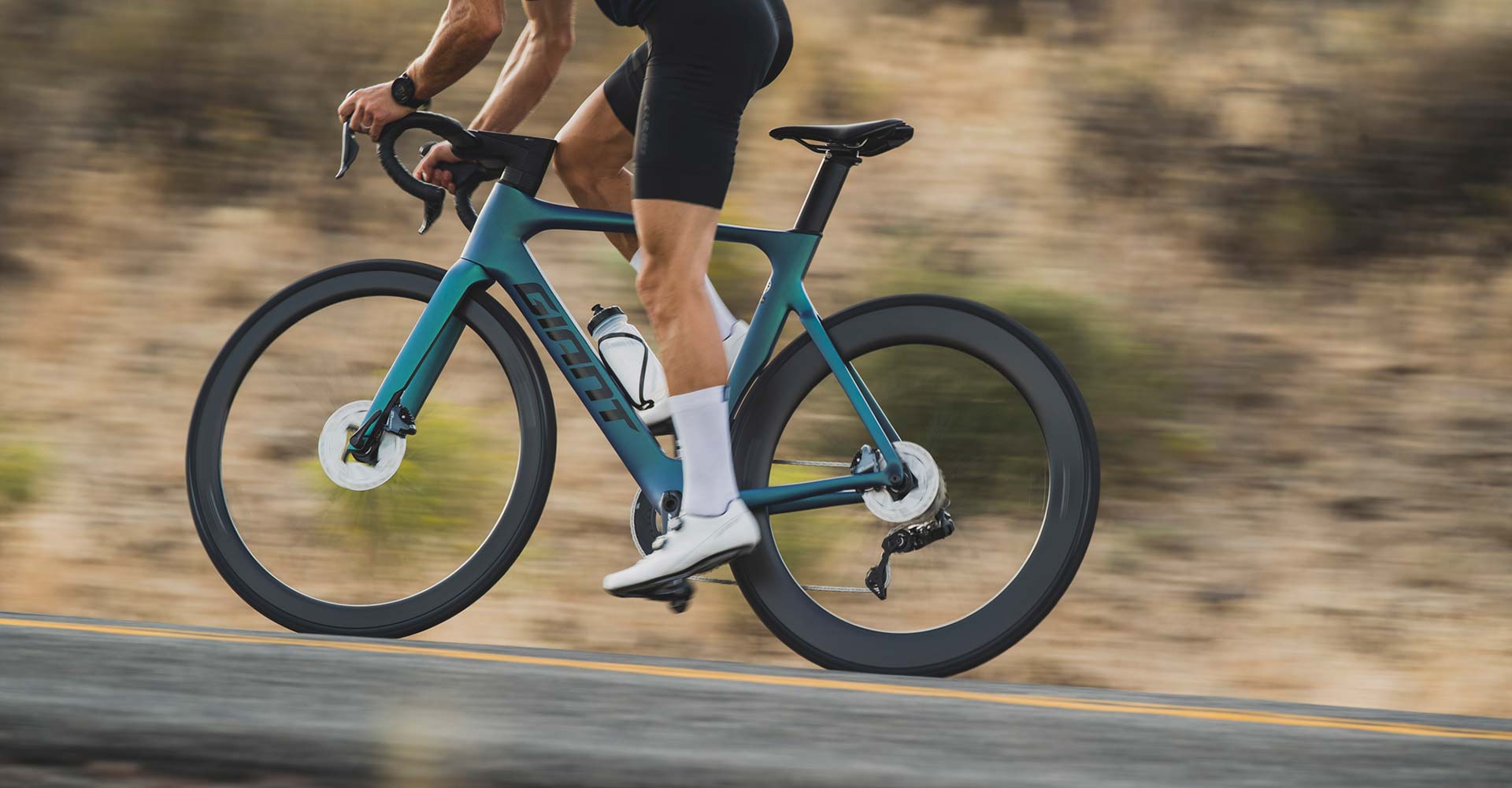 Lichtgewicht, efficiënt en bijna onzichtbaar voor de wind. Deze composite racemachine biedt aantoonbaar voordeel tijdens sprints en soloritten. En met de geïntegreerde schijfremtechnologie heb je meer controle tijdens chaotische sprints en bloedsnelle afdalingen.
Highlights
Meticulously developed for best-in-class aero road performance, this razor-sharp road racer was born to sprint, chase or make your attack. The frame is handcrafted using Advanced-grade composite material to produce a bike that's lightweight and stiff with a responsive ride quality. The components are as integrated as they can possibly be, with smooth lines from the handlebar and stem, internal cable routing, and a WheelSystem that uses a 65mm deep rear rim for maximum aero performance and a shallower 42mm front for added control. Even the disc brakes are integrated into the frame, with flat-mount calipers and thru-axles designed to optimize the technology.
Technologieën


Advanced Composite Technology
Het hoogwaardige carbon van Giant wordt gebruikt om dit custom framemateriaal te produceren in onze eigen composietfabriek met een hoge stijfheid-gewichtsverhouding. De voorste driehoek van deze framesets wordt geassembleerd en gegoten als één doorlopend stuk in een eigen productieproces genaamd Modified Monocoque Construction.


AeroSystem Shaping Technology
Door CFD (Computational Fluid Dynamics) en windtunneldata optimaliseren ingenieurs elke buisvorm om superieure aerodynamische prestaties te leveren.


OverDrive 2
Dit is de meest geavanceerde stuurbuistechnologie van de huidige Giant-fietsen. De oversized balhoofdlagers (1 1/2" onder en 1 1/4" boven) en de taps toelopende stuurbuis zorgen samen voor optimale stijfheid in het bochtenwerk en verbeterde stuurprestaties.


PowerCore
De oversized vormgegeven zone bij de trapas en liggende achtervork heeft een volledig geïntegreerd, 86 millimeter breed trapasdesign (92-milimeter bij off-road fietsen). De symmetrische, liggende achtervork verhoogt de stijfheid aan de zijde van de aandrijving en de stabiliteit aan de andere kant.

Vector Seatpost
This full-composite, lightweight and highly aerodynamic seatpost is engineered specifically for performance road riding.