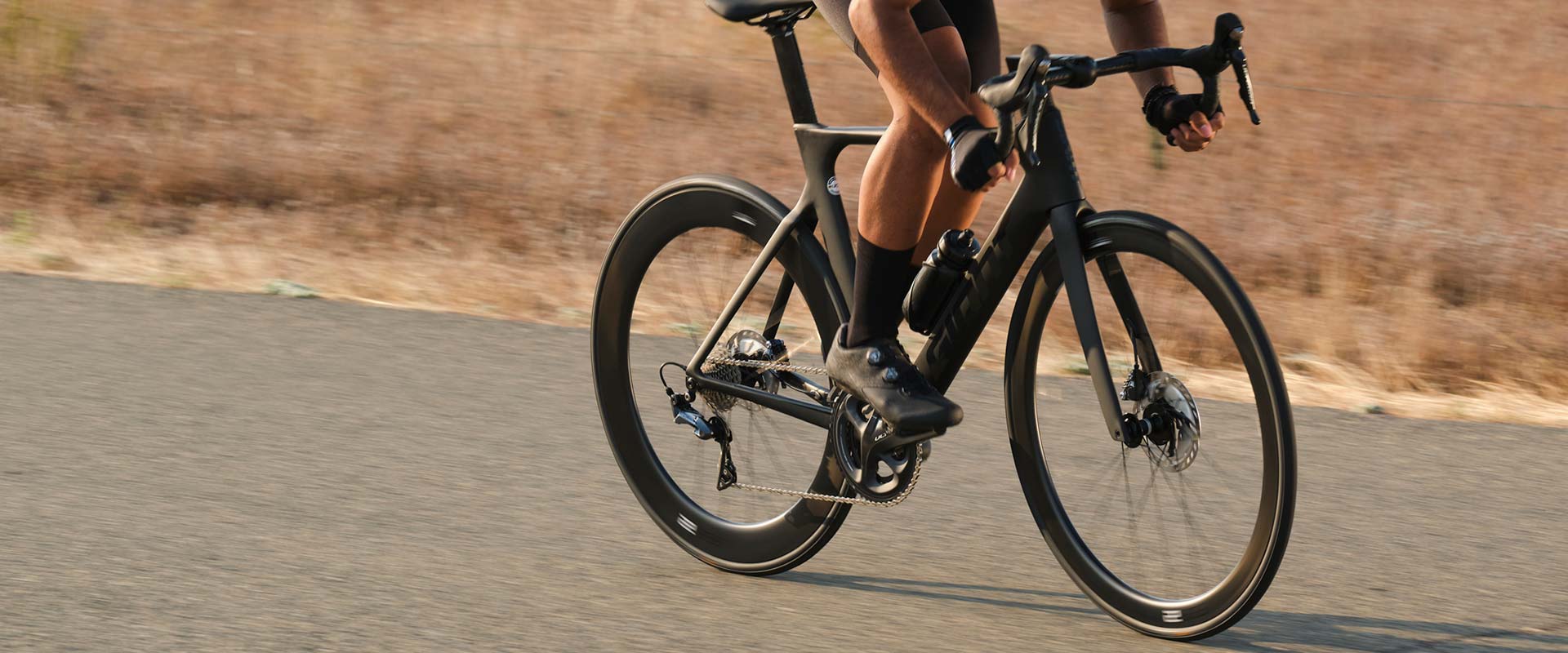 In de aanval, in de sprint of op hoge snelheid door de bocht. Aero-efficiency en totale controle komen samen in deze solo-rijder met schijfremmen. De geïntegreerde frameset is ontworpen met behulp van de AeroSystem Shaping-technologie en is aantoonbaar sneller bij verschillende aanstroomhoeken van de wind.
Highlights
This aero road bike minimizes drag so you can accelerate and sprint faster. Engineered with AeroSystem Shaping technology and Advanced-grade composite material, it delivers proven aero performance and one of the lightest frames in its category. The Propel Advanced Disc also comes with an integrated WheelSystem, flat-mount disc-brake calipers and thru-axles for added wheel stiffness and streamlined performance. The lightweight, easily adjustable Vector composite seatpost further minimizes drag. It all adds up to a race-ready machine that leaves the competition behind.
Technologieën


Advanced Composite Technology
Het hoogwaardige carbon van Giant wordt gebruikt om dit custom framemateriaal te produceren in onze eigen composietfabriek met een hoge stijfheid-gewichtsverhouding. De voorste driehoek van deze framesets wordt geassembleerd en gegoten als één doorlopend stuk in een eigen productieproces genaamd Modified Monocoque Construction.


AeroSystem Shaping Technology
Door CFD (Computational Fluid Dynamics) en windtunneldata optimaliseren ingenieurs elke buisvorm om superieure aerodynamische prestaties te leveren.


OverDrive
Er is gebruikgemaakt van Giants, oversized stuurbuistechnologie. De oversized balhoofdlagers (1 1/4" onder en 1 1/8" boven) en de taps toelopende stuurbuis zorgen voor optimale stijfheid in het bochtenwerk en verbeterde stuurprestaties.


PowerCore
De oversized vormgegeven zone bij de trapas en liggende achtervork heeft een volledig geïntegreerd, 86 millimeter breed trapasdesign (92-milimeter bij off-road fietsen). De symmetrische, liggende achtervork verhoogt de stijfheid aan de zijde van de aandrijving en de stabiliteit aan de andere kant.

Vector Seatpost
This full-composite, lightweight and highly aerodynamic seatpost is engineered specifically for performance road riding.