Giant is conducting a voluntary recall relating to the above mentioned pedals from range of accessories sold in Australia.
The details of this voluntary recall are as follows:
Models affected:
Giant Pinner DH Flat Pedals sold under the following part numbers:
Part # 230000030 - PINNER DH FLAT PEDAL BLACK (Version 2)
Part # 230000031 - PINNER DH FLAT PEDAL SILVER (Version 2)
There are two versions of the Pinner DH Flat Pedals which have been sold under the same part numbers. Version 2 is affected by this recall, Version 1 is not.
Please see below to help visually identify whether the pedals are Version 2 (affected) or Version 1 (not-affected).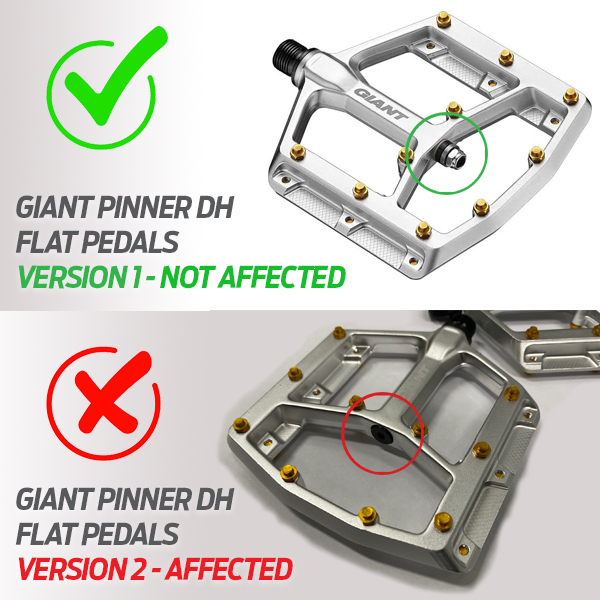 Defect:
The pedal's locking fastener may break or snap and cause the pedal body to separate from the spindle.
Hazard:
If the pedal body separates from the spindle while the bicycle is being ridden, the rider may lose control of the bicycle and fall, resulting in injury.
What is the remedy for this issue:
Consumers are to stop using the product immediately.
Consumers are to fill out a replacement request form and Giant will supply replacement pedals to consumers who have Giant Pinner DH Flat Pedals (Version 2) for delivery through their selected Giant Bicycles retailer.
When available, replacement pedals will be shipped to your selected Giant Bicycles retailer for collection.
Please Note: in order to receive your replacement pedals, you must relinquish your Giant Pinner DH Flat Pedals to the retailer at the time of collection.
Please do one of the following:

OPTION 1) download the replacement request form in Excel or PDF format from the following links and email the completed form to recalls@giantbikes.com.au to complete the request.
PDF - Download PDF Request Form
Excel - Download Excel Request Form
OPTION 2) complete the following online request form which will submit your request upon completion.
Google Form - Online Submission Form
Depending on the level of COVID-19 restrictions currently in place in your region, your local retailer may be operating at limited capacity. Before selecting a retailer for collection of your replacement pedals, we highly recommend making contact with the retailer to ensure they are open and that you are aware of their individual COVID-Safe customer policies to ensure collection of the replacement pedals is suitable from that location.
Replacement Pedal Information:
Please see below specifications for pedals being provided as replacements under the Giant Pinner DH Flat Pedal Product Safety Recall. These pedals have been developed specifically for this recall to be of equivalent overall performance and retail value to the original Giant Pinner DH Flat Pedals.
Large anodised black pedal body
110x110x13mm platform (excl. pin heigh)
Long, high-grip, replaceable pins
Chromoly axle
Smooth sealed bearings
Lightweight (385g approx.)

Should you require further information regarding the Giant Pinner DH Flat Pedal recall please contact recalls@giantbikes.com.au