As we're fast approaching the end of 2019 we decided to take a look back at some of the hottest Giant bicycles to hit the roads and trails this year. Our list features both bikes from local ambassadors to globally supported ambassadors as well. These are some of the coolest bikes that caught our eye this year. In no particular order here's the list of bikes that made our Top 10!
#1 Brendan Johnston's #10yearson Anthem Advanced Pro 29
To commemorate 4-time XCM National Champion Brendan Johnston being cancer free for 10 years in 2019, we created this special, one of a kind Anthem Advanced Pro 29 for him to be on in time for this year's Cape to Cape MTB event in Western Australia. Painted by specialist bicycle painter Steve Munyard of Sun Graphics in Melbourne, this was one of our favourite projects of the year! Featuring a green & gold colourway and some amazing components from Brendan's sponsors, this one will be remembered for a long time to come. Take a closer look at some of the shots below or check out the full video on this project here. What's even cooler than the bike? That Brendan won his first race on it, the Cape to Cape, with teammate Jon Odams.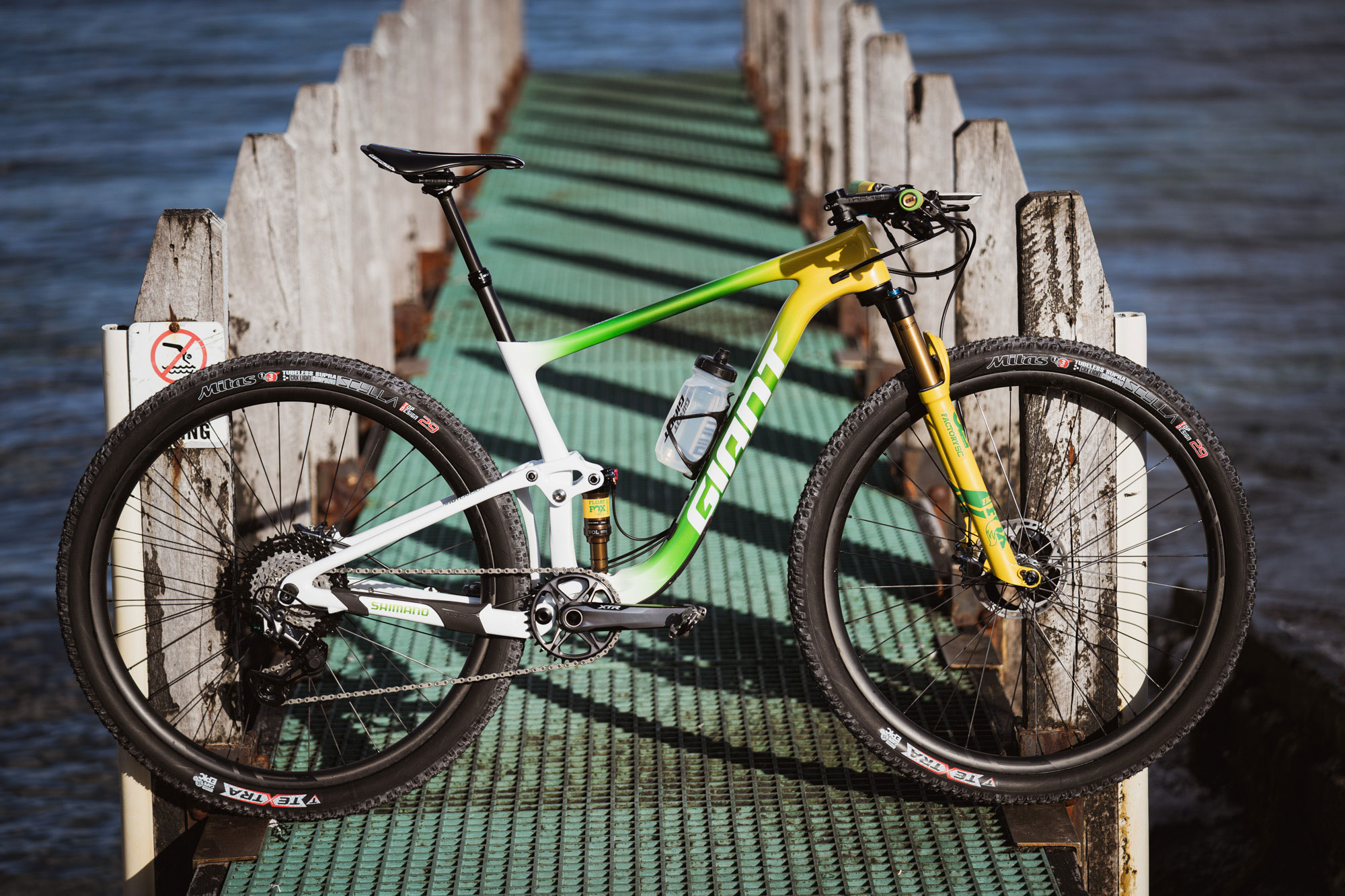 Brendan Johnston's #10yearson Anthem Advanced Pro 29 build features Shimano XTR componentry & suspension from FOX. Photos: Flowmountainbike.com

The #10yearson build was to celebrate Brendan being cancer free for 10 years as well as the current XCM (Cross Country Marathon) National Champion in Australia. Photos: Flowmountainbike.com
#2 Travis Pastrana's Red Bull Themed Reign E+ Pro
Travis Pastrana is one of the biggest names in action sports. With a history of motocross racing, freestyle motocross and rally racing just to name a few, there's not much on 2 or 4 wheels Travis Pastrana hasn't done or won! To ensure Travis had the ultimate pit bike just in time for Red Bull Straight Rhythm, he received this one of a kind Reign E+ Pro off-road e-bike in a real cool custom paint scheme done by Airtix based out of California. We think you'll agree the end result is a fitting scheme for the man with the #199 race plate.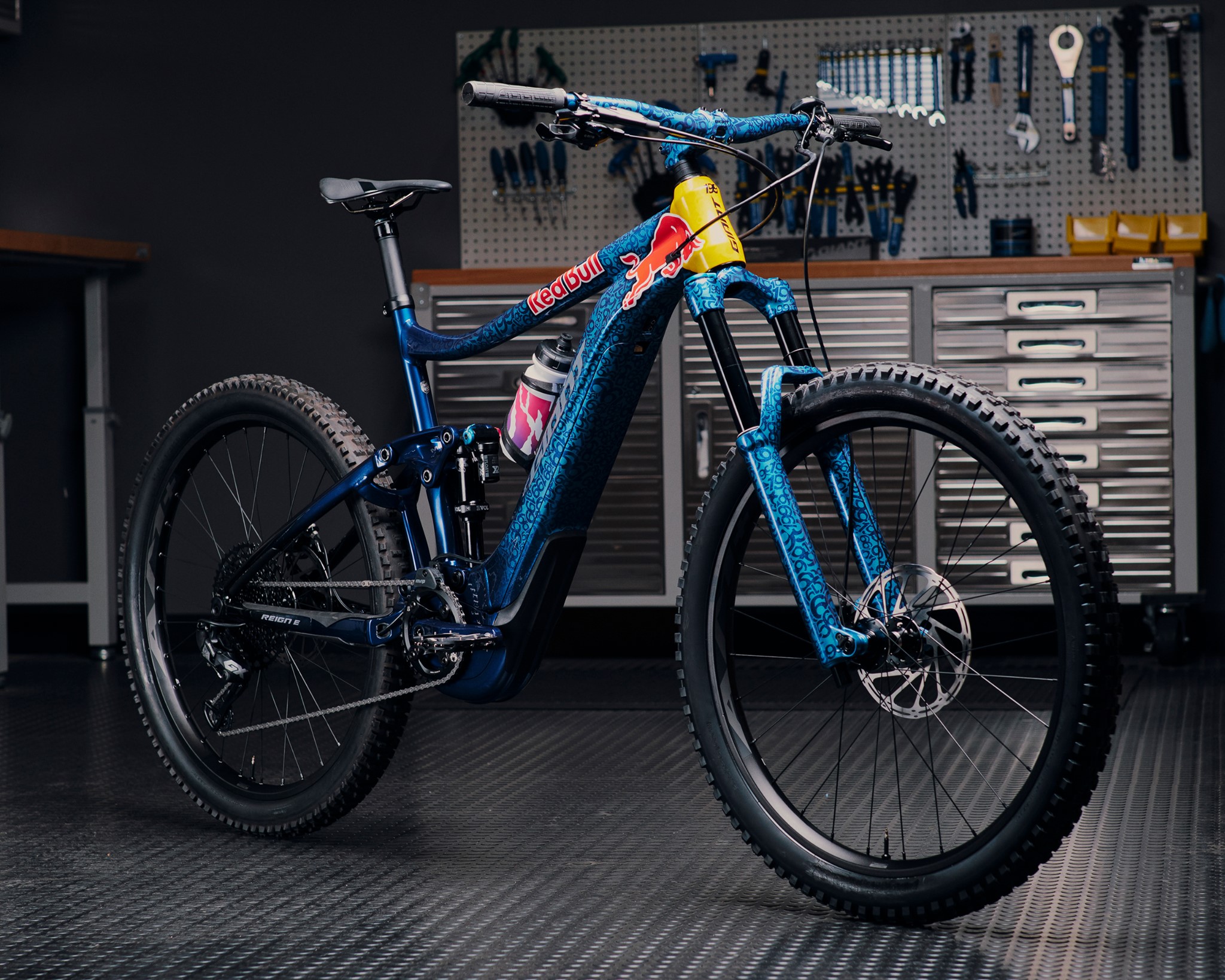 This has to be the coolest pit bike getting around! Travis Pastrana's Reign E+ turned heads this year at Red Bull Straight Rhythm. Photo: Jake Orness

From a distance the bike just looks like a lot of blue on blue but get up close and that 199 number really pops on Travis Pastrana's Reign E+. Photos: Jake Orness.
#3 Greg van Avermaet's TCR Advanced SL
Greg van Avermaet is a champion of road cycling. The CCC team rider has won some of the biggest races in the world. The Olympic Road Race, Paris-Roubaix and Tirreno-Adriataco are just some of the races on his palmarès. The Belgian received this special unique TCR Advanced SL at the beginning of the 2019 year. The gold scheme reflects his Olympic Gold victory in the road race at Rio in 2016 and the frameset features some cool highlights in recognition of his biggest victories, a map of Brazil, a large gilded trident, the weapon associated with Neptune, the Roman god of the sea as presented to the Tirreno-Adriataco race winner each year, as well as the famous cobblestone associated with Paris-Roubaix. Rounding out the bike are the latest in carbon wheels from Cadex Cycling. Check out a full feature on the bike here.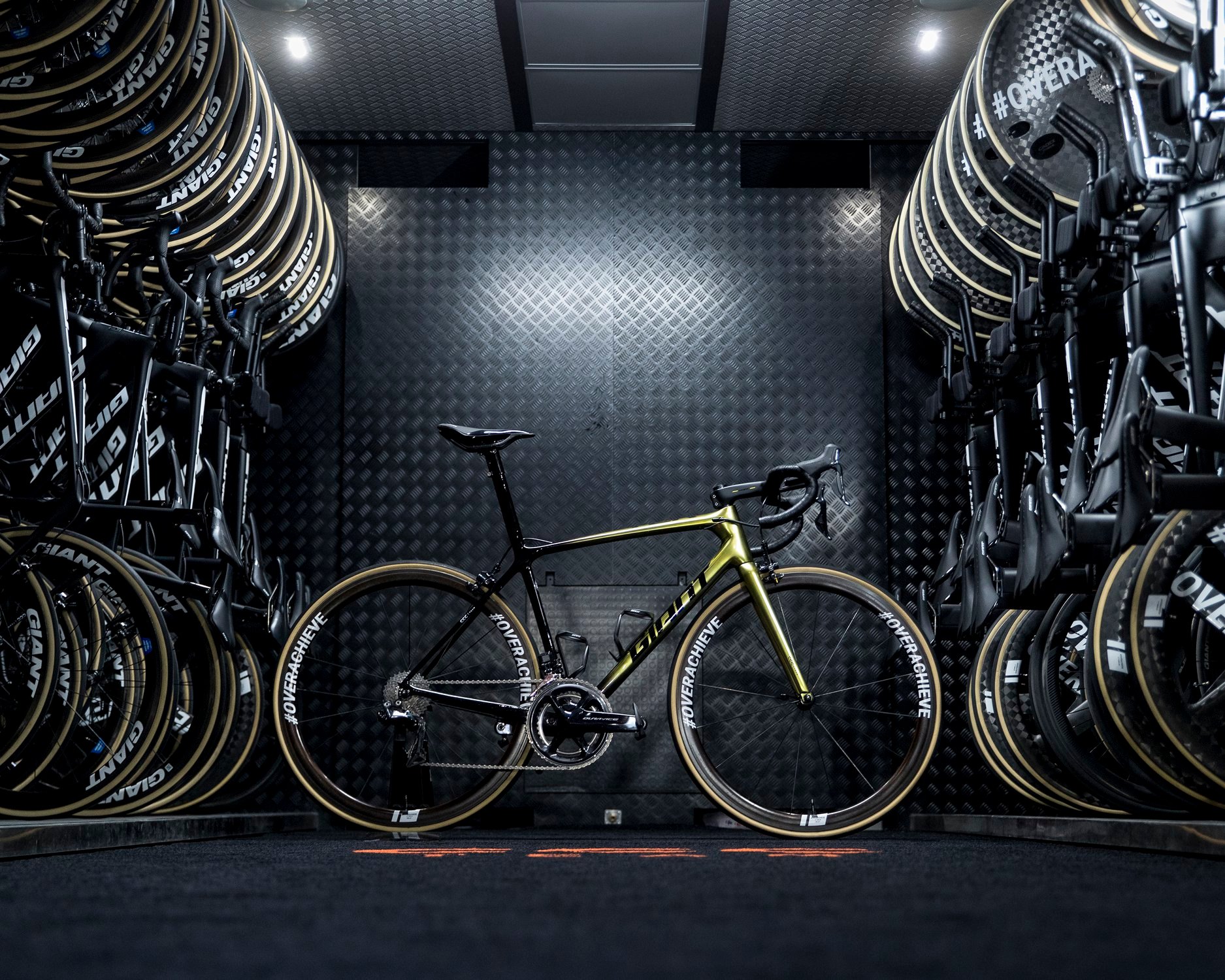 Greg van Avermaet's TCR Advanced SL cannot be missed in the CCC Team service course. Greg also has a Propel Advanced SL Disc and Defy Advanced SL Disc in the same colour scheme! Photo: Cameron Baird.

Some of the intricate details of Greg van Avermaet's TCR in recognition of the biggest victories in his career, he also has his initials on the frameset written in gold. Photos: Chilo Oostergetel
#4 Tim Berkel & Sam Appleton's Trinity Advanced Pro triathlon bikes
Well this list really reads more like our "Top 11" bikes of the year but we really couldn't split the Trinity Advanced Pro bikes of Triathletes Tim Berkel & Sam Appleton apart! The subtle Rainbow Black paint scheme of the 2019 Trinity Advanced Pro looks the goods hanging in transition and out on the road, especially when paired with the latest in WheelSystems from Cadex Cycling. Both Tim & Sam ran various Cadex Cycling WheelSystems throughout 2019 including both tubeless and tubular variations. Sam Appleton capped off his year with a debut at Ironman distance at Ironman WA in Busselton acheiving the race's fastest bike split and Tim Berkel finished the year in a strong 3rd place at the same event.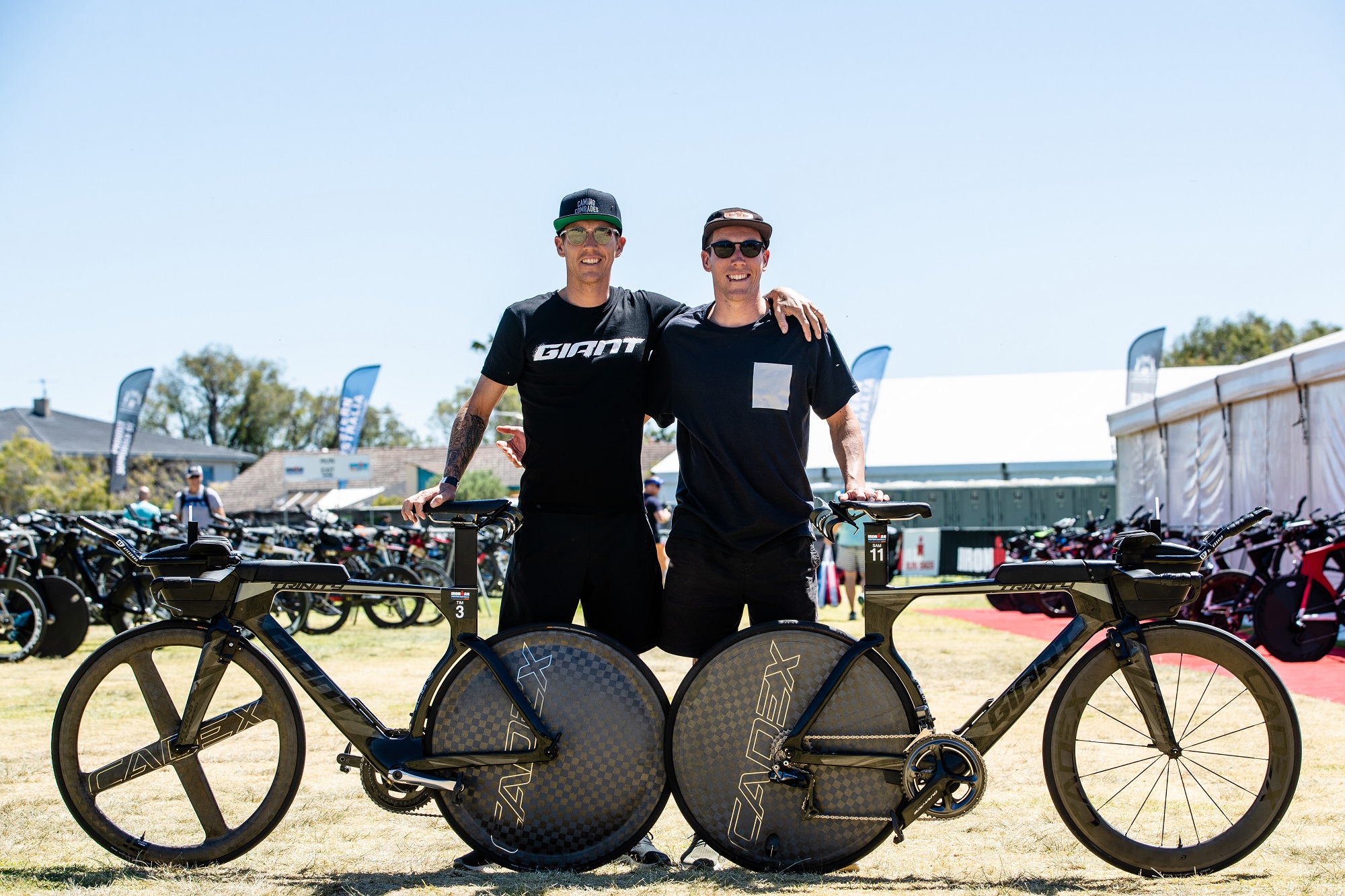 Tim Berkel (left) & Sam Appleton (right) with their Trinity Advanced Pro triathlon bikes featuring Cadex Cycling WheelSystems at Ironman WA in Busselton this year. Photo: Korupt Vision.

Tim & Sam both opted for different choices in Cadex Cycling WheelSystems throughout the year depending on course conditions. For the strong crosswinds of Kona Tim Berkel's Trinity (left) featured a Cadex 42mm front wheel paired with a 65mm rear wheel. For the hilly Ironman 70.3 World Championship in France, Sam chose to run 65mm wheel options front and rear instead of a solid rear disc and 4-spoke front wheel that he ran at most other 70.3 events throughout the year. Photos: Korupt Vision
#5 Jonny Odams' TCR Advanced SL Disc
One of the more colourful bikes featured in the list is this custom painted TCR Advanced SL Disc belonging to Giant Australia ambassador Jon Odams. Featuring a super cool orange and pink custom colourway we fell in love with this beauty as soon as we saw it pop up on Instagram. Jon is commonly seen out tearing up the singletrack all over Australia and the world but cross training on the road is a big part of his training schedule. Why not look awesome on something unique on those morning road rides!?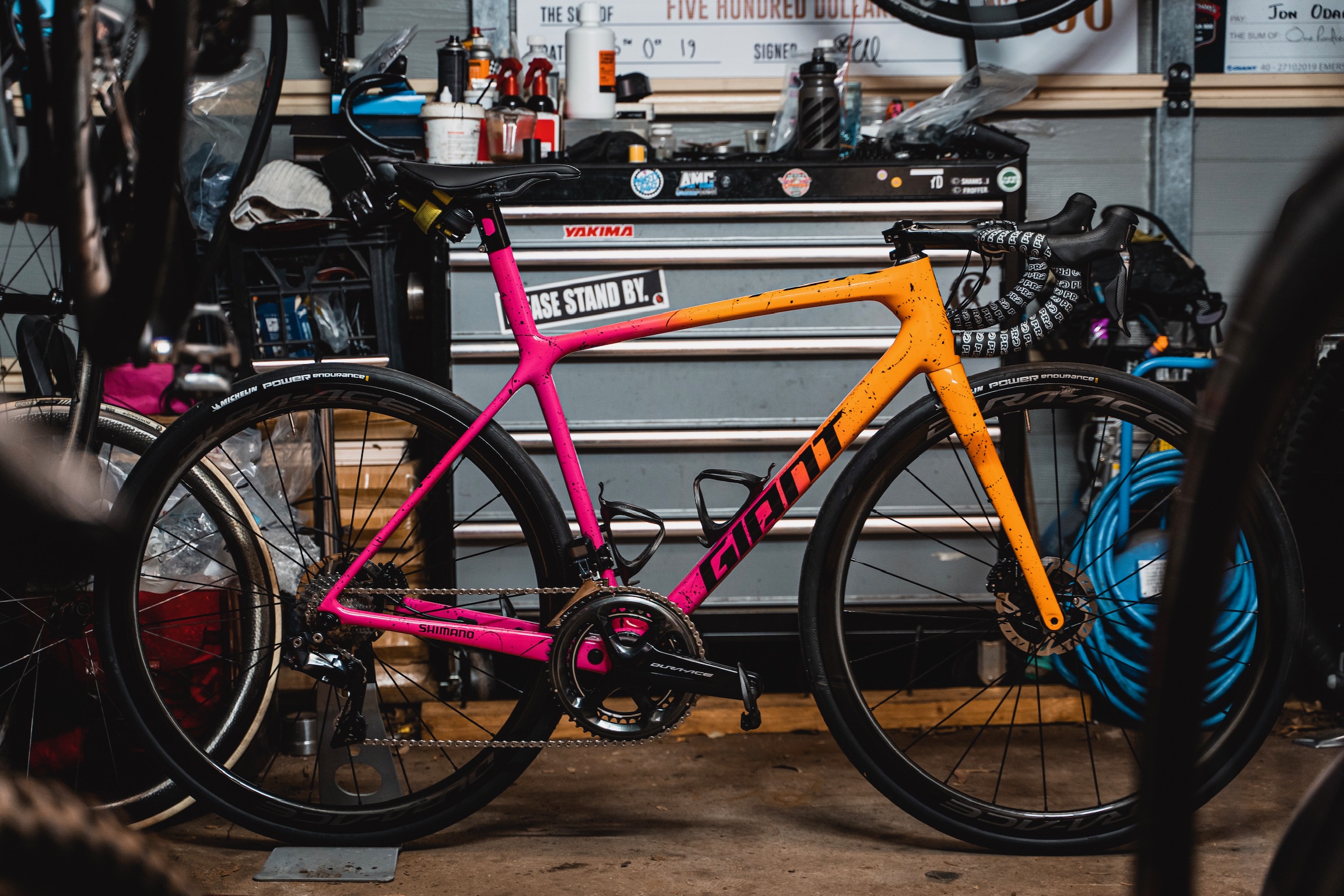 Giant Australia ambassador Jon Odams had a big year in 2019 taking out the coveted triple crown events of Port to Port, Reef to Reef & Cape to Cape with Giant Australia Off-Road teammate Brendan Johnston. This TCR Advanced SL Disc really stands out from the crowd with its unique orange and pink colour scheme! Photo: Christopher Visvis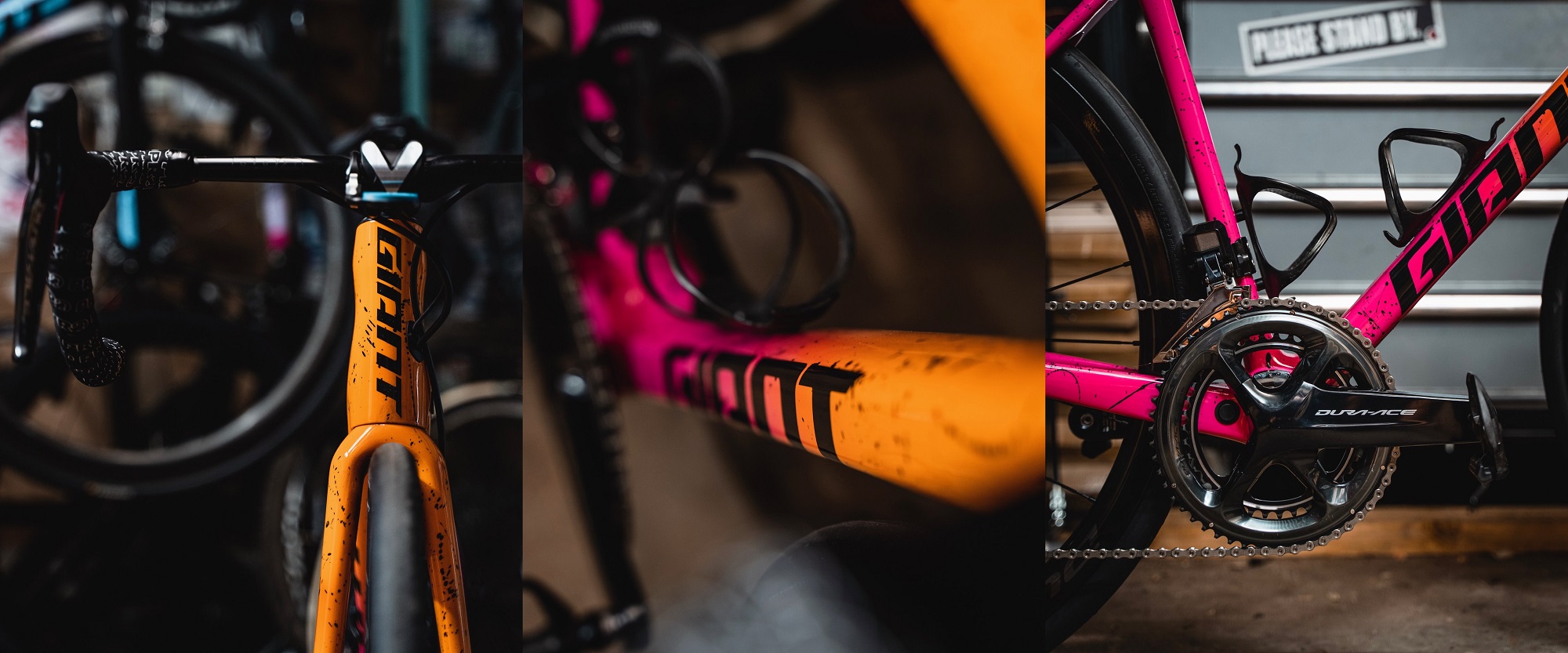 Some close up shots of that deliciously cool splattery paintjob. The bike was painted by colourfuel in Caringbah, NSW and decked out with components from Jon's sponsors including Shimano Australia. Photos: Chris Visvis
#6 Michael van den Ham's TCX Advanced Pro
For this one we head all the way over to Canada for this unique flashy TCX Advanced Pro cyclocross race bike belonging to Canadian mutiple National CX Champ Michael van den Ham. The red signifies the Canadian national colour along with some maple leaf highlights amongst other tasteful features. GCN Tech did a cool feature on this bike and you can watch it here.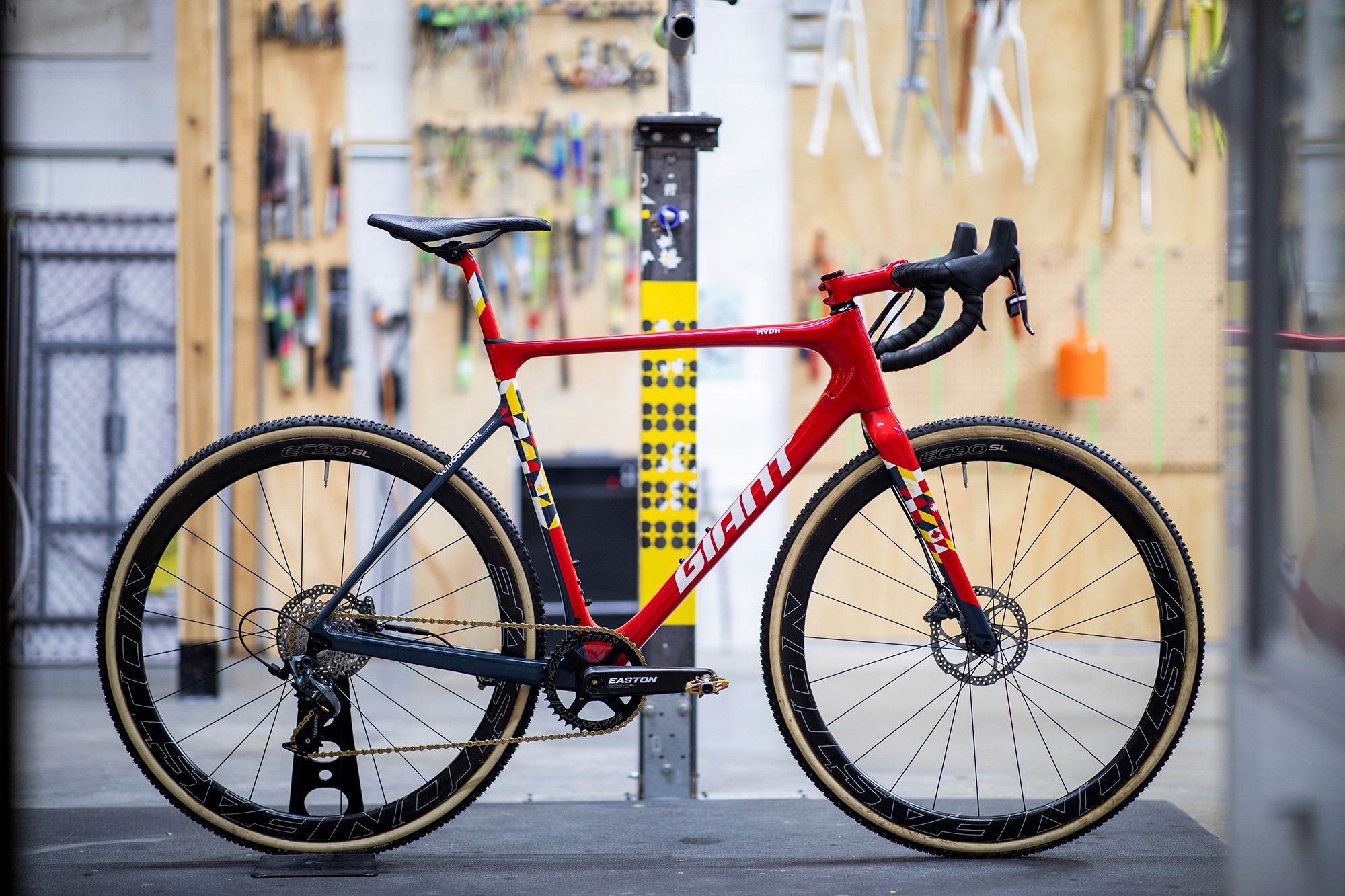 This custom painted TCX Advanced Pro was a one-off for Canadian National Cylocross Champ Michael van den Ham and was painted by specialist Toronto based bicycle painters Velocolour. Photo: Nick Iwanyshyn.

Red is very much the feature colour of this special TCX Advanced Pro but it also features yellow highlights and a wheat symbol, Michael is from Manitoba in Canada and his family are wheat grain farmers which contributes a personal touch to this cool colour scheme. Photos: Nick Iwanyshyn.
#7 Álex Rins' Anthem Advanced Pro 29
2019 was a standout year for Spanish MotoGP rider Álex Rins. He transitioned into the top motorbike racing ranks of MotoGP in 2017 but 2019 saw him take not only his first MotoGP career win but two, as well as finishing on the podium 3 times and finishing the Championship in 4th place overall. As a tribute, Giant Spain gifted him with this very special Anthem Advanced Pro 29.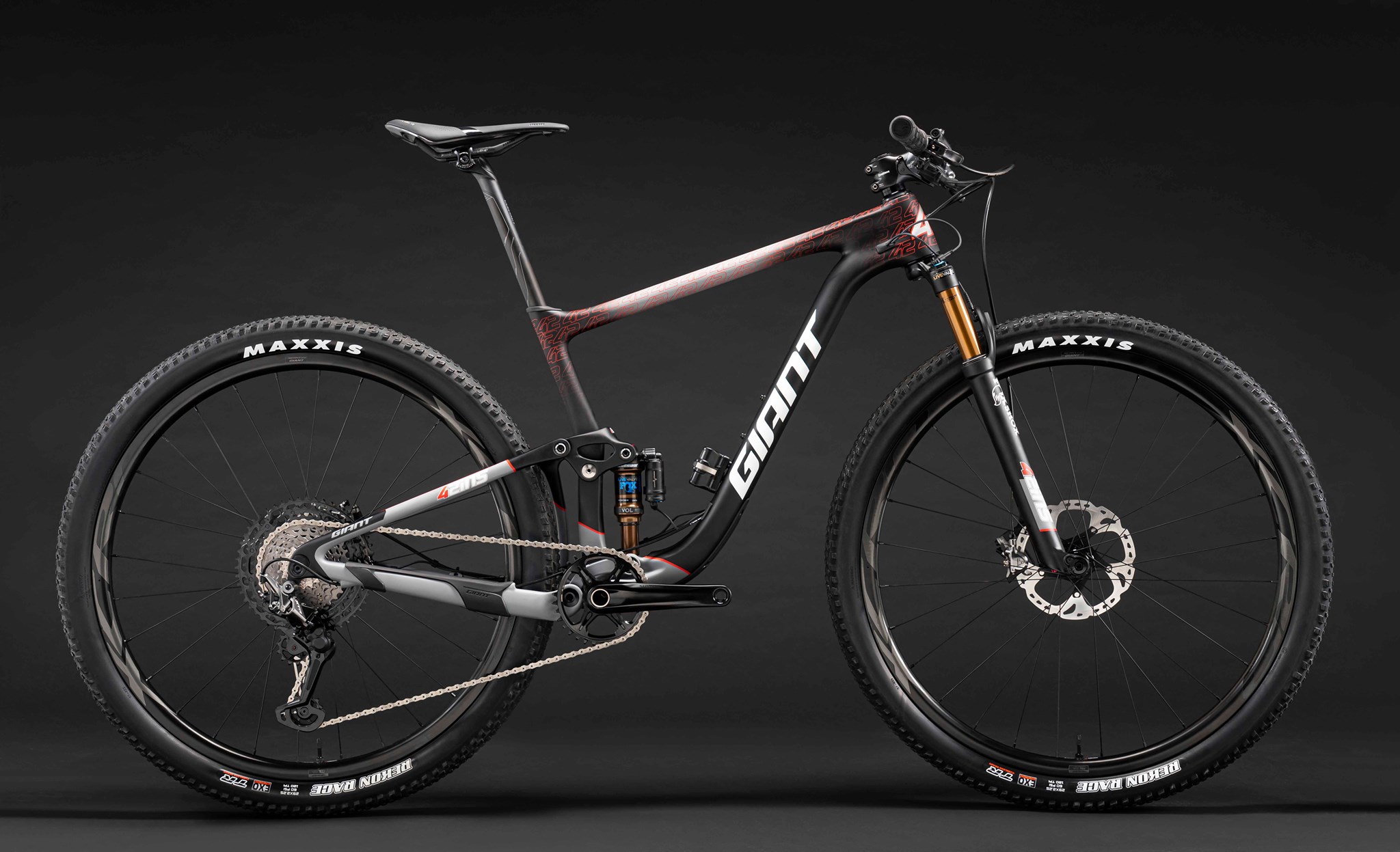 Álex Rins bike number is 42 which can be seen throughout this custom painted Anthem Advanced Pro 29. Photo: Giant Spain

As well as featuring Álex Rins' race number of 42, the Anthem Advanced Pro 29 features some of the latest in suspension technology with FOX live valve. Photos: Giant Spain
#8 Reece Wallace's Glory for Red Bull Rampage
Freeride rider Reece Wallace had a standout year in 2019. After several attempts of trying, the Canadian qualified for the world's biggest freeride event, the Red Bull Rampage. Each year 21 of the best riders are invited to complete as they craft & ride their own big mountain lines in the Utah desert over the duration of 8 days. Reece spent months brainstorming ideas for a custom bike for the event based on his love of flying.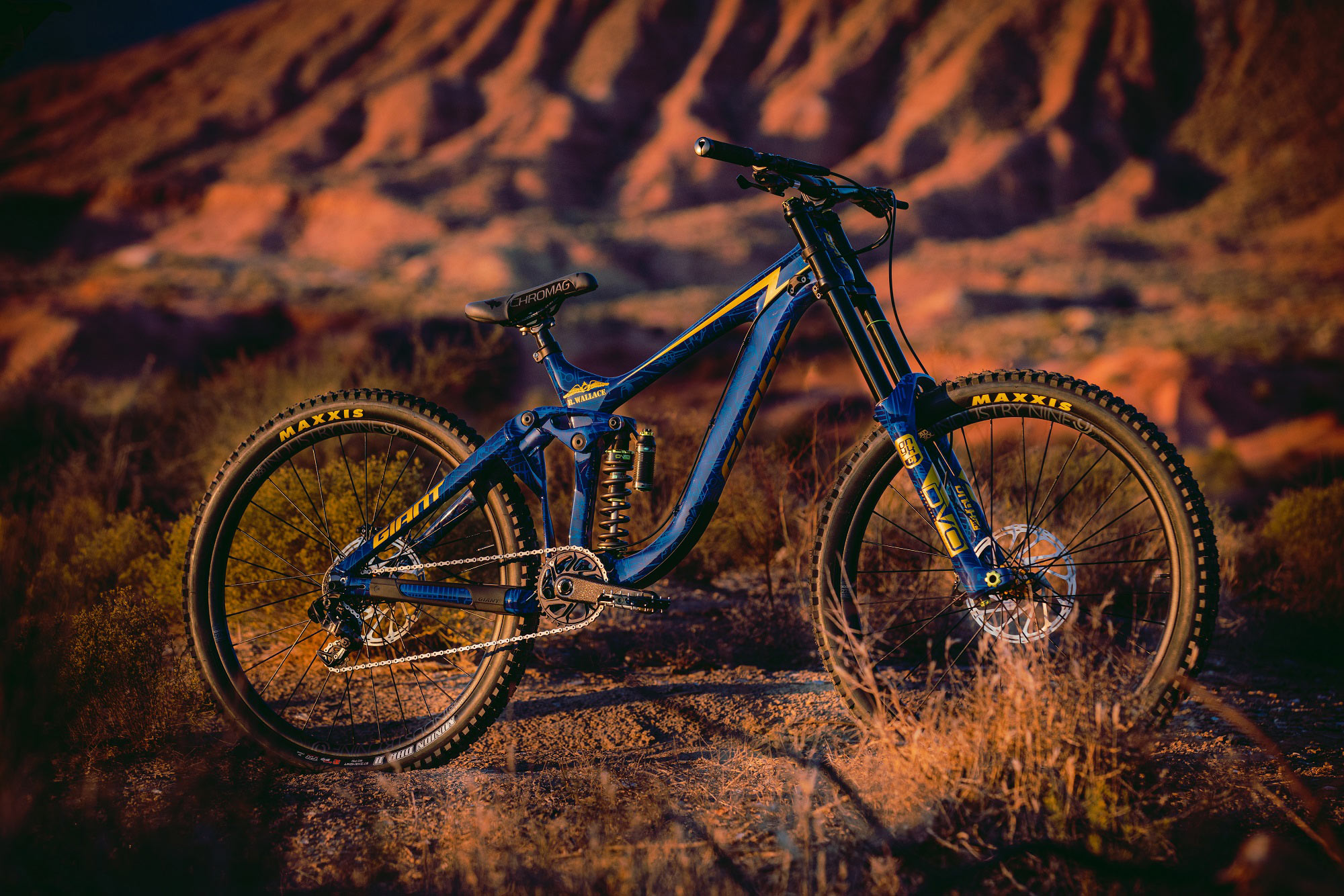 The custom design that was created for Reece was based on a 1944 Piper Cub plane with wings, Royal Canadian Air Force Logo and an altitude indicator. You can check out Reece Wallace's full Rampage experience here. Photo: Liam Wallace

The details on this custom painted Glory are incredible, the flight theme is fitting considering how much time riders spend in the air at Red Bull Rampage. There are no pre-existing features at Rampage. Everything is built by each rider and their crew of two diggers, making it to competition day is a feat in itself! Photos: Liam Wallace
#9 Laurens Ten Dam's Revolt Advanced
Laurens Ten Dam has been a highly respected rider in the professional road peloton for years. The CCC Team rider doesn't always ride the skinny tyres though. As well as being a pro roadie he also has his very own gravel event, the LtD Gravel Fest sponsored by Giant Bicycles. For the 2019 event Laurens received this classy looking Revolt Advanced just in time for the event.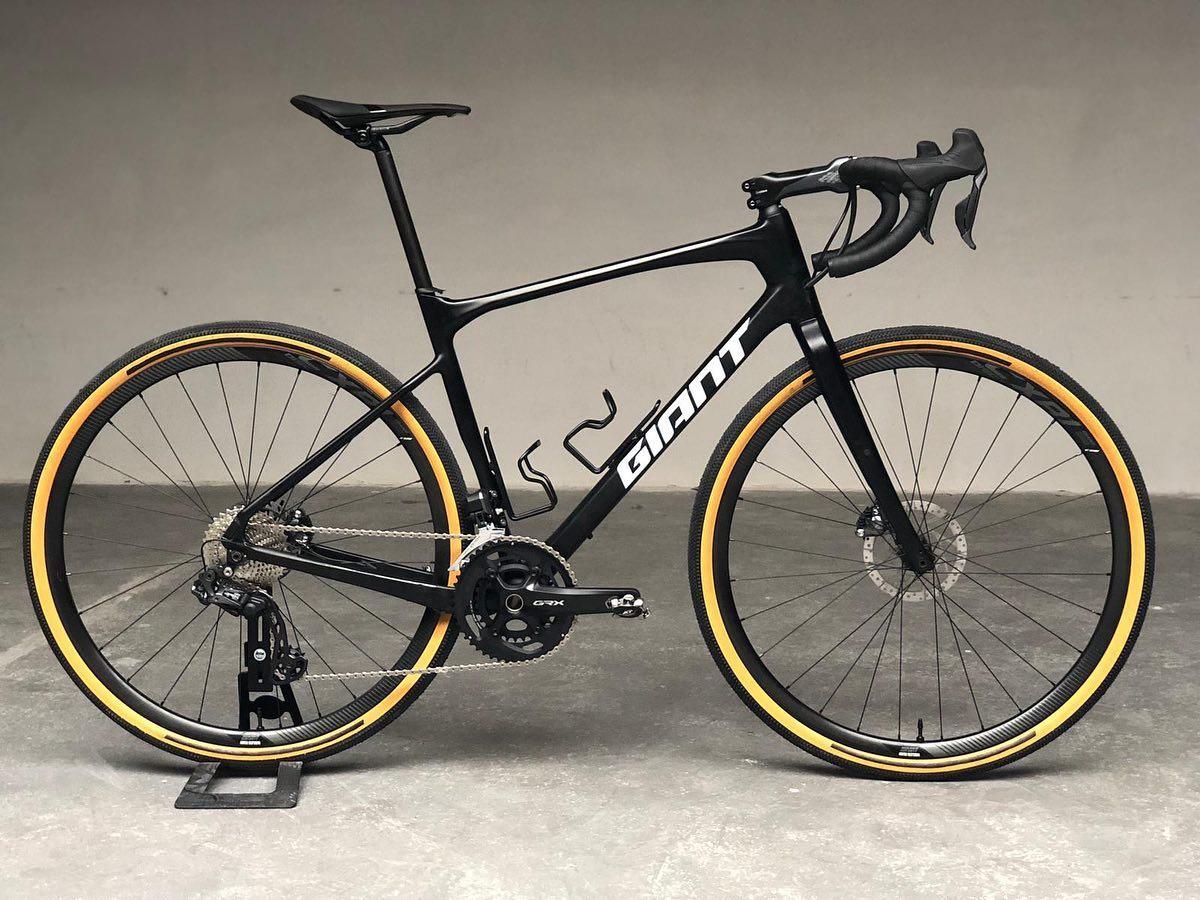 While a lot of colourful bikes feature in this article, there's also something to be said about a classy black frame with white logos. Matched with a pair of gumwall tyres and we're in love!

The Revolt Advanced is Giant's high performance gravel bike designed to do it all. It's smooth, efficient and designed to take on roads, gravel and dirt. You can view our 2020 range of Revolt Advanced bikes here.
#10 Rahsaan Bahati's Propel Advanced Pro Disc
Rahsaan hails from Compton in California and to date has 10 national titles to his name & hundreds of elite and amateur race wins. He also gives back to the community with the Bahati Foundation which Rahsaan founded in 2010. The foundation's mantra is to serve as a positive influence on community youth as well as providing support to inner city youth through speaking engagements, cycling and educational outreach programs.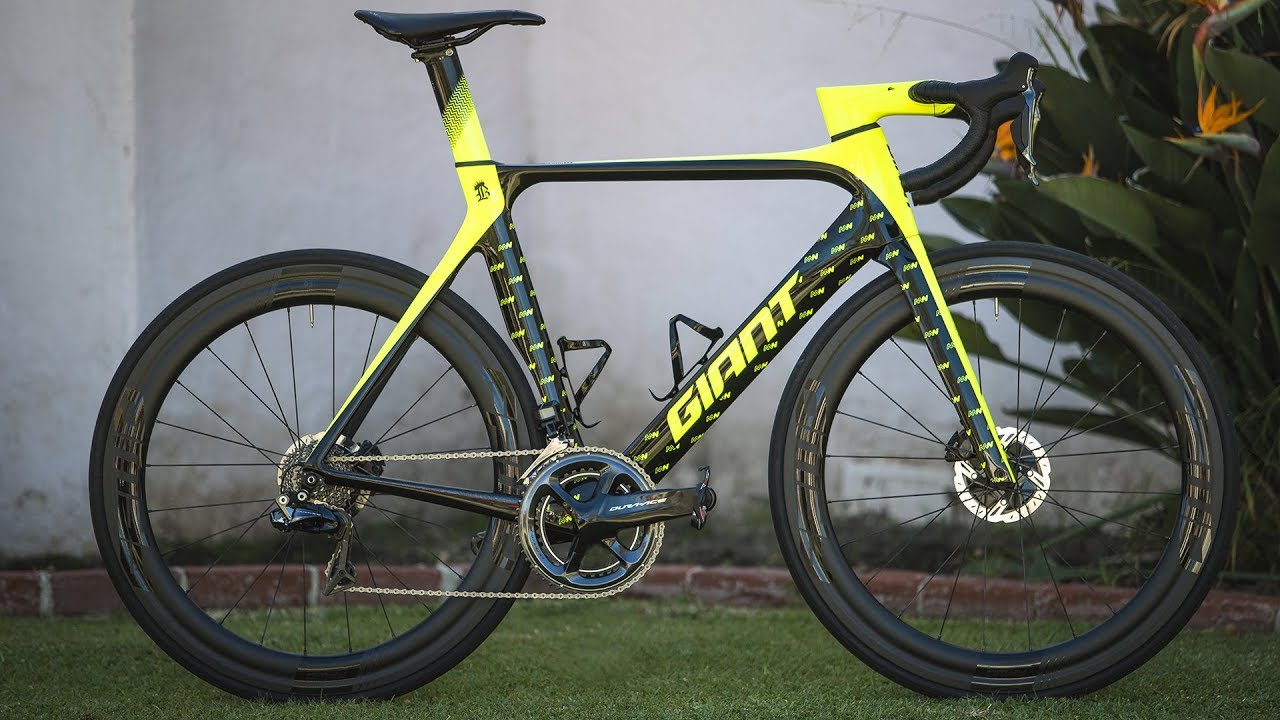 Check out a feature on how this unique bike was painted over on the global Giant Bicycles Youtube channel here.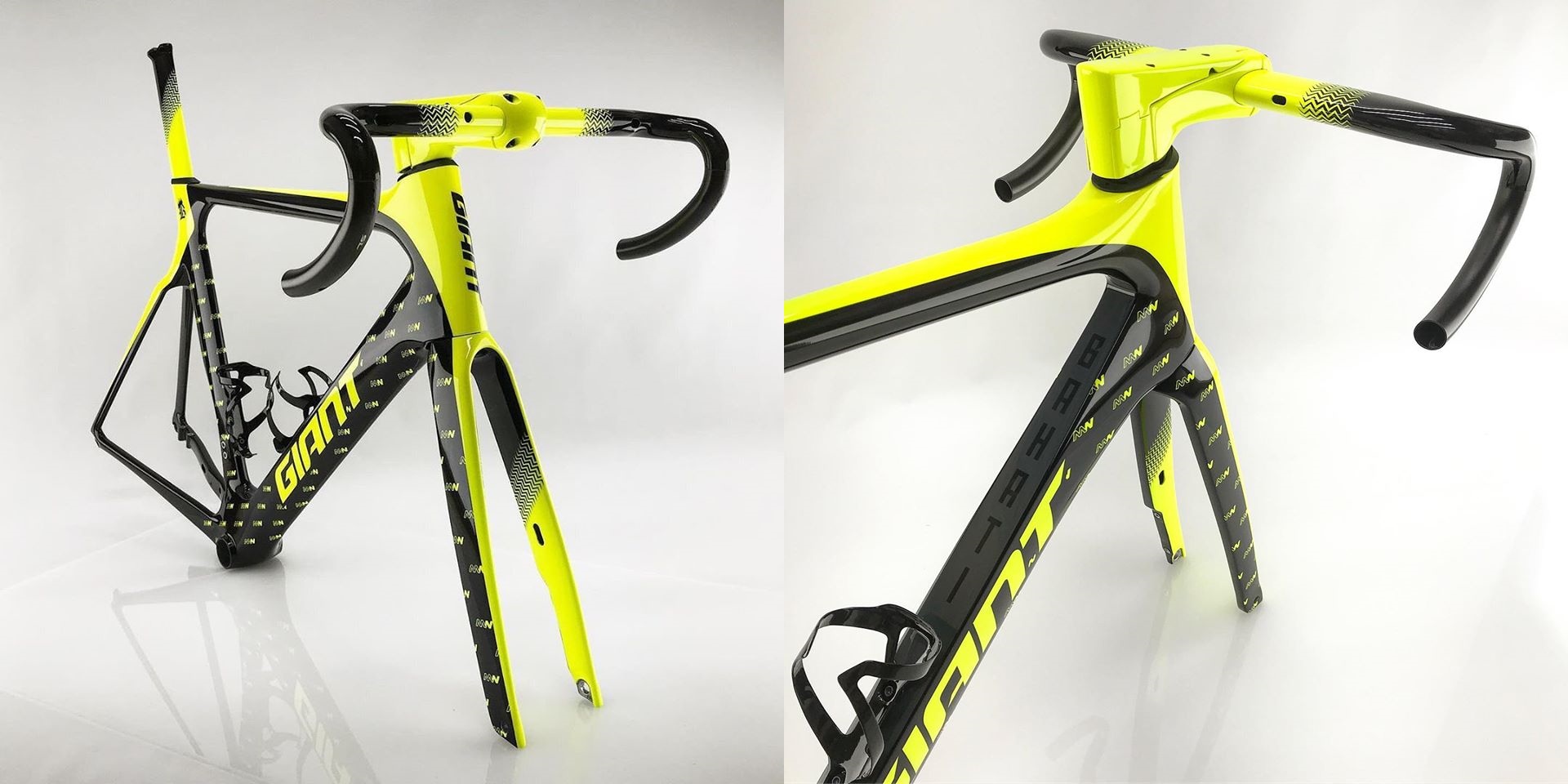 Rahsaan's Propel was painted by Michael Patrick Hurley of MPH Paint in the United States. We love the attention to detail on various parts of the frame including the matching stem & seatpost. Photos: MPH Paint